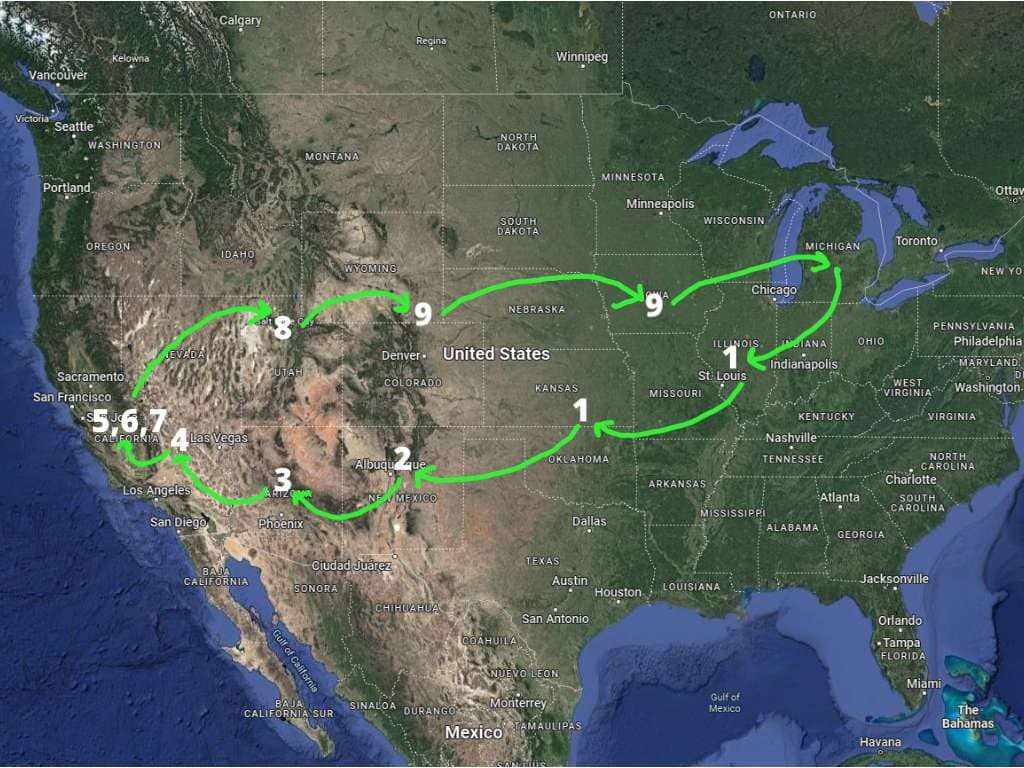 Yosemite National Park was a bucket list item that included hiking, so we wanted to do it sooner than later. King's Canyon and Sequoia National Parks are nearby, as is Mono Lake — which has always fascinated me — so we visited those too, and fit in a visit with friends from Michigan who now live in the area. And we hit Santa Fe, Sedona, and Death Valley on the way there, and Salt Lake City on the way back, to break up the long drives. 
The original plan was good, I think. But record snow in the Sierra Nevada meant that many things we planned to do or see were still closed in May, so we didn't need as much time as we had planned in that area. We opted to keep to our schedule and just spend more time relaxing. What we did see was just as beautiful.  
The Plan: We've never been here — or to New Mexico — and it's a bucket list item.
The Reality: Other than missing the Taos pueblo because it was closed that day, things went pretty much as planned. Altitude hit us hard so we weren't as sprightly as we might have been. 
Day 1
Day 2

Sightsee in Santa Fe
Meow Wolf

Day 3
Related Posts: The first post describes daily activities and the destination. Other posts cover anything that generated lots of photos!
The Plan: We were here briefly on our way back from the Grand Canyon to Tucson back in the 1990s and have wanted to come back, spend more time, and do some hiking. 
The Reality: The Bell Rock Pathway was a beautiful and easy hike. Tlaquepaque was nice for a stroll and lunch. The chapel was a late add and we were glad we did. It's a dramatic setting. We revisited Jerome (we went there our first time in the area). It's still fun. And we did some walking around fish hatcheries on the way there. 
Day 1
Day 2

Hike the Bell Rock Pathway
Tlaquepaque Arts and Crafts Village
Chapel of the Holy Cross

Day 3
The Plan: It's sort of on the way — about as close as we're likely to get. We'll only have one full day here but that should be enough time to see some highlights.
The Reality: We had just about enough time to see the highlights, which are pretty spread out. It was hot enough that we didn't hike. It was more scenic than we expected. 
Day 1

Drive to Death Valley National Park

Day 2
Days 11-15: Sequoia and Kings Canyon National Parks
The Plan: It's near enough to Yosemite that why not? We have friends in Visalia that we'll visit while in the area. 
The Reality: Here's where we started running into snow closures. Most of the roads and all of the hikes we'd planned were closed. We did manage to see giant sequoias at Grant Grove. So we got to see the second largest tree. And we got to see friends, which was fun. We were glad we stayed at a place with walking trails onsite. 
Day 1

Drive to Visalia and visit friends

Day 2
Day 3
Day 4-5

Just hanging out near camp
Days 16-23: Yosemite National Park
The Plan: This is a bucket list destination. We don't yet know exactly what we'll do here but there's a lot. We're actually spending more time in the Valley than originally planned because I goofed up the reservation and decided to let it stand. Then we'll spend one night in Wawona for easier access to Glacier Point. 
The Reality: This is where our plans took the biggest hit from snow closures. Everything but Yosemite Valley itself and Hetch Hetchy were closed, and Hetch Hetchy felt like too long a drive for not a lot of payback. To add to that, there was flooding in Yosemite Valley due to snowmelt and we feared every day they would close the valley too. (They did not.) 
This is the reality of visiting a popular national park. If you want to stay in the park — which you should, it's much more convenient though expensive — you need to commit early. Like a year in advance. And all kinds of things from record snowfall to wildfires to COVID can come along and mess up your plans. We still had a great time and the valley is gorgeous. 
Day 1

Drive to Curry Village in Yosemite National Park

Day 2

El Capitan
Mirror Lake Trail

Day 3
Day 4
Day 5

Sentinel Falls and Swinging Bridge

Day 6
Day 7
Day 8
Days 24-26: Eastern Sierra
The Plan: Mono Lake has always fascinated me and we should have easier access to the Tuolumne Meadows area of Yosemite from this side of the mountains.
The Reality: Road closures forced us to drive around the mountains rather than through them. And that we couldn't get to some of the things we planning to see. But we did get to Mono Lake, which was the main point!
Day 1
Day 2
Day 3

Wandering around Mammoth Lakes
Days 27-29: Salt Lake City
The Plan: We've been to southern Utah but not this part so we planned a stop for the Great Salt Lake and surrounding mountains.
The Reality: We didn't do well with altitude on this trip so I'm glad we opted to stay in Salt Lake City rather than Park City, which is higher. We didn't even visit Park City like we'd planned. 
Day 1

Driving to Salt Lake City

Day 2
Day 3
Days 30-32: On the way home
The Plan: Just passing through Cheyenne, Wyoming and Des Moines, Iowa.
The Reality: That's what we did.
*As an Amazon Associate we earn from qualifying purchases. We get commissions for purchases made through links in this post. There is no extra charge to you. The commissions help cover the costs of this blog.