We briefly visited Sedona when we went to the Grand Canyon years ago and have wanted to come back and spend more time. It's just as gorgeous as we remember.
Day 1: Santa Fe to Sedona
We drove from Santa Fe to Sedona today. I use the term we loosely. Steve drove the entire way because I developed vertigo and it did not seem wise to have me operating a motor vehicle. We did the various maneuvers when we got to Sedona and fingers crossed my vertigo is solved. (It was!)
Mostly a pretty drive today. Lots of colorful desert. We had a good view of Mount Humphreys for a while. That's the tallest point in Arizona, near Flagstaff.
We took the scenic route from Flagstaff to Sedona and we're not sure if we took it when we went to the Grand Canyon years ago. But anyway, it is a beautiful drive, especially once you hit Oak Creek Canyon. It was very windy and Steve saw dust devils and tumbleweeds.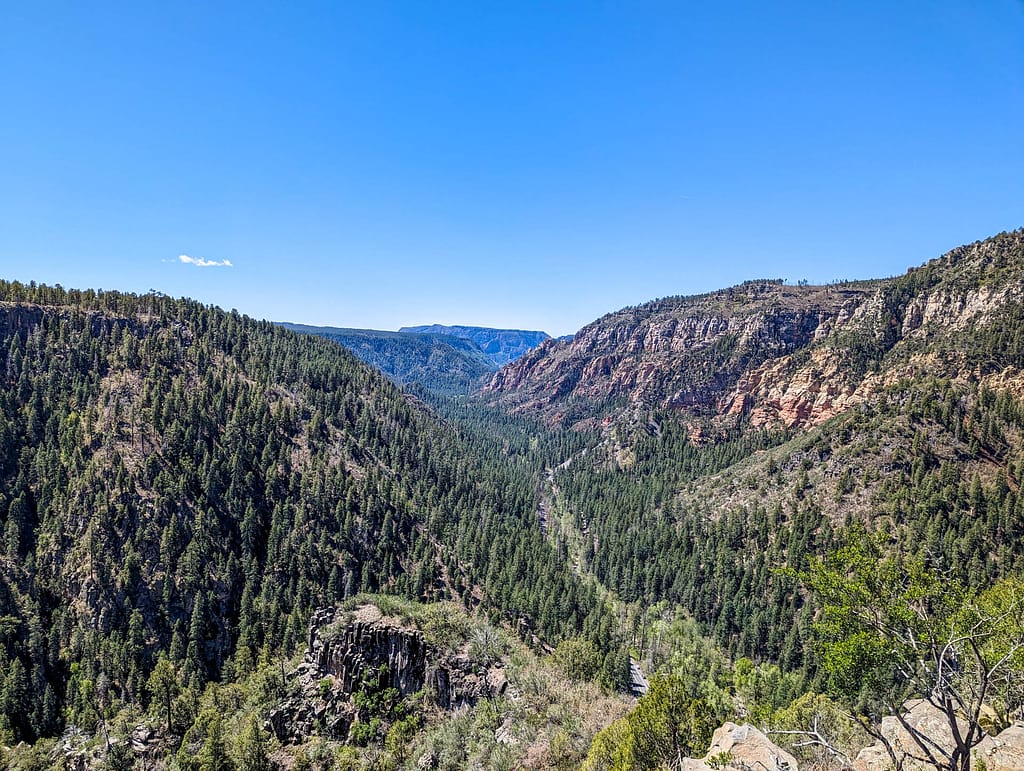 We have no view at all from our room at the Sedona Village Lodge. Although they did make an attempt at landscaping the alley by putting some metal art there. They do have a nice communal viewing deck.
We had a couple of beers and watched the sunset from there, after walking over to the pizza place for beer and pizza. And we explained to some other guests that sometimes in the desert it's more dramatic to look at the setting sun reflecting on the rocks, rather than at the sunset itself.
Day 2: Bell Rock Pathway, Tlaquepaque, and the Chapel
Our first hiking day on this trip. We did the Bell Rock Pathway from the southern trailhead to the Court House trailhead parking area. We were able to walk to the trailhead from our hotel which is handy because parking is limited. They operate an area shuttle to transport visitors to trailheads.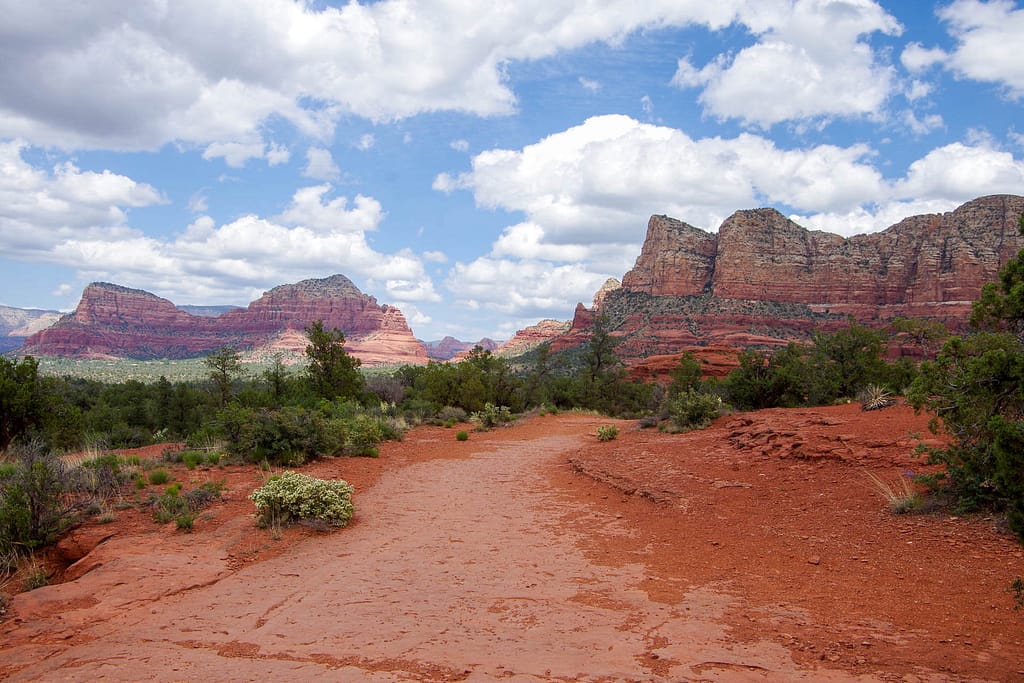 We drove up to Tlaquepaque to look around and have lunch/dinner. The shopping and dining area is a charming re-creation of an old village, laid out around courtyards. The style was reminiscent of Spain and the layout reminded us of Greece. We ate at Oak Creek Brewery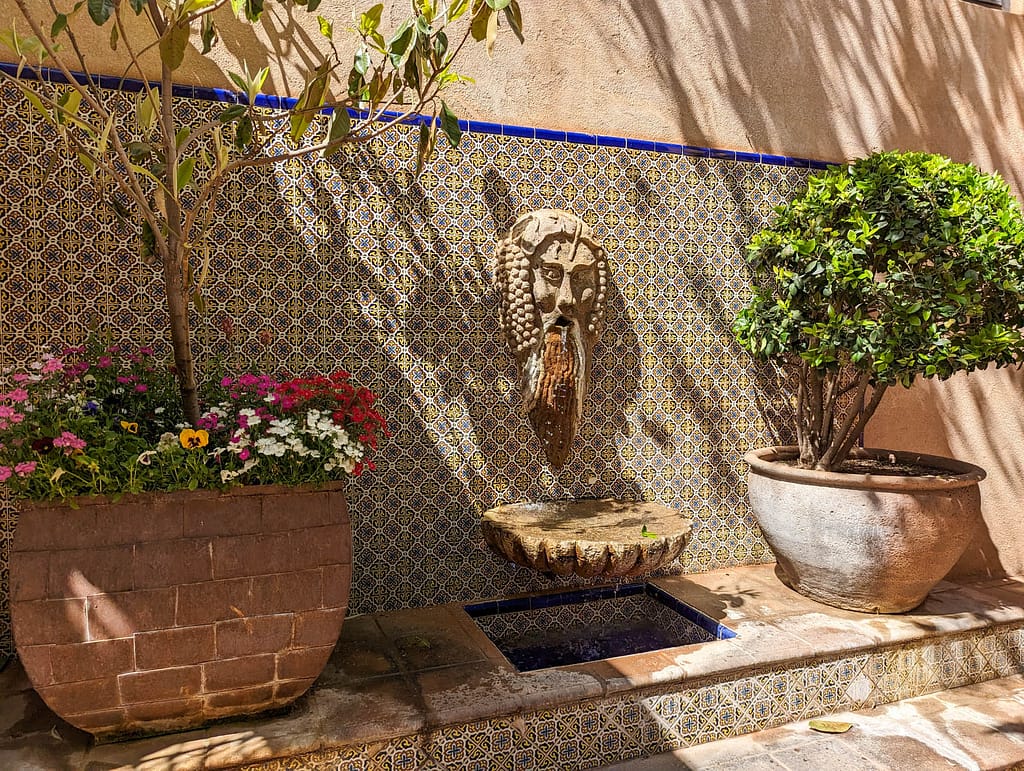 We then drove to the Chapel of the Holy Cross, in a dramatic setting with wonderful views. There is parking all along the road up to the chapel. Don't do like we did and grab the first space unless you want a steep walk. It was more of a workout than our hike and worth the effort. There were a couple of guys in golf carts offering lifts.
Day 3: Day Trip to Jerome
Steve did some research this morning and found some fish hatcheries near Sedona that were good for bird watching, so we checked out Page Springs and Bubbling Ponds on our way to Jerome. We stocked up on some things at Safeway in Cottonwood; there aren't any grocery stores of any size in Sedona.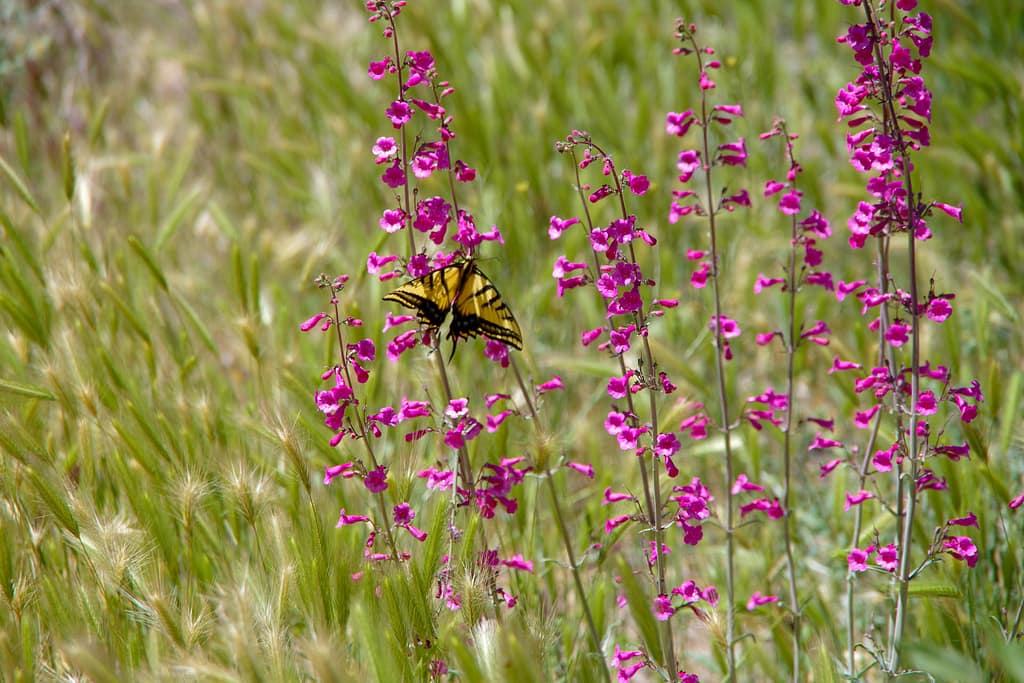 This section contains affiliate links. If you click on a link we may receive a commission at no cost to you. 
The Sedona Village Lodge is nicely located for hiking near Bell Rock and has a communal deck. Our room didn't have any private outdoor seating but other rooms there do. Our room was spacious, clean, and comfortable. 
Famous Pizza & Beer is in the same parking lot as the lodge. We split a typical supreme and a Greek pizza that came with a white garlic sauce along with tomato, feta and oregano? The pizza was good though greasy and the local IPA we tried was also good. We had an excellent IPA and reuben and a porter and fish and chips at Oak Creek Brewery in Tlaquepaque. And we had Mexican at Vaqueros in Jerome since it was Cinco de Mayo. Steve's green chile enchiladas were probably better than my red mole enchiladas. There are plenty of places to eat in the area.
We drove our own car. The Sedona area has a free shuttle to transport hikers to trailheads since parking is at a premium. In some cases they even close the road to reduce traffic.