It was a long drive from Wawona to Mammoth Lakes since the road through Yosemite was closed due to snow, but it was still scenic.
Day 1: Wawona to Mammoths Lakes
It took us about 8 hours to go 38 miles today. Okay, not exactly. Wawona is 38 miles from Mammoth Lakes as the crow flies (over the mountains). The shortest distance by road is through Yosemite on CA 120: 123 miles and 3 hours and 20 minutes. But since that road is closed, we had to go around the mountains, which is 339 miles and takes about 7 hours and 15 minutes, without stops. There were lots of twisty mountain roads, some rain, some falling temperatures, a "snow not cleared" sign that thankfully turned out to be nothing, and lots of beautiful scenery. Plus the odd feeling of being in a t-shirt in 70 degree weather surrounded by snowy mountains!
Here's the reason so many roads were closed: all of this snow!
We drove across tundra — or what I imagine tundra looks like — and past roaring rivers. At times it felt like were were driving across the mountain tops. (Probably because we were!)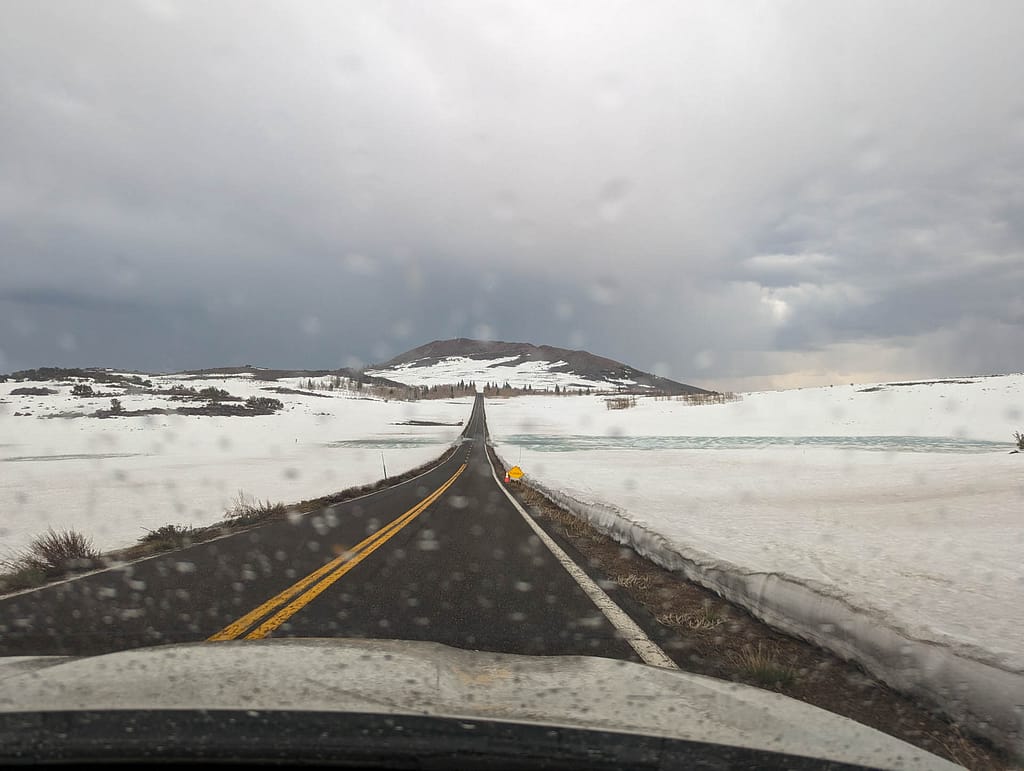 Just when we thought we were through the worst of it, it started to rain. And with falling temperatures, we worried about snow. 
It was a relief to exit the last mountain pass and see Mono Lake and the Eastern Sierras.
Mammoth Lakes is kind of a cute little town. After our long day of travel we were ready for an easy dinner so we got a burger and a pastrami and cheese sandwich at the Clocktower Cellar right downstairs. The food was good as was the beer selection.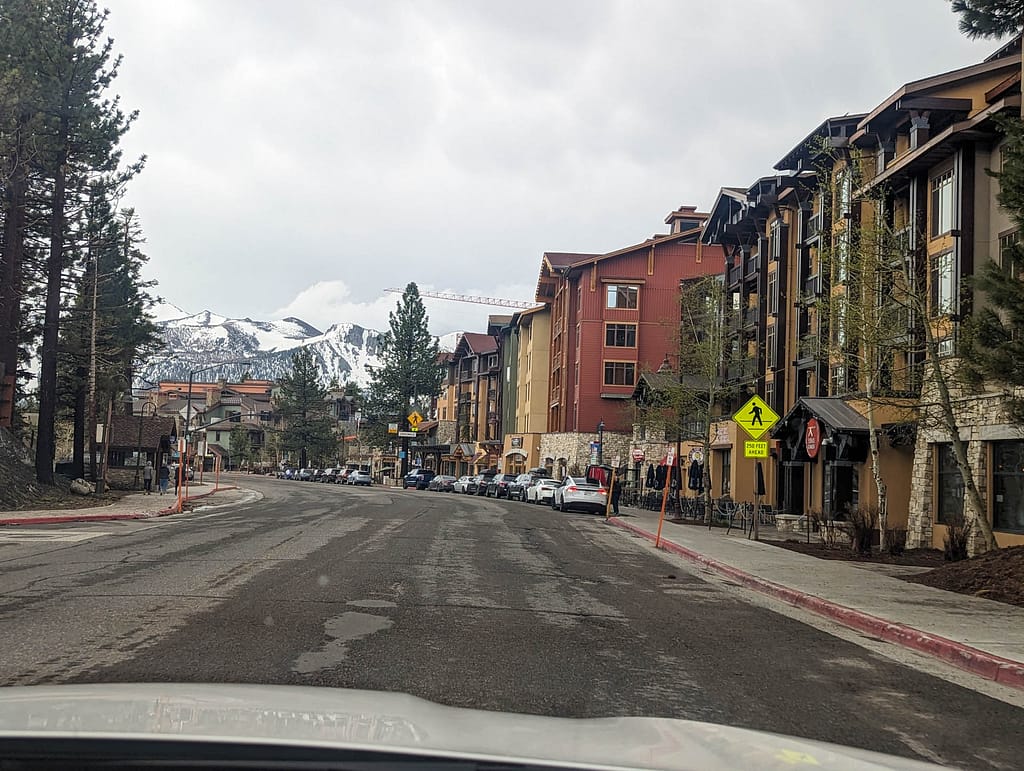 Today's focus was Mono Lake. We walked down to Mammoth Brewing for dinner. We each had a 395 IPA and a Double Nut Brown. Steve had the burger and I had a sriracha chicken sandwich. Excellent pickles!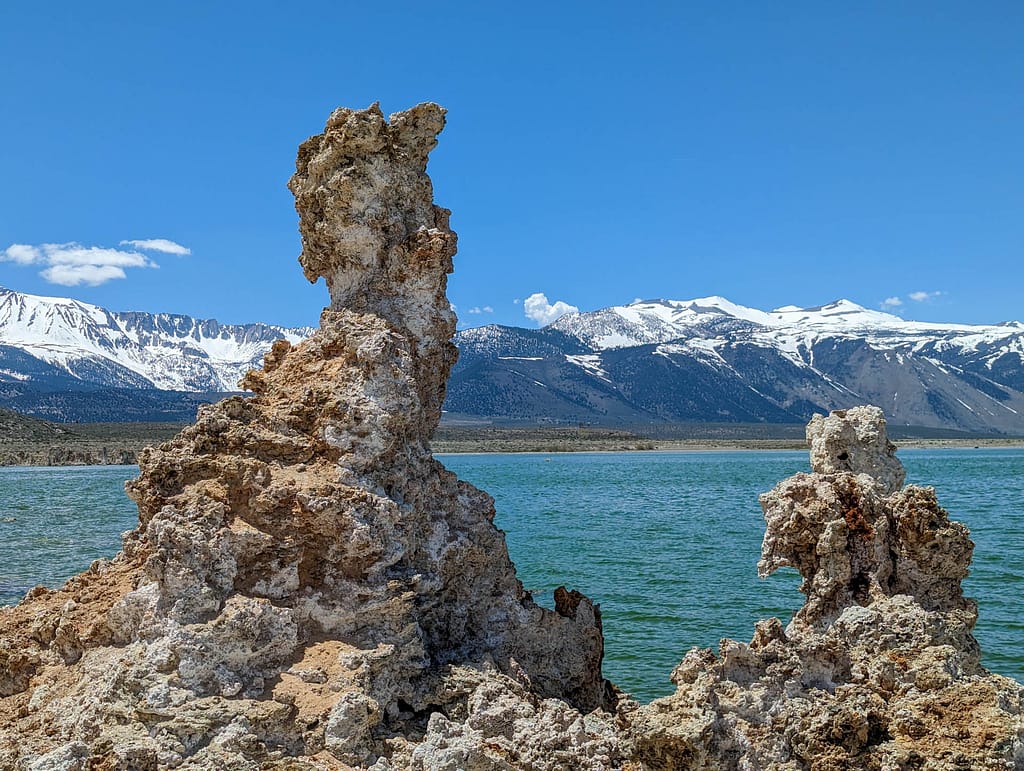 Day 3: Wandering Mammoth Lakes
We'd planned on some hiking in the area, seeing Devils Postpile, maybe Bodie State Historic Park. Nah, it was all closed due to snow. So we took a walk around the Village near us and then drove around town. At one point the road simply … ended … at a wall of snow. 
We're finding that elevation doesn't agree with us; the least little uphill or climbing the stairs to the second floor leaves us winded. So we took it easy.
We went back to Mammoth Brewing for dinner. Steve had the same beer, I tried the excellent huckleberry sour. We shared a chicken BBQ and a spicy meatball flatbread pizza that were both tasty. Today we wore sleeves because it was a little chilly yesterday.
This section contains affiliate links. If you click on a link we may receive a commission at no cost to you. 
We liked our room at the Alpenhof Lodge. The bar downstairs was great for dinner our first night — there's also a restaurant and burger places, both closed because it was shoulder season. The staff were friendly and helpful. We didn't so much enjoy the combination of altitude + stairs + having to take all our food upstairs again because of bears. We would have preferred to stay closer to Mono Lake but didn't see any good options. 
We had dinner at the The Clocktower Cellar downstairs our first night. It's a bar, nothing fancy, good food and beer selection. The next two nights we walked down the road to Mammoth Brewing. We'd tried some of their beer earlier in the trip and liked it. The food was good too; upscale bar food, which we like. 
We had our own car and you'll want one. There's little if any public transportation and things are far apart.