Our trip home was unexciting. Other than the tornado warning in Cheyenne that is.
Day 1: Salt Lake City to Cheyenne
A lot of uneventful driving today. So uneventful I didn't take any notes and am doing this from memory! We stopped for gas and liquor just over the border into Wyoming. We didn't see any interesting Canadian whisky — our usual choice — so we bought some bourbon that was on sale.
The only excitement was the tornado warning just after we arrived in Cheyenne. (We were happy we opted NOT to stop in Park City, or we would have been on the road during the warning!) The hotel kindly allowed us to camp out in their kitchen during the warning, the only room without windows.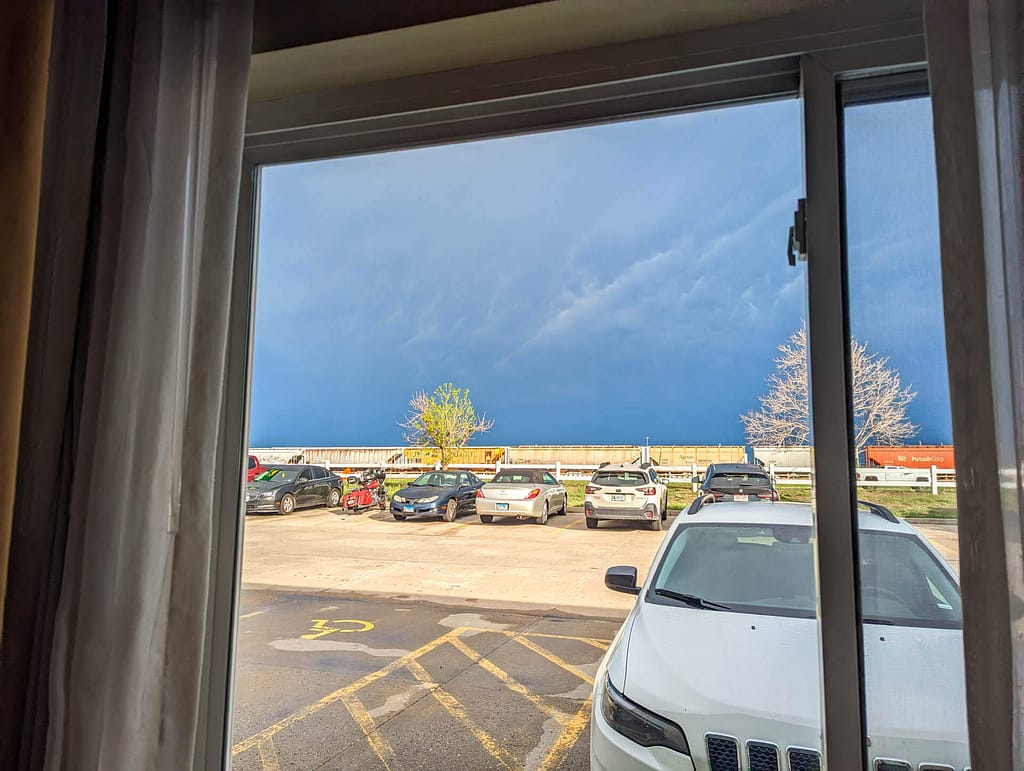 Day 2: Cheyenne to Des Moines
More uneventful driving today.
Day 3: Des Moines to Home
We had a nice and free breakfast buffet on our last morning on the road.
Nothing exciting happened until we got home and discovered exactly what happens when you go on vacation during prime gardening season. At least we got to catch our Kousa dogwood and or Korean lilacs blooming.
We are never going on vacation in May again!
This section contains affiliate links. If you click on a link we may receive a commission at no cost to you. 
The Cheyenne Guest Inn & Suites had a nice breakfast and was close to the highway for quick overnight stay. The Stoney Creek Hotel near Des Moines is a larger place and appears to be a conference center. It's ironically the most northwoods-y looking decor we've seen on this trip and it's in … Des Moines? I'd canceled and rebooked our stay so I could use some Booking.com travel credits and somehow the cancellation didn't go through. He was kind enough to cancel it when we checked in. 
We hit Jethro's BBQ near Des Moines for a burger and chicken wings. Noisy but otherwise good. In Cheyenne we ate snacks we had with us.