We didn't get to see as much of these parks as we wanted. Most roads were closed due to snow and damage. What we did see was beautiful, and we did see giant sequoias.
Day 1: Death Valley to Visalia
We had about a five hour drive out the west side of Death Valley.
 Our route then went down the eastern Sierras, a great wall of mountains that gradually grew on the horizon.
 At the Kern River valley we cut through the mountains. We didn't know what that was and it isn't marked as scenic on the map, but it certainly is.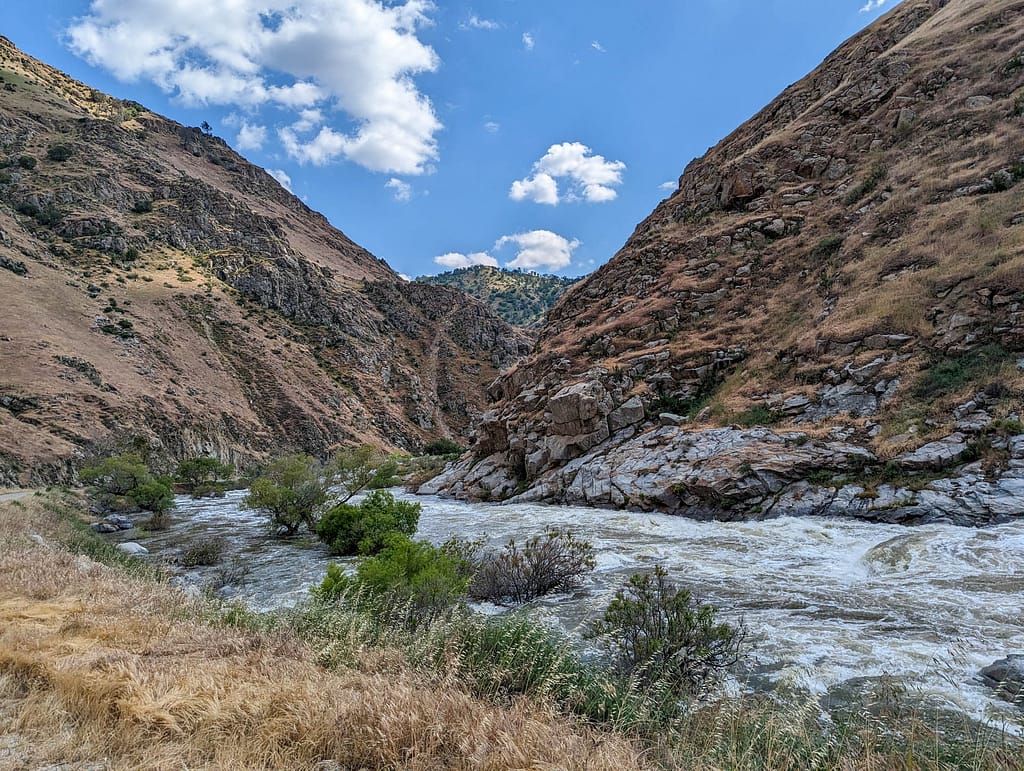 We spent the night with friends originally from Michigan who now live near Visalia. They live perched on top of a hill with a sweeping view of the mountains to the east. Really spectacular setting. It was nice to eat home cooked food and hang out with them and their dogs.
Today was stock-up day as we head into the mountains for four nights, in a cabin with no gas station or groceries and only a couple of restaurants nearby. Our friends recommended Quality Meats in Visalia, where we bought steak, BBQ burgers, and sweet Thai chili boneless chicken thighs. Then Costco for breakfast muffins and pastries, some bagged lettuce and some artichoke/jalapeno dip. The goal is tasty food without having to buy a lot of condiments and seasonings.
Since we had some time to kill – we weren't sure if we could get into our cabin before our 3PM check in time – we drove to the Foothills entrance to Sequoia National Park to check it out. Only 6 miles of the road is open due to winter road damage.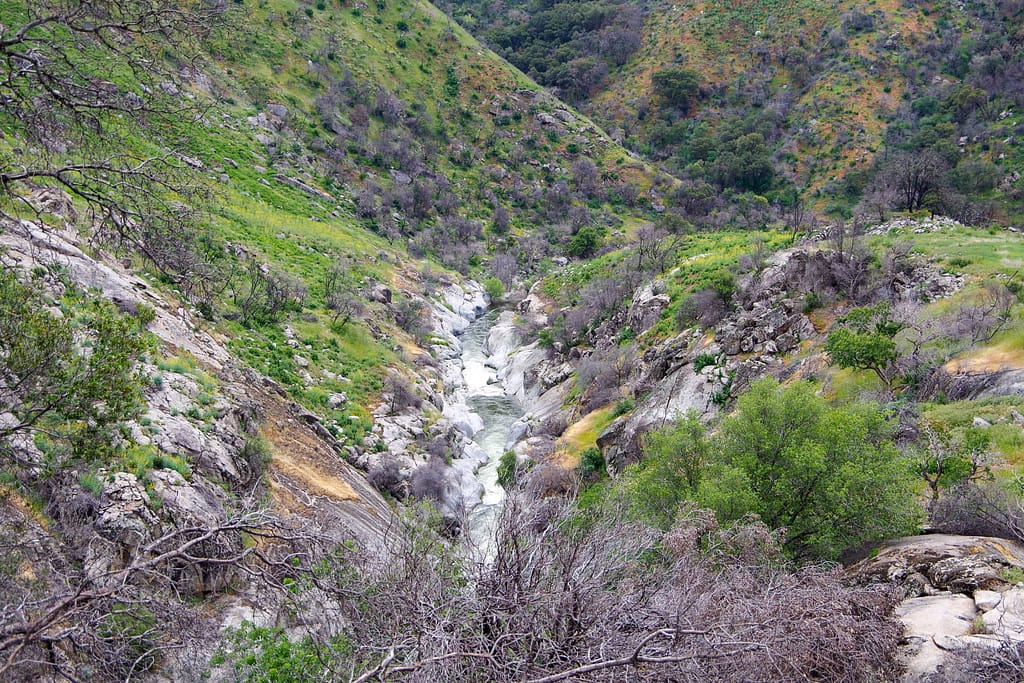 While heading back to town we got word that we could move in whenever so we headed up a winding road to Badger. It was a pretty drive. Lots of curves. I would not want to haul a camper or RV up there. Our cabin at Sequoia Resort is a studio with a small but full kitchen, a deck and a propane grill. With a view of the small lake. They say they're doing a communal fire tonight so we may go check it out.
We went on an adventure! CA 245, the main route from here to Grant Grove in Kings Canyon National Park, was closed so we had to take an alternate route. Our first alternate looked like it was going to take us way out of the way so we backtracked only to discover that some of the roads Google showed – and wanted to send us on – were not public roads. So we ended up more-or-less back on our original route, after many hairpin turns on narrow roads. It took us an hour and a half to go about 30 miles. But we made it.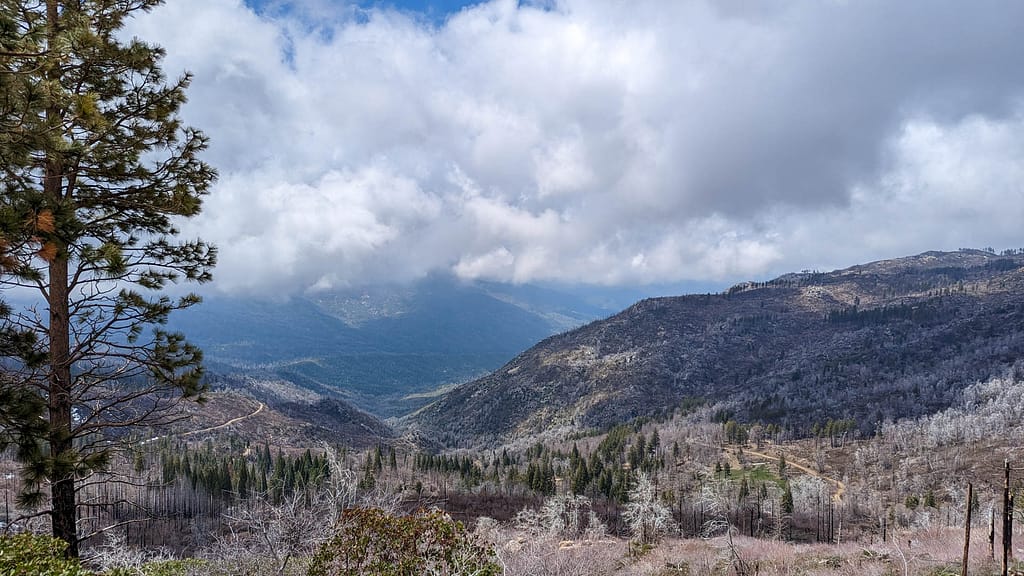 The drive back was less eventful. We took CA 180 to Dunlap and filled up the tank, then took Dunlap Road back; the route we should have taken in the first place.
Steve taught me to play Spite and Malice. I beat him three times.
We spent the day around "camp," reading, relaxing, and taking a stroll. There's a small trail that runs below our cabin that is one end of a 1.5 mile hiking trail on the 400 acre property. This morning Steve saw cows on the trail. This evening we saw a turkey. There are also a fair number of birds around, and semi-domestic cats to keep the rodent population down.
We also took stock of our food supply so we know what we need when we head into town tomorrow to meet up with our friend we missed the other night.
We had BBQ burgers for dinner. Tasty. Steve beat me two of three at Spite and Malice. The rookie glow is gone already.
We drove into Visalia to see our friends this morning and had a nice chat with them. Their view today was even better.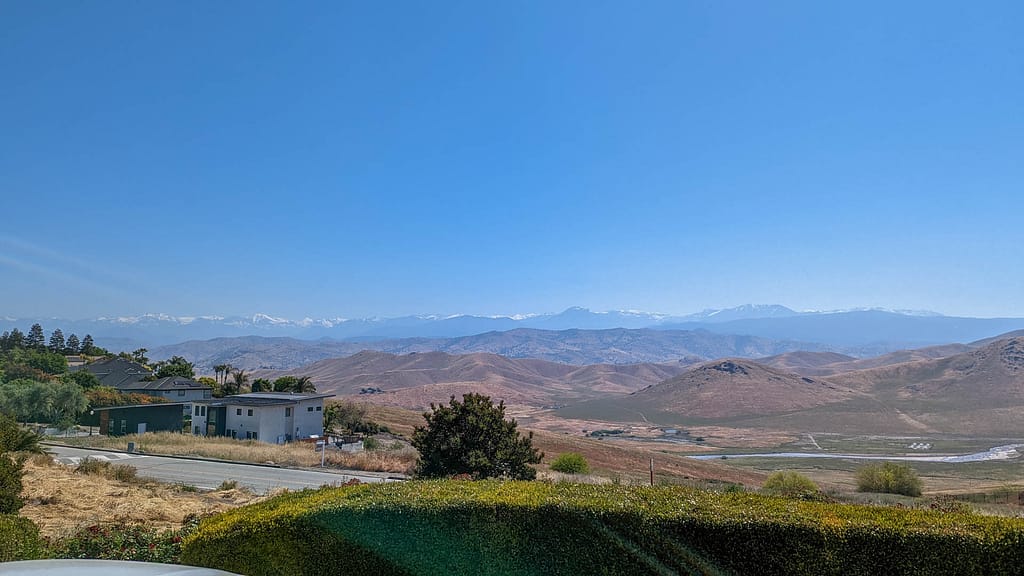 Then we hit Quality Meats for more burger and other supplies and WinCo for other groceries. It's a good thing Steve had cash because WinCo doesn't take credit cards. And you can't take alcohol through the self checkout so we had to go to customer service.
Our last stop was at Lowe's to check out an Ego lawn mower. They didn't have the steering wheel model but we were able to check out the lap bar model. Yes, we're shopping for a mower on vacation because ours broke just before we left, the grass will be long when we return, and we have to special order the mower.
Then we took a new route home, up Dry Creek Drive. It was straighter than CA 245 but narrower. Narrow enough in spots that you wondered what you would do if you ran into oncoming traffic in the wrong spot. We also saw two or three "flooded" signs though no water over the road. Made us a little nervous we might have to backtrack. And it was a long backtrack.
Had most of the parks not been closed due to snow I think we planned about the right amount of time here, to do the scenic drives and some hiking and to see friends. While there wasn't as much to do, we did enjoy the peace and quiet at the cabin. 
This section contains affiliate links. If you click on a link we may receive a commission at no cost to you. 
We really liked our cabin at the Sequoia Resort & RV Park. We had small but full kitchen, places to lounge and to eat (and play cards) and a deck with a grill. We didn't need the woodstove; there was also heat and air. The "resort" isn't posh. It was peaceful.
There was a bar not too far from the resort but we didn't eat there. Instead we took advantage of the grill on the deck. Quality Meats in Visalia had a wide selection of seasoned meat, chicken, and fish, and other staples and things to go with them.
We had our own car and you will need one out here. I don't know that there's any other way to get to the parks other than maybe a day tour from Fresno.