I've been wanting to visit Santa Fe for years and finally found a trip to fit it in. Downtown was beautiful and walkable. The outskirts reminded us of Tucson.
Day 1: Driving from Wichita to Santa Fe
We were on the road a little earlier today which was good because we had a longer drive today. We thought Kansas was boring until we hit Oklahoma. If possible there was even less to see and the roads were textured as well. Once we got to New Mexico, things were smoother and a little more interesting with some grassy canyons and draws and mountains in the distance. A lower speed limit too. We saw what we think were snow goose. There were a whole bunch of birds that were white with black wing outlines on the front and more brownish on the back because they kind of disappeared. Anyway, it was very cool watching them. We also saw our first pronghorns today.
We stopped for dinner at Harry's Roadhouse before checking in to The Mystic. We had a 20 minute wait but we were expecting a wait. Our server was super efficient and running her ass off. She said she earned her chocolate cake that day. Steve had a smothered burrito and I had blue corn turkey enchiladas, both Christmas style meaning with half red and half green chili sauce. Also excellent guacamole and a couple of craft beers.
The Mystic is interesting. I enjoy the minimalist Western decor. They have a back garden that they apparently plan to rent out for events. We went and sat out there for a while even though they're still working on it. A couple of guys showed up to work out there later on so we asked if it was okay if we sat out there and the one guy said they would be locking things up in about 5 minutes. He also spun us a line about how they were setting up for events and etc. We didn't really care. So we got our chairs out and sat in front of our room. Later the other guy who was working on the lights stopped by and said he was the one that was really in charge of the area and he didn't have a problem with us sitting out there. Which was nice of him. We also got to meet a cute little dog.
Day 2: Downtown Santa Fe and Meow Wolf
We drove to downtown Santa Fe today and walked around, starting with the perimeter of the plaza. We like the rounded buildings and wood accents. 
We then walked over to Canyon Road where we window shopped galleries. Because our budget doesn't extend to actually buying anything. My shoes started rubbing so we headed back to the car so I could change shoes. Then we hunted down a Christmas ornament in one of the many cute shops downtown.
When we got back to our place the housekeeper was still working on our room so we walked to Jackalope next door which is kind of a combination garden shop and home decor place? Anyway, we bought some talavera tiles so we can make trivets out of them to hang on the wall. It was a lot cheaper than buying a talavera pot and probably more useful.
We had reservations for Meow Wolf at 3:00. That was an interesting immersive art experience.
We ate at Plaza Cafe Southside. It's a little difficult to find since it's in a strip mall. We had a green chili cheese burger and pork adovada. Both of them were really good and sufficiently spicy. We also had a happy hour margarita.
We took a day trip to Taos today. We'd planned on visiting the pueblo but it was closed. We took the low road there and the high road back. Each is scenic in its own way.
Neither of us feels all that well. We think it's the elevation. We stopped at Albertson's to stock up on beer and breakfast and bought some local green chile salsa to take home. Dinner tonight was green chile cheeseburgers at Santa Fe Bite. Steve liked yesterday's better, but maybe because it was his first?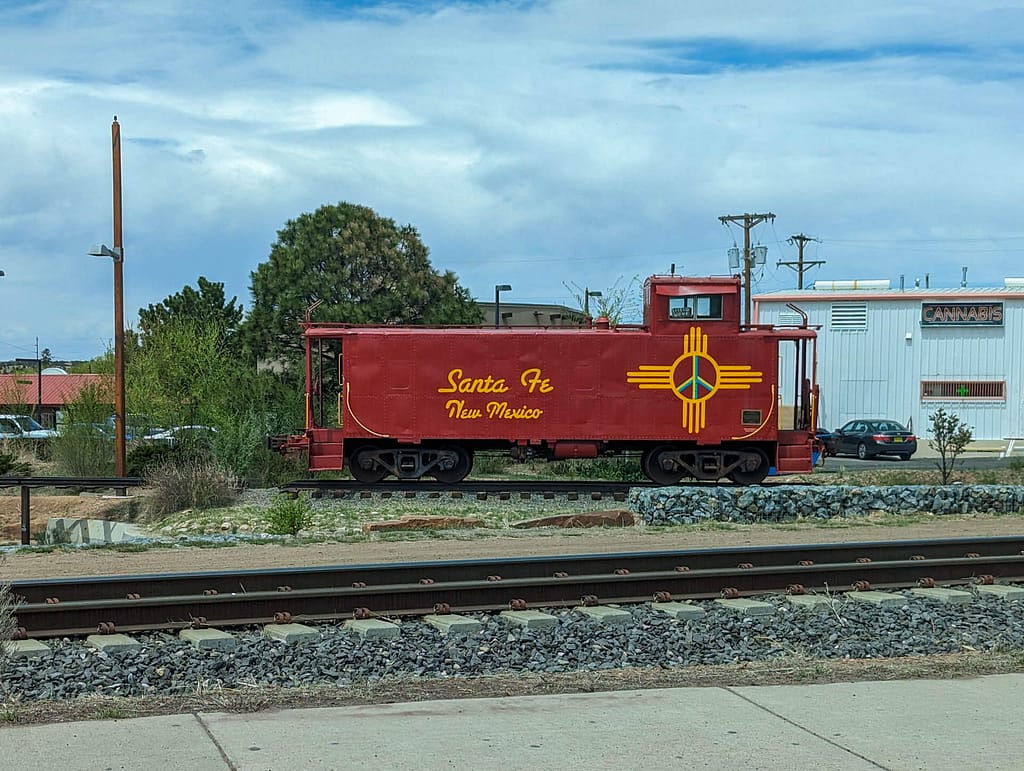 This section contains affiliate links. If you click on a link we may receive a commission at no cost to you. 
We booked the Silver Saddle Motel, which changed hands and is now The Mystic. The price increased too, from $79 per night to $125. They call the decor "bohemian desert style." I like it, though I don't know if that alone is worth $45 a night. The room didn't have a lot of storage options but there was plenty of room to set things. 
There are plenty of places to eat in Santa Fe and many of them sound great. We tried Harry's Roadhouse, Plaza Café Southside, and Santa Fe Bite and we liked them all. How many ways can you eat green chiles in three days?
We had our own car. Parking is scattered around downtown, which is walkable once you get there.