Puerto Rico Island Hopping
Puerto Rico has some beautiful beaches and excellent food. It was more expensive than we expected, though we didn't try hard to cut costs. Driving in Puerto Rico is stressful: maps are incomplete, navigation didn't work well, and Puerto Rican drivers are crazy! If we returned to Puerto Rico we would focus on San Juan, Vieques, and Culebra, having got a taste of the rest of the island.
The Plan: I'd been there for the day while on a cruise and despite a raging hangover remembered it as an interesting place that was worth a closer look.
The Reality: We did really enjoy the combination of history, tropics, and culture. 
Old San Juan walking tour from guidebook
Exploring the forts
Wandering the town in general
The Plan: We heard great things about both Vieques and Culebra. We tried to narrow it down to one but just couldn't. We scheduled the entire trip around being at the bioluminescent bay at the right time.
The Reality: We enjoyed Vieques and it went as planned, despite some less than ideal beach weather.  
Exploring the beaches
Bioluminescent bay tour
The Plan: We heard it was super relaxed, which we enjoy.
The Reality: Yes, it was very relaxing. And since there happened to be someone else we knew on the island who had snorkel equipment we could borrow, we got to fit some snorkeling in. 
Hanging out at the beach
Snorkeling
The Plan: We wanted to see more of Puerto Rico than just San Juan and the outer islands. We also wanted to try going to a resort that was not an all-inclusive to see how the overall price compared.
The Reality: We did get to see more of the island and the Copamarina did end up being less expensive overall than all-inclusives we've stayed at. We didn't see quite as many sights as we planned on the day we went driving around. We just got too tired and stressed.  
Stopping at El Yunque en route
Hiking in the dry forest
Sightseeing in that part of the island
Hanging out at the beach
Related Posts: The first post describes daily activities and the destination. Other posts cover anything that generated lots of photos!
The Plan: We wanted to experience both Old San Juan and a more modern area, so we planned a couple of additional days at the end of our trip to put us closer to the airport for our early departure.
The Reality: Our plan worked well. San Juan is pretty sprawling so dividing our beach time from our time in Old San Juan saved us having to drive around. And we discovered that there is a nice beach right in the San Juan area should we decide to come back.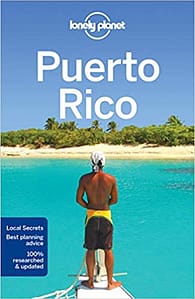 *As an Amazon Associate we earn from qualifying purchases. We get commissions for purchases made through links in this post. There is no extra charge to you. The commissions help cover the costs of this blog.