We found Guanica itself unremarkable but lots to see in the surrounding area.
Day 1: Culebra to Guanica
We packed up and had pretzels for breakfast because that's what we had on hand! We dropped off our golf cart and checked in for our flight. This time our luggage made it with us. Which is good because we have a long drive ahead, to the opposite "corner" of the island. The flight was uneventful other than our pocket camera stopped zooming. Which was too bad since we flew over beautiful Flamenco and Resaca beaches.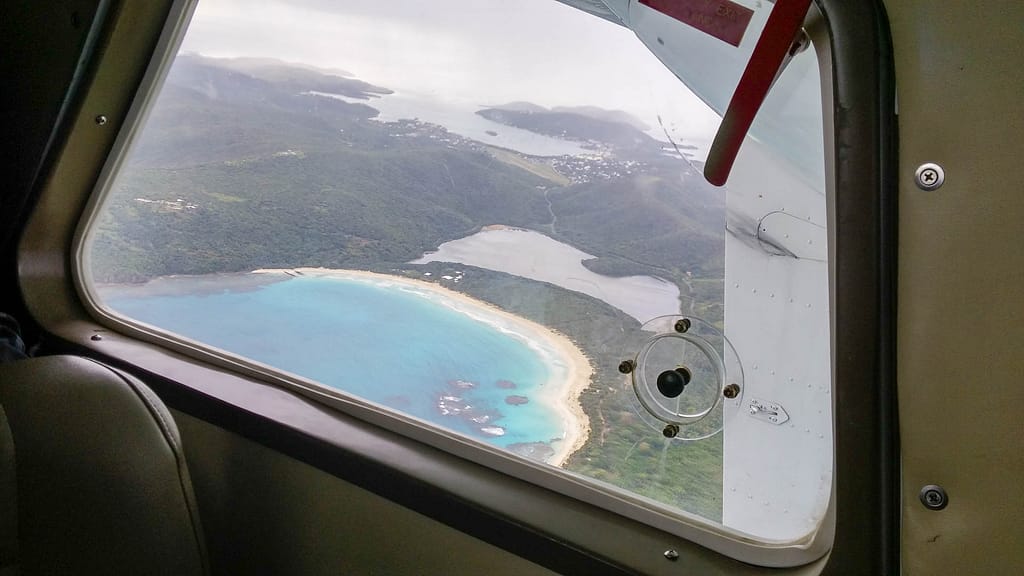 We picked up our rental car from Enterprise after landing in Ceiba. It took a while to do the paperwork because their printer wasn't working and it had to be done by hand. We hit the El Yunque rain forest en route to Guanica.
We had a minor adventure navigating San Juan. We missed an exit due to a confusing –at least to us! — sign but managed to find our way. Puerto Rican drivers ARE crazy. We saw several people driving on the shoulder and weaving in and out. It looked like about 2/3 of vehicles were dinged or scratched in some obvious way.
At Guavate we detoured to find a lechonera. We heard there were some up in the hills but we didn't find any so we backtracked to El Mojito near the highway where we had huge portions of lechon (roast suckling pig) and rice. The pork was good in some spots and dry in others. And I got to use my awkward Spanish.
We saw mountain scenery as we continued onto Guanica. Traffic dropped off as we left the San Juan area.
We decided to skip Ponce and were at the Copamarina bar by 5:00 PM. It's a scenic drive along the water to the resort. The Copamarina is an attractive resort with flowers, palms, and grass. Our room had a private patio and comfy seating.
At the bar they found a single Sierra Nevada Otra Vez for me. For dinner, we had whole fried snapper. We should have taken photos; it's one of those dishes that makes total strangers ask "What IS that?" It tasted good too! We really wanted brownies but they were out. I had cheesecake; Steve is holding out for brownies.
This resort is an experiment for us. We're testing to see how much it costs compared to an all-inclusive resort since it has its own bar and restaurant onsite.
Day 2: Hiking at Bosque Seco
French toast for breakfast with juice and coffee. And a one-footed bird. And staff putting out some kind of bug traps. Then off to the dry forest, to contrast with yesterday's rainforest.
We bought beer at a party store which was fun to park at due to curbs and ditches. A nice local gave us some local tips and even got us a map. Then we had a siesta on the beach under a palapa. We found a stranded leopard fish in a tidal pool. There's lot of grass in the shallow water but the sand is nice.
We snacked on more pretzels and filled out our NCAA basketball brackets on paper because we couldn't get the app to work. Dinner was mofongo and churrasco, with the brownie dessert, though with chocolate cake instead.
Day 3: Cabo Rojo and Beaches
Today we had the continental breakfast, which seems a better value: mini muffin, bagel, cereal or oatmeal, juice, and coffee for $10.95. Then we packed up and hit the road to Cabo Rojo.
We stopped at El Combate Beach which had shade and calm water. We had to pee in the flats leading up to it.
We skipped Boqueron and drove to Playa Joyuda for lunch at El Gato Negro right on the water. Our nice server was from Brooklyn. Steve had mofongo relleno with conch. I had octopus with corn sticks (surrullos). I had a flan for dessert; Steve got his brownie with ice cream finally. We also experienced a local tradition: other diners wishing us buen provecho. It was impossible trying to get out of the shallow parking lot onto the highway along the beach. Finally a nice woman blocked traffic for us so we could pull out!
Then we tried to find San German. We chanced on the main square AND a rare parking space but we didn't have change for the meter and at that point were too stressed out to enjoy it so we headed home.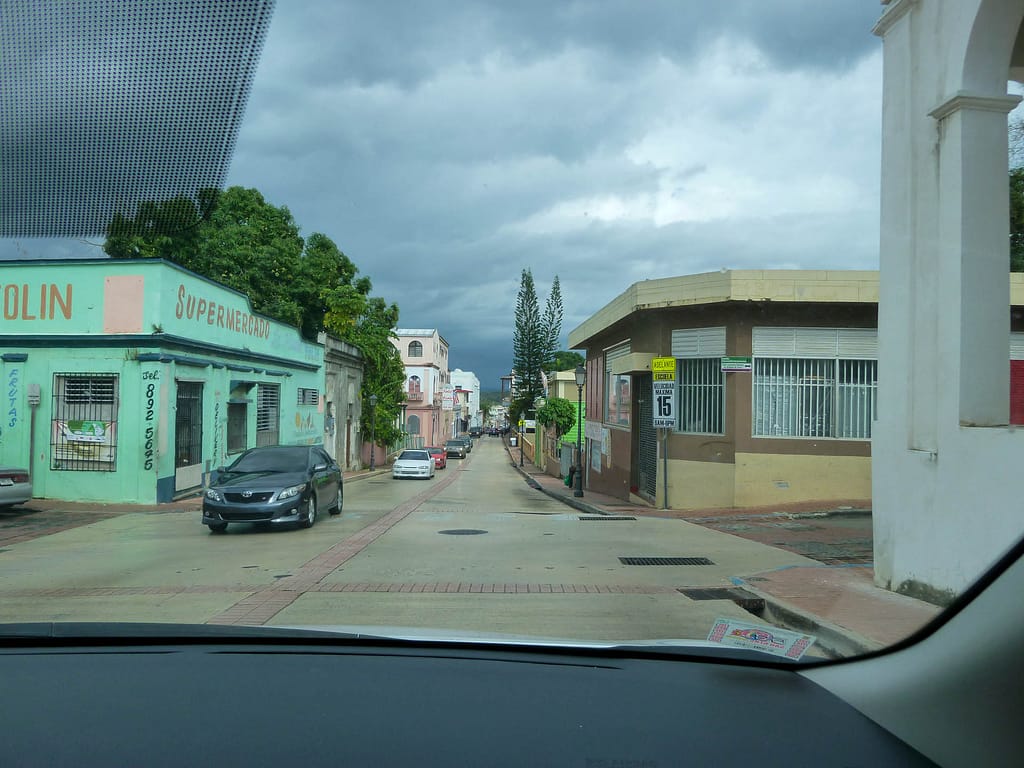 We stopped at the market but they had no good beer, coffee, or breakfast foods. We stopped at our room to discover the water was back on! (It had gone off sometime overnight.) We drove down to the beach at the end of the road, which was nice but not spectacular, and around the point. We saw a crab there.
For dinner, we reversed what we had yesterday. We saw a very large toad on the lawn on the way back to our room.
Day 4: At Copamarina Resort
Today we are hanging out at the resort. We had continental breakfast again, then walked through the balneario next door where we saw killdeer-like birds on the beach. We spent the day under a palm tree then a palapa and saw starfish, trumpetfish, and so many minnows they looked like weeds. Also a road-runner-type bird on the beach. We had a cuban sandwich and a tripleta of pastrami, pork, and ham, then got a six-pack in a bucket of ice to drink by the pool. After showers, dinner was linguini bolognese with chicken and $10 bushwackers for dessert. We finished up our beer and are trying for an early start tomorrow.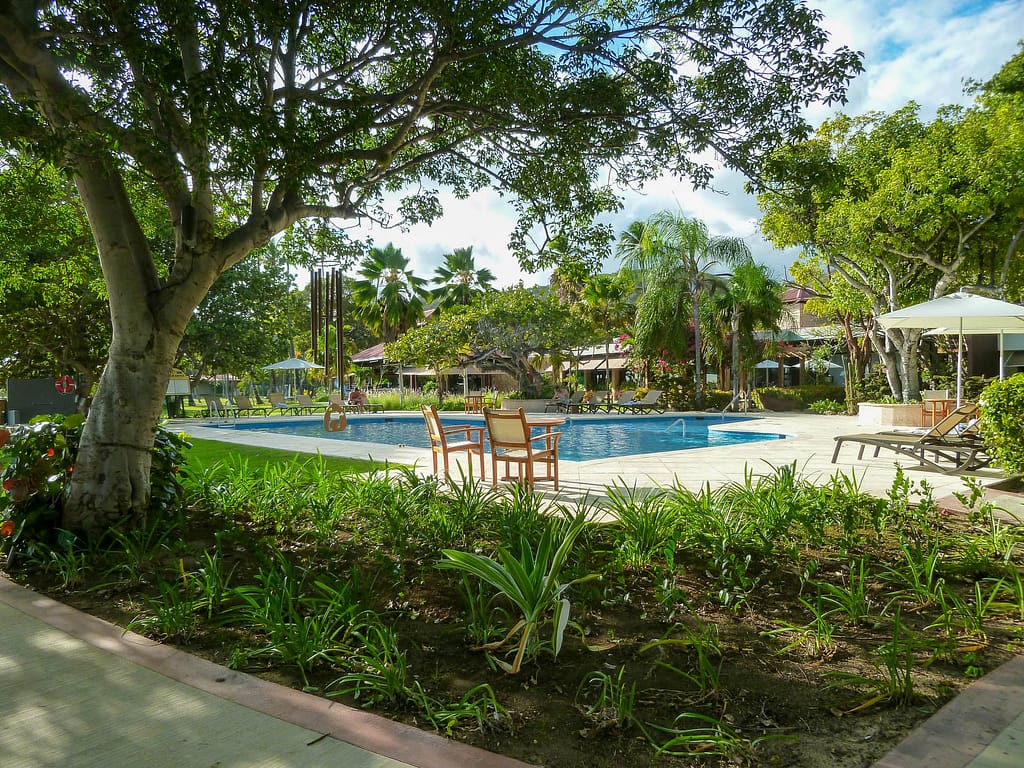 Our food and drink bill came to $560 so it was cheaper than an all-inclusive.
This section contains affiliate links. If you click on a link we may receive a commission at no cost to you. 
This was our first time staying at a resort that is not an all-inclusive resort, to test the waters. It felt like we were spending lots of money on food and beverage, but when we added it all up it was less expensive than the daily rate at all-inclusives we've stayed at.
The resort is located in a very quiet part of Puerto Rico, near the Guanica dry forest. The grounds are beautiful. The room was very comfortable, perhaps a bit worn in spots. We enjoyed the private patio, the pool, and the beach. The water itself is not great for swimming, being very shallow, but a nice public beach borders the resort and it's an easy stroll over there if you want to swim in the sea.
I was initially concerned with the short menu at the restaurant since it's the only place nearby to eat, but everything we tried was great. Drinks can be expensive; a Bushwacker was $10. Breakfast was less satisfying. The service was very friendly throughout.
El Gato Negro
Joyuda
We heard there was a whole stretch of great seafood restaurants near Joyuda. And of course most were closed on Wednesday when we were there. El Gato Negro was not, and was on our short list, which shortened the list to one. This is not a stuffy kind of seafood place. Very casual.
We had a rental car because the resort is remote and we wanted to explore that corner of Puerto Rico. We rented from Enterprise in Fajardo and dropped off the car in Isla Verde.