We spent a couple of languid days wandering Old San Juan. It's an odd swirl of history, foreign culture and language, and US brands. We loved it.
We drove to Detroit the night before our early flight and stayed at a Park-Sleep-Fly. We had dinner at Leonardo's right across from the America's Best Value Inn. They have great pizza and beer selection. It makes for a relaxed last night before leaving.
Day 1: Detroit to San Juan
We were running late for the shuttle so all we got was a quick donut for breakfast. It took a while to de-ice the plane making us late getting into Philly; we still caught our connecting flight. (I now schedule at least a two-hour layover within the US because delays can cause stress.) In fact, we landed early in San Juan.
Our taxi driver pointed out sights on our way to the hotel. We booked The Gallery Inn because it sounded quirky and it is. To get to our room we went upstairs and then down again. There are vines growing INSIDE our room. We appreciate that. Others may not!
We wandered around the old town and had appetizers and beer at El Patio de Sam. We stocked up on beer, water, and sunscreen at Walgreens. One of the things I get a kick out of in Puerto Rico is that it looks foreign and it sounds foreign, but you're still spending dollars and there are US brands everywhere. It's just … odd.
We watched an acrobat street performance.
And we drank our first Medalla on the rooftop deck of our hotel. Medalla is THE beer in Puerto Rico. Light is the only variety and it comes in 10 ounce cans. 
We finished the day with dinner at El Jibarito: alcapurrias (fritters filled with ground beef), roast pork, and mofongo (seasoned mashed plantains). The mofongo was good but not stellar.
Day 2: Old San Juan Walking Tour
Our included breakfast of tasty yellow and white bread and delicious homemade guava jam was served in the garden patio with a side of lizard sex.
Then we hit the sights by doing the walking tour from our guidebook; the directions were sketchy in places. The highlights were the two forts and Casa Blanca. The house was free to enter and peaceful to explore. We were able to use the annual park pass we got for Utah last fall to enter the forts.
There are dogs EVERYWHERE because there's some kind of pet festival going on. So cute.
Lots of pigeons at Plaza de las Palomas too, who pooped on us. They got Steve's toe and my arm. We were glad our hotel was handy for cleanup!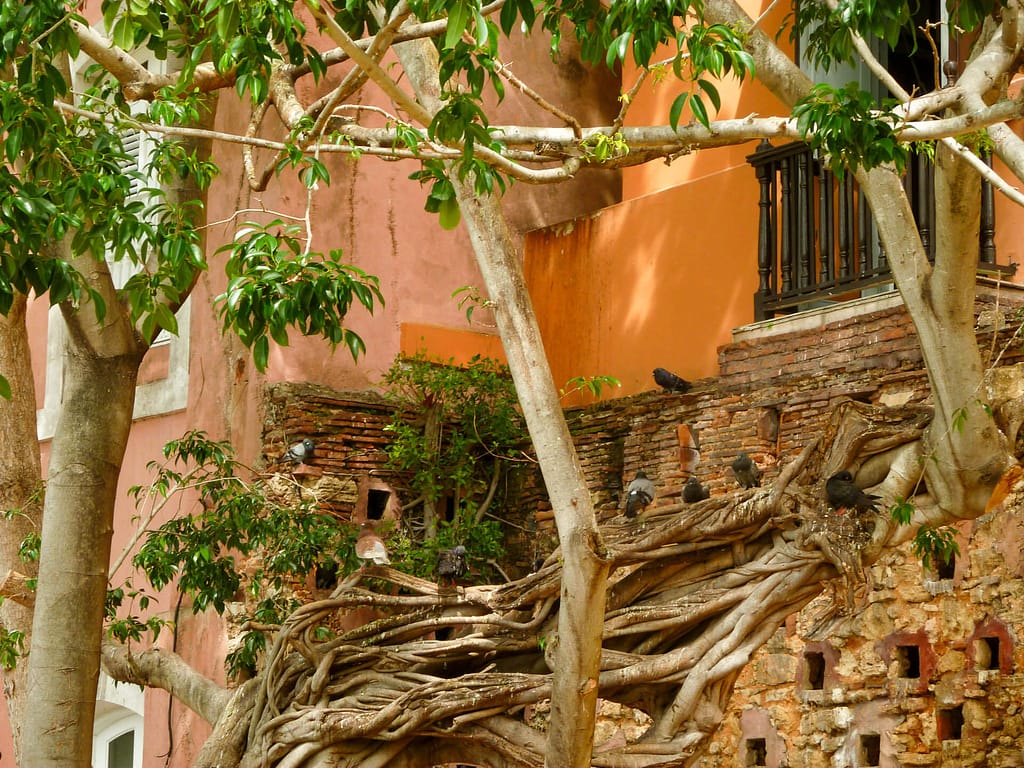 Steve helped a local negotiate an impossible parking task on the narrow streets and held the door for a woman with a stroller. Just trying to raise the bar for American's abroad. We stopped at Cafeteria Mallorca for a signature Mallorca: a toasted ham and cheese sandwich with powdered sugar. We figured it would be excellent or awful. It was excellent.
We ended up walking about eight miles and finished our tour at La Taberna Lupulo for some local craft beer — we were happy to see Michigan beer well-represented but we can get that at home — followed by a siesta before dinner. Usually we avoid logo wear when traveling but Steve brought his Detroit Tigers hat on this trip, Puerto Rico being a baseball kind of place.
We had dinner at La Madre. The draw there was the margarita selection; we had a tamarind and a passionfruit. And ceviche, carnitas, and a steak burrito.
This section contains affiliate links. If you click on a link we may receive a commission at no cost to you. 
The Gallery Inn was a bit of a splurge for us, being a bit above our usual price point. It sounded worth it and it was. The Inn is well located within Old San Juan, while on the quieter northern side. Our Janmarie room (the rooms have names, not numbers) had all the essentials. We had a window overlooking a central courtyard, with wooden shutters. There wasn't a lot of choice at breakfast, but what there was was delicious. (Make sure you try the guava marmalade.) The rooftop deck requires lots of stairs, but has wonderful views. The staff were very warm and helpful.
There are tons of dining options in Old San Juan. 
Old San Juan is a joy to walk around. We got a taxi from the airport.