We loved sleepy little Culebra and big beautiful Flamenco beach. And found some great things to eat and drink!
Day 1: Vieques to Culebra
We were lucky to get breakfast before it officially opened and dropped off our Jeep on the way to the airport. The fun began when we got to the airport to catch our small plane to Culebra. Our plane was overloaded so our luggage came later on a cargo plane.
We were happy we had a rental golf cart and were staying not far from the airport. Yes, a golf cart. Culebra is small enough that you can get around by golf cart and it's fun. Until it starts raining. The storage compartment nicely held a 12 pack and mixer. 
We knew someone who was camping at Flamenco Beach for the winter so we met up with him and his brother-in-law at the campground. We hung out with them by the tank today and had rice and bean burritos with them for lunch. We drove him into town in our golf cart to the store and the post office, then dropped him back off at the beach before picking up our bags. We had dinner at Mamacitas where they have a unique menu system: The menu is written on a board at the entry and you take a picture of it with your phone. Genius.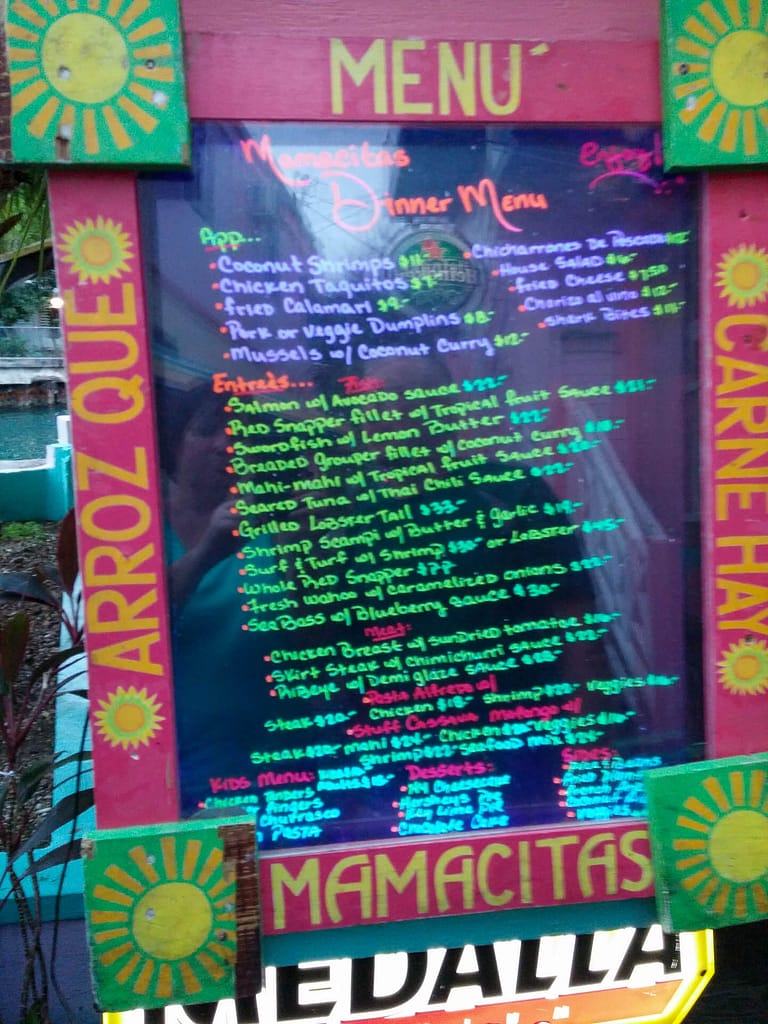 Then we sat on our balcony to drink beer and enjoy the view over the bay.
Today we slept until we felt like it, about 8 AM. Then we drove to Vibra Verde for breakfast. My blackberry and blueberry muffin may be the best I've ever had. Then we got ready for the beach. We raced an iguana partway down the VERY steep hill to our Airbnb apartment.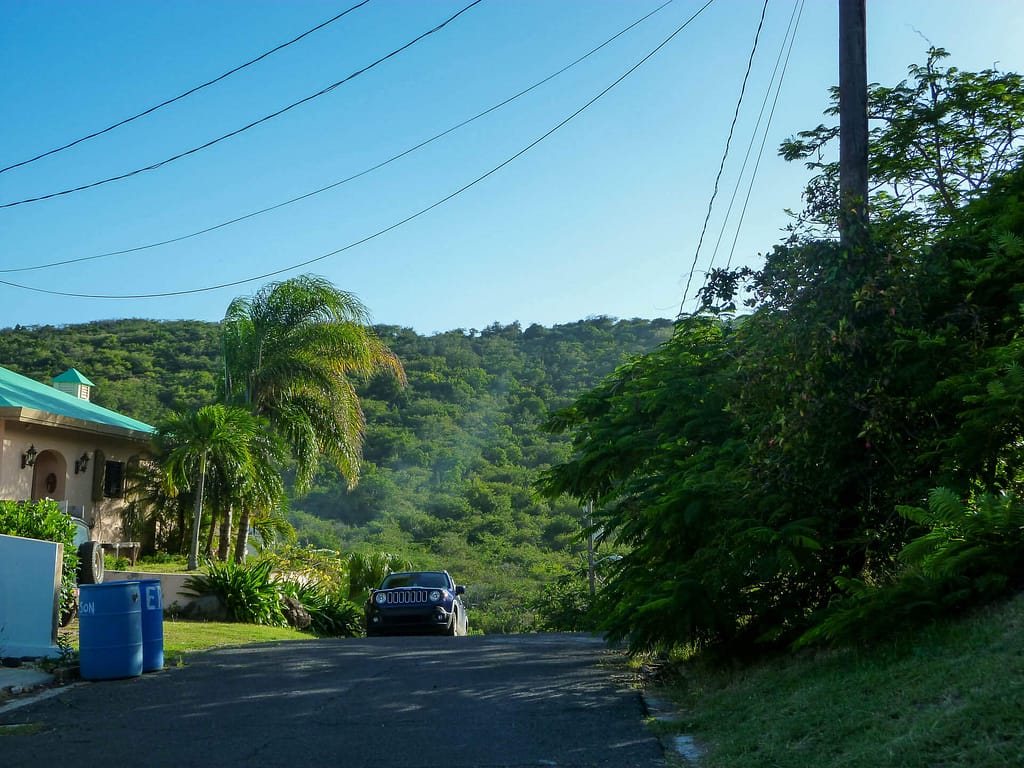 We got hit by a brief shower moments after arriving on the beach. We had lunch with the guys again. Just a relaxing, breezy day. We had a beer at one of the beach shacks on our way out, then stopped at the store for limon rum and passion fruit juice. We're going tropical!
We had churrasco and grilled mahi-mahi at Dinghy Dock while watching the giant tarpon, then tried our tropical concoction on our balcony. 
Day 3: Snorkeling at Carlos Rosario Beach
We finally tried quesitos for breakfast at Pan Deli Bakery. They were as good as advertised! Great coffee, too. We borrowed some snorkel gear from Artie and hiked over to Carlos Rosario beach. We hiked back to Flamenco and had a couple of beers and sat on the beach for a while. Steve saw a white-cheeked pintail duck.
After getting cleaned up we went to Heathers for pizza. We got the combo which included chorizo; it was good, with lots of cheese. Good music too. We found two lizards inside our apartment.
Back to Vibra Verde for breakfast, where I had coconut quinoa. And we got gas, which was fun. The guy shook the cart to estimate how much we needed, then kept shaking it while he was filling it. Then we drove out to Playa Brava. It rained heavily on the way back to town; we actually had to use the windscreen on the golf cart. It was hilly too.
We went back to Flamenco Beach and sat in the cart and drank beer to wait out the rain. We said goodbye to the guys and met a woman from Oregon who was traveling. She went around the world by herself at 18!
We went back to Mamacita's for a late lunch. We planned on Mexican, but they closed at 2:30. We had burgers with bushwacker for dessert.
Then back to our place for siesta.
For dinner, we went to the Krusty Krab where we had yummy salty garlicky grouper fillet with rice, beans, tostones, and salad. The chef came out to check on things and take a bow. We wish we'd eaten here sooner so we could come back! We then went to Mamacita's for a dessert pina colada, then went home to finish our beer.
This section contains affiliate links. If you click on a link we may receive a commission at no cost to you. 
Culebra is a very small island and lodging options are limited. This was our first Airbnb stay. We inquired about a different condo that wasn't available and she referred us to Myrna's place. 
We very much enjoyed our stay at Villa Patria – La Palma. The apartment was just as described and pictured. The neighborhood was residential and quiet, yet within a short golf cart drive from a grocery store, the village, and Flamenco Beach. It is quite a steep hill up to the apartment. We did not want to walk it! Myrna gave us great directions. She also provides helpful tips on local sights and restaurants and contact information. We will definitely look at staying here again if we return to Culebra!
Dining options are clustered in the little village. 
We flew direct from Vieques via Flamenco Air, though I think we were lucky to find that. It was fun tooling around in our golf cart! We rented from Carlos Jeep Rental.