Costa Rica: Cloud Forest and Rainforest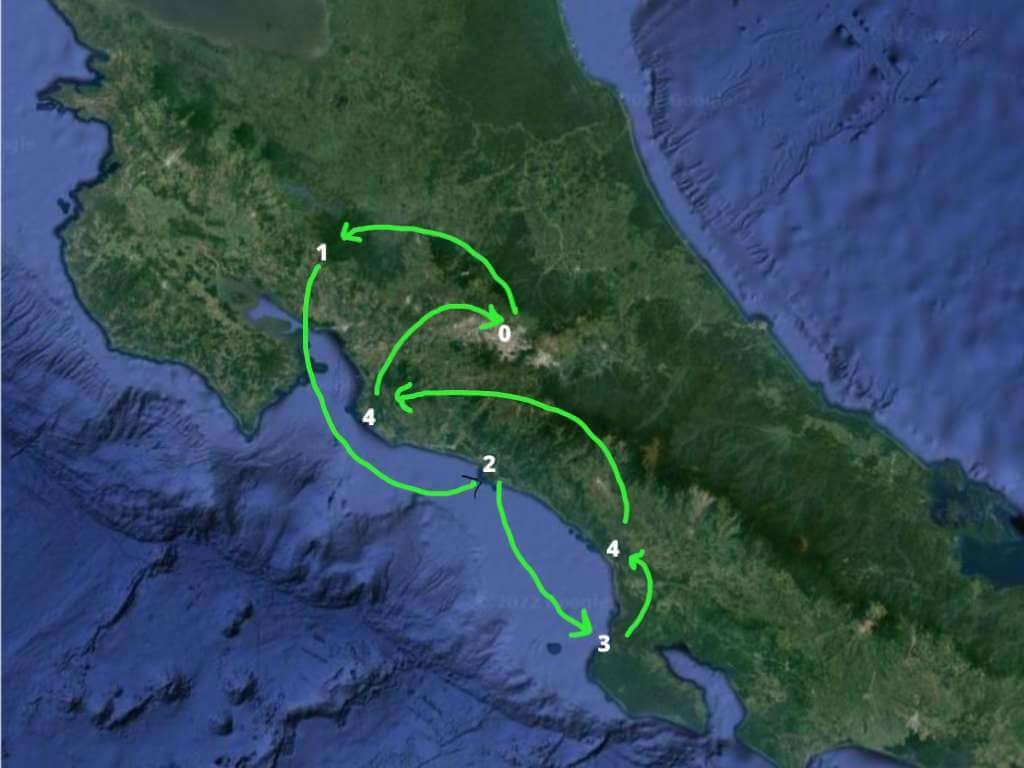 Costa Rica was on Steve's bucket list so we made it a priority. Our key reasons for going there were wildlife and nature. Steve really wanted to see a tapir. I really wanted to see a quetzal. One of us got their wish. We planned the trip so that our wildlife viewing and more active stops were first, followed by a few days chilling at the beach before going home. Although Manuel Antonio manages to combine both so if you want to do both and time is short, head there. We did NOT go to Arenal. It's popular and sounded beautiful but we've been in volcanic areas before and thought we'd get more untrammeled rainforests in Drake Bay. 
* Costs in US dollars at time of trip
The Plan: This was a rare opportunity to visit a cloud forest and we thought we should take it. Plus I wanted to see a quetzal and this is where they live. This is also where ziplining originated so we thought it would be a good place to try it.
The Reality: The cloud forest was as magical and mystical as we'd hoped and we saw a quetzal on our first day! The ziplining was fun and the suspension bridges allowed us to pause and really absorb the cloud forest. 
Cloud forest reserve tour
Cloud forest hiking
Ziplining
Suspension bridge walkways
We spent the first night in San Jose and took an Interbus shuttle from Adventure Inn to Pension Santa Elena the following morning.
Related Posts: The first post describes daily activities and the destination. Other posts cover anything that generated lots of photos!
The Plan: Manuel Antonio is one of the smaller national parks in Costa Rica yet still has abundant wildlife. It's also accessible and close to a beach and a town. 
The Reality: The national park is beautiful and the beaches are good too. The beach inside the national park is prettier though the one just outside is more convenient. 
Touring the national park
Hiking in the national park
Hanging out at the beach
The Plan: We were here for one key reason: To visit Corcovado National Park and see tapirs. The rest was just filling time while we were here. 
The Reality: We were unable to go to Corcovado, which is the biggest disappointment in our years of traveling. But we did have a fabulous if creepy night tour and a great time watching wildlife off the deck and ended up loving our visit. Spoiler: We came back in 2017 and made it to Corcovado.
Corcovado National Park
Night tour with The Bug Lady
Hike along the shore
The hike from hell
We took a shuttle that ended up being a private taxi to Sierpe and a boat from there to Drake Bay. The hotel provides shuttle service to and from the village for tours and guests are welcome to ride along if there's space.
Related Posts: The first post describes daily activities and the destination. Other posts cover anything that generated lots of photos!
The Plan: We wanted to wind up our trip with a few days at the beach and Ojochal had a good concentration of great restaurants for a place its size. Plus we found what sounded like a great deal on a hotel.
The Reality: The restaurants and the hotel were great. The beaches were also interesting though we were somewhat unprepared for how HUGE and empty they were. Great for walking around and exploring; maybe not so much for lazing around reading and taking the occasional dip in the water. The hotel pool was great for that though! Glad we got to experience El Castillo before it got priced out of our range!
Dominical
Dominicalito beach
Uvita beach
Ventanas beach
Ate at at some of the many fantastic local restaurants
We spent our last night in Jaco to be closer to the airport for our flight home.
Related Posts: The first post describes daily activities and the destination. Other posts cover anything that generated lots of photos!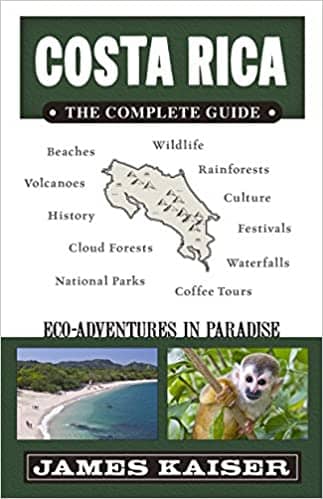 We used Costa Rica: The Complete Guide (Kindle version) as our primary resource. It had a wealth of information about activities, culture, and dining, and a separate web reference for lodgings. Highly recommended.
Also highly recommended as travel resources are the websites for the places we stayed. They go far beyond the hotel itself to cover the local area, activities, advice on Costa Rica in general … just about everything. Check them out even if you don't plan on staying there.
We found our Costa Rican hosts to be essential resources both before and during our trip. They helped arrange tours and transportation, including a complex car rental.
*As an Amazon Associate we earn from qualifying purchases. We get commissions for purchases made through links in this post. There is no extra charge to you. The commissions help cover the costs of this blog.
We buy "Christmas ornaments" on each trip. (They aren't always ornaments.) This time we got an Imperial beer keychain bottle opener. We hear Ticos are loyal to one of the two local beers: Imperial or Pilsen. We are Team Imperial. (Though the Pilsen is good too. So is Bavaria Dark if you can get it.) The keys were an unintended bonus. We forgot to leave them behind and El Castillo said nevermind returning them so we hang them on the tree.