Santa Elena is a bustling little village amidst the cloud forest reserves in northern Costa Rica. The cloud forests are like nothing we've seen before and we hope to see a quetzal. 
Day 1: Home to Alajuela (San Jose)
We didn't have any flight difficulties but lots of people had canceled flights so there must have been weather somewhere. We met a woman who had her iPad stolen at the airport. I guess people are less likely to hunt you down? There was a bachelorette party who rearranged the plane so they could sit together. 
We arrived at the San Jose airport around midnight to chaos. Lots of people milling around outside the exit. We're looking for Interbus for our free shuttle to our hotel. The other drivers pass the word and he finds us and gets us to our vehicle. And is not shy about asking for a tip. It's a good thing; it's hard to know when you should tip sometimes. 
We check in and crash. 
Day 2: Alajuela to Santa Elena
The Adventure Inn offers a free breakfast of hot food cooked to order — we get eggs with gallo pinto because we've been hearing about it — plus a cold buffet with different kinds of local fruit that we've never heard of or tried. The uchinas were my favorite. Budin is bread pudding. That was good too. 
Then we stop at the front desk to get our passports copied and get directions to the ATM. In Costa Rica you're supposed to carry your passport with you at all times. You can usually get by with a color copy but the trick is you need to have the Costa Rican stamp on it, so you can't make the copy until you get there. The Adventure Inn copies ours for us for free. 
In then ask — in Spanish — for directions to the ATM (after looking up Spanish for ATM). She asks if I want the directions in Spanish or English and I cave and say English. Off we go to the ATM, which is inside a supermarket tucked below and in back of a building but we find it eventually. Costa Rican ATMs typical dispense colones, the local currency, and US dollars. For this trip, we actually have a cash flow plan because we are going several places that accept cash only and one where there is no ATM or bank so we need to have all of our cash with us when we arrive. So we've brought cash with us and planned out withdrawals based on withdrawal limits. 
With that out of the way we just need to wait for our afternoon shuttle. Since there's a nice pool with a deck we hang out there. Our driver was early so instead of leisurely freshening up before the drive it's a quick pit stop and hit the road.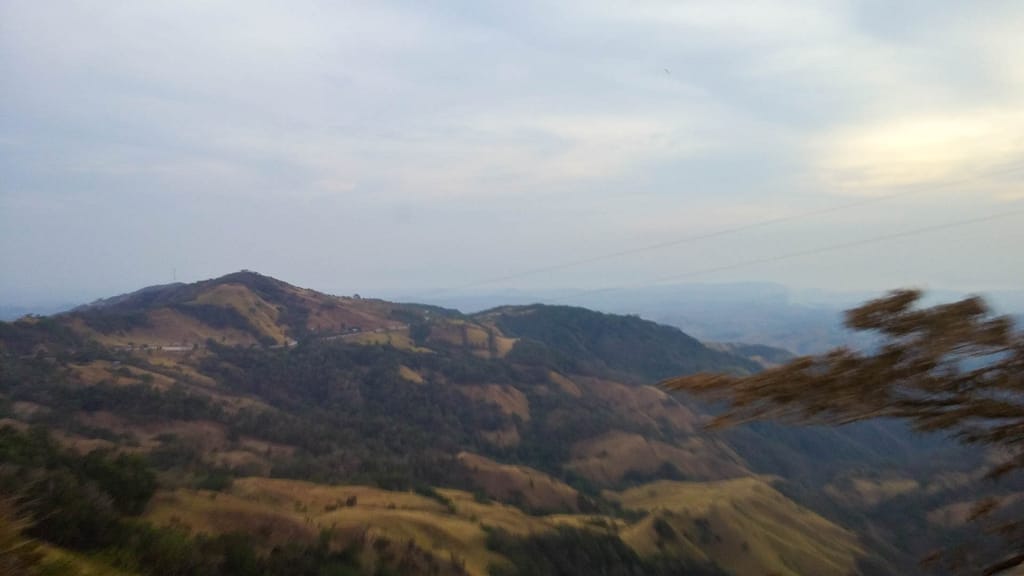 Tico (Costa Rican) drivers are as crazy as we heard so we're glad we got a shuttle and not a rental car. It's also a gravel road up into the mountains to Santa Elena. The shuttles travel from hotel to hotel so there's confusion when one of our fellow passengers doesn't know where she's staying yet. We have a rest stop along the way at a roadside restaurant with cool carved wood furniture and railings and end up getting into Santa Elena early. 
The Pension Santa Elena has a relaxed, hostel-like vibe and spartan rooms. Our ensuite bathroom has nice wood and stone touches and a great shower. And it's cheap. We have burritos (beef and al pastor with pineapple) at Taco Taco next door, then book a guide for the cloud forest reserve tomorrow with the knowledgeable and helpful front desk, then head to supermarket Vargas for beer and sit outside in the yard to drink it. 
Day 3: Monteverde Cloud Forest Reserve
We have a free breakfast of bread, marmalade, and fruit here from Taco Taco next door. The marmalade is homemade and delicious. Today is our day at the Monteverde Cloud Forest Reserve. We take a taxi for $10 to save taking the bus and waiting for an hour before our tour begins. We have a guided group tour first, then we plan on hiking in the reserve on our own.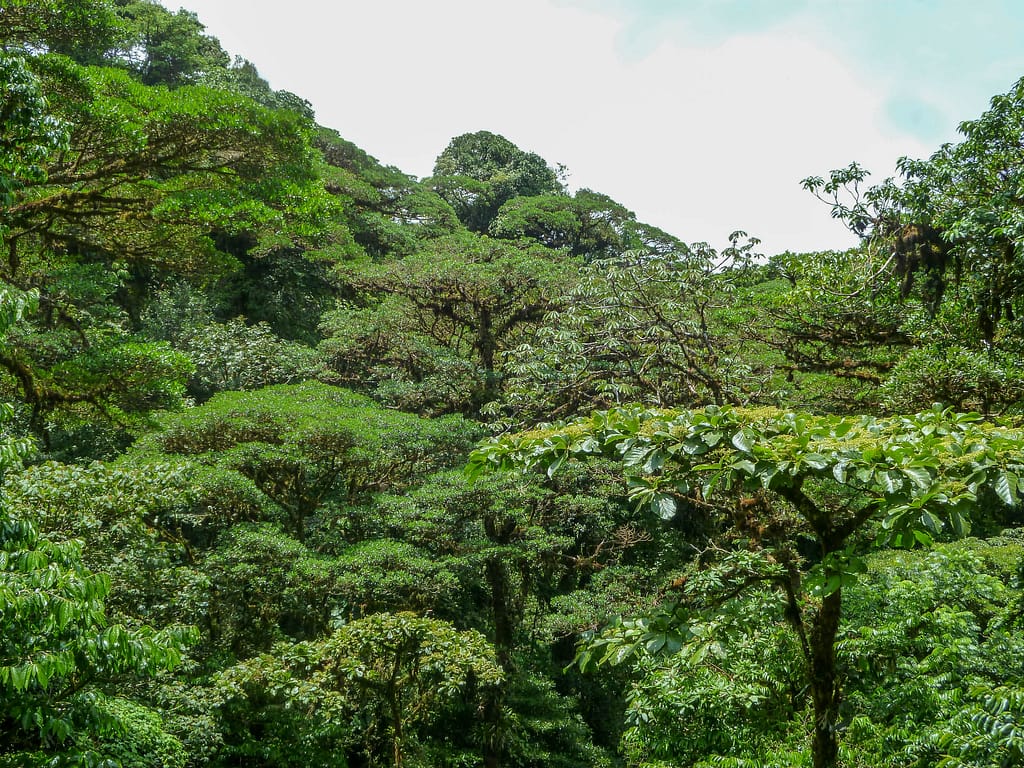 We get back from Monteverde about 2:30 PM. It's about a half-hour bus ride. We bought beer at the SuperCompro and made one of our scheduled ATM stops. Then we ate dinner at Morpho's next door, and tried Bavaria Dark and Segura Red beers. Morpho's is cute hobbit looking building.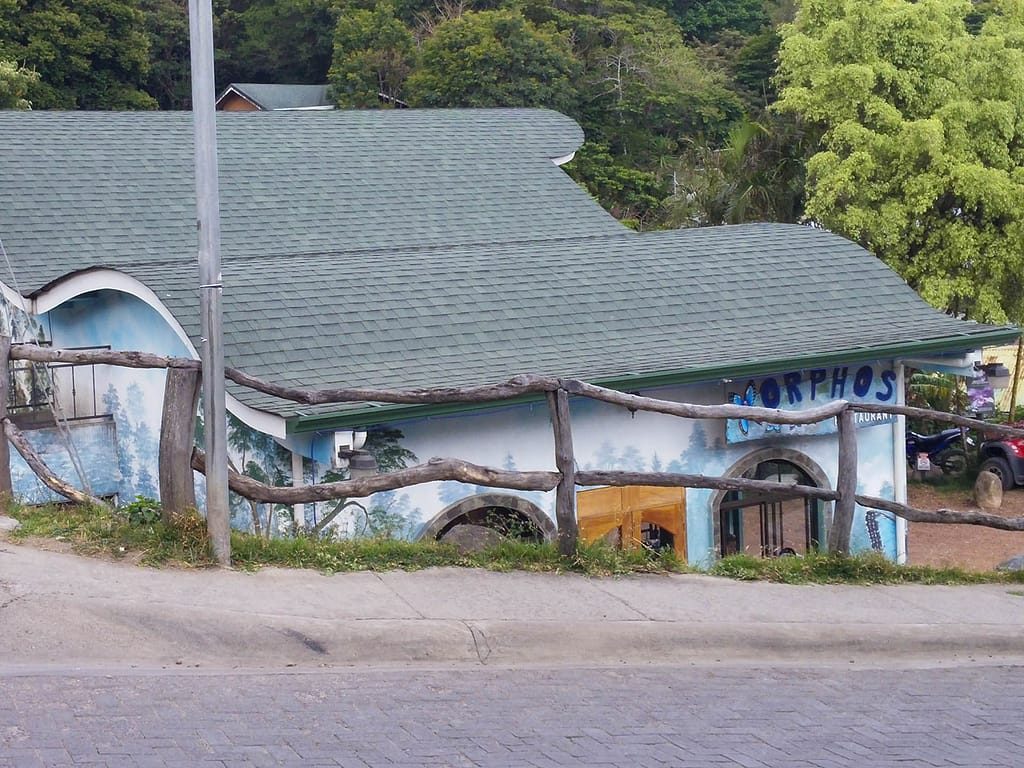 We booked the Selvatura Adventure Park combo with the front desk and were in bed by 8:30 PM.
Day 4: Selvatura Adventure Park
Back in Santa Elena, we had ice cream at Monteverde Ice Cream. Cafe (coffee) and mora (blackberry). The mora was especially good. Then we bought a bar of soap — there's no soap where we're staying and we didn't bring any — and water, and beer. And checked our cash to make sure we're on track. After a nice shower, we're off to the Monte Verde Beer House where we had a pale ale, a blond they make there, and the best fries ever with garlic, cilantro, and parsley. The fries were free because we had to wait for the beer to chill. It had a bathroom down an alley, with the dimmest bulb ever. Dogs kept crossing the road. We saw a squirrel too. Different coloring but it runs the same way.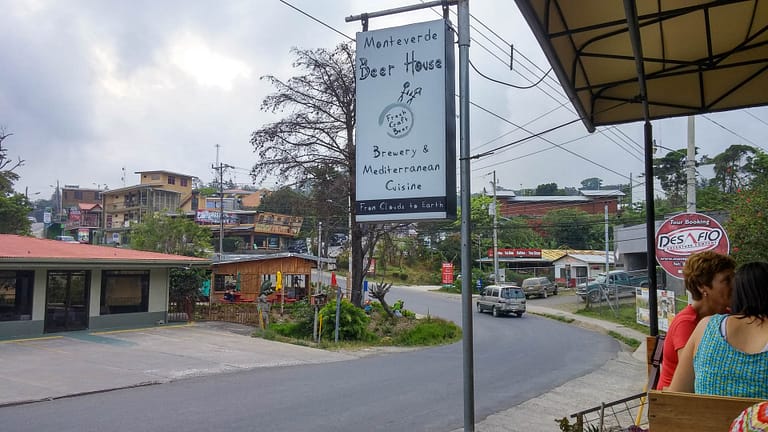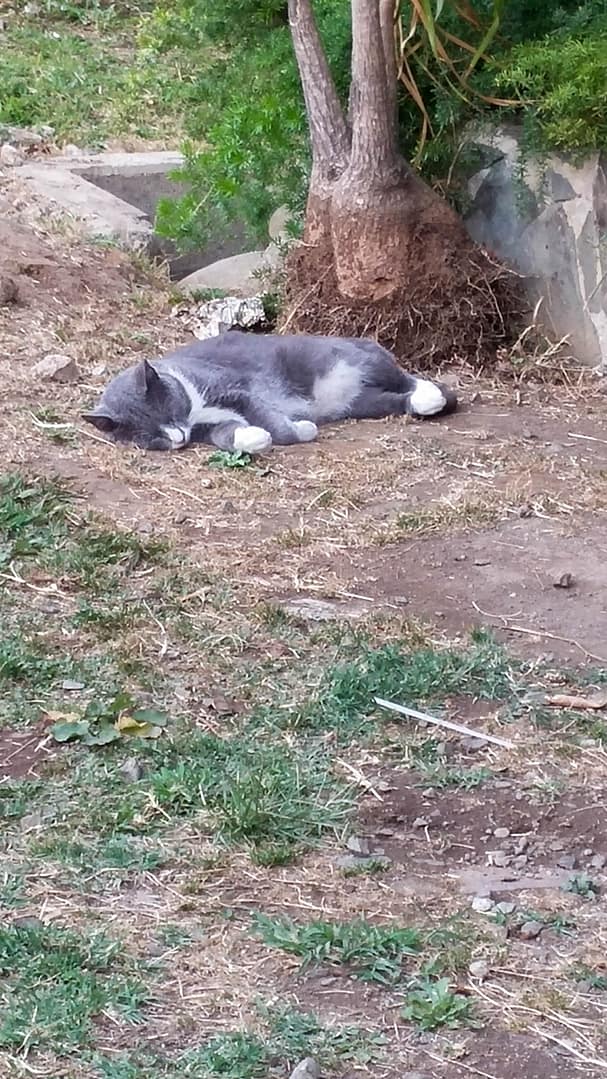 The pension has two cats; here's one of them. 
Then we went up the hill to Sabor Tico for dinner. Ceviche, arroz cantones and casado con chuleta. Casado is a common dish here. Casado translates to "married man" and the dish is based on lunches that women used to pack for their husband. It's rice, black beans, plantains, salad, a tortilla, and an optional protein source such as chicken, beef, pork, or fish. Steve's arroz was not quite as good as the night before. The pork chop (chuleta) was excellent. The restaurant has a nice view over the village. 
Then back to SuperCompro for more beer. We were recommended a place to watch the sunset but after hiking part of the way there we decided to save the sunset for the Pacific coast. 
Santa Elena reminds us of Harrison, Michigan and Bisbee, Arizona for different reasons. Like a lot of small north Michigan small towns it's not cute or precious, and it's hilly and a little quirky like Bisbee. We enjoyed our stay here. 
This section contains affiliate links. If you click on a link we may receive a commission at no cost to you. 
The Adventure Inn was clean, comfortable, and conveniently located to the airport and to an ATM for getting local currency our first day. Customer service started before we even arrived, with a welcome email providing an excellent introduction to Costa Rica. We will definitely stay here again if (when?) we come back! (And we did!)
The Pension Santa Elena has very basic rooms: concrete floor, bed and single built-in night stand, bathroom with only cold water at the sink (though hot water in the shower, where it counts). No toiletries. So definitely not luxury accommodations, but clean, comfortable, functional, and friendly, all for only $38 night! Walking distance to lots of different restaurants and supermarkets. ATM next door. If you want something less basic, the Arco Iris Lodge up the hill is a great option. (We stayed there on a later visit.)
There are several restaurants to choose from in the village plus a couple of supermarkets.
The village itself is walkable and there's a local bus service, plus taxis.