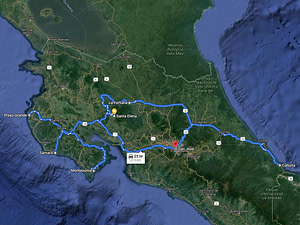 Costa Rica Coast-to-Coast
COVID-19 continues to disrupt travel plans and cause stress so we decided to return to a country we've been to before — and enjoyed — that is open to travelers. We hope we will be able to go as planned, and that it will be somewhat familiar and therefore less stressful!
Planned Activities
Hiking in the national park
Visiting local wildlife places
Checking out nearby beaches
The Plan: We haven't been to the Caribbean coast of Costa Rica yet. Cahuita sounds like a good base for us for exploring the southern part of the coast.
The Plan: This will be our third trip to Costa Rica and we haven't been to Arenal yet because it sounded too touristy for us. However, it breaks up the long trip to Monteverde and we'd like to try out the hot springs.
Planned Activities
Cloud forest reserve tour
Cloud forest hiking
Ziplining and hanging bridges?
The Plan: This will be our second time visiting Monteverde. We'd like to revisit the cloud forest we enjoyed so much and might just go ziplining again or if not, at least the hanging bridges we enjoyed.
Planned Activities
Hanging out at the beach
Turtle nesting tour?
The Plan: We're still looking for that perfect beach location in this hemisphere. We plan to use the rental car to explore a bit of the Nicoya peninsula while we're here.
The Plan: This will be our second time visiting Montezuma. Last time we stayed in the hills outside of town. This time we'll be in town which will be more convenient for getting to the beach and any other activities.
The Plan: Check out another beach location to see if it's THE place for us. I looked at Sámara for our previous two visits to Costa Rica. Now it's time to see how we like it.