Getting to Drake Bay is an adventure in itself. We took a taxi and then a boat ride down the river to get to this gateway to Corcovado National Park. And one our favorite places to stay. 
Day 1: Manuel Antonio to Drake Bay
We had breakfast in the rain in Manuel Antonio. Our driver — a regular taxi this time — arrived while we were finishing up. We got to practice Spanish with him on the ride to Sierpe. It was an interesting mishmash of English, Spanish, and Google Translate. It rained much of the way in the rain. There's not much but trees on that stretch of coast. And a long stretch of palm plantations grown for palm oil. A bad place for snakes because they come after the rats. 
In Sierpe the real fun begins. Our driver dropped us off at La Perla bar. There was confusion picking up and dropping off between the different places on the river and in usual Costa Rican fashion it all worked out. Thankfully a restroom! It was a two-hour taxi ride and not many opportunities to stop. We ended up with a full boat, then headed off down the river. It's about an hour and a half trip. The river is placid. It gets a little dicey at the river mouth with ocean waves coming in and rocks to navigate. Then it's a trip across the bay to the beach landing. 
The boats back into the beach at Drake Bay and crew and locals hold them in place while baggage gets passed to shore and people climb off the back of the boat. We managed to stay mostly dry until I picked up my bag. Then I got soaked by a rogue wave. Which thankfully didn't soak my bag!
It took two vehicles to get us all to our hotel, Finca Maresia. A Dutch family and a mixed group of Spanish speakers arrived at the same time as we did. We checked in and checked out our room, which is a Japanese-looking bungalow open to the outdoors, with its own bath and a deck with hammocks. I love the minimalist design. 
We hung around the main deck for a bit, then our host, Juan, suggested a walk down to the river. Didn't see much but motorcycles though it was good to stretch our legs. Dinner at the hotel was fish, broccoli, and soup. Dessert was strawberry cake so I got banana ice cream instead since I'm allergic to strawberries.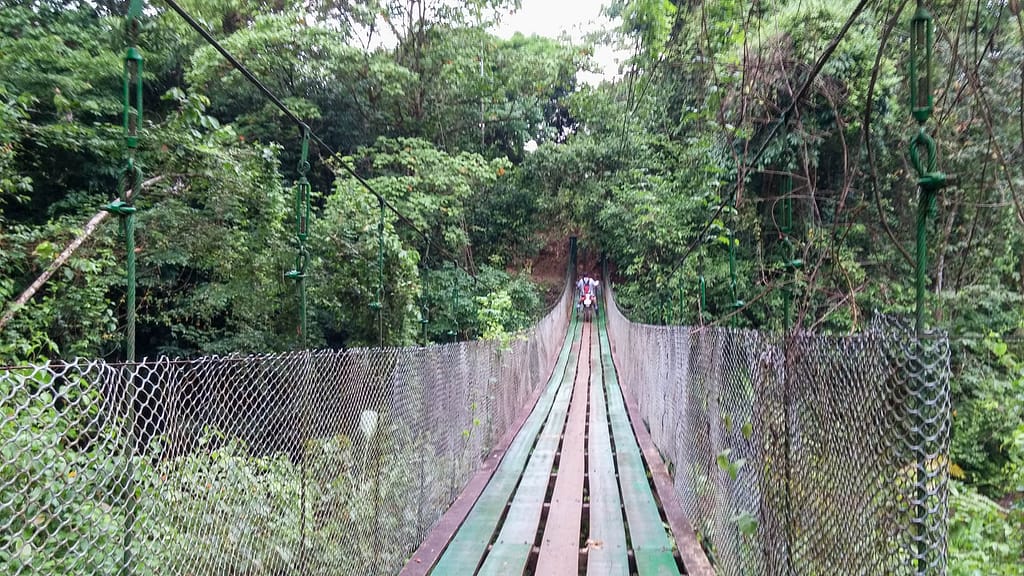 After dinner we did one of our two planned excursions here: A night tour with the Bug Lady. A Canadian/British couple staying here were taking the same tour. We walked down a trail in the gloom to meet our guide at Jinetes de Osa, a resort on the shore. Then we walked over to Aguilas de Osa (another resort) and took a boat to Drake Wilderness. Then we walked up to La Paloma and back down. We saw scorpions, spiders, tink frogs and gaudy leaf frogs, kinkajou, tarantula, leaf cutter ants. We heard lots of great stories about toxins. There were also possums, a big toad and frog, a sock snake, a Bolivian wanderer spider and a light-eyed beetle (it's eyes are luminescent). The trap door and net casting spiders were two of our favorites. We put most of the photos in a separate creepy crawlies post to spare those who don't like that kind of thing but there are couple of fairly non-creepy creatures below. 
My feet got chewed up (I should have worn hiking boots not Teva sandals) and I felt ill (probably dehydration) but it was entertaining and informative. So glad we did it and I will never walk in the woods again after dark. On the way back we got to ride in a local taxi, an open pickup truck with benches in the back.
We need to conserve water at the hotel because it's low. They rely on captured rain water supplemented with water hauled from the river if needed. 
We had pancakes for breakfast and spent the morning lounging in the hammocks. Then got a ride into the village with Juan and hiked the same trail we did the night before, down to Cocolito Beach.
Dinner was cauliflower soup and the famous paella (Juan is from Valencia, Spain). Dinner at Finca Maresia is one of its charms. Everyone eats family-style at a long table and shares the day's experience, other travel stories, and general conversation. The menu is the same for all though they do change things up based on allergies, vegetarian, etc. Tonight we met a Swiss couple and their kid who had been stung by a stingray. We had rain later in the day that cooled things down. We saw macaws, toucans, parakeets, and monkeys from the deck.
Day 3: Wildlife Viewing from the Deck
Today was supposed to be our trip to Sirena in Corcovado National Park — THE reason we're here — but it was canceled due to weather. We had gallo pinto and eggs for breakfast and spent most of the day on the deck watching the local wildlife. Plus took a short nap in the hammock.
Sirena may yet happen tomorrow; we're still awaiting final confirmation. We may go in a small boat then immediately get on the boat to Sierpe when we get back. We're not sure how the luggage will get handled yet. The Dutch family is in the same boat, so to speak. 
We've heard several rumors: that a boat capsized, that someone may have died, or may have lost all their luggage, that a girl may have been tangled up in the boat and her father died saving her. The Washington couple staying here got hit by a wave sitting on a bluff. The California/English couple got swept out while in ankle deep water. We needed Juan to unlock the beer fridge this afternoon!
At dinner — salad, carrot soup, pasta with beef and mushrooms, chocolate cake — we found out that Sirena was off, but had the option of hiking with Roy, the guide, which we decided to do. We'll be heading out early in the morning so we checked out after dinner. That took forever due to chatty guests. We'll pack up and leave our bags in our room, then we'll able to take a quick shower in the shared bathroom when we return if we want to. We went to bed early but didn't sleep well. Very hot and humid.
Day 4: The Hike from Hell
We were up for breakfast at 6:00 AM. Pancakes again. Steve recorded jungle sounds in the morning. We met up with Roy around 7:00 AM and hiked up the road and over the same bridge as we did the first day. Roy is a wonderful guide. Patient and passionate. We saw a roadside hawk, parakeets, howler monkeys, kiskadees, and some smaller birds. We met with "Gringo Tico," the farmer whose land we'll be hiking on, at his fence. He had a machete and walking sticks for us. Which were needed. We proceeded to slog up and down countless small but steep hills — mud ladders really of slippery tree roots — through the forest. Only fell once, on my ass. Didn't see much wildlife. A crested guan, lizards, lots of cool trees and plants. It was dense rainforest, lots of leaves, roots, vines, mahogany trees, bell trees, cow trees, monkey ladders, trees with thorns. It rained. In the rain forest, imagine!
We also hit a small swimming hole and saw two small waterfalls. Roy wore his swampers right in the swimming hole. We took our hiking boots off, which was a pain but the water felt good. We'd come prepared with swimsuits on but since we were already soaked with rain and sweat we left them on.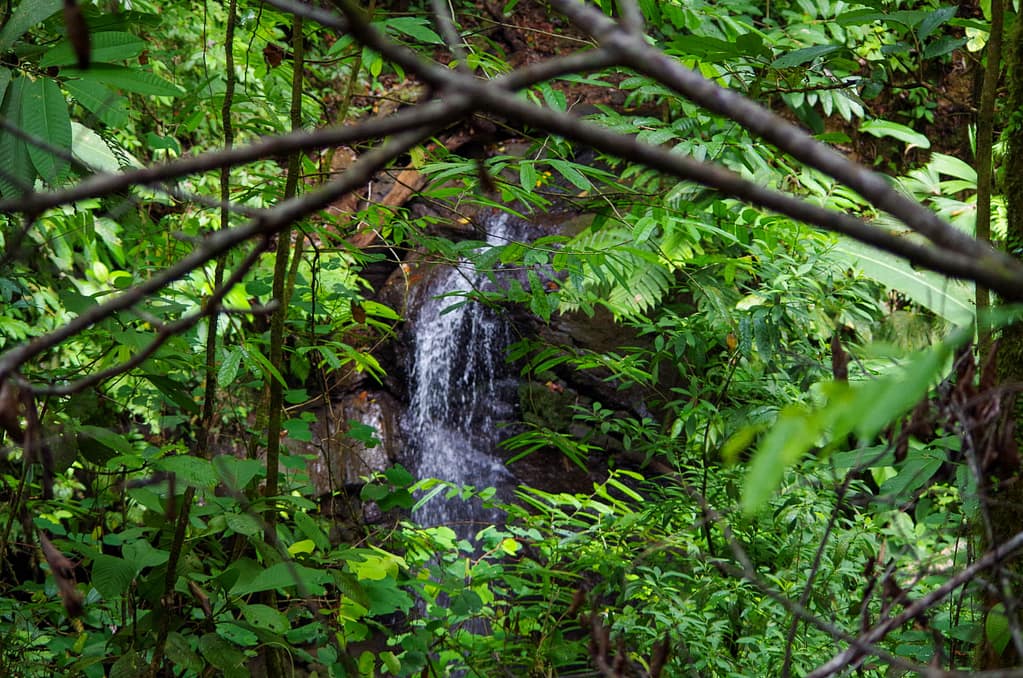 We stopped for a snack at Gringo's farm. Delicious fresh cut pineapple, papaya, coconut water, and homemade lemonade. He showed us a very rustic rental cabin he was working on. We saw a toucan and a turkey-like bird. The farm had pigs, cows, chickens, ducks, pineapple, sugarcane, and a dirt floor but electricity and a flat-screen TV.
While we were at the farm, Roy asked Steve if he though I would like a ride back. I'd been thinking I'd pay $100 for a taxi about then. So we arranged to get a ride back with some people from the farm that were heading into town. Yay! Steve went on for the second part of the hike, which was at least as challenging as the first part. He had to step in the water once.
We met up with the hikers on the road, after spraying ether in the truck to get it going. (I once had a car I had to do that to.) There was a steep uphill that we had to build momentum for. We ran into horses coming down the hill so we had to slow down then back up and try again.
Back at the hotel, we took a quick shower while waiting for the boat. We were both soaked and filthy. 
Getting on the boat was an adventure; much harder than getting off when we arrived. Our Tevas instantly filled with stones. We had to stow the bags first, then get on one at a time in between waves. Other boats (probably from area resorts accessible only by boat) pulled alongside to load other people and stuff.
The entrance to the river mouth had huge swells. The captain road the boat in the swell rather than on top of the wave, like surfing. We couldn't see over the top of either wave. Then he timed it and gunned it, riding the swell into the river. It started raining while we were on the river. We were sitting in the front of the boat and the drops hurt. So we bent over and let those behind us get it. We were grinning evilly along with the other young guy in the front as we let them have it. The whole boat was laughing at one point.
We all got off at La Perla, where we picked up a rental car for the next leg of our journey.
This section contains affiliate links. If you click on a link we may receive a commission at no cost to you. 
Drake Bay is very out of the way, and Juan is great at helping you get there and experience the area. Months before we arrived he helped us arrange, via email, transportation to and from the area and activities while we were there. 
It's about a 10-15 minute walk down to the beach, another 10 minutes or so into the village. The rooms are in bungalows scattered around a lawn area. There is a central building with a large open-air deck for meals and general hanging out. A flashlight and umbrella come in handy for moving around after dark, which comes early.
Juan has a great sense of humor and is great at helping arrange activities. In fact, he prefers that you arrange things with him.
There are two hotel dogs and two cats. The cats are huge and the dogs will welcome you with barks when you return to the hotel. All are well behaved and add to the atmosphere. You don't have to go far to see wildlife, either. 
Since we didn't make it to Sirena, we'll be back in Drake Bay someday, and plan to stay at Finca Maresia again!
Breakfast is included and is excellent. While there are a few places to eat in the village, the communal dinner at Finca Maresia was great and a great value for salad, soup, an entree, and dessert. (We never ate in the village.) Dinner is also a great opportunity to socialize with other guests; everyone eats at the same long table. There are also fridges with beer, soda, and wine, available on the honor system; each room has a card at the desk and you check them off as you take them.
We took a shuttle to Sierpe, then the boat to Drake Bay. Be prepared to jump out in the water when you arrive in Drake Bay. There will be plenty of help with the luggage. You can also drive though the roads are rough and there are river crossings, or you can fly out of the small airport.
There are taxis in the village, though most of the area is walkable. Transportation to and from day tours that start from the village is included. If you just want to go into the village you can ride along when the van is going, if there's room.