The Monteverde Cloud Forest Reserve was the first private wildlife conservation area in Costa Rica. We saw lots of interesting birds, plants, and animals and a hummingbird gallery. 
We have a guided tour, then we're going to hike on our own. One of my goals is to see a quetzal, which is one of the first things we see, so I joke that we can go home now. The guides carry spotting scopes so you can see the birds and animals high up in the trees. You can take a photo with a phone or pocket camera through the scope, which is how we got this quetzal photo. So whenever you see round photos like this one, that's how we got them.
Our guide also shows us hummingbirds, a rusty hinge bird (that's the noise they make, really), hummingbird nests, a tarantula, and a baby viper. 
We're also introduced to strangler figs, wild avocados, and air plants, and get to see a waterfall at the end of a trail. The trails are well marked and easy and our group is not large. Though there was a pushy German who blocked the rest while taking endless photos.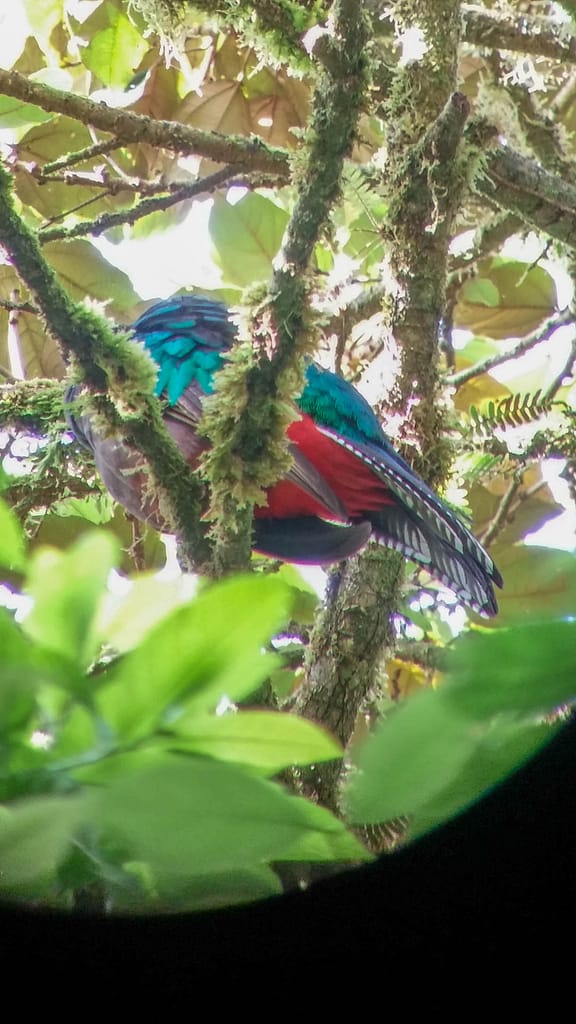 After our tour we visit the hummingbird gallery and get some great shots of hummingbirds, which are everywhere. We saw lots of different kinds of hummingbirds. There are 52 different kinds in Costa Rica.
Then we're off to hike on our own. We hiked just past the hanging bridge then looped around. We saw two large chicken birds, one on the ground and one in a tree. Also a coati and an agouti, which is NOT the same as a paca. (Pacas are nocturnal.) Most of the trails were in good shape, though we could see how they could get slippery if wet.
We had an hour to kill before the bus back to the village so we checked out the gift store and ended up seeing another quetzal. 
We used the longer telephoto lens on the Pentax and the pocket camera for wide shots and very close up. We wore love sleeves, long pants, hiking boots, and carried Gore-Tex jackets and umbrellas. We were glad we wore the boots; we didn't need the rain gear. It was borderline temperature on the long pants and sleeves.
It was $70 for entrance to the reserve and the guide. It looks like 2020 prices are $45 each.