Manuel Antonio is a small village right outside the national park of the same name. It's a good base for exploring the park. 
Day 1: Santa Elena to Manuel Antonio
Our Interbus shuttle driver was early again, about 8:15 AM. Which was good, because Pension Santa Elena told us to let them know if the driver was even a minute late because once they leave the mountain it's hard to get them to come back.
Steve took a number of photos on the pleasant drive. The road down the mountain was rough, steep, and had no guardrails. We saw cables draped through shrubbery on the side of the road. We again made a rest stop where we saw an iguana and bought a souvenir bottle opener/Christmas ornament.
We arrived in Manual Antonio about 11:44 and hit the beach. It was empty and the water temperature was great. Interesting tide pools and rocks. There were still lots of beach vendors, selling annoying whistles, ceramics, and cigars. We gave our usual polite no thank yous. Though one of them, Ramon, stayed around and talked to us for a while after we turned him down. We had nice conversation. The area right around the park entrance and our hotel was a hot, dusty, congested place with street vendors and stalls. But once you passed through the little lunch bar and into the hotel you were in a quiet, green, tropical oasis.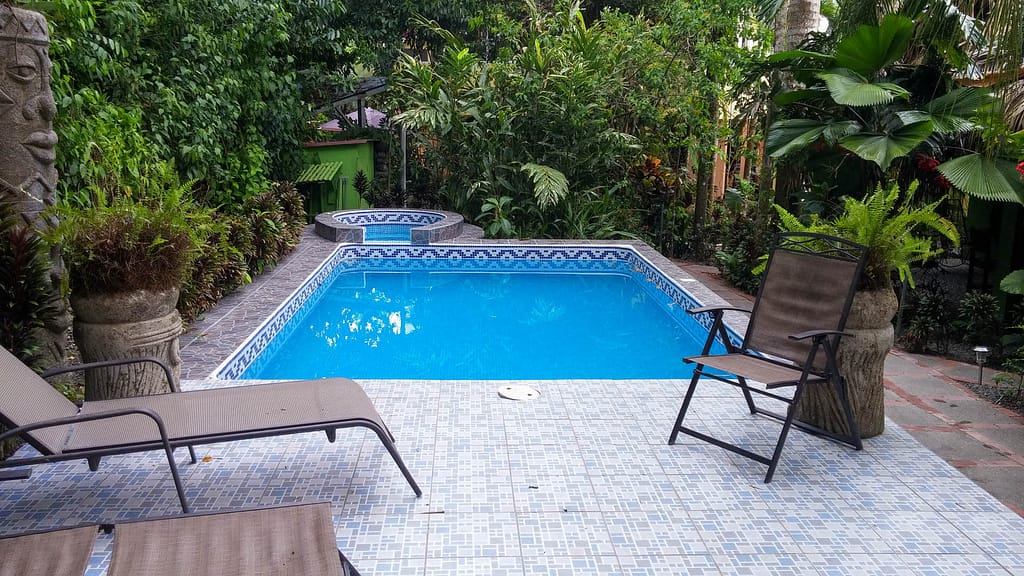 We booked a guide for 8:00 AM tomorrow for the park. It was one of those quintessential Costa Rican experiences: We ran into our host raking leaves and asked about the guide. We discussed arrangements and he continued raking leaves. Then we ran into him later and he confirmed we were all set. No receipts, no notes. Just casual discussion and poof! Things magically happen.
We sat in the breakfast area and had a few beers; they have a small bar too. We talked to Roger who works here, who lived in NJ. The hotel ran dinner and a movie on some nights but there wasn't any that night so we went to El Sol and had mojitos for happy hour, then casado with beef and arroz con calamari with fries. Then sat outside our room and drank some beer while mosquitoes chewed on our ankles. 
Day 2: Manuel Antonio National Park
Our guide, Mop, came by early to introduce himself and make arrangements for our tour of the national park. We had chocolate chip pancakes and fruit for breakfast. Ironically we got our best view of capuchin monkeys at the hotel while waiting for our guide.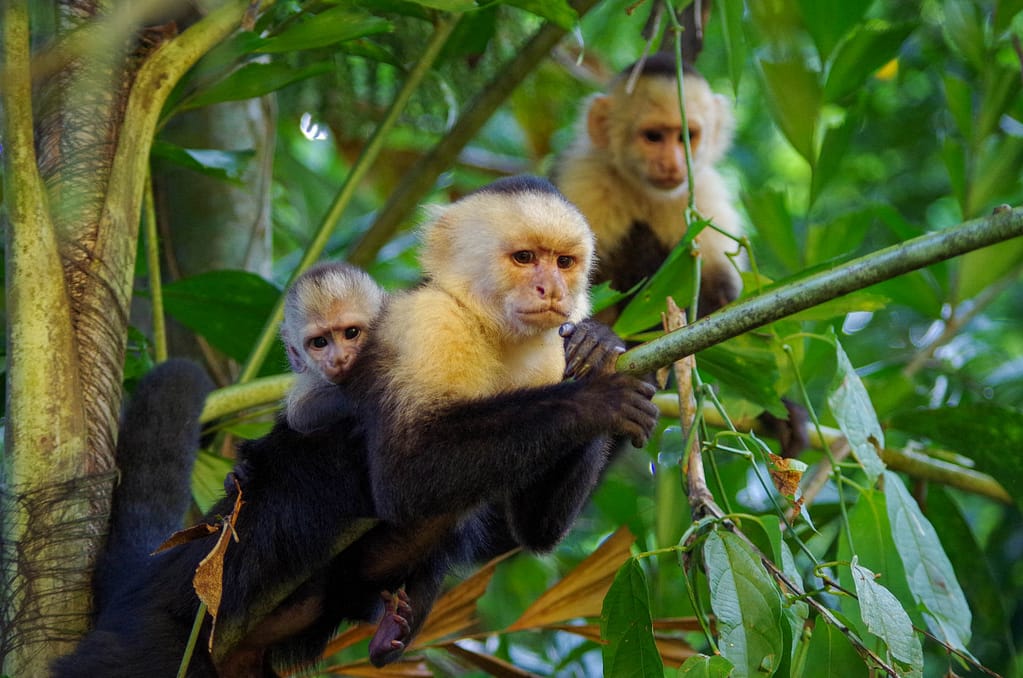 We got ice cream after the park and came back and got in the pool. It was VERY hot and sweaty in the park: 125° "real feel," (95° with 67% humidity).
We had a couple beers and sat through a thunderstorm. Some BIG claps of lightning. No pizza again tonight so we got to use our umbrellas going to dinner. And saw a monkey crossing road monkey style. El Sol was closed, so we went to the Marlin. We were unimpressed by the mojitos but the Marcasada (fish special for 2) was good. Later that night a dog followed the neighbor into her room. We could hear her trying to herd it out.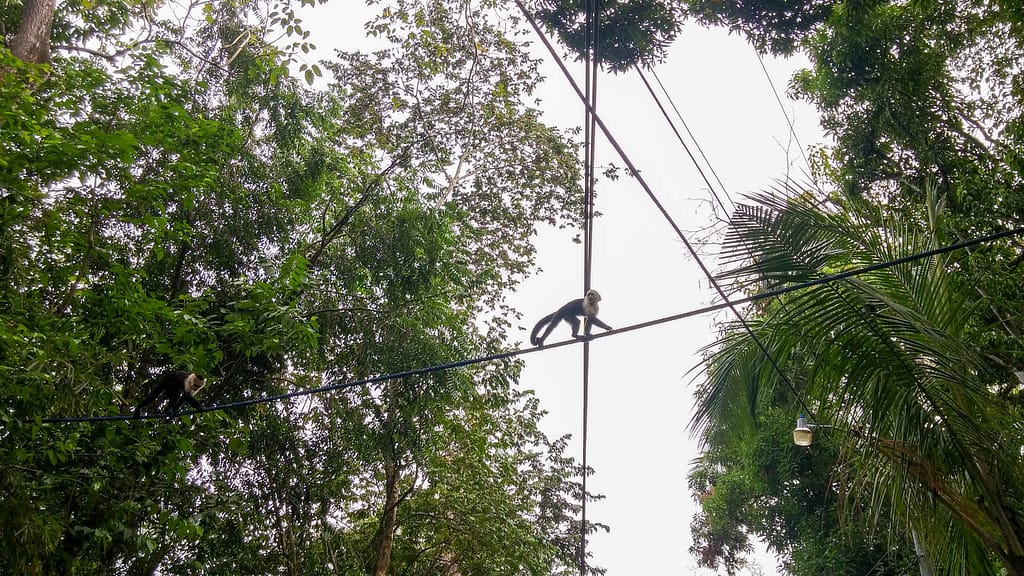 We had fried potatoes for breakfast today, with eggs. And we got to taste-test two banana breads to help the owner decide which to order. We checked our cash situation since we're still building up enough cash to get through Drake Bay where there's no ATM. Then I went to back up photos and discovered we forgot to bring the jump drive to back them up to. We went to the beach and watched waves and surfers, and investigated tidal pools. Then hung out by the pool.
Later we walked down to the Hawg n Bill for happy hour margaritas and live music from Jimmy Buffett's former fiddle player and a guitar player, Ben Jammin and Nancy Buchan. Steve like their version of The Watchtower. We met her husband hawking her music and real estate. He looked like the town drunk. They also play Roca Verde in Dominical.
Tonight we had dinner at the hotel! Chicken, pork, and excellent mashed potatoes. Which is kind of funny because Costa Ricans don't eat potatoes much. No movie, just dinner. We met some newlyweds from Texas. He was a surfer and had lived in Hawaii. Then we finished our beer since we're heading out tomorrow. And said goodbye to the hotel cat and dog, Bruno.
This section contains affiliate links. If you click on a link we may receive a commission at no cost to you. 
Right outside the entrance to the national park. There's not much to see from the street, but once inside it's a tranquil, tropical paradise with a nice common/breakfast area and pool. We had one of the smallest rooms. Handy kitchenette, a walk-in closet that allowed us to store our bags without tripping over them, and a private space to sit outside the room. With a ceiling fan, which was a blessing!

Nice breakfast every morning, with eggs cooked to order. Convenient to the public beach as well as the park. Several restaurants and a supermarket within walking distance. Didn't need to use the bus service, but they seemed to run frequently. Very helpful and friendly staff arranged a guide for the park.
There are several places to eat right outside the park and more strung along the road to Quepos. 
El Sol
The mojitos were really good and the view of the beach was nice.
We stayed right outside the national park so we could walk everywhere. There are other hotels and restaurants in the nearby town of Quepos and strung out along the road between the two. While buses travel the route we thought we'd need a car to get to dinner and such if we stayed elsewhere and we wanted to keep it simple.