During our stay in Ojochal we drove to a few beaches (playas) along the Costa Rican coast between Dominical and Coronado.
Our first stop was Playa Dominical. It was big, with big waves and lots of stones. And surfers. 
Just down the road heading south was Playa Dominicalito. Also stony, and picturesque with waves crashing into offshore islands. 
The following day we went to Uvita, famous for its whale tail, or tombolo, pictured below. (We didn't take this photo. It's from the Tico Times, a Costa Rican English-language news publication and a good source of local info.)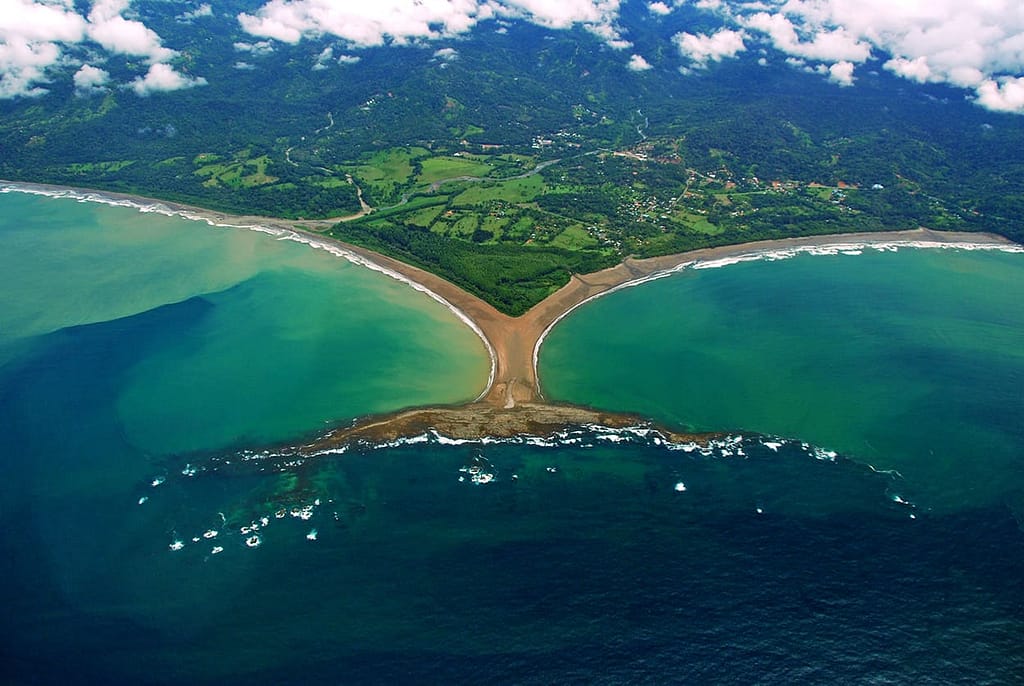 We meant to stop here yesterday but couldn't find the entrance. Today we did. It's colorful and casual and they had difficulty making change. There didn't seem to be many other visitors. It's mostly a marine park, but there are nice beaches.
The beaches near the whale tail are huge, especially near low tide. We didn't get all the way out to the tail itself since we were carrying cameras and waves were starting to cross over the tail. Some of the water was HOT. We saw some little crabs that moved very fast.
The waves on the point come from two directions. The last two photos were taken looking back toward the mainland from the point. The tide is coming in, covering the tail.
We sat in the shade in a couple of spots and took turns going in the water. (One of the downsides to Costa Rica is the possibility of petty theft from humans and monkeys.) It wasn't great for swimming because of the wave action but the water felt good and looked pretty. We watched a couple of boats get loaded on the beach. We'd never seen that before. (And won't again until we get to New Zealand.)
On our final day in the area, we drove to Playa Ventanas. We took our time getting there to hit high tide. It was kind of an exciting drive through a stream on the way to the beach. Parking was surprisingly organized for an out-of-the-way beach. It looked like they were building palapas. It was a nice enough beach but after talking to Jose back at the hotel it sounds like we didn't find the real caves. We did spend some time in the water and saw snails all over the walls. There was a small stream through the beach and a hot breeze.