Ojochal is tiny little village with great restaurants and a manageable drive from the beach.
Day 1: Drake Bay to Ojochal
We got off the boat from Drake Bay to find Solid Rental Car waiting with the car. We were supposed to pick up the car that morning, but our host in Drake Bay phoned them to arrange pickup from the afternoon boat instead. Another example of the incredible hospitality in Costa Rica. We did the paperwork at the restaurant and hit the road, then realized we'd forgotten a mesh bag with our wet clothes. We went back and found it right where Steve got the grit out of his shoes. We drove through some rain and found our next hotel, El Castillo, without any problems. It can be fun navigating in Costa Rica because they have no addresses. 
We checked in with Yor, dropped our stuff, took our second shower of the day, and headed for the hotel bar. We met Scott, the manager who I'd exchanged about 35 emails with prior to the trip, and had Bavaria Dark. It was nice chatting with him. He likes hosting drunk Americans (he's American himself) because we're just laid back and whatever. The hotel restaurant was closed that day so we drove down to Boca del Coronado for a dinner of great ceviche mixta, chicken florentine, and pesto. 
Breakfast was gallo pinto with eggs, fruit juice, and coffee. Then we headed for Dominical, stopping in Ojochal village to scout out restaurants. The main highway was nicely paved but had no markings. And we saw a horse in a pickup truck. Dominical was much as described, a dusty street along the beach. Scott and Yor had mentioned a good fish and chips place so we looked for that and stumbled on it right next to the tourist info place, El Pescado Loco. 
Back at the hotel, we did laundry, got in the pool, had some beer and watched the sunset. We saw capuchins and a toucan. Then we went to Citrus for dinner. One of the reasons we chose Ojochal was the concentration of excellent restaurants in the area. Citrus is an open air place owned by a Belgian. Our server was French. We split and order of nems — Vietnamese spring rolls –followed by pollo Hindu and pollo citrus. We had passion fruit cheesecake and chocolate cake for dessert.
Today's breakfast was an omelet with hashbrowns. Then we bought gas and headed to the beach in Uvita.
On the way back we bought warm beer in Ojochal to put in our fridge. All they had cold was Old Milwaukee! Then we found cold beer at a store in Coronado. We had a shower and a couple of those, then went to the hotel bar and had FAR too many beers along with pita with cheese and tzatziki as a free snack while talking with Scott, Jose, and the chef. We'd made reservations for dinner at 6:00 PM but we were the only ones there and ended up eating at 7:00 PM. It was hilarious and odd to move a few feet from the bar to the table and become customers again. 
For dinner we had roasted chickpeas that were better than a lot of fries we've had. The meals are priced based on number of courses, so one for $15, two for $25, etc. We got a gratis limoncello after.
I should mention that our room (shown above) was half the price of the other rooms at the hotel and has since been remodeled and is now $289 per night. Which is well outside our price range so I'm glad we stayed there when we did!
After French toast and potatoes for breakfast we sat by the pool and lounged. We tried Mamma e Pappa for lunch but it was closed, so we went back to Boca del Coronado for ceviche again. We shot video coming up the incredibly rough road to the hotel.
It was really hot, so had a beer then got in the pool and then lounged beside it. We watched a kiskadee thrash a katydid on a branch overhead. We stayed to watch the sunset — that last photo is of scarlet macaws flying in — then got ready for dinner.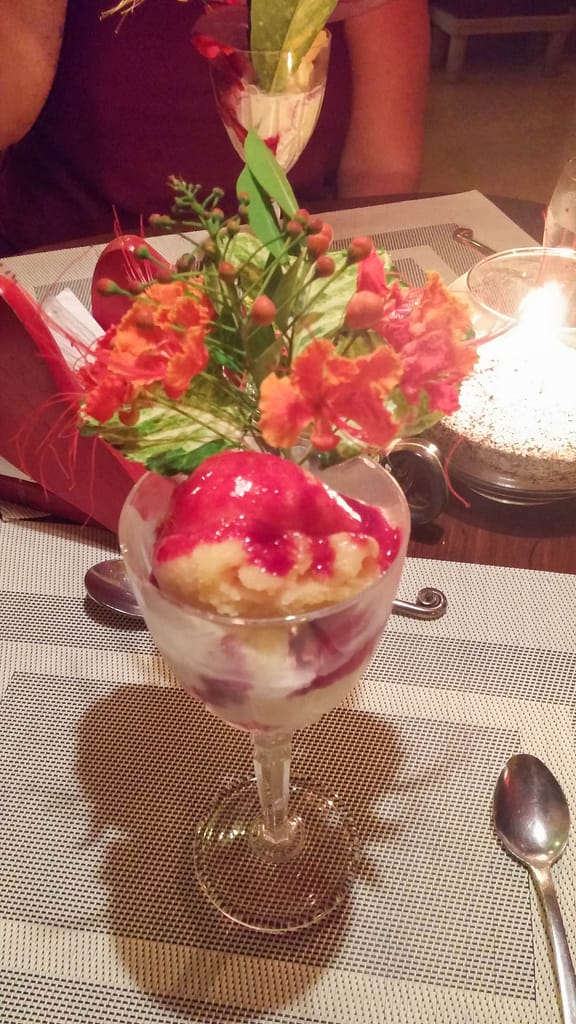 We had dinner at Exotica. We didn't have a reservation but they were able to fit us in. (We learned that you should make reservations at smaller out of the way places so they know how many to expect.) Another open-air restaurant in a garden setting. It was hot. 
We skipped an appetizer in favor of dessert. Our server talked us into Cool Passion for dessert. Vanilla ice cream with passion fruit sorbet and blackberry sauce. Most beautiful dessert ever. And it tasted great!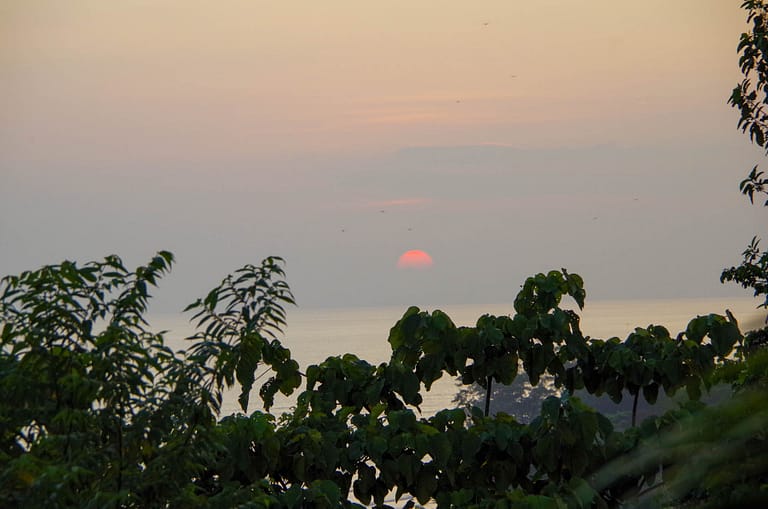 Gallo pinto burrito for breakfast today. Then we drove to Playa Ventanas nearby. Below is a range of the road conditions in Costa Rica: driving across a stream to the beach, the well-paved main highway, and the steep and rugged road up to our hotel. 
Back at the hotel new people had moved in and taken over the chaise lounges even though they weren't using them. And she was swimming laps, effectively taking up the whole pool. Sigh.
We decided to eat at the hotel again on our last night. And we were glad we did because there was quite a storm which we got to watch come in.
We spent our last night in Jaco so we wouldn't have as long a drive to the airport the next day. We started with a veggie omelet and potatoes for breakfast, with one last view over the pool to the ocean.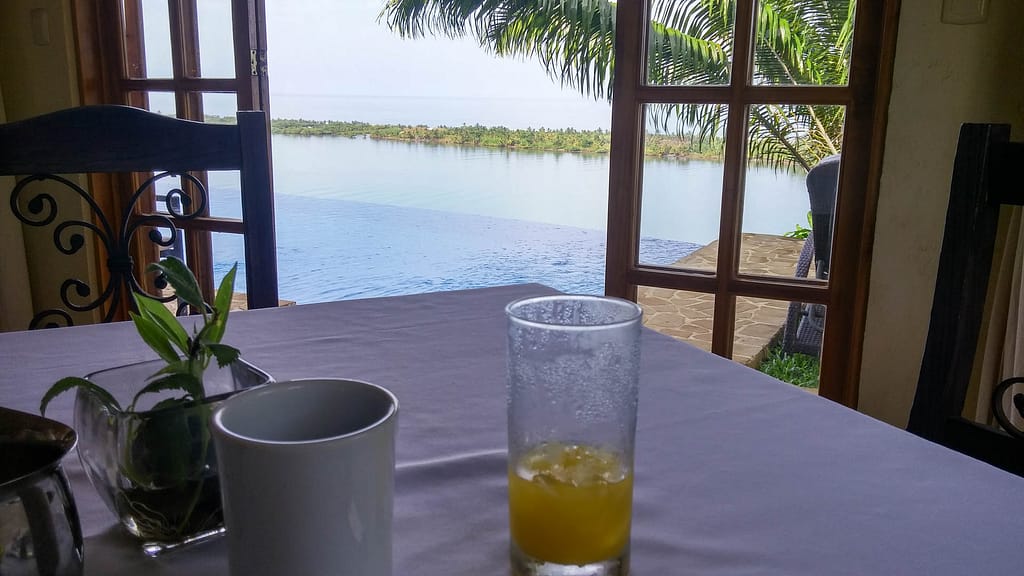 We packed up and drove north to Jaco. We arrived and the room was not ready so we walked down to the beach and around town. It was hot. Really hot, like feels-like-125° hot. The beach looked decent. We didn't much time there due to the heat. That's Steve's finger, by the way. And if you look closely, there are four iguanas in that other photo, taken from our hotel room window.
We had lunch at Caliche's Wishbone. Then we hit Tico Pop, but no souvenirs we liked. Back to the hotel. No A/C running in the room so it was hot. And the safe was locked with no key, so they had to bring a new safe. (Jaco has an especially bad reputation for theft.) While waiting for that we were huddled around the A/C unit like you'd huddle around a fire, except we were trying to stay cool. Then we went to the pool which was too warm to be refreshing but we were able to cool off in the shade after.
We wanted to take some coffee home so we found a Mas x Menos supermarket and bought coffee and beer which we dropped off at the room to stay cold. Then we went back to Caliche's Wishbone for dinner. We tried to sit outside for a beer when we got back to the hotel but it was still just too hot so we gave up and went inside. Ironically it took forever to get hot water in the shower. 
Our final morning we had pancakes and fruit for breakfast. We got the GPS to work on the car for our drive to the airport. The guys at the gas station must have been bored. They were waving us in and motioning like people at the airport directing planes. The drive to the airport was easier than expected. There were several roundabouts but Waze worked well. Dropped off the car and got a shuttle straight to the airport.
We ended up with just enough colones left to pay the departure tax with 1000 leftover that I got as a bill with the cute see through spot! We also bought some Costa Rican coffee liqueur for $10. Shopping tax-free was complicated: One person enters stuff in a PC. You pay a second person. A third person seals the bag. A fourth inspects it. THEN you pick it up at the gate, after going through a second security search at the gate.
Jaco was hot and miserable. The rest of the trip was wonderful. Though I think my hair was dry for maybe 10 minutes the whole time …
This section contains affiliate links. If you click on a link we may receive a commission at no cost to you. 
There are places to stay scattered all along this part of the coast. 
El Castillo is some of the best service we've ever experienced at a hotel without being at all overpowering or stuffy. They make it a point to call you by your name, bring you ice water while lounging at the pool, provide restaurant and activity recommendations, and generally make you feel very much at home.
The Mar de Luz felt safe and was overall pleasant. Just a notch below the admittedly wonderful places we stayed elsewhere on this trip. And we like Jaco least of the places we went. 
There's an amazing concentration of great restaurants around Ojochal. One of the reasons we stayed in this area. 
You will need a vehicle around here because things are pretty strung out along the highway.