We had our usual pastry-and-coffee breakfast. We also had time for a walk before we left since check out time wasn't until noon and our train was at 2:00. So we walked over to Plaza De la Paja. It was a pleasant walk. The square didn't look like all that much but it was early in the morning and it looked like maybe after the bars and restaurants around the square opened up it would be a bit livelier.
Thankfully the metro wasn't as crowded going to the train station as it was when we arrived. We had some anxious moments at the train station when our train was late arriving although all we knew was that they weren't showing which platform it was going to be at. We could tell they were making announcements about it but couldn't understand what they were saying other than "excuse-us-pardon-the-inconvenience." Which I figured meant it was just late for some reason and they didn't know how late. Anyway we got the train without any further issues. It wasn't a terribly exciting journey but it wasn't painful either. Until we got to Seville and had to find our hotel. We had our usual challenges with Google maps and when we finally found a Hotel Murillo it wasn't the right building. So we asked at the bar next door and they pointed us down the narrow little street.
It actually wasn't raining when we checked in so the woman who checked us in suggested if we wanted to go to Plaza de España that we do it that day because they close it when it rains. So we headed straight over there.
We bought some beer on our way back to the hotel and by that time we were tired enough and it was late enough that we decided to just eat at the place right across the street. ordered in Iberian croquette which was actually a kebab of pieces of steak that came on a skewer that dangled over a plate of fried potatoes, peppers, and onions. Fancy! Then we went up on the rooftop deck to drink our beer. And look at the illuminated cathedral that we will be visiting tomorrow.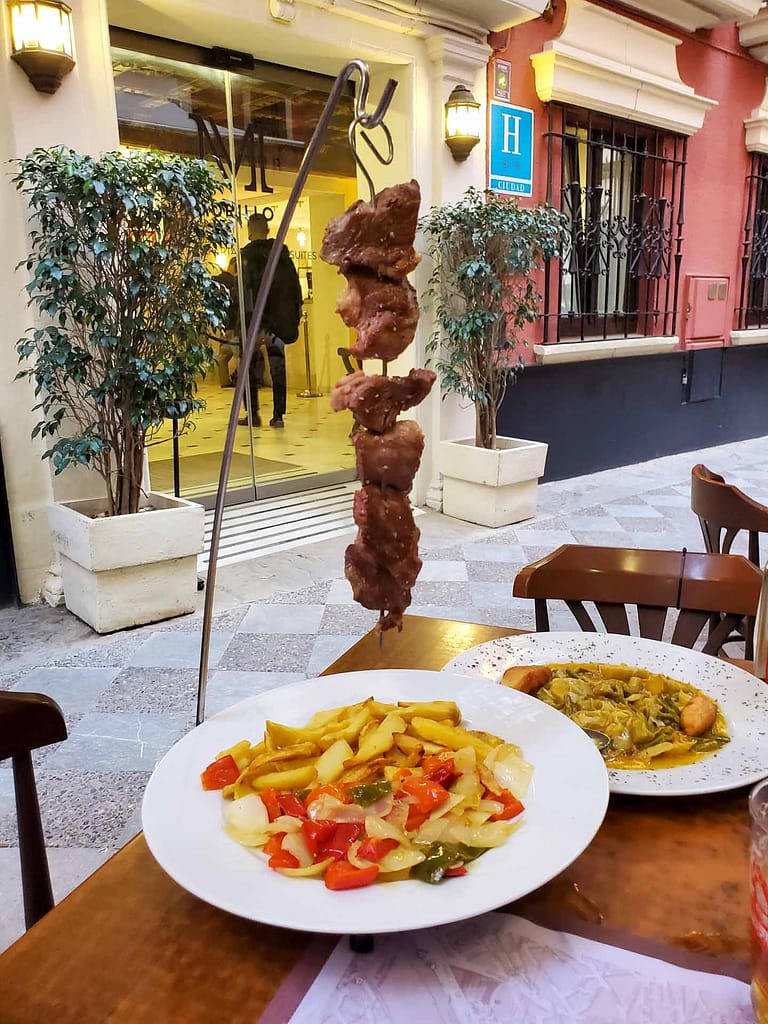 This section contains affiliate links. If you click on a link we may receive a commission at no cost to you. 
We stayed at the
Hotel Murillo
. It's in a great location near sights and restaurants, with a rooftop terrace with a cathedral view (which we loved). Clean, comfortable room with a generous closet. It was interesting to try a bidet. There was no coffee in the building which we assumed was due to COVID so no points taken off, but it was a minor annoyance. A cafe down the street was recommended.
Seville has tons of great dining options. We ate at El Rincon de Murillo right across from our hotel, which was convenient, tasty, and friendly. Our best meal was at Alfaro, where we tried a local potato salad, a local variation on gazpacho, fried cod, and meat cooked with whiskey that was served with french fries.
We were able to walk everywhere we wanted to go. The train station was a bit of a hike. Without backpack carryons I would have grabbed a bus or a cab.