Our day trip to Cádiz ended up being very different than we'd planned thanks to rain most of the day. If you want ideas for what to do on a rainy day in Cádiz, read on!
Unfortunately the weather forecast for Cádiz was rain all day and that's pretty much what we got. So we tried to do our indoor activities when it was raining harder and then walking when the rain slowed down.
We went to the cathedral first. This is a baroque cathedral rather than a gothic. Much more restrained. Not a lot of colored stained glass or much gilt or color in general. It was still pretty in a subdued sort of way. It did have a way over the top silver altar.
When we left the cathedral the rain had pretty much stopped so we took the opportunity to walk around the oldest neighborhood in Cadiz. Which is already the oldest continuously inhabited place in Europe. We had a look at the Roman theater and the seafront and then it started raining again.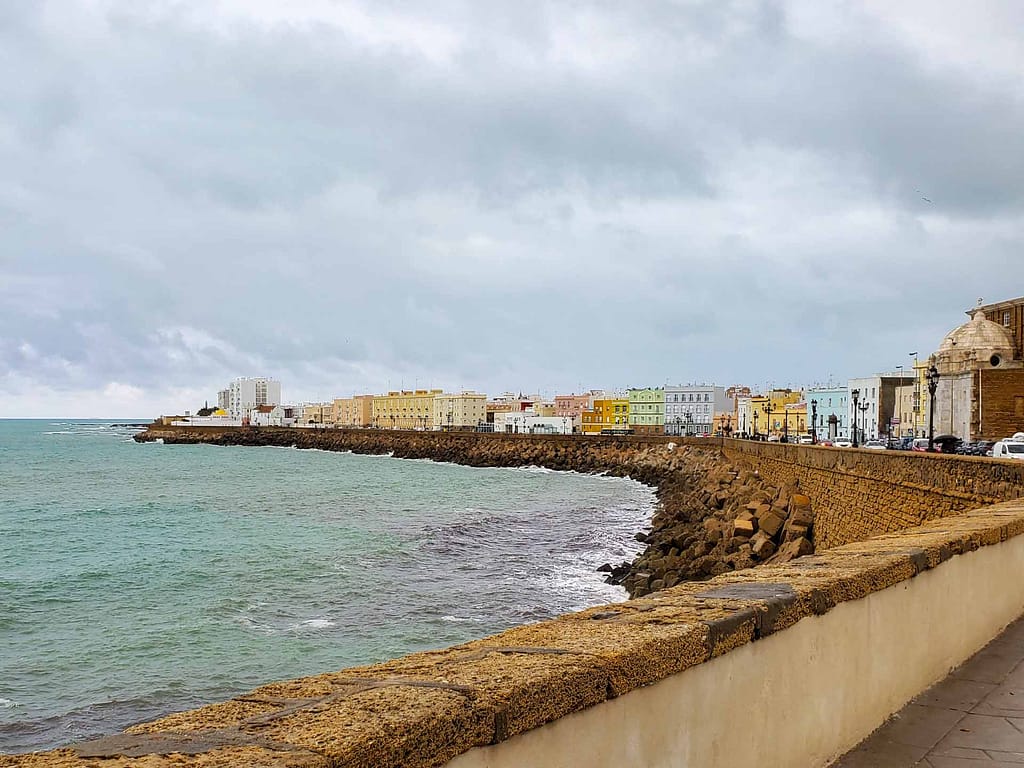 So we headed for the covered central market and after walking around for a bit decided it was a good time to act like a Spaniard and stop for a snack. We found a stall that specialized in potatoes, Lady Papas, and got some potatoes with roquefort cheese and smoked salmon and some cod croquettes. And a couple of beers. The potatoes were really good. The croquettes were kind of boring.
Once the rain slowed down again we left the market and headed in the direction of the museum. We didn't plan on going to the museum originally but it sounded interesting and given the rain seemed like a good idea. The first part of the museum is archaeological and that was very interesting; they had some pieces from Roman and Phoenician times. 
Then they had a floor with mostly Spanish art up to the beginning of the 20th century. The photo below is of Zurbarán paintings taken from the Charter House of Jerez de la Frontera.
And then they had this weird little collection of creepy puppets. The museum wasn't very busy and they had lights that were on motion sensors so it was kind of odd walking around this fairly empty museum and having lights turn off and on around you. Or as they did when we sat down to look at our map and figure out what we were going to do next, they turned off on you.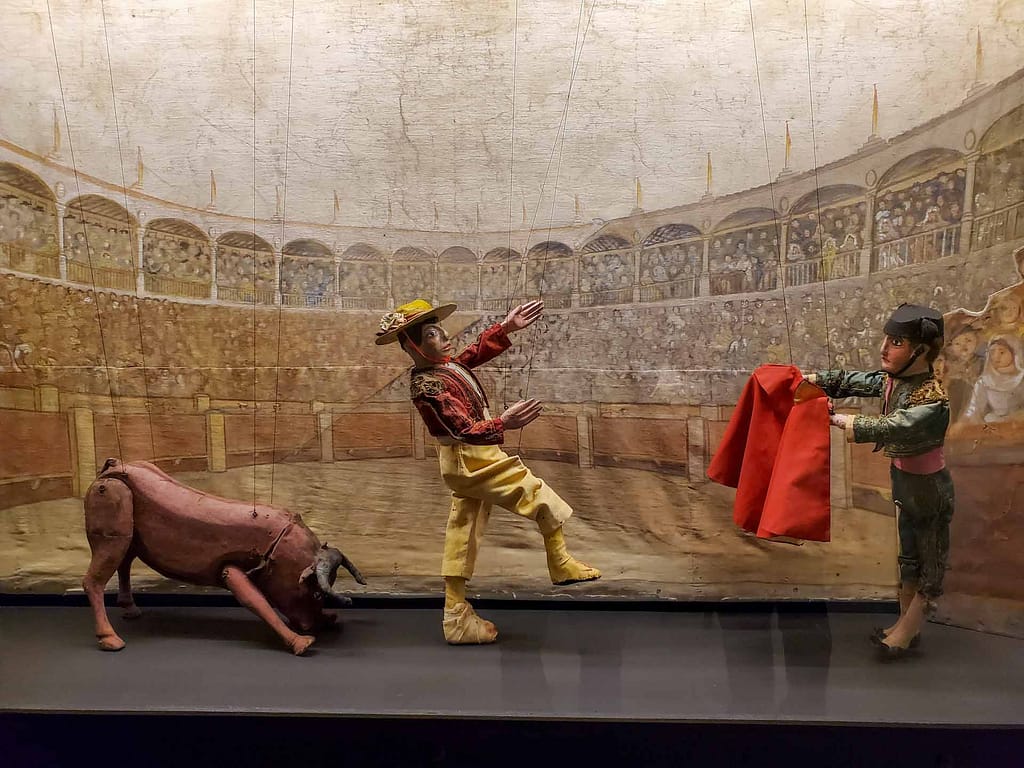 From the museum we headed toward the Plaza de Espana but they were renovating it so you couldn't get in there. There was a cruise ship in port along with a big fancy boat. Yas or something? (Owned by a sheikh, we discovered via Google.)
We ended up going back to the main square where we found a place that was undercover where we could sit and have beer. And they had an IPA called Elvis Juice on draft! It was quite good so we had two while we waited to head back to the train station. A pigeon tried to land on our table – okay Steve says it did land on our table – trying to eat our bar snacks. So when the server came back with a second round and asked if we wanted more snacks I said pigeon food? And she rolled her eyes and said "Yes they are problems because people feed them all the time and I try to tell them not to feed them but then they tell me that I hate animals and I don't hate animals I just don't want them feeding the pigeons."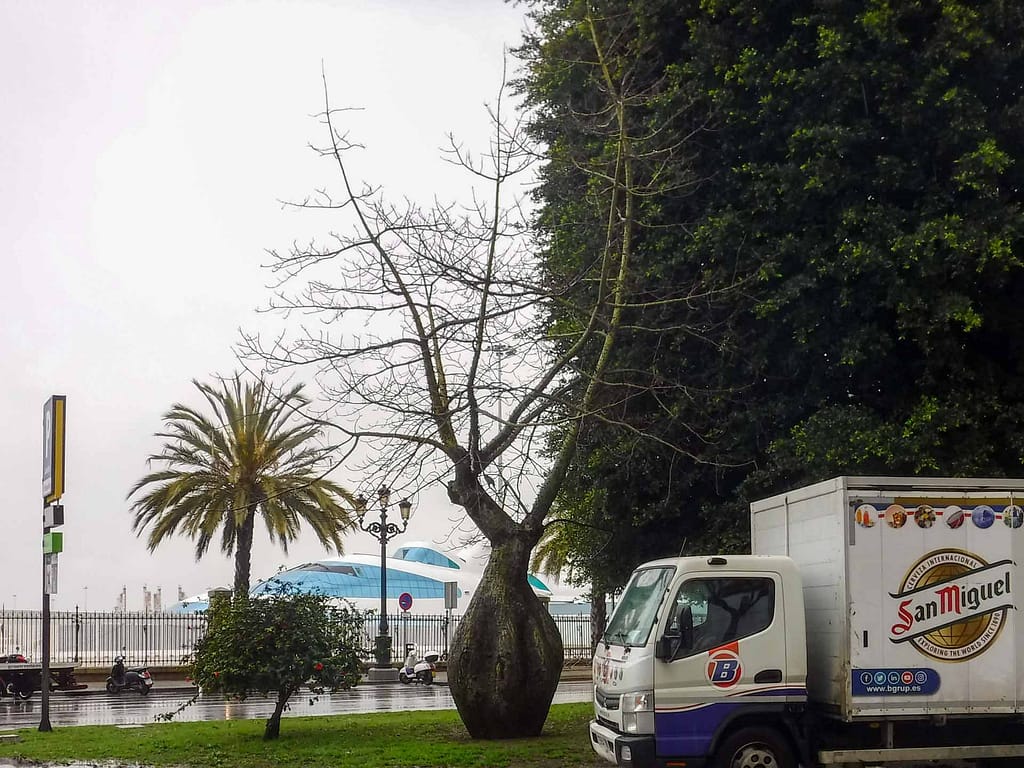 I'm sure Cádiz is more enjoyable when it's not raining!