It's London. My favorite place on earth. History. Theatre. Food. Shopping. Lots of day trip opportunities. Just go, and spend as long as you can.
The train to London was pleasant and uneventful and we were able to walk from the station in London to our hotel in Bloomsbury. We're on the top floor so we'll get a workout while we're here!
We took the original hop-on-hop-off bus tour to get an overview of the city and sights.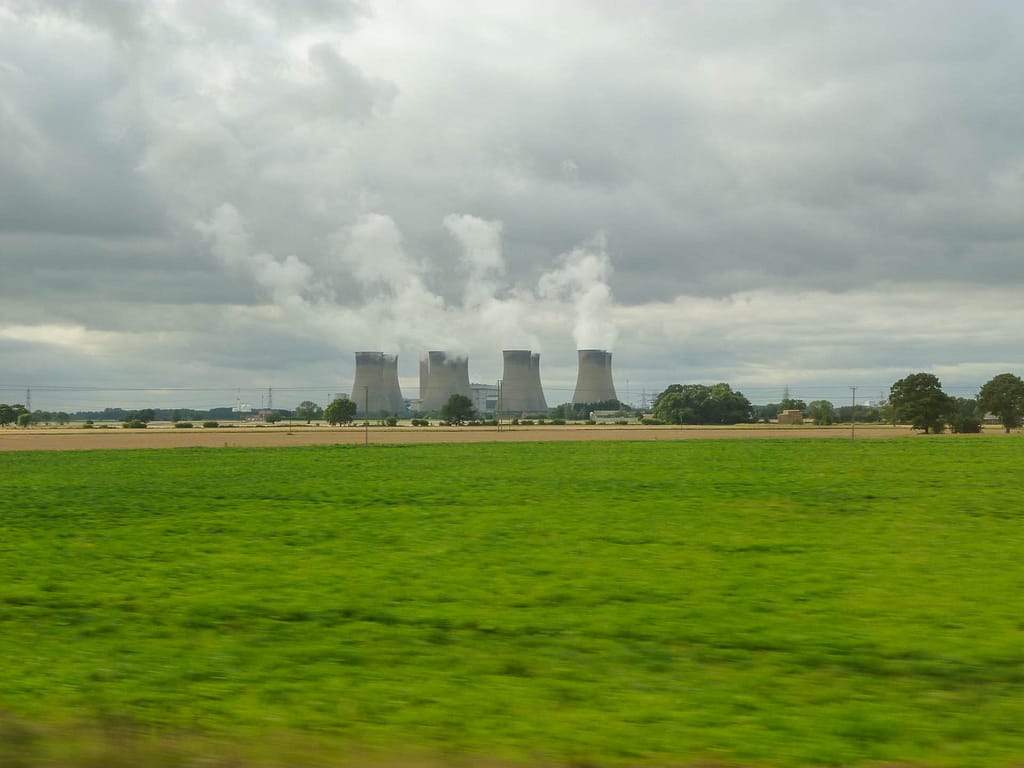 We're now at the Museum Tavern drinking Old Peculiar (Steve) and St Austell Tribute, a Cornish beer (me).
We walked over by Goodge Street for dinner and drinks. It was very quiet. We tried Nizuni, but the menu didn't look like us and no one served us, so we left. We ended up at a Pizza Express, where we were the only people there. Then we had beer at The Fitzroy, a Samuel Smith pub, where we drank the darker of their bitters. It was okay, nothing special, kinda like the pizza.
Day 2: Thames Boat Tour and Hampton Court
Our breakfast this morning was bacon, eggs, beans, juice, coffee, toast, and cereal. Our lavish breakfasts are over. But service is friendly and very efficient, with more toast and coffee on request.
We decided to take the Thames river cruise that was included with our bus tour ticket. We took the #24 bus to Westminster to catch the boat. It's nice taking the bus. Less efficient than the Tube (which I took most of the time when I lived here) but you see more of the city.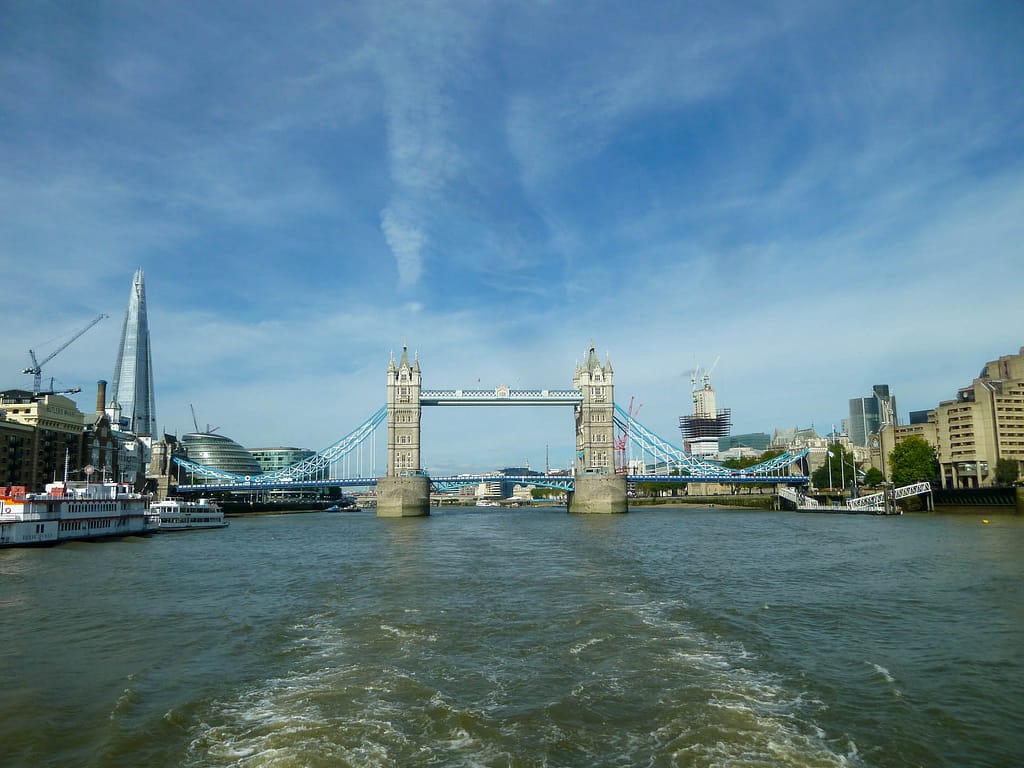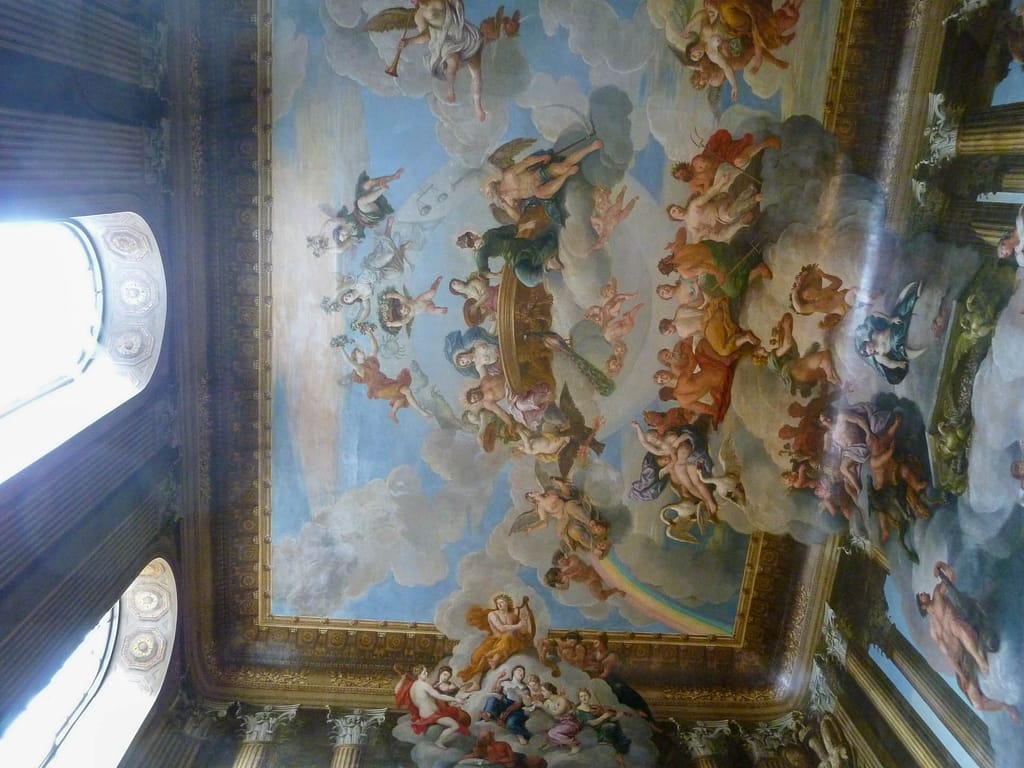 We headed to The Salisbury for dinner and drinks. I remember it being a beautiful pub. It was less attractive than I remember; more rock and roll. But okay. We drank Bombardier (not great), then went back to Tribute. Now we're at the Newman Arms drinking Doom Bar. Also a Cornish beer? We just had an interesting conversation with a regular who admired my handwriting. And warned Steve that I was taking notes.
Day 3: Tower of London and St Paul's Cathedral
Breakfast today was sausage, bacon, egg. I had bran flakes too. Plus juice, coffee/tea, and toast. We started the day by taking the Tube to the Tower of London.
Then we walked over to St Paul's. We passed landmarks on the way, but it's hard to see them when you're right on top of them. Lots of suits in this area. St Paul's is gorgeous, even by cathedral standards. Everything is embellished in some way: mosaic, gilt, carving, embroidery. Very impressive, and yet airy. We climbed up to the whispering gallery, but couldn't get it to work. Maybe all the Spanish teenagers? Even the crypt was interesting, with Wellington and Nelson's graves.
Tonight was one or our event nights. We went to Cantina in Southwark, an interesting combination of music, circus, and dance. We were warned about nudity but it wasn't of the expected variety, but full frontal male, as part of a magic act with a newspaper. It was pretty funny. Then we wandered around Covent Garden and ended up at Punjab, the oldest north Indian restaurant in London. And at last the Museum Tavern has Adnams on tap. That was one of my favorite beers from the mid-80s when I lived here, and it's still around. And still good!
Day 4: Kew Gardens and British Museum
Breakfast today was bacon, egg, and tomato. We had a bit of a late start when we'd planned on an early one, due to transferring photos on the hotel's PC. We started with Kew Gardens.
We then got our Oyster cards topped up at the station, so we should have what we need for the rest of the trip. Then onto the British Museum. We ended up not having a lot of time, but covered the Egyptian, Assyrian, and Greek areas on the main floor. We plan to go back on Thursday.
We had burgers at the Museum Tavern, then got cleaned up for our last event night. Sweeney Todd was really good. Our seats weren't great – second to last row, in front of wannabe actors. I was glad I forgot the plot so the end was a surprise. They had us exit via the fire stairs – it felt like we were going to the bakehouse! We went to the Museum Tavern for Adnams but they were out, so we had Tribute instead. We did some laundry too.
Day 5: Westminster Abbey and British Museum
Breakfast today: bacon, egg, and beans. Today we head to Westminster Abbey then Wandsworth. 
Then we went to Wandsworth, and after a couple of false starts I was able to find where I used to live in the late 80s. Boy was it different! Trees and hedges have grown so much it doesn't have the same feel at all.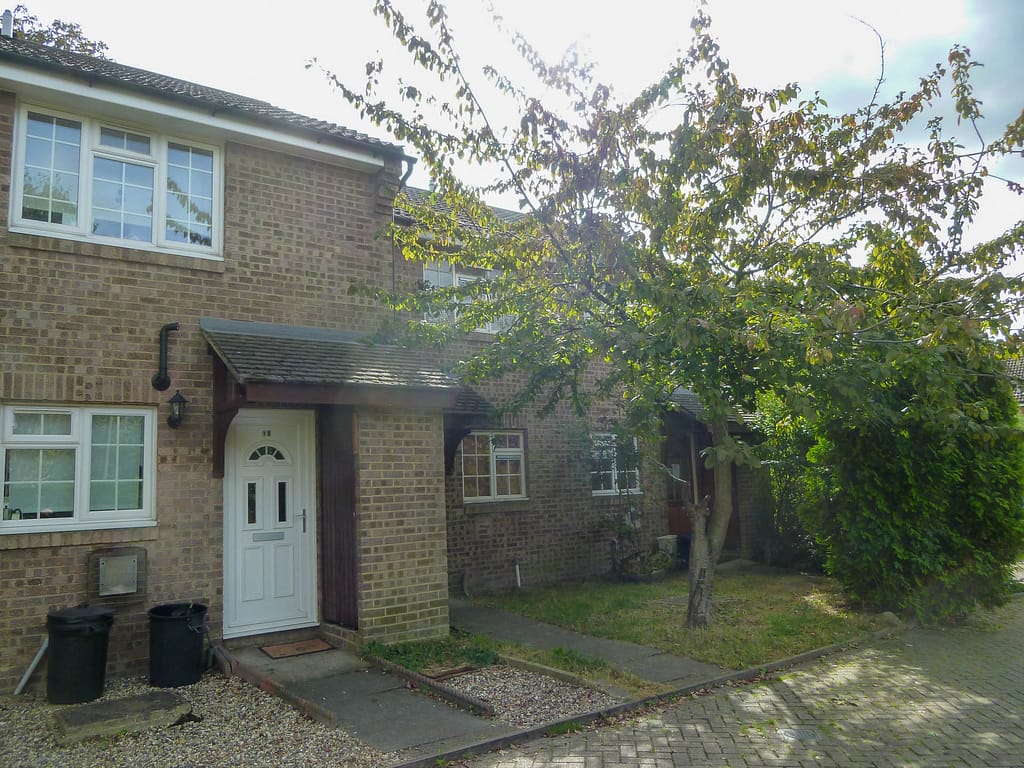 Our last stop was the British Museum, where we focused on mummies and Asian areas. We then went to the Princess Louise for beer (Sam Smith's again). It is a warren of little areas with all the screens but quite pretty with the frosted glass, brass, and gorgeous tile. And pink tinted lamp glass.
Then onto the Museum Tavern for Tribute and Marston EPA, after which we ate at Wagamama. The menu looked more approachable than some of the other Asian restaurants in the area. We also took the bus down Oxford Street for a sneak preview of tomorrow.
Day 6: Portobello Road and Oxford Street
Breakfast: bacon, sausage, egg. Somewhat of a late start again but we went to the Portobello Road market first. Then to Clanricarde Gardens, where I lived in the mid-80s and to The Dickens where I worked back then for six months. Initially we were the only people in the pub. I had a cider; Steve had the only real ale on tap. The onto Oxford Street for marathon shopping.
Next off the Dog & Duck in Soho for Jack Black, standing outside in the rain. Such a London experience. Then loud pizza at Soho Joe. Crowded, cash only, cheap and good. (Too bad they've closed; I'd go back.) We finished the night with EPA at the Museum Tavern, where we met an Australian TV producer. So now we need to check out Jungle Gold.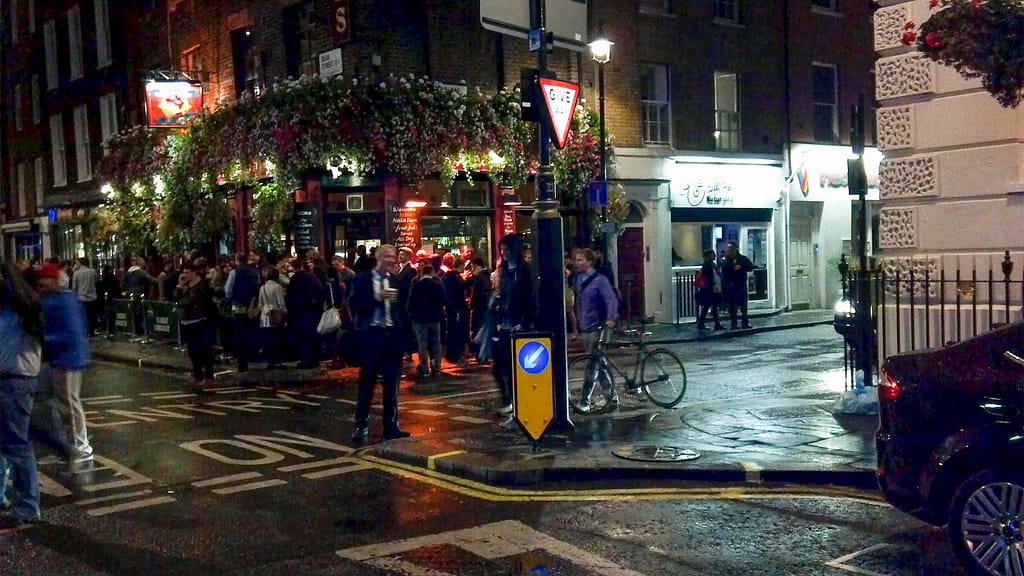 Day 7: Camden Markets and Windsor Castle
Breakfast today of bacon, egg, and tomato. We went to Camden Markets where we walked a lot and I bought some jewelry.
Then we took the bus to Paddington and caught the train to Windsor Castle where we stood — in line — a lot.
We finished up with Sussex Best Bitter at the Museum Tavern along with The Godfather fish and chips. Not the greatest, but what we wanted.
We had a last breakfast of bacon, egg, and beans and paid our bill in a mix of cash and credit to spend our last pounds. We got directions for a shortcut to Russell Square tube we couldn't have found otherwise. The hotel's routine of inquiring about your plans for the day at breakfast and suggesting public transit strategies is greatly appreciated.
This section contains affiliate links. If you click on a link we may receive a commission at no cost to you. 
We loved the Ridgemount. It's in a great location, well-priced, clean, and friendly. The rooms aren't fancy and that's fine with us. We plan to stay here again.
It's London. There's something for everyone and it's been so long that I'm not going to bother to review any restaurants we ate at. Some of our favorites have closed anyway. I look forward to the new options next time we go! 
I will give a shout out to the Museum Tavern. Given the location right across from the British Museum I expected it to be overrun with tourists and not welcoming. Yes, there were lots of tourists — I can hardly complain, being one myself — but we enjoyed the atmosphere and it became our "local" while we were in London.
Public transportation abounds. The buses can be a little chaotic but you see more that way. We got an Oyster card with a weekly travel pass and topped up extra to cover getting to outliers like Hampton Court, Kew Gardens, and Windsor Castle.