We loved Keswick, a good traveler's base for the Lake District that also manages to feel like a real town.
Day 1: Ambleside to Keswick
It was a pleasant ride from Ambleside up to Keswick on the bus. Our upgraded room was ready when we arrived which was nice because we could get into our bags and prep ourselves for a little hike.
Since we arrived in the afternoon we walked over to Castlehead and climbed to the top of that and then made our way over to Friar's Crag before walking back into town.
We found a spot outside the Wainwright in the sun where we could sit and have some beer. And they had a nice IPA called Tinderbox. So we had a couple of beers there and then went back to our place to unpack some more. 
We had reservations at Fellpack for dinner. They specialize in bowls. On the back wall they had a screen showing short clips of weather and such around the Lake District. It was a nice touch.
13,322 steps today
Day 2: Walk Catbells Terrace
Did I mention they have haggis at breakfast if you want it? I did and it was very good. We didn't get a very early start today because we were chatting with Leigh, our host. She was telling us about the area and about her grandfather who helped found the local mountain rescue team and giving us pointers and maps and all kinds of good local info. So it was about 11:30 before we hit the road only to discover that the next bus to Catbells was leaving in an hour and going the wrong way around. So we walked over to the launch and ended up taking the boat across at 12:30.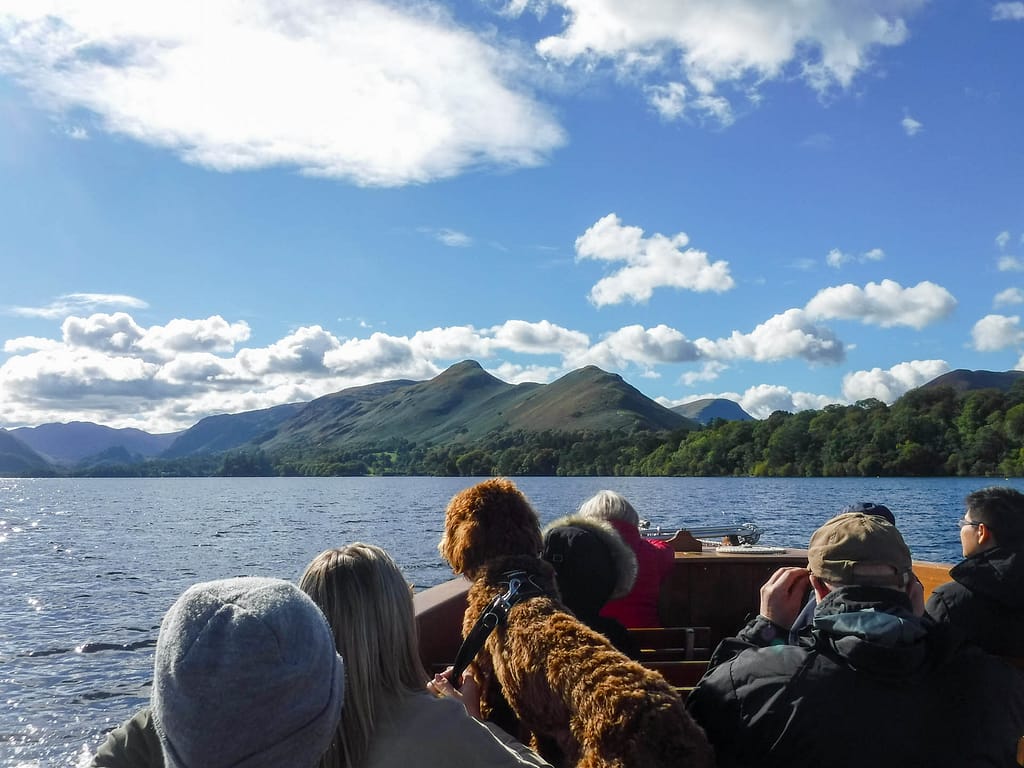 Where you come off the mountain there's a bus stop right there for the #77 bus — the Honister rambler — that goes through the Honister pass and into Buttermere. Since we wanted to do that anyway we figured we might as well hop on the bus.
We got caught up in some cattle herding along the way. A farmer was moving his cows from one point to another and the cows wanted to graze along the road rather than move to the new field. So the bus got held up for a few minutes.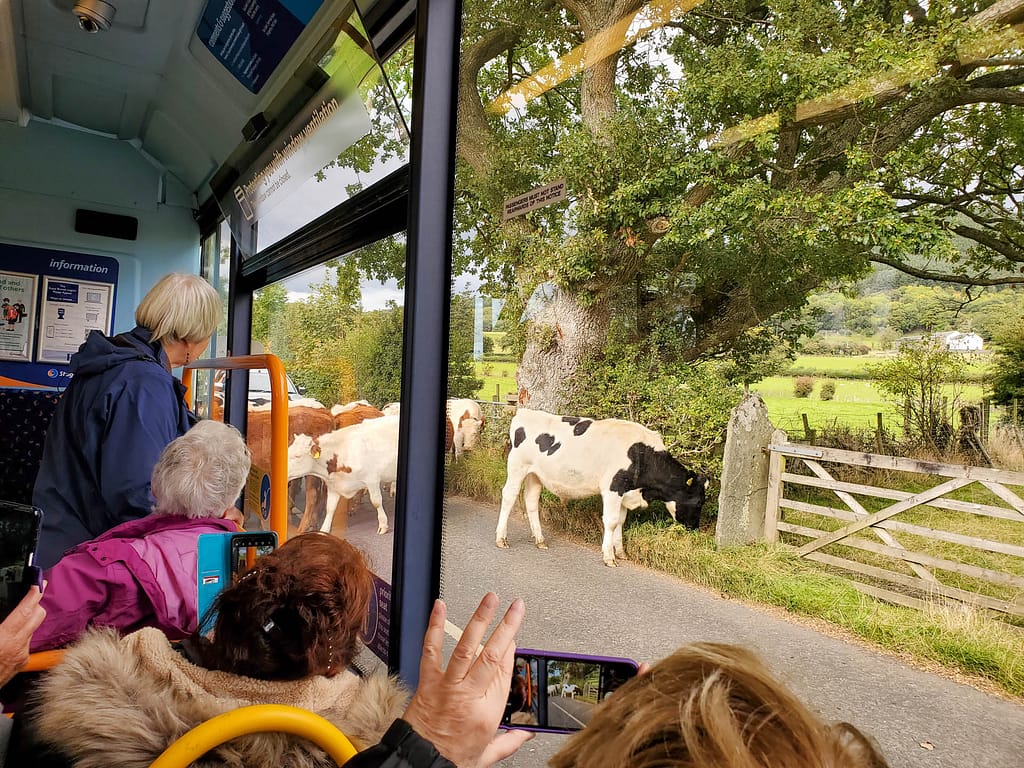 Once again we went to the Wainwright for a couple of beers even though it wasn't quite as sunny as it was yesterday. But the beer and the people watching were still good. Keswick has a nice pedestrian zone in the middle of town. For dinner we had reservations at Casa Bella where we each had the sausage special pizza.
12,167 steps today
Day 3: Walk around Buttermere
Today we decided to go for a walk around Buttermere and this time we checked the bus schedule first. So we knew that we wanted either the 11:30 or the 12:30. We ended up with the 12:30 so we didn't have to rush.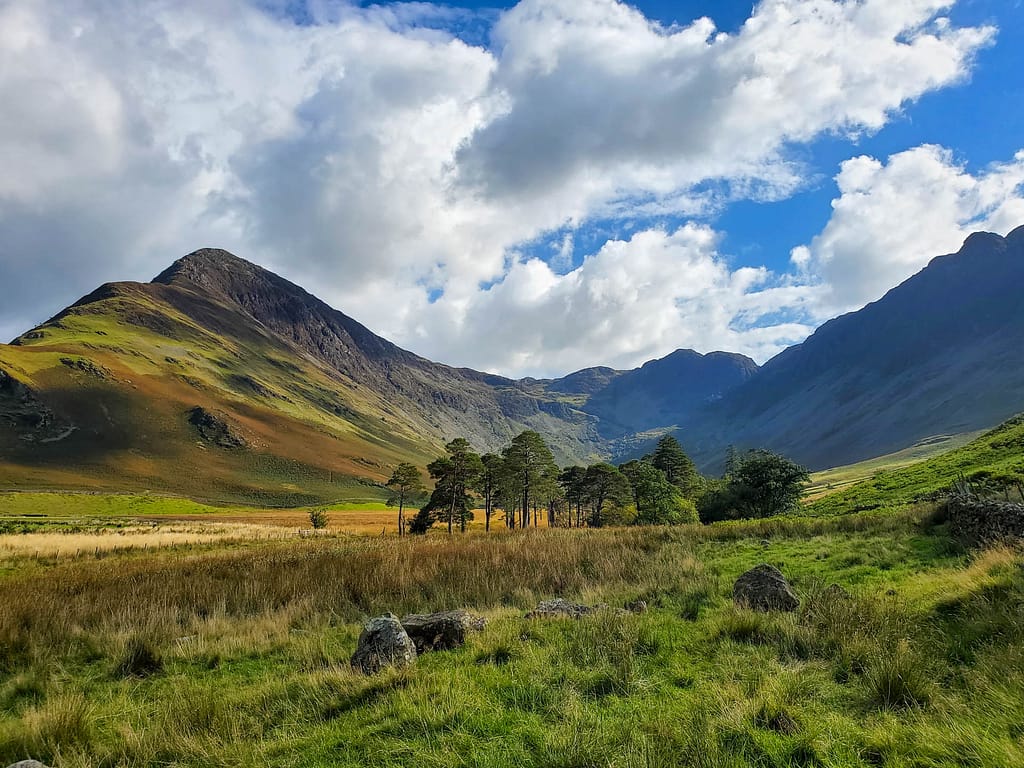 We had a minor adventure after our walk. We got back to the village about 3:30 and the next bus was at 4:24. That bus never showed up. So we and a whole bus full of people were waiting when the 5:18 bus appeared. And were damn glad to see it. Other than being long it wasn't an unpleasant wait. The two women in front of us and the four women behind us kept us entertained with repartee back and forth.
We were happy to see the bus wasn't full when it arrived because that meant we could get a seat which we were hoping for but not necessarily expecting. So we got to go through the Honister pass one more time.
Back in town we made a beeline for The Pocket, a pub that serves pizza that was recommended by our host. We each had two pints of Swan Blonde which was actually a fairly hoppy blonde ale followed by a pint of Porter and accompanied by two pizzas: a salami and olive pizza for Steve and an olive, anchovy, and caper pizza for me. The pizza was much better than what we had the night before. Back at our place we took showers in our beautiful bathroom with the difficult-to-climb-into soaking tub and that was our day. Oh and on the way home we saw first a couple of pheasants and then tons of pheasants out in the fields near town. 
During a couple of days we've seen fighter jets taking off. They are LOUD.
17,728 steps today
This section contains affiliate links. If you click on a link we may receive a commission at no cost to you. 
We stayed at
Allerdale House
, which is quite simply now our gold standard for B&Bs. A spacious room decorated with care and flair, a delicious breakfast, and hosts with lots of tips to share. They put their heart into it and it shows.
We enjoyed our beef and chips and jerked goat bowls at Fellpack. We'd recommend The Pocket for pizza over Casa Bella. There are lots of options available.
We walked around Keswick, which also has good bus connections. The #77 is a useful and scenic loop. And everyone knows that. It's gets full.