Ambleside was a pleasant introduction to the Lake District, with good bus connections and walks available without taking a bus.
Day 1: Llandudno to Ambleside
We had our first excitement today. The day started ordinarily enough with a nice breakfast and a crowded but uneventful train trip from Llandudno to Warrington Bank Quay. I'd been notified that the train that we had booked from there was not running but it turned out that it was. Unfortunately when we reached Preston we were told that the train would be stopping there because of a fatality up ahead near Oxenholme. Which was our destination. All trains were stopped going through the area until the investigation was finished and things cleared up.
So now we had to figure out what to do from there. Getting To Ambleside from Preston without the train looked way too complicated but going to the next station, Lancaster, it looked like it would at least be possible to get a bus. So after confirming with a couple of Avanti West Coast staff, we got on a train going to Lancaster. At Lancaster we spoke to staff again and found out that they were bringing in a bus to transport those of us that were traveling to Oxenholme or Windermere. So at 5:00PM just one hour later than we were supposed to arrive in Windermere, we got on a bus from Lancaster headed in that direction.
We ended up getting to Windermere about 6:30PM. We asked our kind and friendly bus driver about catching a local bus and he told us where we could do that and also suggested that a taxi might not work too badly either because Ambleside, our destination, was just 5 miles up the road. That turned out to be even a better idea since there was another passenger going to Ambleside who offered to share a cab with us. So we split a cab and it ended up costing us about £8. The bus might have been that much for both of us.
We checked in and dropped off our bags and immediately headed for the Ambleside Tap Yard where we had reservations for 7:00PM. I had messaged them to tell them that we were unlikely to make it but when we arrived at about 7:30PM they had us marked as already having been seated. So they seated us for real and we ate a Korean barbecue chicken burger and a Juicy Lucifer. Both were spicy and delicious as was the IPA. Though the Punk IPA we've been drinking was better than the local one that I tried. It had been a long day so we only had two pints and then went back to crash.
We don't think hobbit eating habits are completely fictional but are in fact based on English eating habits. Everyone seems to eat all the time here. If people are walking around they're eating ice cream. If they're sitting around they're drinking tea and eating snacks. If they're drinking in a pub there's a good chance there's a bag of crisps around.
7,690 steps today
Day 2: Walk to Rydal Water
We had our first Lakeland breakfast today which is much like the other breakfasts we've been having. Here you grab your own yogurt, fruit cereal, and coffee and then they take your order for hot food at the table. So I had rhubarb yogurt (which I've never had before) and grapefruit and Steve had the mixed fruit which unfortunately for me had strawberries in it. (I'm allergic to strawberries.) The cooked items were good including the black pudding which I enjoy if I just don't think about what it's made out of. The Cumberland sausage was good. This place appears to be bigger than other places we've stayed judging by the number of tables at breakfast. We counted 14.
We talked to our host about an easy walk and he suggested one that leaves from the church that's more or less across the street then goes back across a cattle grate and an arched bridge and then you just follow along from there. It's called the Under Loughrigg path and one person described it as good for someone recovering from a heart attack, a massive hangover, or the loss of a leg. That sounded about our speed.
After our walk we wanted to find a pub where we could sit outside and drink beer in the sun but everyone else had the same idea. So we settled for a table in the shade but with heaters available. We each had three beers and nursed them along trying to make it until dinner time. We almost made it.
We had Thai food for dinner. Enough heat to be interesting but not so much as to be overpowering. I tried ginger ice cream with famous Grasmere gingerbread crumbles for dessert. Glad I had the crumbles because when we went to Grasmere the next day there was a long line for gingerbread. Not that we were going to wait anyway …
18,167 steps today
Day 3: Walk around Grasmere
Today we took the bus over to Grasmere to walk around the lake. After comparing prices online we bought a day rider ticket for the bus only to find out that it was about twice as much as it indicated online. We would have been better off just buying the weekly pass. Which we will do next time. We could have swapped them today if we'd done it within 3 minutes.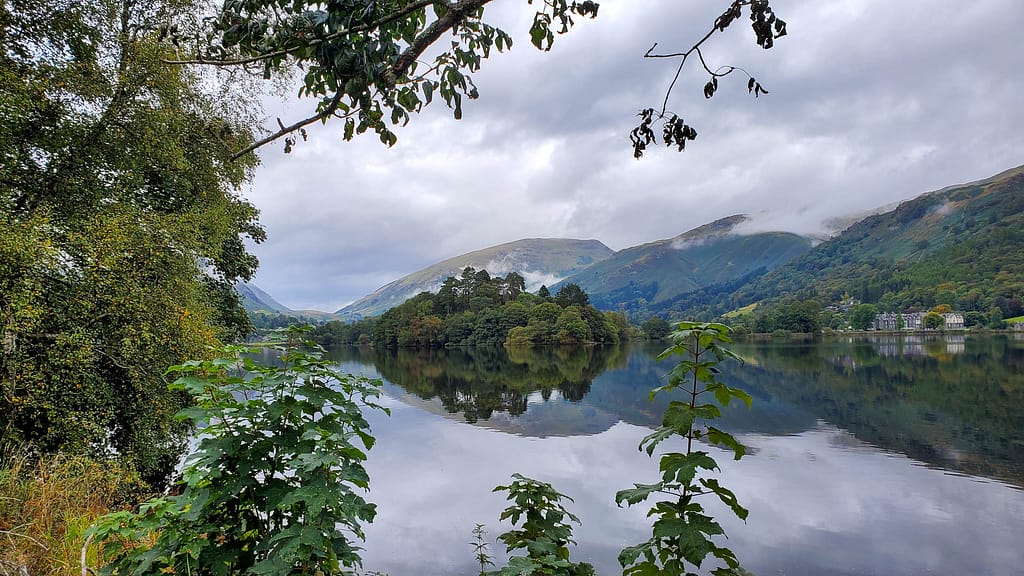 We got the bus back to Ambleside and decided we hadn't had quite enough walking so we set out to walk to the north end of Lake Windermere. We passed the Great North Pie Company along the way and we're happy to see that they're open until 7:00PM every day so we can go there tomorrow for pie for dinner. That walk was not quite as interesting but it was pleasant. The first part was through a grassy field along the edge of the river that turned into more of a city park-like atmosphere with a paved path to walk on. It was nice exercise but I wouldn't go out of my way to do it.
After going back to our place to relax for a bit we went to the Golden Oak for a couple of pints before dinner. The pub was very busy and the line to get drinks was quite long. And there were some very loud people there. We went to Lucy's on a Plate for dinner and it was delicious. This was our most expensive meal to date £91. Oh and our names were on the custom menu printed for the day.
17,990 steps today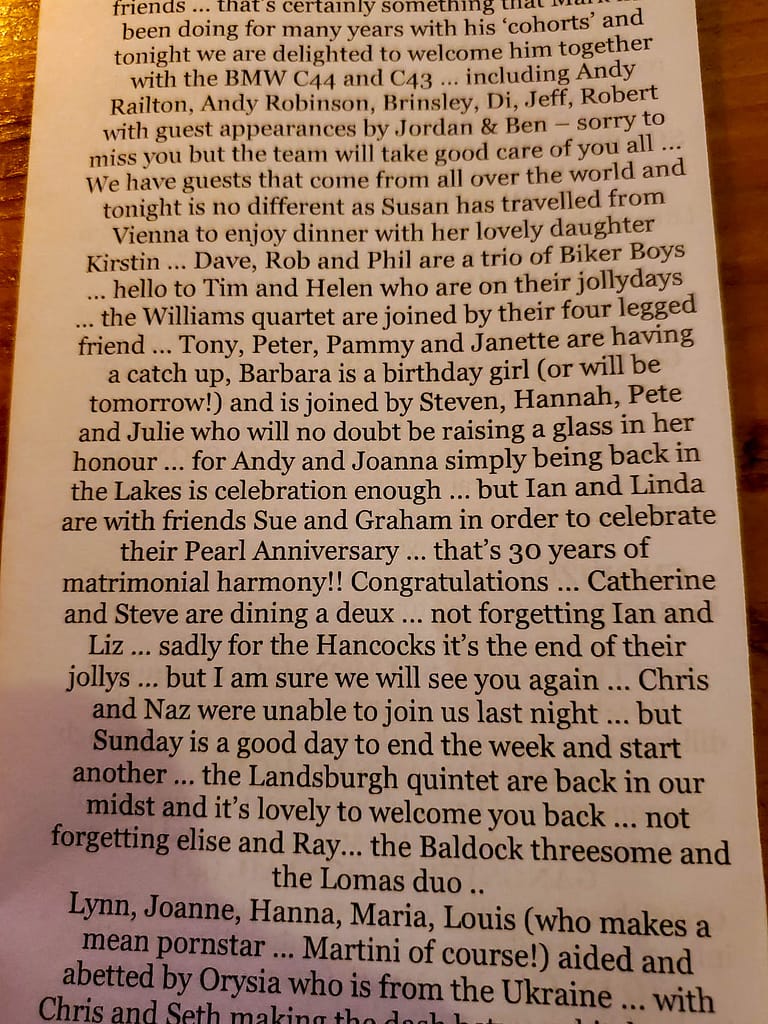 Day 4: Walk Loughrigg Fell
We also got to deal with some changes to our itinerary thanks to a rail strike on October 1st when we were supposed to travel from Carlisle to Skipton via train. I rebooked our train for the following day and found us someplace to sleep for an extra night in Carlisle. Thankfully I also inquired with our host for the first night because from their website it looked like they were full but when I contacted her she said they were closed that day because they were going to a half marathon in Glasgow. And that we could stay the second night as long as we didn't mind checking ourselves out and not having breakfast. We said great no problem! So I canceled the Ibis hotel and we'll be staying two nights there. Yay! Now the one remaining detail is if our place in Skipton will let us change from two nights to one. Hopefully that goes through okay. Otherwise I'll be finding us someplace to spend the night in Skipton.
We went to Great North Pie for dinner. And the pies were as tasty as we'd hoped. Then we dashed back home to take showers and warm up because it's pretty cold outside and we sat outdoors to have our food and drink. It's about 50°F.
Oddly the best view from our room is from the bathroom. We've enjoyed the way the view changes every morning. 
14,214 steps today
This section contains affiliate links. If you click on a link we may receive a commission at no cost to you. 
We stayed at Rothay Garth. Our room was small but nice. (We booked the least expensive room.) Breakfast was excellent and our hosts friendly and helpful. The location right outside the village was convenient.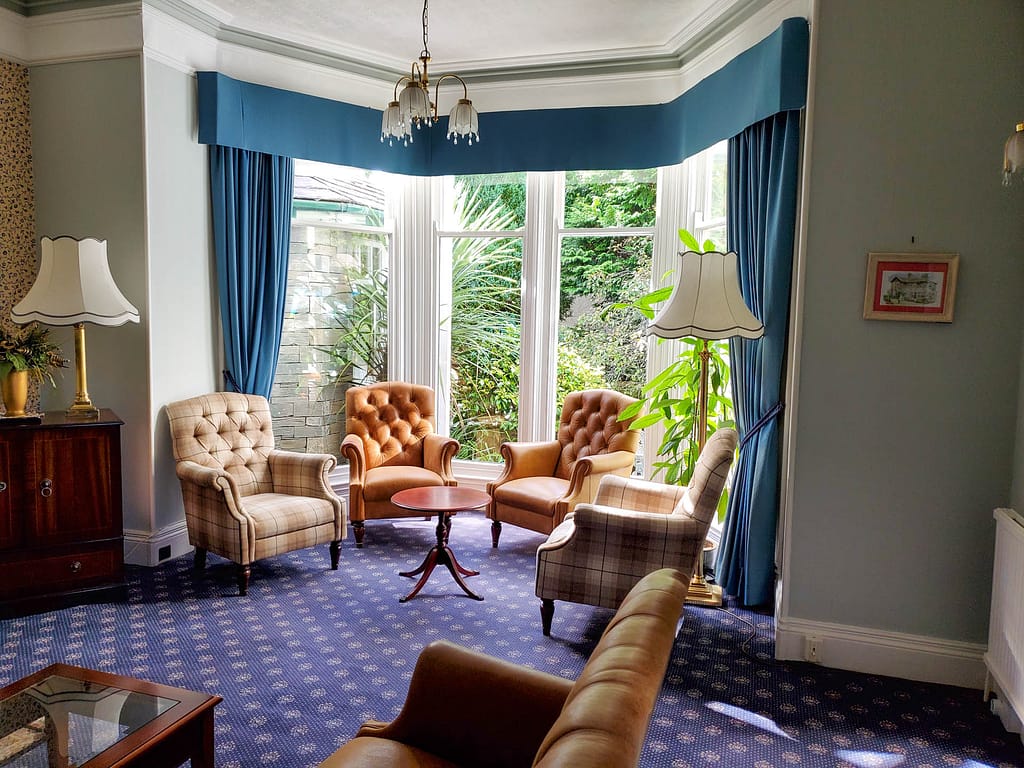 Ambleside had several places that sounded interesting to eat. We tried the Ambleside Tap Yard, Doi Intanon for Thai food, and Lucy's on a Plate. We booked all of those (online) based on recommendations. We also at at Great North Pie, which was conveniently right across the street from Rothay Garth. 
We walked everywhere in the village and used the bus to get to Grasmere. Buses were fairly frequent. A daily bus pass was £8 and the weekly pass was £30. The weekly pass was good for the entire Lake District.