This walk is called the Under Loughrigg path and one person described it as good for someone recovering from a heart attack, a massive hangover, or the loss of a leg. That sounded about our speed.
It starts behind the church in Ambleside. A path goes back to a cattle grate and a stone bridge, where it branches. The path is obvious and there are signs. 
Part of the walk is along a mostly gravel and obvious footpath. In other areas you walk on a narrow country road. There's little traffic and generally room to get out of the way.
The path goes all the way to Grasmere but we stopped at Rydal Water and turned around. Not before making an unnecessary detour uphill through the only rocky area we encountered, where we saw some caves. And a crazy man and his son who climbed up to the cave via the rocks and the strategically placed rope but then needed some assistance getting back down. Well at least the kid did. The man said he was probably too fat to help. After we turned around we found where the main path went down by the lake which is what we wanted to do in the first place.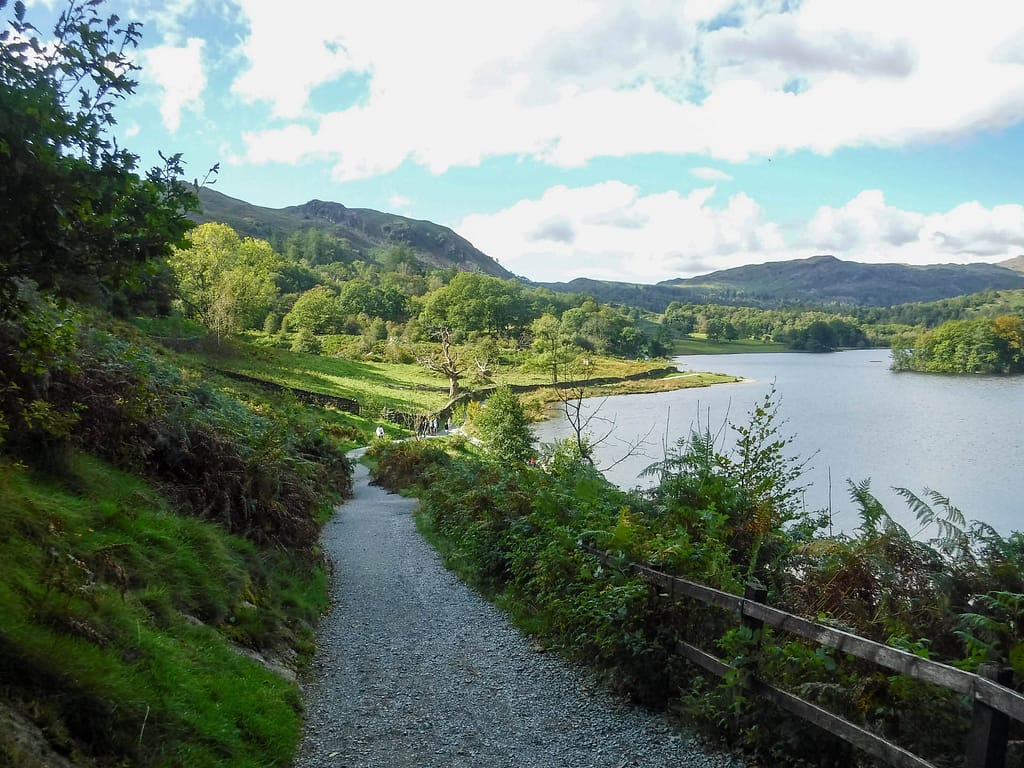 We saw dogs in action down at the lake, including a pretty blonde long-haired Dachsund at the beach.
Here's someone using the provided rope to climb up to the cave. We also saw crazy people swimming. That water was way too cold for us!
It was a beautiful hike with great scenery and very doable. And no, we did not attempt those stepping stones. Like we said, cold water!