Six days on St John proved that the island was everything I'd hoped it was.
Day 1: St Croix to St John
We had a minor adventure dropping off the rental car on St Croix because there wasn't a gas station nearby. We had to ask for directions at the rental car office and go back to find it. (We picked up the rental car at the airport but dropped it off at their downtown office.)
We took the seaplane from St Croix to St Thomas. We could have taken a conventional flight or a ferry. The ferry took much longer and it sounded like a long and not very interesting trip. The conventional flight would have been fine but why not go 1 street over and take the seaplane while we had the chance? There were no issues checking in for our seaplane, though two other women were split up between flights so another man gave up his seat. There were lots of "good mornings" all around in the waiting area. (We found out later in our trip that such greetings are part of Virgin Islands culture.) We had front row seats on the plane and could see right into the cockpit. It was kind of fun doing the seaplane but pretty uneventful. We expected more excitement! The takeoff and landing were much smoother than from land. In Charlotte Amalie, we asked at the desk about taxis and she walked us right next door to a taxi stand. Over and above hospitality! We rode with another passenger to a store, then our driver got us to Red Hook just in time for the 10:00 AM ferry. It was a pleasant ferry ride up front on the top deck. We had the only luggage on the boat.
Our Airbnb host, Donna, met us at the ferry and gave us a quick tour of Cruz Bay on the way home. Lots of one-ways, twists, and hills. Steep hills. They weren't expecting us until 3:00 PM so we kind of threw them off getting there early. They kindly offered us coffee and water while they finished getting the room and the car ready. (We rented their car as well as the room.) And they invited us to dinner that night!
We settled into our very nice suite with a spectacular view from the balcony, then drove into town to get our bearings and provisions. We had excellent quesadillas for lunch at Sun Dog Cafe in Mongoose Junction. We also went to the national park visitor center for information and may end up volunteering on Wednesday. Then we hit the market for wraps for tomorrow's lunch, bagels and cream cheese, pistachio muffins, and an apple pastry for breakfasts, and chips, cookies, and water. It came to $86. The apples were the most expensive item. Then we came back for a beer and a nap before dinner.
At dinner, we met John, the other guest, who is living with them while he builds a house. Nice guy. Lots of joking. He's moving there from Philadelphia. We had burgers, beans, slaw, sauteed onions. We signed their map of St John on their wall. They have all their guests sign it. Donna had to run into town because there was a fire at the laundry she owns. So we missed funny cake for dessert, whatever that is. We talked about travels and building and life on St John. Very nice and welcoming hosts. We had a couple of last beers before bed.
Day 2: Lind Point Trail and the Beach
We had fun figuring out the Keurig to make coffee. We had coffee and pistachio muffins for breakfast, along with our apple pastry. Then we headed out loaded up with gear for the Lind Point Trail.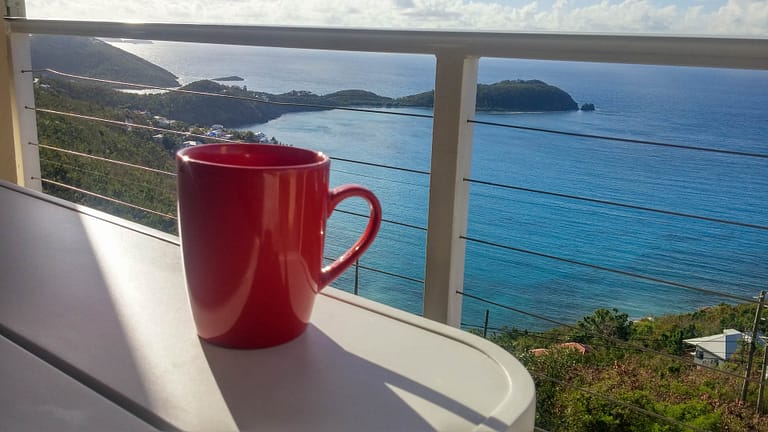 After our hike we headed into the national park to check it out. We stopped at Hawksnest Beach for lunch, then went onto Trunk Bay to hang out at the beach. There was no shade, so we tried to set up our shade shelter. It doesn't like the wind. We ended up going to the end of the beach where a cliff blocked some of the wind. We saw a pelican and a trumpet fish from the beach and went swimming. We left around 4:30 and drove by Maho Bay and the one-way loop. The road was down to one lane at Maho, which looked very sad. You could tell it was beautiful with lots of palms and trees before the hurricane.
We decided to have an early dinner in town. We went to Woody's but the kitchen was down so we had $2 Coors for happy hour there then walked around the corner to the Longboard Cafe for $6 Painkillers for happy hour and marlin ceviche and poke. Ceviche and poke in the same meal! We had the poke special of ono with dragonfruit and tuna aloha style with mango, avocado, radish, and spicy soy. When we went to leave we were blocked in by a police car at Kilroy's. Something about an alarm going off. We drove home with the dome light on because we couldn't figure out how to turn it off. Then we got home and it still wouldn't turn off. Turns out I manually turned it on trying to turn it off, so it stayed on. I love strange vehicles. We saw two deer on the road.
Day 3: Volunteering at Virgin Islands National Park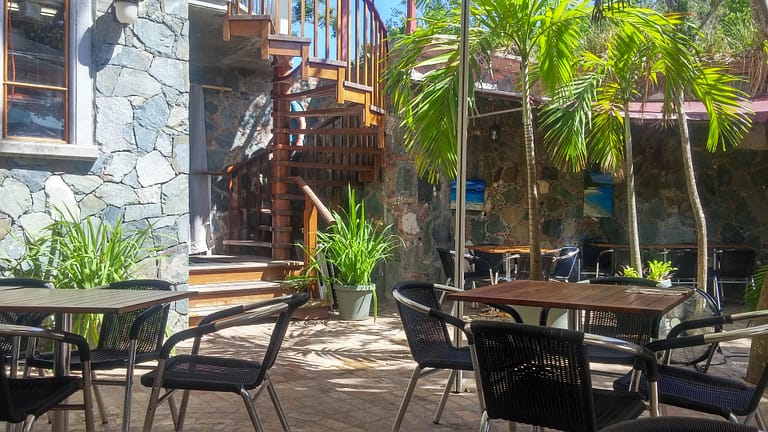 Ocean Grill is in Mongoose Junction, an area with shopping and restaurants. And some nice looking rock work! We ate at two other places here: Sun Dog Cafe and St John Brewers Tap House.
We spent our third day on St John volunteering at the national park. Back in town, we went to Ocean Grill for a lunch of burger and mahi sandwich, with good seasoned fries. Then we drove to Hawksnest to swim and cool off. We picked up guava and passionfruit rum to drink (Cruzan Rum has a bunch of flavors), along with coconut mango juice and lemon-lime soda. We also bought Jackson's deli sandwichs (pepperoni, salami, capicola, olives, and cheese) from Sam & Jack's Deli. And more chips, and some Chex mix.
Back home we had our drinks and sandwiches and talked to our hosts while getting ice from the freezer. The alarm went off at the laundry because the landline finally got hooked up again after the storm, and the alarm had been tripped. They were making pizza for dinner.
Day 4: Snorkeling at Trunk Bay
Bagels for breakfast. It rained really hard overnight and early in the morning. It was really windy too. So we were in no hurry to get going, though we'd planned on an early start. We headed straight to Trunk Bay to snorkel. There weren't many people on the beach and no one else snorkeling so it was calm and relaxed. We saw many different corals and things, and many different types of fish, though not huge numbers of fish. We also saw a nurse shark from shore. (And were happy to see it from shore!) Another guy may have seen a reef shark near where we were snorkeling earlier. We found some shade near a sea grape. Unfortunately, we had to share it with some other people later. At least they had decent taste in music. Though two of them sat RIGHT in front of us. We left the beach around 2:00 PM and went home for a couple of beers and a shower before dinner. We exchanged our Keurig for a Mr Coffee since the Keurig had an issue, and met one of our hosts' friends in for a memorial service.
We saw donkeys on the way back to Cruz Bay for dinner at Rhumb Lines. Shrimp and corn fritters, then seared Szechuan tuna with puff daddy (fried rice) noodles and coconut panko shrimp with garlic potatoes. We split both meals so we could sample each one; they were both really good. Back at home we had rum drinks.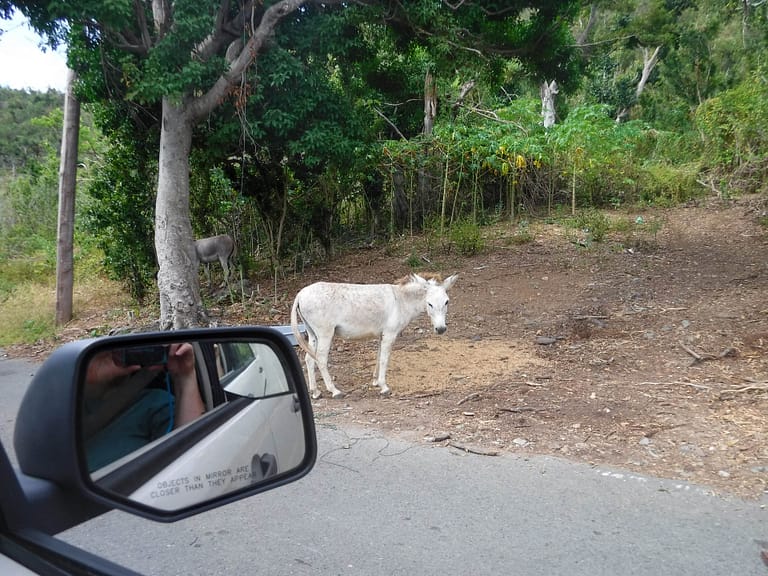 Bagels for breakfast with the new coffeemaker. We went into town to check on the ferry for Sunday when we leave. We can take the 7:00 AM ferry from here! (We thought we would have to leave earlier.) Then we took Centerline out to Coral Bay and Salt Pond. There were cows in the road and lots of work going on on the road with powerlines and such. Cows were trying to get through the same single lane construction as us. Lots of hurricane damage in Coral Bay. A couple of houses were off their foundations, including one that looked like it could fall in the road. The road was in worse shape than the park road.
We found the entrance to Salt Pond with no problem. Finding the Ram Head trail was more challenging.
Miss Lucy's was open for lunch, so we stopped there to eat. We had saltfish fritters, a grouper Reuben, and chicken pelau. (I had no idea what chicken pelau was but it sounded local so I thought I'd try it.) I tried a Summer Ale for beer; it wasn't as good as others we've tried. It was cash only. They played great music. Mostly Motown, which Candy our friendly server was singing along with. (She actually remembered us when we ran into her at the market later. St John is a very small island.)
After lunch, we drove to the Annaberg ruins via the cut over to the park, then to Francis Bay (though we didn't hike down) and then to Hawksnest, where we swam to cool down and sat in the shade. We saw snorkelers and fish jumping. And people drinking in the water. And a parrot in a jeep.
We left the beach around 4:00 PM for the Tap Room at St John Brewers. There was no parking at Kilroy's so we drove to Mongoose Junction and got a spot right outside. We had a new beer, a New England IPA. Cloudy, not bitter, and tasty. We had two of those each, then personal pizzas (pepperoni, mushroom, and pepper, and sausage, onion, and mushroom) that were pretty good, and rootbeer floats for dessert. The brewery makes their own rootbeer, and the ice cream place downstairs makes homemade ice cream.
We stopped at the store for coconut rum, V8 tropical smoothie mix, muffins, beer, and creamer. We finished our other rum and started on Amber Ale.
Day 6: Hawksnest Beach (our favorite)
Our last day here, so we had a simple day planned. We had muffins for breakfast – cinnamon coffee and butter rum. They were good, but not as good as the pistachio muffins. Then we left early for Hawksnest to snorkel and hang out. The water was much rougher than it had been so we ended up not snorkeling, but hung out in the shade, walked on the beach, and swam.
We left the beach fairly early to have lunch and check out the morning ferry. We ended up eating at Sun Dog again, where we had burgers and chocolate banana bushwhackers. Healthy bushwhackers, right? It rained while we were finishing up. I texted the friend who introduced us to bushwhackers a photo of our drinks and discovered they were headed for Costa Rica the following week.
Back at home we packed and got gas and some wine for Donna, and fizzy water for our last drinks. We drove into the Lime Inn for dinner. I had ribs with mashed potatoes and caesar salad. Steve had the seafood pasta special. I enjoyed the ribs. Steve's pasta was kind of finicky with lots of shells to deal with and not a lot of food. Back at home we had rum drinks. The power went out for about an hour after we went to bed. Still feeling the fallout from the storms.
This section contains affiliate links. If you click on a link we may receive a commission at no cost to you. 
This is one of our all-time faves. Choices are limited on St John, and reasonably priced choices even more so. We chose Hawk's Rest for the price and reasonable proximity to Cruz Bay. We thought it might be possible to walk there but didn't try it. The views are phenomenal and so are the hosts. The suite is great. The price has gone up since we stayed there but they finished the pool and outdoor kitchen they were working on while we were there and the value is still there. We would love to go back.
We rented a car so we could explore the island on our own. We rented from our Airbnb hosts and it worked out great.