We loved Kauai despite all the rain we had. It felt much more relaxed than Maui.
We got to the airport on Maui in plenty of time but our flight to Honolulu was delayed so we missed our connection to Kauai. We got standby on the next one. We heard Kauai got 14″ of rain yesterday.
The beach at Poipu was closed. We checked into our very nice condo, then drove up Waimea Canyon to where the two roads meet. We had lunch at Joe's on the Green (which was our go-to breakfast spot and we are sorry to see it closed) and dinner at the Poipu Beach Broiler (also now closed). It was mostly cloudy. We had beer on the lanai at the end of the day. Here's our view.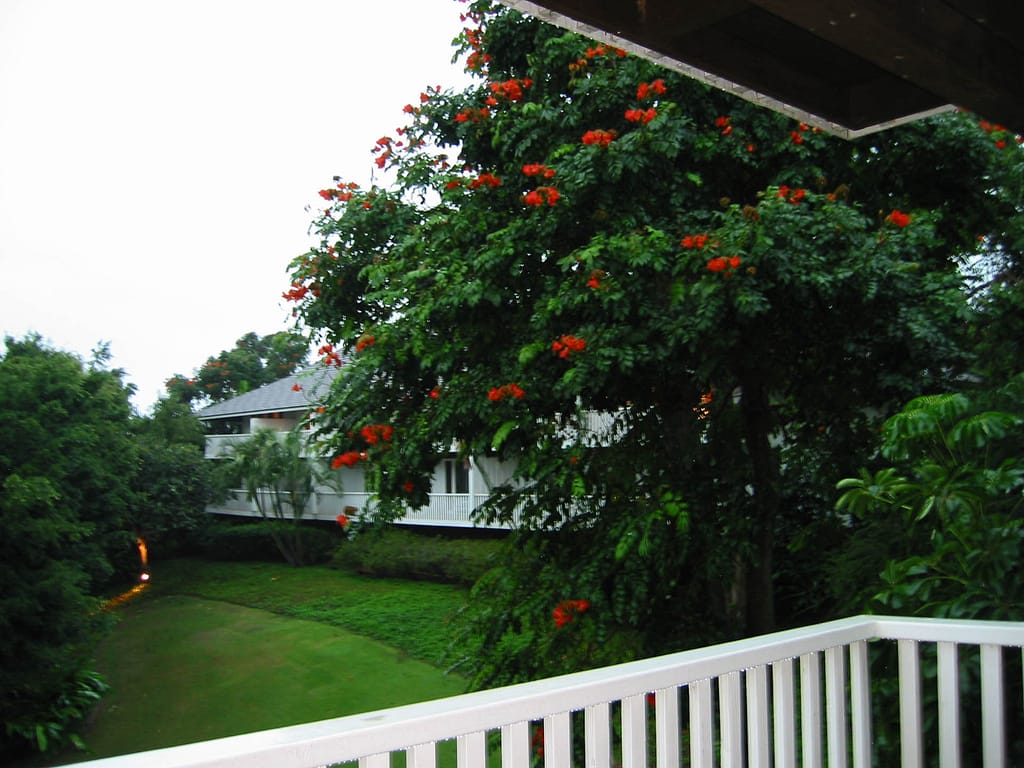 We'd scheduled our helicopter tour for today but ended up rescheduling for Sunday due to weather. So we headed off to the north shore.
We had Bubba Burgers for lunch, then snacks and beer for dinner. It rained and stormed all night.
Day 3: Rain and a Rare Tornado
Flash flood warnings. The town of Waimea flooded. The Hanalei bridge closed. There was a landslide on Anini Road. We figured they didn't need tourists floating around and getting in the way so we stayed in and napped and watched TV. It's been raining ALL day. Our kayak trip has been rescheduled for Monday.
We had rental car problems coming back from breakfast so we had to exchange for a different car. We caught a break in the rain late in the afternoon and had a late lunch at Brennecke's Beach Broiler. Our server told us a waterspout was sighted offshore. It was their first tornado since the 1950s. We also walked down to the beach during a break in the rain and saw a monk seal. The picture below was taken the following day. You can see how brown the river is from all the runoff.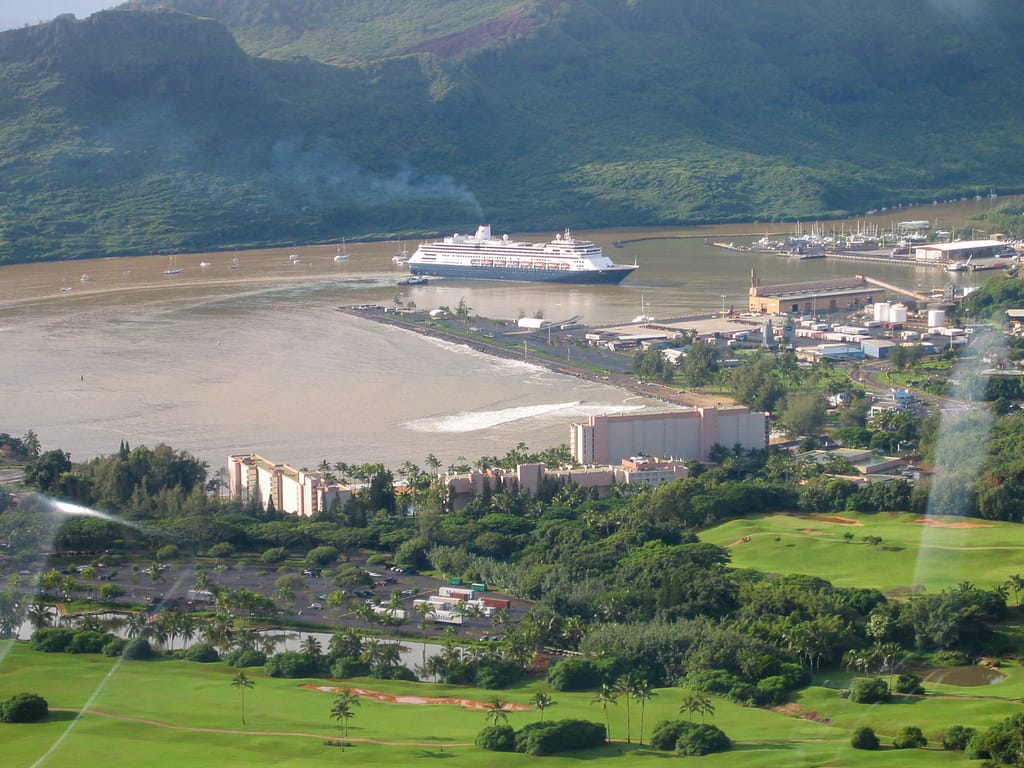 We found out the next day that an average of 4-6″ of rain fell per hour, with as much as 8-10″ in some areas. We did some math and came up with about 48″ of rain while we were there. 
The weather cleared this morning so we got to do our helicopter tour. Yesterday the pilots were rescuing people from flooding.
Afterwards we drove up Waimea Canyon again. It was pretty fogged in on the way up but we had decent views on the way down. We couldn't see into the Na Pali coast. 
We had our second splurge meal of the trip at Plantation Gardens. Their lilikoi (passionfruit) cheesecake is the best dessert in the world. (So far!)
And finally the kayak trip too. It was a nice paddle up the river with a Canadian family, then a hike through the rain forest. The path was really muddy but our water shoes worked well. There was a rope swing where you could jump in the river. We didn't do that but others in the group did. We forded a stream 3 times, and our guide had to repair a footbridge. While we were being towed back to port the driver — who was standing on a platform at the back of the boat — reached over his head and grabbed some debris. He said that yesterday the water was that high.
After that, we had lunch at Joe's then sat by the beach for a while. We had dinner at Roy's Poipu, our last splurge meal, and the first crowded restaurant of the trip. It was a nice meal, not quite up to the other two splurges. (This restaurant too has since closed.)
Our last day! It rained all last night again but we went to the beach anyway, after another breakfast at Joe's. We saw two seals on Poipu Beach and heard the snorkeling was good; lots of people out there.
We failed to find Shipwreck Beach but still had a nice walk. We saw the PGA course. We kept dinner simple: Subway and beer on the lanai between bouts of packing.
We enjoyed Kauai so much despite the horrific weather that we had to come back and visit again. We did that in 2016 (along with the Big Island) and had much better luck with the weather!
This section contains affiliate links. If you click on a link we may receive a commission at no cost to you. 
We really enjoyed the one-bedroom condo we reserved through Outrigger. It had unique slatted windows inside the condo that allowed air to flow through from front to back. We could walk through the resort to the beach.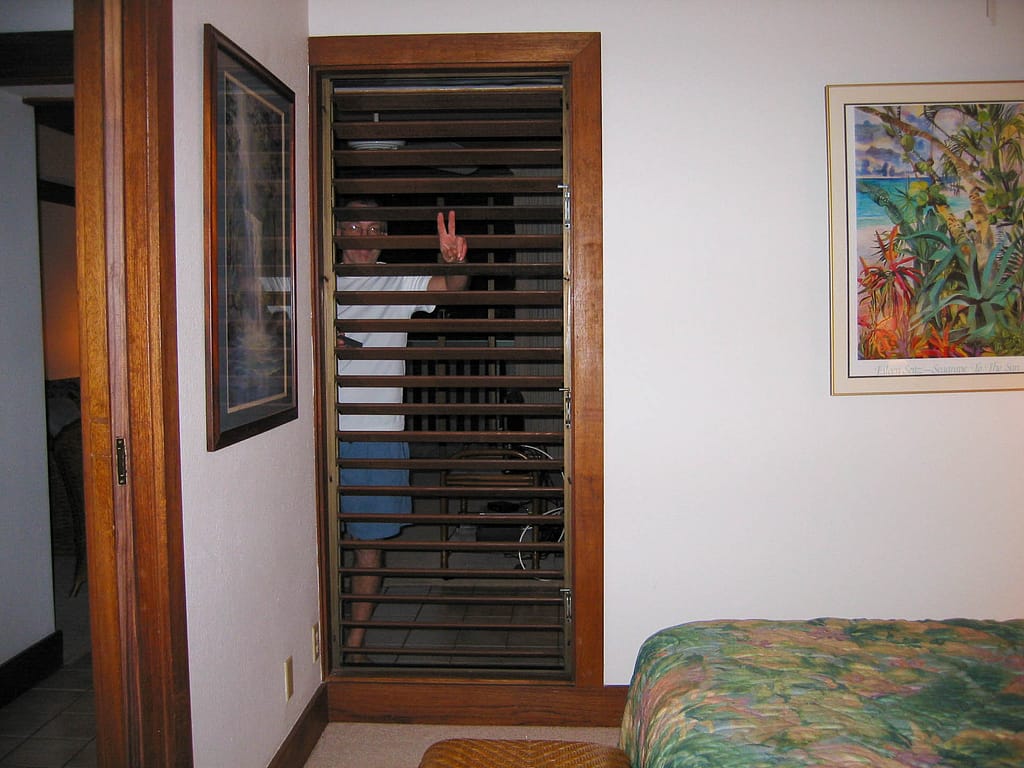 Good places to eat are scattered all over the island.
We rented a car so we could explore the island on our own. A convertible, since it wasn't much more than a regular compact car! We had an issue with the first car and National replaced it with no fuss.