The north shore of Kauai is rainy, misty, and dramatic with beautiful beaches and the entrance to the Na Pali coast.
Day 1: Kailua-Kona to Kauai
We had early coffee with the waves and the birds. And spinner dolphins! First a couple, then later about 30 of them. We thought they were fish or regular dolphins at first.
Checking in at the Kona airport was confusing. There were lots of lines in all directions. We printed boarding passes at the wrong kiosk but a nice person helped us sort things out. We had a bit of a line for checked baggage again. And a different way of doing TSA Pre: They gave us special yellow cards. The flights were uneventful. And short, especially Oahu to Kauai.
Grabbed the rental car and stopped at Duane's Ono Char for a cheeseburger and a Duane's Special. We split some fries and had a Coke Zero with it. Chickens bus the tables for you. Really good burgers and fries. Then we drove to Green Acres, where we're staying for the first three nights. Our hosts weren't there but there were notes for us and a free upgrade to the Nautical cottage.
We dropped off our stuff and headed for Hanalei. We walked on the pier, then drove on around the north side until about Tunnels beach, where the road was flooded. We turned around and drove across the Hanalei Bridge to avoid getting stuck if the bridge closed. We forgot about all the one-lane bridges, including a double one. We stopped at Foodland in Princeville for Castaway IPA and Maui Coconut Porter. The porter was really good, just a hint of coconut.
We went to The Bistro in Kilauea for dinner. We both had blackened ahi with mushrooms, a thick soy sauce, and rice. Big chunk of fish. Came home and drank beer, what else? Also met our host.
Our rental car is a newer model that turns itself off at lights. That was a bit disconcerting the first time or two!
Since tomorrow's weather forecast sounds better we opted to do the Na Pali hike then. So today we went to Anini beach. It's just as beautiful as I remember, with pretty — not gray — water this time. We could have snorkeled: the water was surprisingly clear despite the rain. Other areas were brown. We hung out through a few rain showers and a wedding(?) party that filled in behind us. About 40 people. Chickens everywhere, of course. And gnats.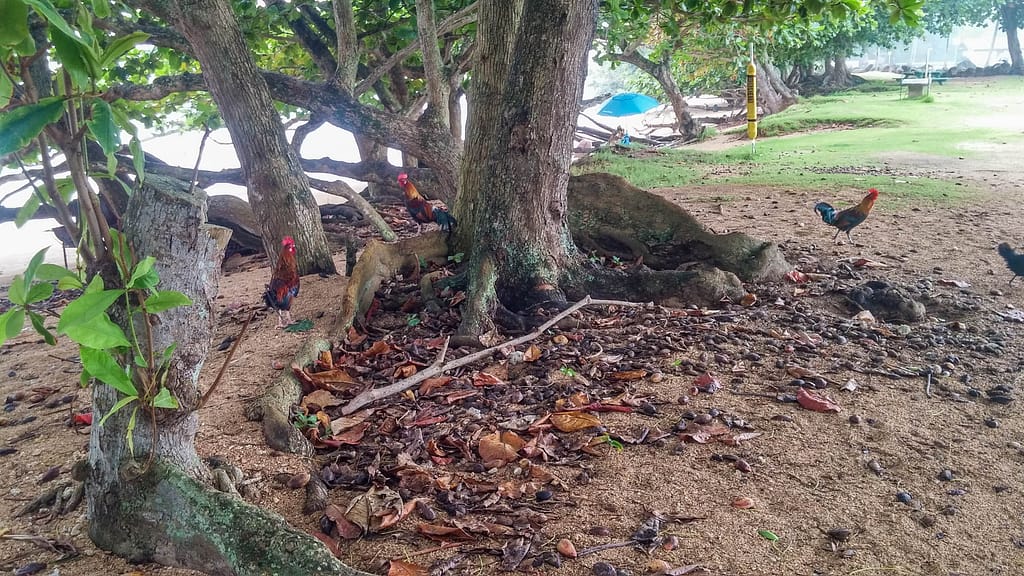 Around 2:00 PM we drove to Hanalei for lunch at Chicken in a Barrel. We had chicken plates (chicken, rice, chili) plus cornbread and Coke. Good barbeque sauces and really good chicken. Great crispy skin and even the white meat was moist. We walked around Hanalei and did some shopping. We bought beer at the Big Save (we remember Big Save!) Some guy grabbed the last Big Butte Porter while we were debating. Note to selves: If it's the last 6-pack and you think you might want it, snag it! We also stopped in Kilauea and looked around. We saw lots of lizards there. Drizzly weather.
A rabbit stopped by to visit while we were sitting outside having a couple of beers. We picked up an orange off the ground to have with breakfast. We're surrounded by an orchard and encouraged to harvest. The bed is pretty soft, otherwise this place is really nice.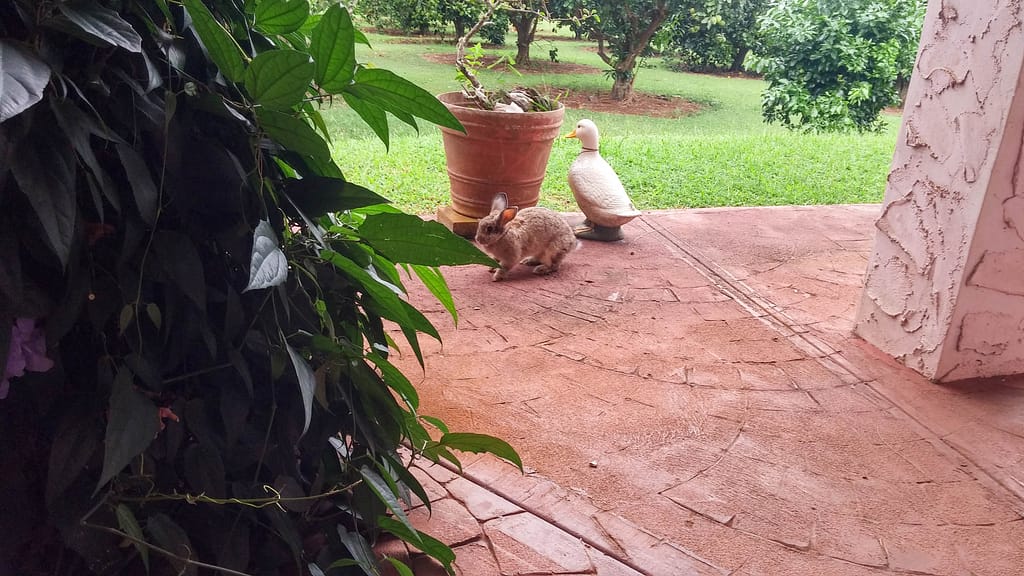 We went to Pau Hana Pizza for dinner and got the large, split between a Billie Holiday (smoked fish, white sauce, spinach, bleu cheese, roasted onions) and The Chewy (Portuguese sausage, pepperoni, pineapple, black olives, chipotle peppers, barbeque sauce. Both were really good and we had leftovers. We tried a Get up Offa that Brown by Golden Road brewery in LA. Nice. And a Torpedo, which tastes a little different here?
Day 3: Na Pali Coast Hike
We had leftover pizza for breakfast. Then finally, the Kalalau trail on the Na Pali coast! We wanted to do this hike the last time we were here and couldn't because of the weather. 
We ate fish (opah) and chips at Hanalei Gourmet around 5:00 PM and did a little shopping. We showered and had beers then settled up with our hosts. Very nice, funny guy. They have beautiful Asian furniture. Someone did burnouts up the road; it felt like home. And we cracked some macadamia nuts — they grow those on the property too — for a snack.
And we had to take a picture of this very colorful lizard.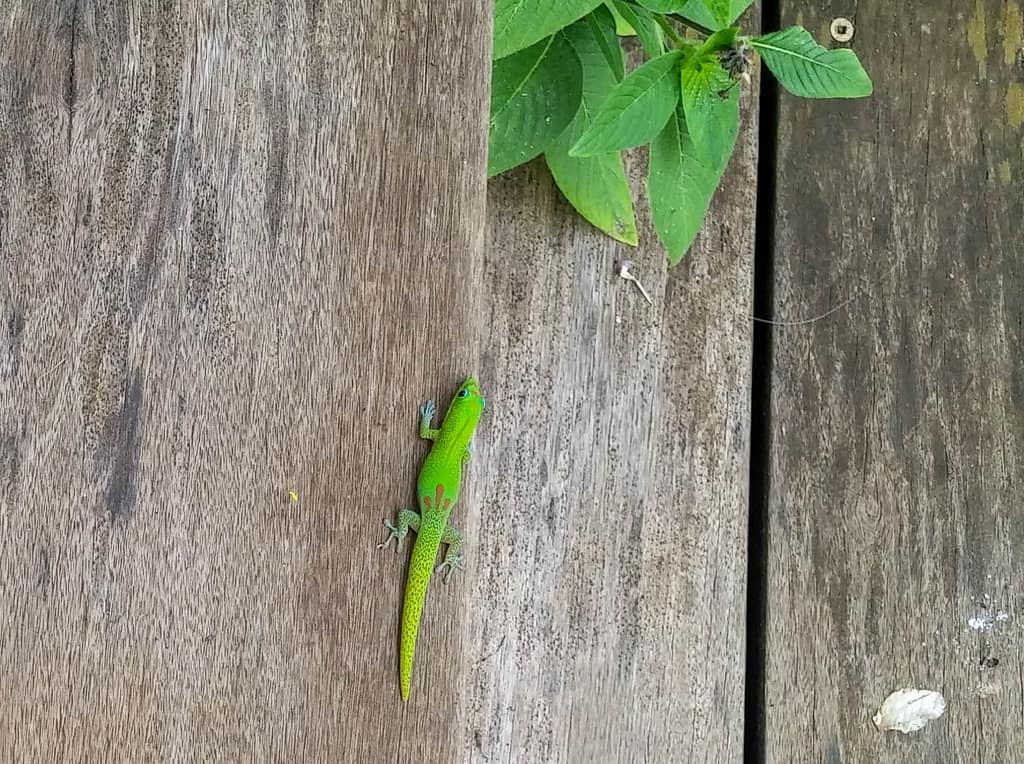 This section contains affiliate links. If you click on a link we may receive a commission at no cost to you. 
There aren't a lot of options in our price range here. 
Note: It appears this property is changing hands. We originally booked the Gazebo cottage and were given a complimentary upgrade to the larger Nautical cottage when we arrived. Their website provides descriptions of the different cottages, making it easy to choose.
The cottages (and the hosts' house) are in an orchard, and it was fun supplementing breakfast with harvested oranges and cracking our own macadamia nuts. There is outdoor seating, and it's quite tranquil. Since the cottages are in a rural area, we had to drive for everything. That was the only downside for us and the reason we didn't stay here the entire time we were on Kauai.
Kilauea is just a few minutes up the road and has some nice dining options. Princeville is a bit farther north and has a grocery store.
We rented a car from National Car Rental so we could explore the island on our own. There is bus service and it's designed for locals, not tourists.