The south shore of Kauai tends to be the sunnier side. We like the laidback Poipu area with its restaurants within walking distance. Or a short quiet drive.
Day 1: North Shore to South Shore
We had a leisurely start since our hosts said we didn't have to be in a hurry to check out. We snorkeled at Lydgate Beach on our way by to the south shore. There wasn't a ton of fish but the snorkeling was easy; it's basically a man-made reef with shallow water. We saw puffer, unicorn, and butterfly fish as well as convict tang. It was windy, with waves breaking over the wall, but placid inside the rocks. We hit Pono Market in Kapaa for excellent spicy ahi and sesame ahi poke bowls. And shave ice with li thing mui powder!
Then it was onto Poipu to check in to our condo by way of an ABC store. We had a large one-bedroom unit with two lanais, ceiling fans, and laundry, which we took advantage of! Also a complimentary Chardonnay in the fridge, and a well-stocked kitchen and bath.
We stocked up at the Big Save, had a couple of beers, walked over to Poipu beach, and made dinner reservations for Brennecke's where we had our first mai tais.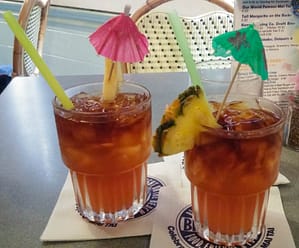 Day 2: Hiking at Waimea Canyon
We walked to Kalapaki Joe's for breakfast then headed to Waimea Canyon to hike the Waipoo Falls trail. After hiking we drove on up to Kokee Lodge, where there were chickens AND dogs.
On our way home we stopped for groceries in Koloa, had a couple of beers, and walked over to Kalapaki Joe's for dinner.
Day 3: Snorkeling at Poipu Beach
No alarm needed this morning! We had coffee and cinnamon rolls for breakfast on the lanai, then went snorkeling at Poipu beach. We didn't think it was going to be any good but the lifeguard said it should be fine. We saw a fair number of fish (Moorish idol, pufferfish, Christmas wrasse) along with sea turtles and a monk seal while on the beach. It was odd snorkeling and looking at all these beautiful fish while around us parents played silly games with their kids, oblivious to the beauty. We ended up staying for an hour or so, then took a nice walk over to Shipwreck beach. That was pretty and had nasty waves.
We had chicken tacos and poke nachos at Kalapaki Joe's for lunch then we back to the beach, where monk seals were playing in the water. (And on the beach.)
Steve also got some good sunset photos.
We drank our wine then headed to Plantation Gardens for dinner. Pork potstickers to start, followed by monchong crusted with smoked quinoa, with quinoa, veggies, and chili oil. Their lilikoi cheesecake is still the best dessert in the world. They gave us one to share. We probably would have asked for two. One was probably better.
Day 4: Kokee and the Start of the Pihea-Alakai Swamp trail
We ate the rest of our cinnamon rolls for breakfast with the birds. Doves, a sparrow, and then a cardinal that ended up on the table. No, that cardinal is not sitting on the other bird. It's just the angle. 😀
Then we drove up to the end of the road in Kokee to attempt the Pihea-Alakai Swamp trail. (Spoiler: We didn't make it, but the views are great anyway.)
We ate "lunch" at the Kalalau overlook with a rooster. The road past the lodge is narrow in spots. We only had a 1/4 tank of gas when we went up. We still had plenty to get to the station since it was all downhill. We stopped along the way to get another vantage point on the overlook. If you drive up this way 550 is a more interesting route than 552.
We took the Koloa road into Koloa and walked the main drag, buying chicken and turtle Christmas ornaments at Hula Moon. And found the tiny Koloa Fish Market.
After a couple of beers, we walked down to the beach for sunset and took lots of photos. We saw the green flash! Another seal was in residence and there were lots of surfers and a paddleboarder. Brennecke beach was closed due to dangerous surf.
We had dinner at Keoki's Paradise. There was live music, and someone requested Puff the Magic Dragon. That was cool. Then back home for a couple of beers under the stars. Very quiet. 
Day 5: Snorkeling at Poipu Beach
We had breakfast at the Anuenue Cafe. Excellent coffee and haupia mac nut french toast.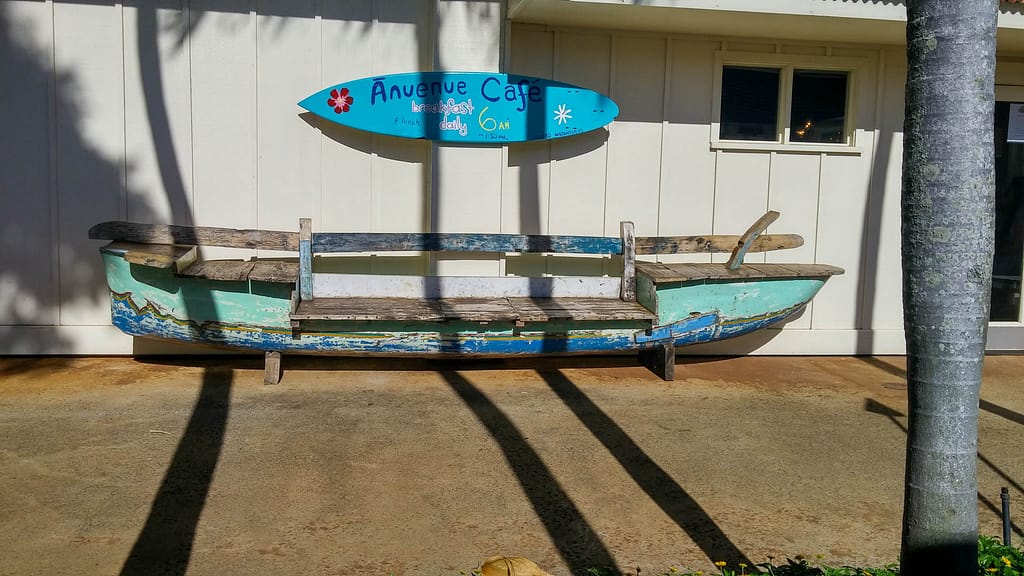 Then we went snorkeling again at Poipu Beach for a couple of hours and saw triggerfish, goatfish, eels, moorish idols, saddle wrasse, Christmas wrasse, convict tang, sea cucumber, parrotfish, snapper, and different kinds of butterflyfish.
We arranged a late checkout for the next day then got a takeout plate lunch from Koloa Fish Market. We were warned service could be brusque since most customers are locals and know what they want. It wasn't busy when we were there so it wasn't an issue. They kindly helped us figure out our order. (Because we didn't know what we wanted!) At one point this afternoon Steve decided he was the most relaxed he's ever been on vacation. No need to go do more or see more. Just relaxed. 
We think we saw Mars, Venus, and Saturn while stargazing with beer.
Day 6: Poipu Beach then Home
We went back to Anuenue Cafe for the best french toast ever. After packing up and checking out we hung out at the beach for the day. We saw more seals, plus turtles, a butterfly, and a cockatoo. We didn't actually go in the water; it was nice to sit in the shade and relax. We were able to get a pool key and towels in case we needed them. We never did use the shade shelter we brought with us, though we saw other people using them.
We hit Kalapaki Joe's for happy hour. We had planned to buy coffee but skipped that. Instead we just headed for the airport, where thee A/C in the waiting area was welcome. 
This section contains affiliate links. If you click on a link we may receive a commission at no cost to you. 
We spent 5 nights in Kahala 724 while on Kauai. Online booking through Suite Paradise was easy, with lots of pictures and descriptions to help with the selection process. This unit is on the second floor, and offers two lanais – something we couldn't tell for sure from the description – one with a pool view and one with an ocean view. (It's not an expansive ocean view, but you can see the water.) It's a 10-15 minute walk from Poipu beach, and there are at least 3 places to eat within that distance.
The condo came equipped with the usual hotel amenities, plus laundry facilities, which came in handy, and a full kitchen. The bathroom was even had two sinks. Having a second lanai was also useful, to avoid the hot sun depending on time of day. There is no A/C but we didn't miss it at all. Ceiling fans everywhere and lots of windows. Designated parking space.
The staff at Suite Paradise were also great. Our flight left at 8:30PM and they gave us towels and a pool key when we checked out so we could shower (outdoors) and change in the rest room before our flight.
There are lots of good dining options in the Poipu and Koloa areas at all price points. 
We rented a car so we could explore the island on our own. There is bus service and it's designed to serve locals.