We went to Caernarfon for the castle and easier access to Snowdon. The town itself is pleasant.
We had our last excellent breakfast in Porthmadog this morning and I tried the porridge which was just as good as everything else. We checked out at 10:00 and headed over to wait for the bus. At about 10:45 I decided maybe I should find a bathroom and was going to find a public restroom until Steve discovered he still had the key to our room in his pocket. So I ran it back over to our place, gave it to the housekeeper, and used one of the bathrooms there.
The T2 bus dropped us off pretty much right across from our new B&B, Bron Menai. Check in wasn't until 4:00PM so we dropped her bags in the lounge and headed for the castle.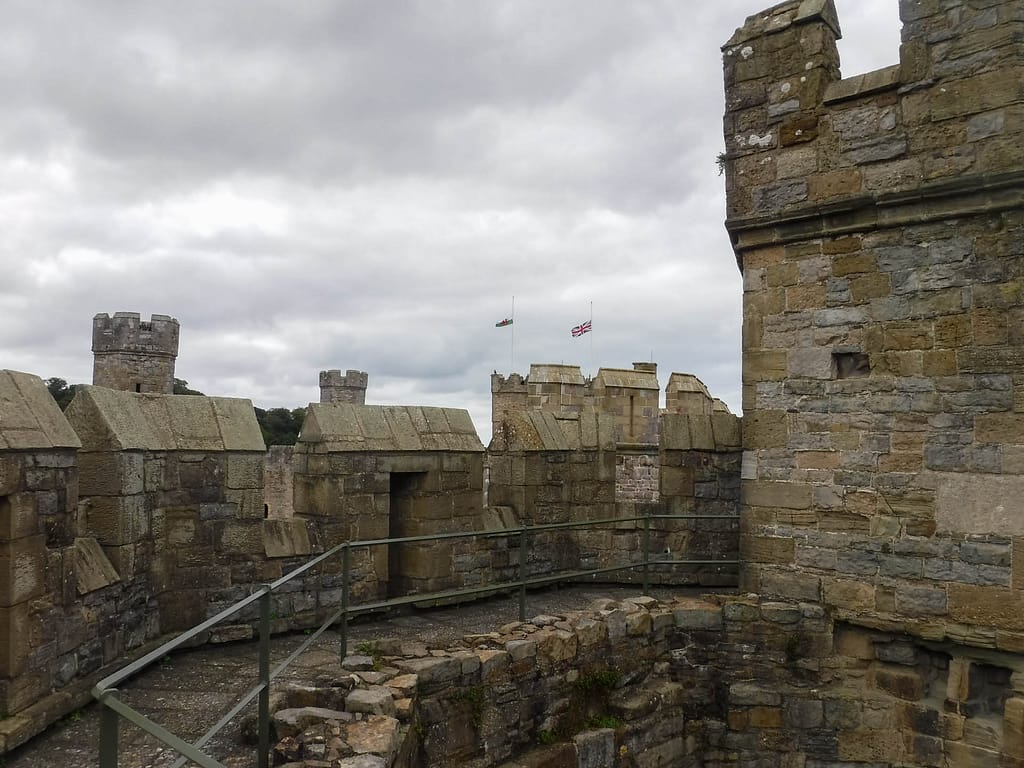 We also walked around town a bit and found out where the Welsh Highland railway is and then found the Anglesea Arms right on the water and had a couple of pints in the sun. There was a swing bridge nearby that we got to see in action when a couple of boats came through.
By then it was time to check in so we relaxed there before dinner at the Old Courthouse. Then we went back to our place and unpacked. Our room here is more spacious than the last one. We actually have a couple of comfy chairs and a stool so I can put my feet up.
11,853 steps today
Day 2: Yr Wyddfa (Mt Snowdon)
Today was our trip up Mount Snowdon aka Yr Wyddfa. We caught the S1 bus from right outside our place and took it to Llanberis where we got off way too early but that was okay because we got to walk through town.
The bus dropped us right downtown in Caernarfon. We went back to our place for a bit before heading over to the Black Boy Inn for a couple of beers before dinner. They were very busy, everyone was moving pretty much at a dead run. We had a table booked for 6:15. We don't know how organized the table bookings were but we did get a table and had a nice meal of fish and chips. It's a very old pub with suitably old decor and the name and the imagery would probably never fly in the USA. But how easy is it to change the name of an inn that's been around for hundreds if not thousands of years?
6,247 steps today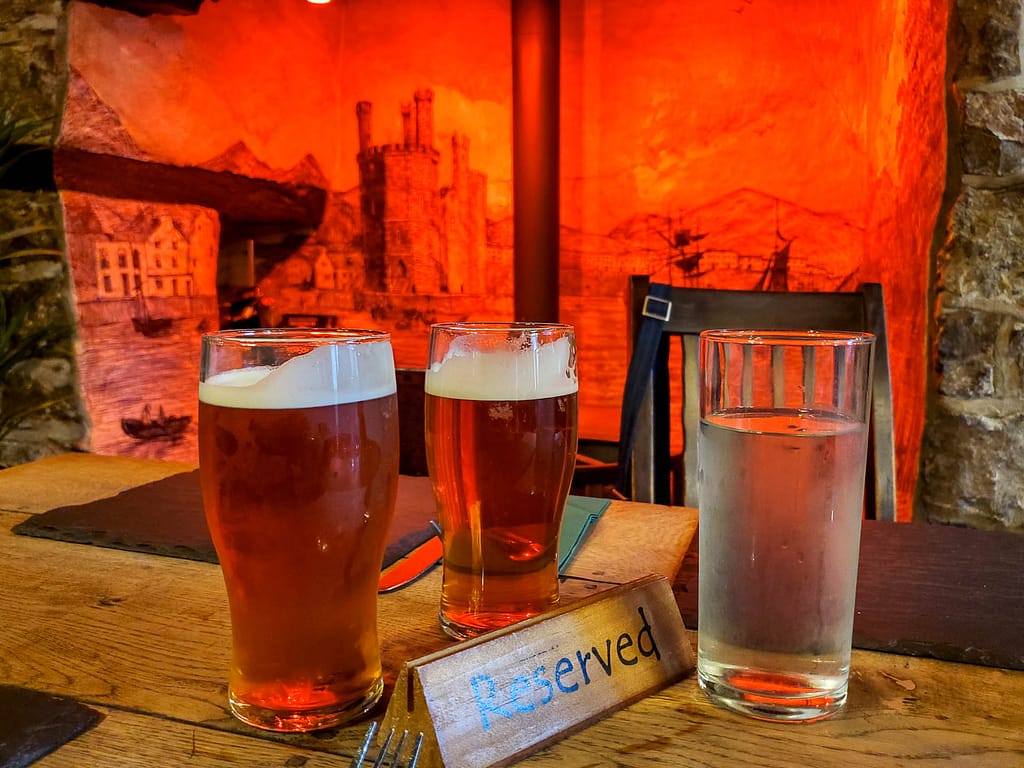 Day 3: Scenic Train to Porthmadog
Back in town we went to the Black Boy Inn again and sat in a different part of the pub and had Punk IPA and dinner. Steve got a Welsh pie with chips and I got a large Yorkshire pudding with roast beef. Essentially it was a big bread bowl with roast beef mashed potatoes, peas and carrots inside.
5,348 steps today
This section contains affiliate links. If you click on a link we may receive a commission at no cost to you. 
Bron Menai Guest House
is located outside the town walls in a residential area. A bus stop and supermarket are right across the street. Our room was spacious and our breakfast was great.
We ate at the Old Courthouse and the Black Boy Inn and we enjoyed our meals at both places. 
Caernarfon is a town rather than a village and easily walkable. We averaged 7,816 steps per day. The T2 bus picked us up on the main street in Porthmadog and dropped us right across the road from Bron Menai.