It is worth coming to Barcelona for the Sagrada Familia alone. Don't miss it! And there's a whole lot more to see here. We can see why it's over-touristed. So glad we came, and at a time of year when it seemed not so crowded.
Let the record show that my brother was actually early to pick us up for the airport. (This is unusual activity for our family.). Check in was swift because there was no line and security was painless. We were lucky in New York too. We only had to move about 12 gates to catch our other flight. Which was about as painful as we expected it might be. Steve got a little sleep. I got none. We both watched Dune so now of course I have to reread it. And then we each watched another movie that we'd already seen before. So it wouldn't matter if we fell asleep.
We had a long wait at immigration in Spain although once we got to the window he just looked at our passports and stamped them and waved us on. From then on we were following signs for the exit while looking for a restroom and didn't find one until we got outside the airport and tracked one down near where we were supposed to pick up our bus.
Taking the Aerobus from the airport to Plaza Catalunya was also easy. They scanned our barcode and off we went. It was a relatively short walk to our hotel and of course our room wasn't ready since we got there at about 10:30 in the morning. So we left our bags with them and headed out to explore. They have a storage room for bags and there were several bags in there besides ours. They even tagged them so they could tell them apart.
We took the Bus Turistic hop-on hop-off bus like we planned. We thought it would be a good way to see some things while dealing with jet lag. We had a bit of confusion getting what we needed out of our bags to take with us for the day and in the excitement Steve forgot his rain jacket. I had mine but we both ended up being chilly.
We took the red route all the way around and then switched to the blue route and took that all the way around too. Both routes were interesting though we thought the red route covered more of the sights that we were interested in. We also thought we were going to miss our earbuds but they gave us some on the bus. And we didn't have to use the app on our phone because we could just plug into the bus.
Our room was ready when we got back to the hotel so we took our bags upstairs and got organized a little bit and then we walked down the street and got some pizza at del Nanni. Then we went to the grocery store for some beer and chips. We went for a little walk along La Rambla and were in bed by 7:30 after a couple of beers and some chips. We slept for about 12 hours because we needed it.
It rained pretty hard all morning so we were not in any hurry to get out and about. We did some reading and stuff and took a nap and finally around 2:30 or so the rain let up and we got up and went to La Esquina for sandwiches. We had a table near some windows so it felt like being outdoors. We didn't want much to eat because we have our tapas tour tonight. There was a table full of guys behind us that kept growing as more men arrived.
It still wasn't raining when we were done eating so we went for a little walk to make sure we knew where to meet our tour that evening. We found the square and the equestrian statue and then visited Barcelona cathedral while we were right there. We took a bit of a roundabout way back to our place where we relaxed a little more and changed our clothes before our Devour tour.
It was Big 10 night on the tour. Besides us there were two other families. One had students at Wisconsin and Illinois and the other family was from Colorado but he went to Indiana. And then there was a nice woman from Italy that was part of our group. Dom was our tour guide and he explained about food and history as we walked around. Our first food stop was Bar del Pi where we had chorizo and fuet along with the famous iberico ham, pan con tomate, manchego cheese, and a Spanish tortilla. With cava and vermouth to drink. We enjoyed both drinks and all the food.
Then we walked around some of the older buildings near the cathedral including part of the Roman wall. Our second food stop was La Plata where we had fried anchovies, a salad of tomato, onion, and olives, and butifarra. And red wine from a barrel. We got to try drinking water out of a device traditionally used for drinking wine. You need to pour it in your mouth without actually touching the thing to your mouth so I wouldn't recommend trying it with red wine. We then walked a little more and had our last food stop at Bodega La Palma. There we had potatoes bravas, croquettes of green pea and mint, and ham croquettes, followed by cannelloni with beef and mushrooms and finishing up with crema catalan.
The tour ended at around 10:00. We walked back to our hotel and had one glass of wine before bed. It's a very cheap white wine because it's what we could find with a screw tap since we don't have a corkscrew. We may have to buy a corkscrew if we find one.
We weren't sure how this morning was going to turn out because we had to pick up our Hola BCN Travel Card at 8:30 and then catch the bus to the park by 9:30. (We could have picked up the travel card yesterday. That's what jet lag does for you!) Thankfully a woman was opening up one of the travel booths in the Plaça Catalunya when we got there and was able to get us our travel card as soon as she got her computer booted. She also confirmed where we picked up the bus for Park Güell.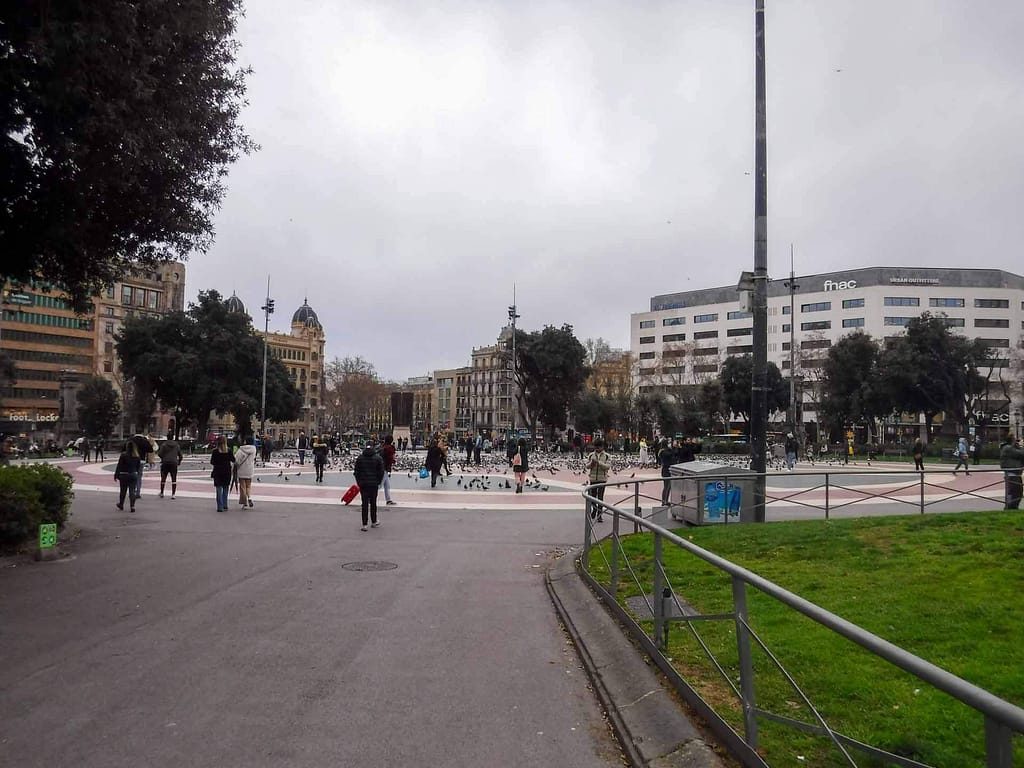 It wasn't raining very hard when we got back to town so we did some wandering mainly in the Barrio Gotic, with no particular destination in mind. Then we rambled up La Rambla when we were done.
Steve suggested a beer at the cerveceria down the street. He made me get them of course since I'm the one who speaks Spanish. (Definitely going to France next.) We had two Paulaner drafts to start and then decided to get one of the buckets that everyone else was getting. So I got a bucket of Amstel for round two. Then discovered that we needed an opener. Which we could get indoors by giving a €1 deposit. Which I did. We enjoyed the beer and we even got some sun while we were sitting there. Yes, on our last trip we were trying to stay out of the sun. This trip we will look forward to being in the sun. 30° makes a big difference. Then we walked back to the hotel to consult notes and try to figure out where to eat. I came up with the Fabrica Moritz, a nearby brewery that serves food. So we walked over there. I ordered a chicken cooked on a beer can until our server said it was a whole chicken and was probably more for sharing. I agreed with him and ordered something else! We came back to the hotel and took a nap, then finished up the night with some wine and chips.
Day 4: Sagrada Familia and Gaudí Houses
Oh my f****** god. The Sagrada Familia alone is worth coming to Barcelona. Not that there isn't a whole lot else here. We had plenty of time between Sagrada Familia and Casa Batlló so we went back to the hotel to relax and regroup and grab the pocket camera that we keep forgetting to take with us. And the umbrella that we ended up not needing.
La Pepita was near our next stop, Casa Mila, and recommended by our Devour tour guide so we went there for lunch and sat at the bar because all of the tables were reserved. We had a nice tapas lunch and had plenty of time to get to our next stop.
After Casa Mila we walked back to our hotel by way of a 365 bakery for a couple of sandwiches to supplement our chips and a supermarket for some IPA to supplement our cava.
Below are examples of some of the interesting architecture we saw in the city. 
We'd planned to go to Montserrat today but decided we didn't need to put all that time and money and effort into a day trip to see rock formations that we've probably seen elsewhere. So instead we plotted a walking route that took us by the Palau de Música Catalan and the Santa Maria del Mar cathedral and ended up at Ciutadella Park.
The park was a pleasant place to walk, with interesting things to look at. 
Then we walked home by way of the Mercado de la Boqueria. That would have been a nice place to pick up some snacks earlier in the trip but since this was our last night we just walked around and looked at things.
For lunch we had our first menu del dia at Elizabet's, a small Spanish restaurant right down the street from where we're staying. They only had a menu in Spanish so I did my best and we enjoyed what we ate: starter, main, dessert, bread, and beer for €13.45. Bargain!
Then we went down to the Shamrock Bar and had a couple of pints of Guinness after which we hit the supermarket for some beer and snack food for our last dinner.
This section contains affiliate links. If you click on a link we may receive a commission at no cost to you. 
We stayed at the Eco Boutique Hostal Grau. The rooms look just like the pictures. It was a great location for sights and transport and places to eat. They don't call it breakfast but they have coffee, (tasty) coffeecake, and fruit in the morning. Our room had a shared kitchenette with a fridge that was useful. And recycling!
The staff were friendly and helpful. We heard El Raval had a bad reputation but we never felt unsafe in the area nearby. (Or anywhere we went in Barcelona, for that matter.)
Barcelona is of course a prime destination for dining, and everything we ate there was excellent. (Even the takeout sandwich from a 365 bakery.) Our pizza from del Nanni only took a few minutes and only cost a few euros and it was really tasty and simple. La Esquina had great sandwiches. The Fabrica Moritz had tasty bar food.
At La Pepita we had a tapas lunch at the bar because all of the tables were reserved. It was a very traditional looking place and yet there were handwritten messages on the tile and rock music playing. One of our favorites was Elizabet's, which ended up being the only place we ate menu del dia on the entire trip. 
For us the unlimited travel pass for Barcelona ended up not being a good value since we were able to walk almost everywhere. We only used the travel pass to go back and forth to Park Güell and La Sagrada Familia. We couldn't even use it to get to the train station on our last morning because it had expired. We would have been better off just buying a 10 trip ticket.