Having spent 6 days on Aruba at the beginning of our trip, we planned to spend our last 3 days at the beach. Period. And that's what we did.
Flying from Curaçao to Aruba was uneventful. We didn't have to check out until noon so we had plenty of time to pack and take showers before we left. We took the car to the rental place and they drove us to the airport right in the same car, which made sense. Check in was simple. All the procedures went quickly and the airport was modern and uncrowded. It was a short half hour flight with nice views of both islands, including the one below flying into Aruba.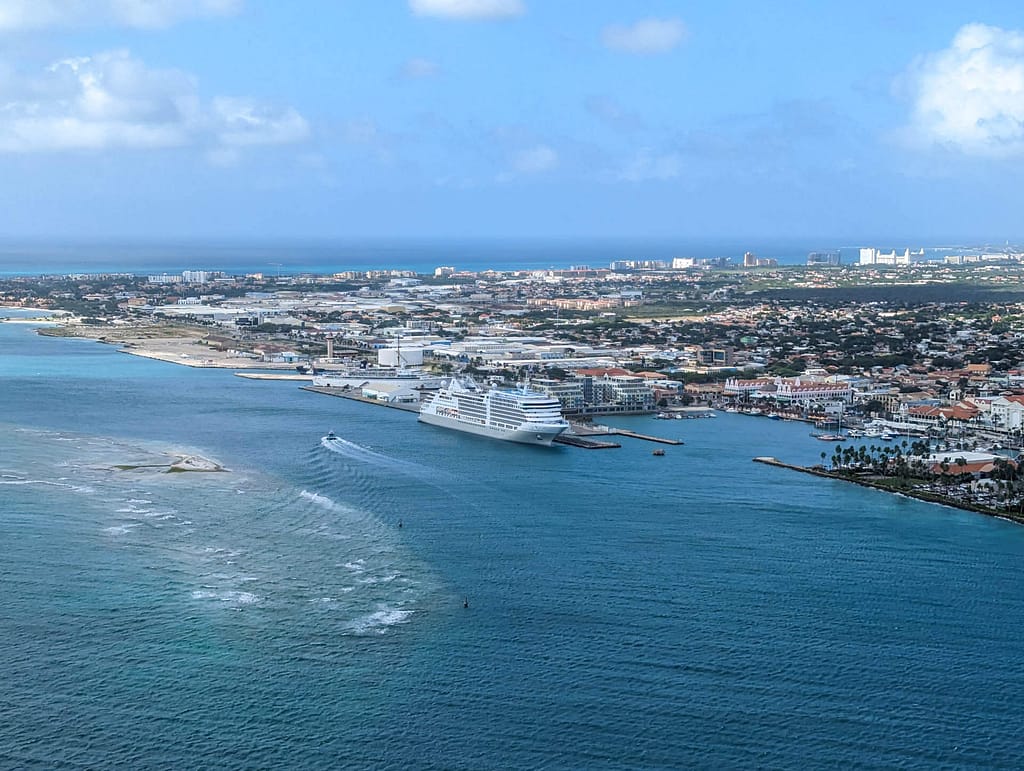 We got a cab from the airport to our hotel where we dropped off our stuff and went heading for a supermarket.
That's when the fun began. We'd found a supermarket on Google that we had directions to, but when we got down to the beach, there were signs to that market pointing back the way we came. So we walked to the end of our cul-de-sac only to find there was no market there.
So we asked our host, who directed us to a completely different option at the Alhambra casino down the beach. Which we found. Yay! (There's a mini market right across the street but it wasn't open on Sunday.)
We made reservations for the Zucchini restaurant at our hotel for 6:30. Then since the Super Bowl was on and we didn't have a private balcony, we sat in our room and watched the game.
We walked over to Twist of Taste for dutch pancakes — with bacon! — because we hadn't had dutch pancakes yet. Yum. Then to the beach until about 2:30, where we saw a mouse and lots of bird activity. We went back by the pool for a bit then got changed to hit Waters Edge while the lunch menu was still on.
It was rough night because there was a mass shooting back home at Michigan State University, where I work. I got alerts but not a lot of information until the following day. So tired of the endless shootings. And angry. Here's tropical bird as a palate cleanser.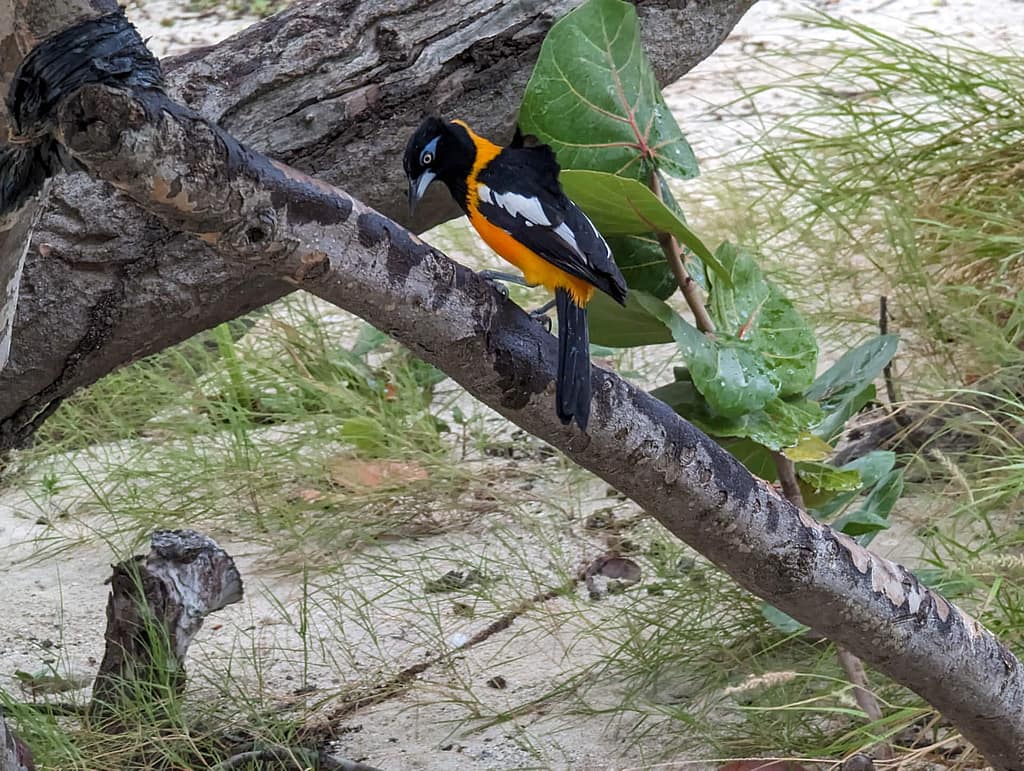 Another day at the beach. No mouse today. We carried our stuff down by shore and both got in the water. We couldn't get dinner reservations at Zucchini (hello, Valentine's Day?) so we had pizza and pints at Pizza Bob's. Sitting by the pool later we met a guy from New York who was using the grill. We had a nice chat with him while he was cooking.
We heard tales of mass confusion and delays leaving Aruba for the USA. (You actually go through US customs and immigration before you leave the island.) It turned out to be a complete non-event. The only slight confusion was checking our bag as usual, then collecting it after immigration to go through customs, then dropping it off again. 
This section contains affiliate links. If you click on a link we may receive a commission at no cost to you. 
Our room at the Dorado Eagle Beach Hotel was spacious and clean with a nice kitchenette and a good shower. Eagle Beach was a short walk away. The attached restaurant was good. Staff was friendly and helpful and we enjoyed the attached restaurant.
For dinner at Zucchini Steve had grouper with shrimp and linguini with truffle sauce. I had what sounded like souvlaki made with pork tenderloin but wasn't really. It was okay but not what I was craving. The Waters Edge ceviche was just okay; the fish sandwiches and fries were great, and so were the Twist of Taste  dutch pancakes with bacon. Pizza Bob's pizza was similar to Sir Pizza. And we had our first and only pints of the trip!
Since we were only spending a couple of days near the beach we got a cab to the airport and back and walked elsewhere.