We expected beautiful beaches on Aruba and we found them. Along with the hundreds of other people who appreciate beautiful beaches.
One of the first things we did was head for Arashi Beach, up near the northern tip. We'd heard that was a good beach for hanging out and had some decent snorkeling. 
We'd originally planned to check out the beach, then drive onto the California lighthouse and come back to the beach. But since there was one palapa left (which we reserved for $40) and not many parking spaces we decided to hang out at the beach first, then drive onto the lighthouse. 
Arashi Beach was lovely. Soft white sand, not super crowded. A bar/restaurant for drinks and snacks. Our $40 included a palapa, two loungers, two small bottles of cold water, and Wi-Fi that didn't extend to where we were sitting. Bit of a sticker shock for us. We're more accustomed to Greece where the seating is free as long as you buy lunch or drinks from the bar that runs the beach concession. 
That was on a Thursday. We came back on Sunday and it was jammed. No free umbrellas; overflow parking on the road. So we drove down the coast to another spot where there were palapas (we think it was Boca Catalina, pictured below) but it was so windy we were getting sandblasted. So we packed up and drove on.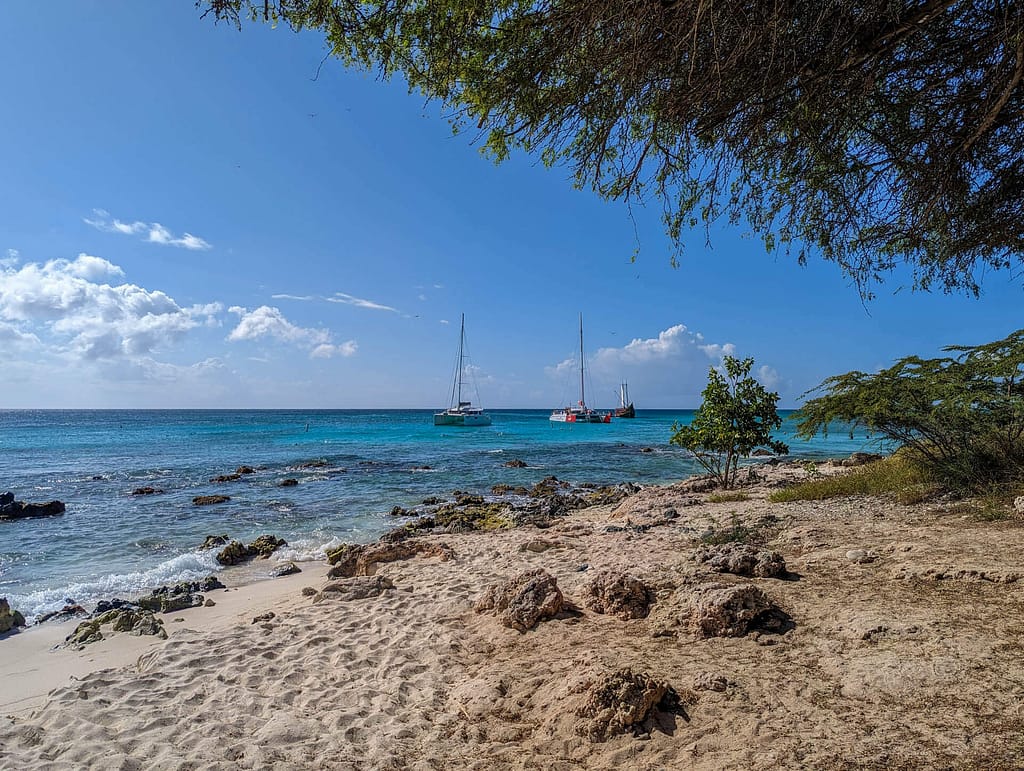 We ended up driving south of Oranjestad near Mangel Halto. We found a spot by the side of the road with shade and a nice view and sat there for a while. There wasn't a beach but there were several stairways (of varying sturdiness) going down to the water. 
I should mention that we had our own chairs with us so we weren't dependent on renting them. 
While we were staying at the Arubiana Inn we walked over to Eagle Beach, a hot but easy 20 minutes over near Amsterdam Manor resort. We took photos of the famous trees and checked out the facilities.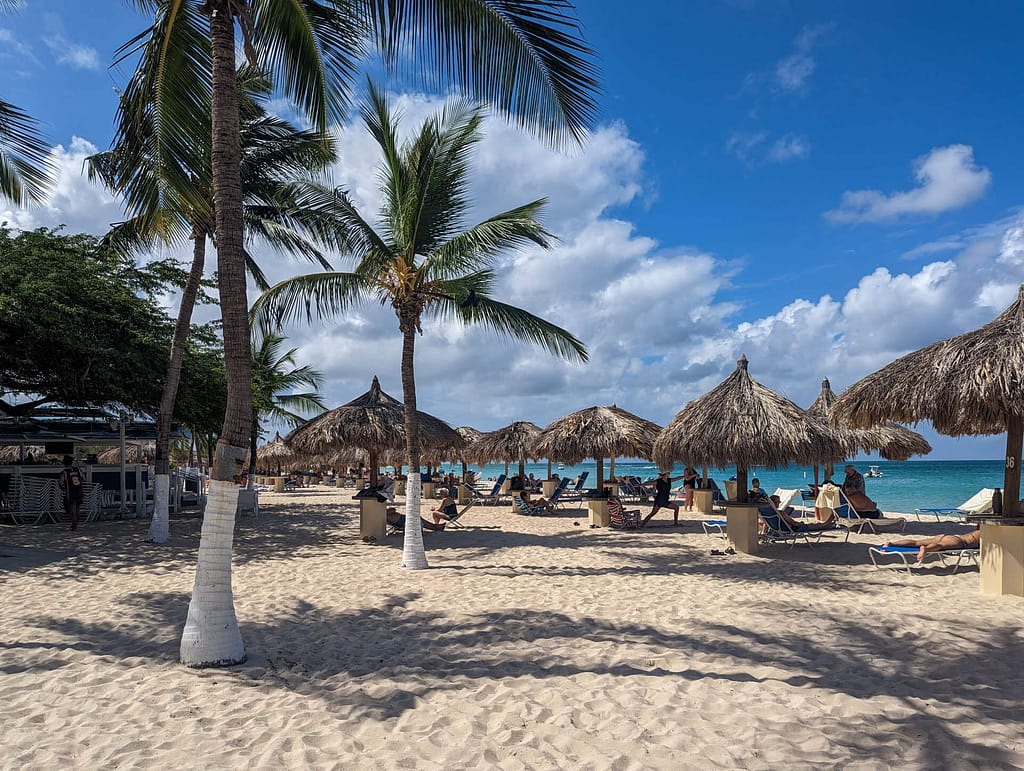 Eagle Beach is a long, wide stretch of white sand. Lots of room on the beach, though parking looked more challenging.
When we came back to Aruba for the last three days of our trip we stayed closer to the beach, more like a 5 minute walk. We got there too late to score a palapa but found a nice spot under some trees. The palapas belonged to the La Quinta timeshare resort (no relation to the chain) but the guy running them said we were welcome to take one if it wasn't in use.