Aruba has long, beautiful beaches. It's kind of wild seeing cactus next to the water.
I got to sit next to a toddler on the flight. That was fun. There were a couple of large groups on our flight and they seemed to be scattered all over the plane. There was a lot of back and forth. But it wasn't the worst.
Getting through immigrations and customs in Aruba was swift and easy. No one cared about seeing our digital immigration card that I painstakingly filled out. The hardest part was waiting for our checked bag which took a while. Glad we were standing next to the guy who grabbed it off the baggage carousel because he thought it was his. (His came out seconds later. It was just like ours, except for the piece of bright green t-shirt tied to ours.) He asked us if we checked the label LOL. Like he did?
Next step was picking up our rental car, right across the street. Another couple came back to return their car because the air conditioning and windows weren't working. They were not happy. (Everything on our car worked.) We originally planned to return the car the day before we left, because our flight was at 8:00 and the office wouldn't be open when we left. In our confirmation email they mentioned that it was possible to just leave the car if the office was not open. We asked about that option but couldn't because someone had it reserved that evening. However, we could drop it off at their office downtown and they would give us a ride back to our hotel, saving us a cab from the airport after dropping off the car. So that will work out pretty well.
Moral of that story: Ask about options like this!
We were able to find the Arubiana Inn despite no street signs, no internet data for Google maps, and no streets labeled on the map. I'm glad I'd been studying Google maps looking at restaurants and stores and things, so I knew that we needed to turn at Superfood.
We went to Superfood and got coffee and other breakfast things. Plus we opted for snacky food for dinner and got salami, Dutch cheese, some yummy crab meat spread, and some delicious sunflower seed whole wheat bread. Oh and Heineken in small bottles and some local Balashi beer in normal size cans. They like small beers here.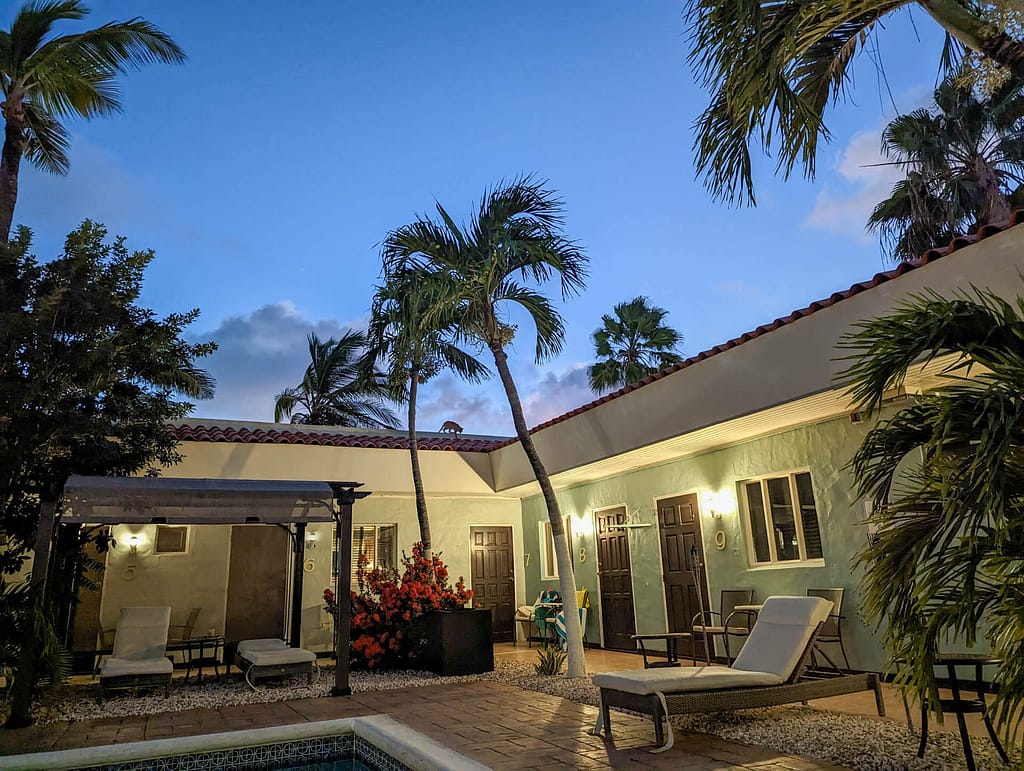 We ate our breakfast cake or bread (it says it's cake but seems more like banana bread) with the local brand of instant coffee, which is pretty good. We got on the road about 11:00, headed for the California lighthouse on the north end of the island. We stopped at Arashi Beach along the way.
Up by the lighthouse there are good views over to the beach and in fact over much of the island. It's odd seeing cactus and sea in the same view.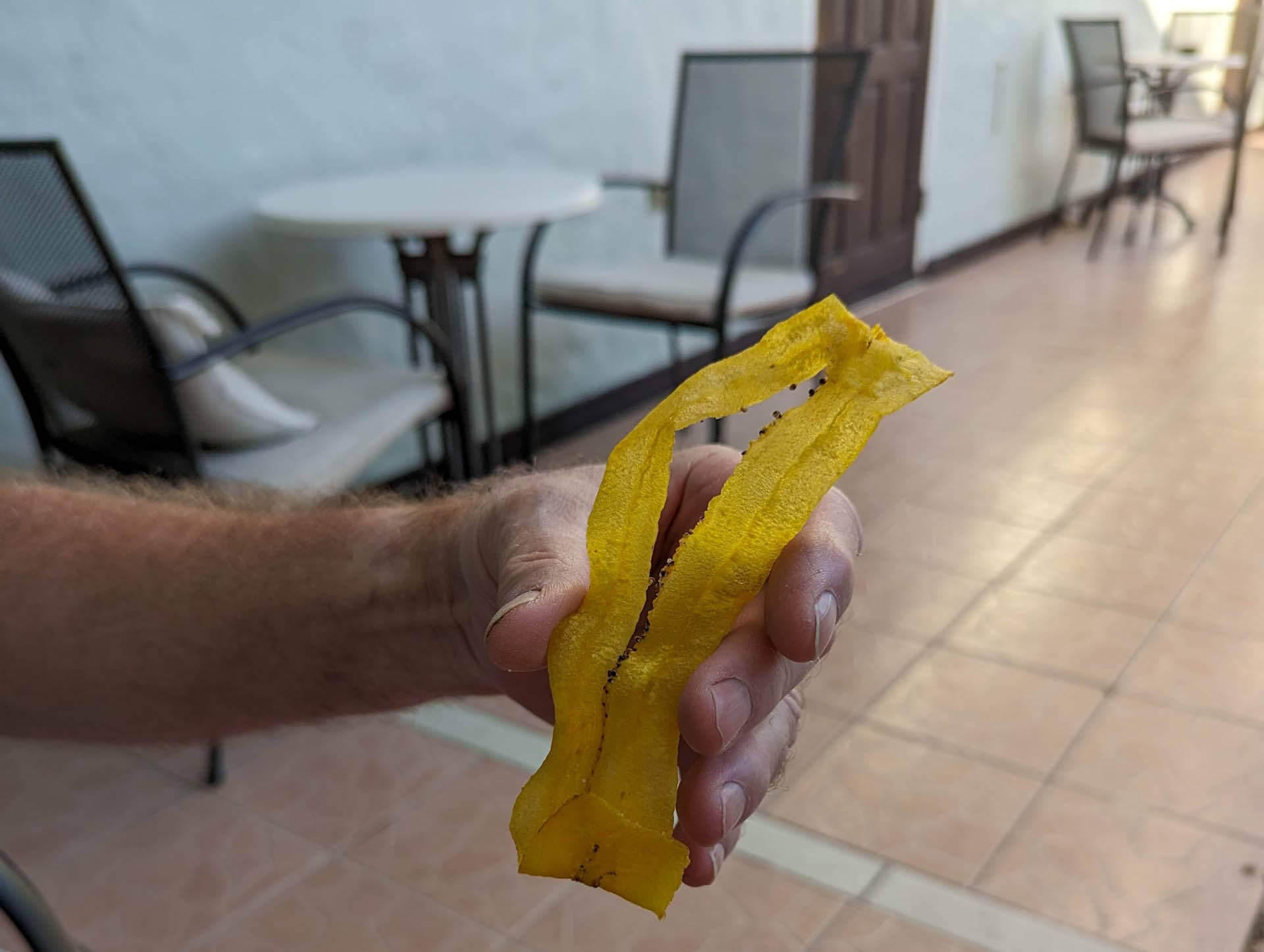 On our way back to our place we stopped for snacks at a small local store close to our place. We found sesame crackers, some things that look like they're made from plantains and some Trial by Wombat beer. So of course we had to buy the beer. And we came back to sit by the pool and drink some beer before dinner. We're going to have dinner here at the hotel. They're making Arubian food, which was good. Not exciting, but good. Funchi fries, pastechi, kingfish with rice, plantains, and slaw, and flan for dessert
We walked over to Eagle Beach today, a hot but easy 20 minute walk. That's not a road in the photo below. There's a nice wide path for bikes and pedestrians that runs along the shore for miles. 
On the way back we bought beer at the Hey You store, yet another small store near our hotel. Steve was appalled at Afl5 per beer. (You can purchase single beers here and there's no discount if you buy in bulk.) We sat by the pool until it started raining, then had dinner at the Local Store. We bought cinnamon rolls and plantain chips on our way back. It rained off and on during the evening so we couldn't sit outside.
Day 4: Arikok National Park
Today we drove over to the national park and hiked the Kuruku trail, then stopped at Superfood on our way back and restocked supplies: muffins — we don't know what flavor yet because we haven't translated it, we need to download Dutch to Google Translate so we can buy groceries more intelligently — some carrot cake, and some more of the crab dip we had the first night that was so good. We had snacky food for dinner again.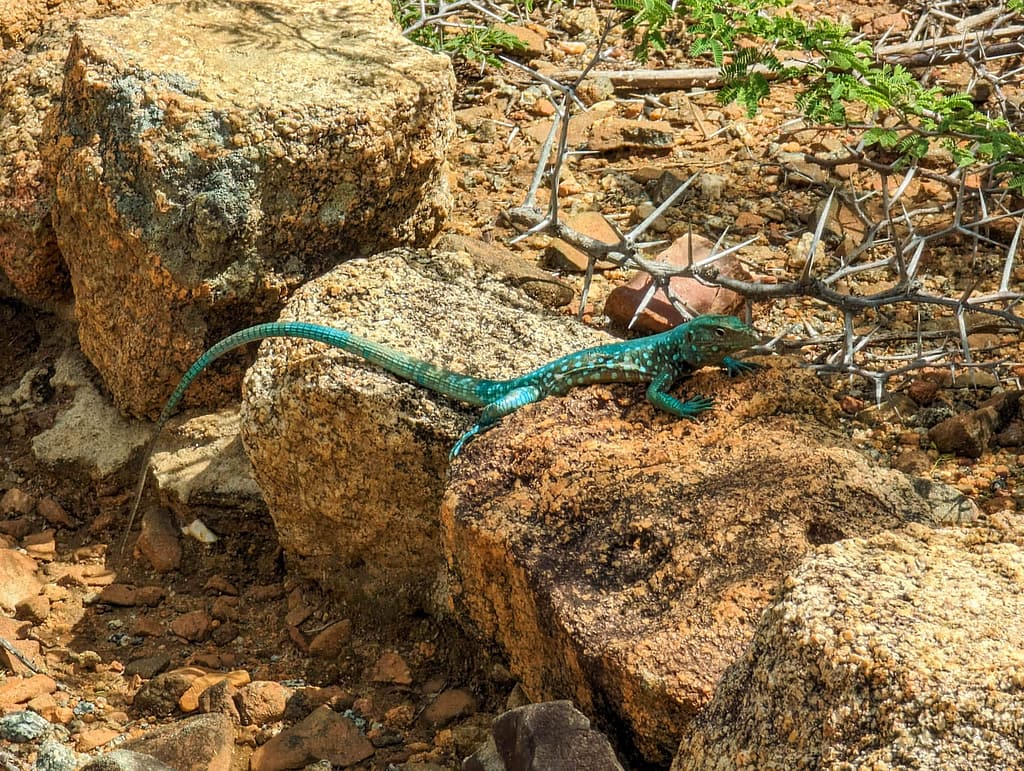 Each room has it's own little seating area. The birds below are troupials. 
Day 5: Mangel Halto Beach
We tried to go to Arashi Beach again today but it was very full being a Sunday.
We ended up near Mangel Halto Beach where we found a spot by the side of the road with some shade and a nice view and sat there for a while. Then we came back to hang out by the pool. A kind couple let us know they were leaving the shaded area so we could take sun loungers side by side.
Driving here is somewhat of a challenge. Everything is a roundabout and it's sometimes hard to navigate them. Especially when people are honking at you for reasons you don't know.
The hotel had a barbecue for dinner tonight. They had two long tables set up; it was mostly couples. We started out at a table with Dutch people but a Dutch couple at the other table asked us to trade places so they could talk with the others. (We have the sense this place gets a lot of repeat business and many of these Dutch guests know each other.) So we traded places and sat with the other Americans, a couple from Ohio on their honeymoon and a very talkative man from Indiana. It was a nice meal. Not great but nice. Good hot sauce. Good fish, overcooked meat. I made small talk voluntarily. I'm proud of myself. Later I researched the distances and figured out you could fit all of the Netherlands between mid-Michigan, Akron, and Fort Wayne.
Today ended up being a light day. We thought about driving back up to Arashi but ended up hanging out by the pool since there was a chance of rain midday.
We have our taxi arranged for tomorrow morning. We also paid for our meals here and dropped off the rental car so we are good to go tomorrow. We had dinner at Quinta del Carmen across the street, as recommended by our host.
This section contains affiliate links. If you click on a link we may receive a commission at no cost to you. 
The Arubiana Inn is a pleasant little hotel in a residential area near Superfood, with  18 rooms arranged around a courtyard with a pool. We met several members of staff and they're all sociable and helpful. Many of the other guests were Dutch, which we expected. Our room was spacious and functional. I'd stay here again.
There weren't many restaurants within easy walking distance but Quinta del Carmen right across the street was great. We had a pitcher of sangria and the chef's choice tapas special because everything included sounded good. And it was good, as was the service. It's a nice garden setting too.
We also tried the black and blue burger and Pica di Papaya wings (made with local hot sauce) at the Local Store. Good food, good service, other than forgetting to turn our order in. The food still arrived quickly. 
We rented a car from Amigo since we wanted to explore beyond the beaches.