Hot. Dusty. Lots of flies. Also magical, eerie, beautiful, and unique. This was a centerpiece of our Australian trip.
Day 1: The Big Smoke to the Red Centre
The big smoke, otherwise known as Melbourne. Our cab was late though we made it to the airport in good time. And it cost $30 Australian more than the StarBus shuttle did. But a bit more convenient.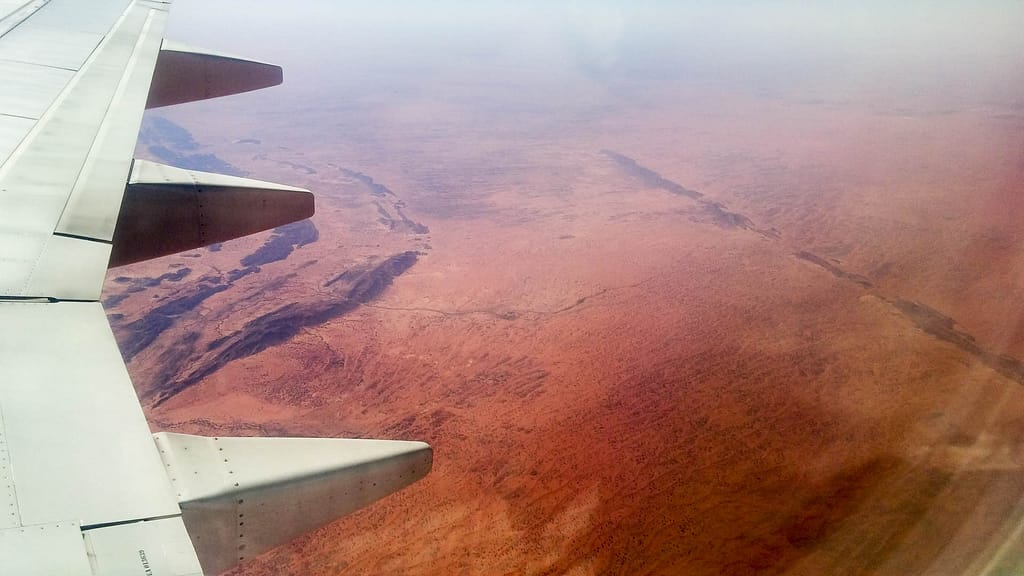 From what we could see from the plane flying over, the red center IS red. With lots of mountains and canyons. And when you land it's hot. And flies like you would not believe. They don't seem to bite, thankfully, but they want to crawl in your ears, eyes, nose…  You get the idea. We brought our bug nets for the tropics. We didn't know we'd want them here! Everyone walks around wearing them.
We flew into Alice Springs and rented a car to drive to Yulara and back. It's about a five-hour drive. The Yulara resort area has been built around the rocks at Uluru and Kata Tjuta. Otherwise, there is NOTHING out here, other than a couple of roadhouses along the way; stopping points with gas, a small store and/or bar and restaurant, and sometimes basic camping. Can't imagine camping in this heat with these flies! Our room is basic, but it has air conditioning.
We drove over to Uluru for sunset today. Really beautiful. We were not alone! Lots of tripods and bag chairs and selfie sticks. We had burgers and a couple of beers for dinner. Early night tonight, since we plan to maybe catch the sunrise and then start hiking around 6:00 AM before it gets hot.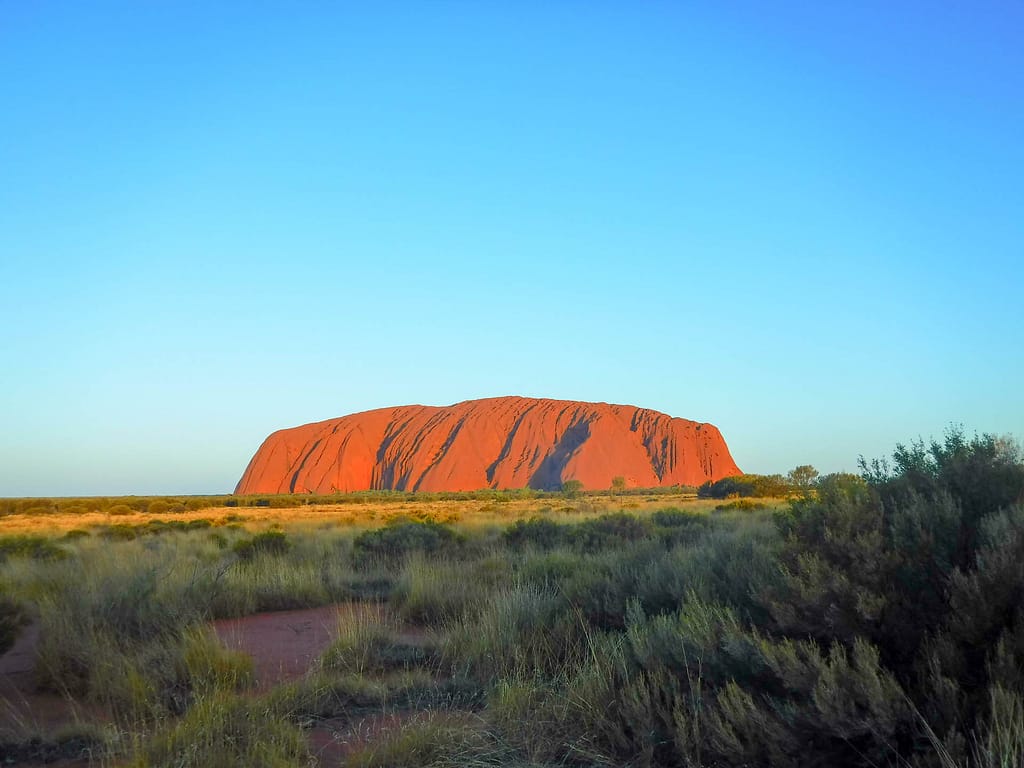 Day 2: Uluru Sunrise and Hike
We made it to Uluru for sunrise, then hiked around the rock.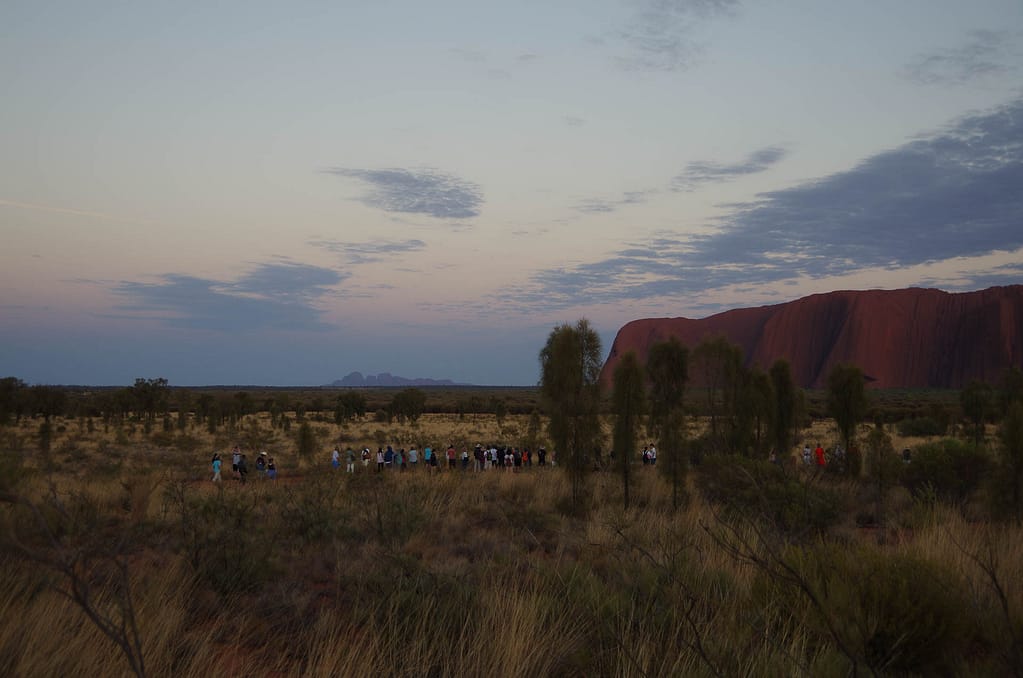 Despite getting an early start, it was really hot by the time we finished. For a while there I wasn't sure I would make it.
After our tiring hike, we drove out to the other big rocks, Kata Tjuta, formerly The Olgas. Also picturesque. We took some photos but it was too damn hot to do much exploring. We had a nice nap this afternoon and a beer before dinner. They have an option here where you can buy and BBQ your own meat, but that doesn't sound very appetizing in this heat. Apparently, it's a common thing in Aussie pubs. So we're having pizza. Choices are slim here.
This bar-restaurant is open-air, with fans to move the air around. Very trailer park rustic. Lots of corrugated metal, plastic, and Christmas lights. Like an outback pub I guess. Have I mentioned prices? The Australian dollar is worth about 69c American, so prices are a constant sticker shock. Two beers for $21 sounds a lot worse than $14.60.
Our room here at the lodge opens to the outdoors and there's always a bird to welcome us when we return. They like the doorway for some reason.
Day 3: Alice Springs Reptile Centre
We drove back to Alice Springs for our last two nights in the area. The five-hour drive back to Alice Springs didn't leave a lot of time for sight-seeing, so we went to the Alice Springs Reptile Centre. The reptiles themselves are interesting, and they also do an interactive show. We got to handle lizards.
We also found out that although Australia has 18 of the 20 most venomous snakes in the world, it's easy to avoid getting bit. Just wear long pants. All their snakes have really short fangs, so they get hung up in the cloth and can't get through to your skin.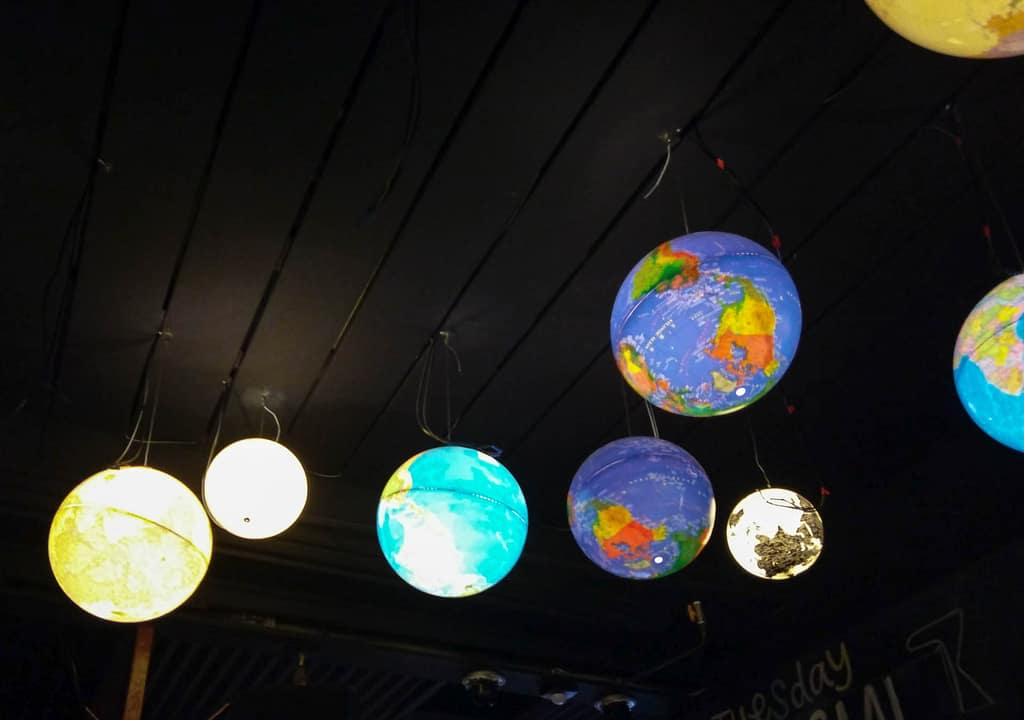 We had beer and dinner where we're staying at the Jump Inn Alice Springs. It's a great option for us. The rooms are cheap, and they have a fantastic beer selection and an interesting menu. Like Taiwanese street food, ji pai fan and lu rou fan, which we had for dinner. They also had live music.
Day 4: West Macs and a Desert Park
Today we took a scenic drive to the West Macdonnell range near Alice Springs. We originally planned to go to Ormiston Gorge, until we realized it was 150 miles round trip. So we just stopped at a couple of closer stops. Beautiful country, reminiscent of the American southwest.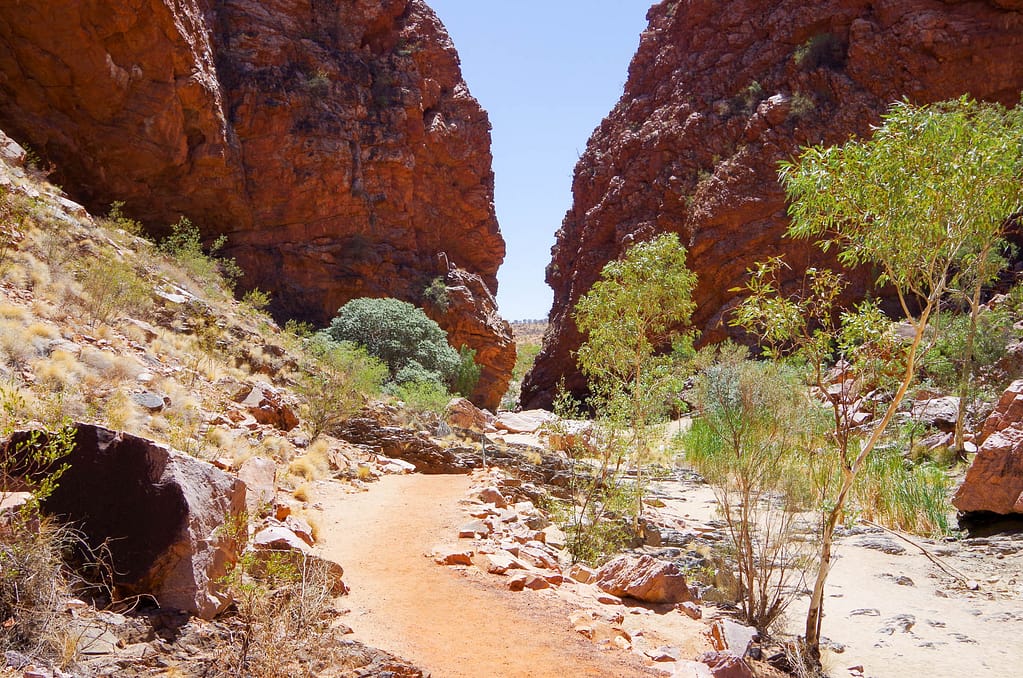 Then we went to the Alice Springs Desert Park. They have local animals and birds and do scheduled talks on different subjects. 
For a complete change of scenery, we're off to the rainforest tomorrow!
This section contains affiliate links. If you click on a link we may receive a commission at no cost to you. 
In Yulara we had an en suite room at the lodge, as that was the best price for that type of accommodation available. Being a captive audience, we didn't expect great value. The room was fine if bare bones. The resort does do a good job of covering all the price ranges, it's just that all of those price ranges are high compared to other areas.
In our double en suite in Alice, the bed was really great, soft yet supportive. The room was relatively spacious. We didn't use the pool but it was a nice touch, as was the free basic breakfast ingredients and coffee. They also had some secure parking. Staff was friendly and helpful.
Pioneer BBQ and Bar
For the only reasonably priced place for dinner in Yulara, it's not bad. We had chicken burgers and pizza. Worst service in Australia but since the overall level is so high, it was still fine.
Bough House Restaurant
Yulara
The hot food was fine, though unexciting. The cold/continental offerings were more interesting. I might stick with just the cold food.
There are expensive shuttles to get you around Yulara and the national parks. You can fly directly to Yulara and rent a car, though rental cars are more expensive than out of Alice Springs. Rental cars do NOT come with unlimited mileage, unless you rent through the Alice Springs visitor center, as we did in the end. We were interested in spending time in the area beyond Yulara so we flew in and out of Alice and rented a car to drive between the two and do some additional site-seeing by car.