This was our second visit to Santa Elena, and while it wasn't as surprising and exciting as it was the first time, we enjoyed our return visit. The cloud forest is like nowhere else we've been.
Day 1: Arenal to Santa Elena
So our adventurous Jeep-boat-Jeep connection between Arenal and Monteverde was less adventurous than I'd feared. We had a nice van ride to the lakeside where there was a little set of steps for us to get on the boat, then a smooth trip across the lake with some nice scenery and then at the other shore a kind of muddy but dry bank to step off onto. That was the trickiest part of the trip. Well that and getting past all the people standing in the middle of the road waiting for whatever. There were only four of us on the trip.
The road up to Monteverde was narrow and bumpy and mostly unpaved. We stopped at El Trapiche restaurant for a potty break. We could have gotten something to eat but we didn't. They had some funny ducks there, kind of like we saw in San Jose. One swam really weird. It kept poking its head forward to move. Another one was quacking.
We didn't see a whole lot of wildlife on the road today but we did see a lot of farm life. We saw some cows right next to the road, some horses, and a pig. And nice mountain views from the road. Oh and Steve saw a toucan but of course I didn't.
The Arco Iris Lodge is quite nice. We have a little cabin that backs up to the woods so we have lots of privacy. Neither one of us was feeling terribly lively today so we took a nap this afternoon before our meal and we went for a little wander around the grounds. We had dinner at Sabor Tico. The place where we had the excellent french fries on our last trip is unfortunately closed.
It was a pretty steep climb up to the restaurant and back. I actually have a long sleeved shirt on because it's kind of chilly tonight. It rained a little bit. We're not even going to drink any alcohol tonight. We're tired and have another early morning.
Day 2: Monteverde Reserve
Today we went to Monteverde Reserve with a guide. We got up at 5:45 and had a very quick breakfast since breakfast started at 6:30 and our shuttle left at 7:00. Well it was supposed to leave at 7:00. Thankfully we checked about 5 minutes after because we didn't have a reservation after all. It was just as memorable as it was the first time.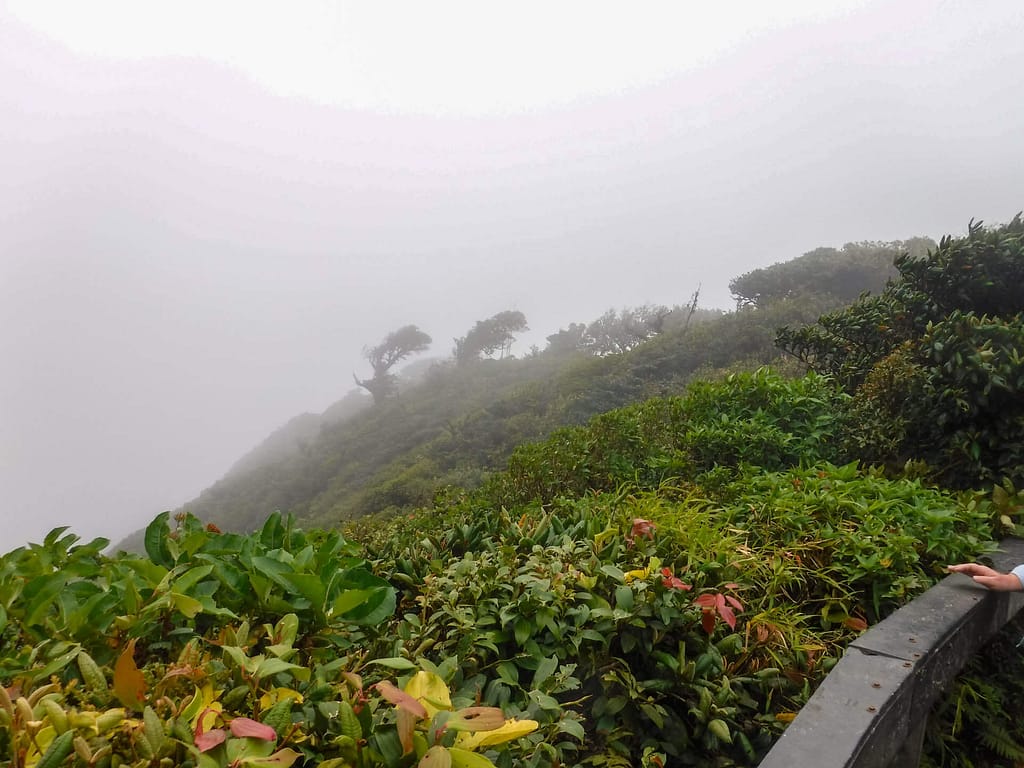 Back at our place we dropped off our stuff and went down the hill to Toro Tinto for burritos. And saw a coati on the way. Then we walked over to the supermarket and got some Ruffles for dinner and some rum and tropical punch drink to mix with it. It's fun to come back to a place and remember where the supermarket is!
Day 3: Selvatura Adventure Park
Today we allowed ourselves to sleep in. Until 6:30 but hey we went to bed early so? So we got to have a more relaxed breakfast which included some of the hot food like some excellent zucchini fritters, beans and rice, and scrambled eggs. We also had fruit, watermelon juice, toast with mango marmalade that was very tasty and lots of coffee.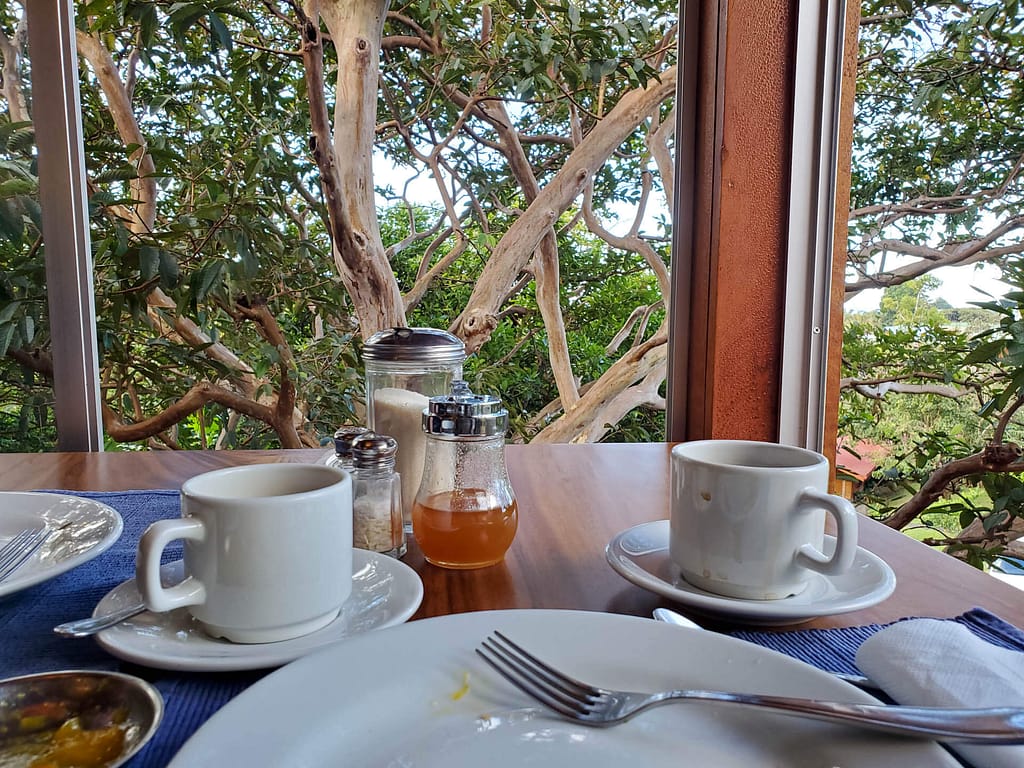 And as a bonus we saw a toucanet outside the window!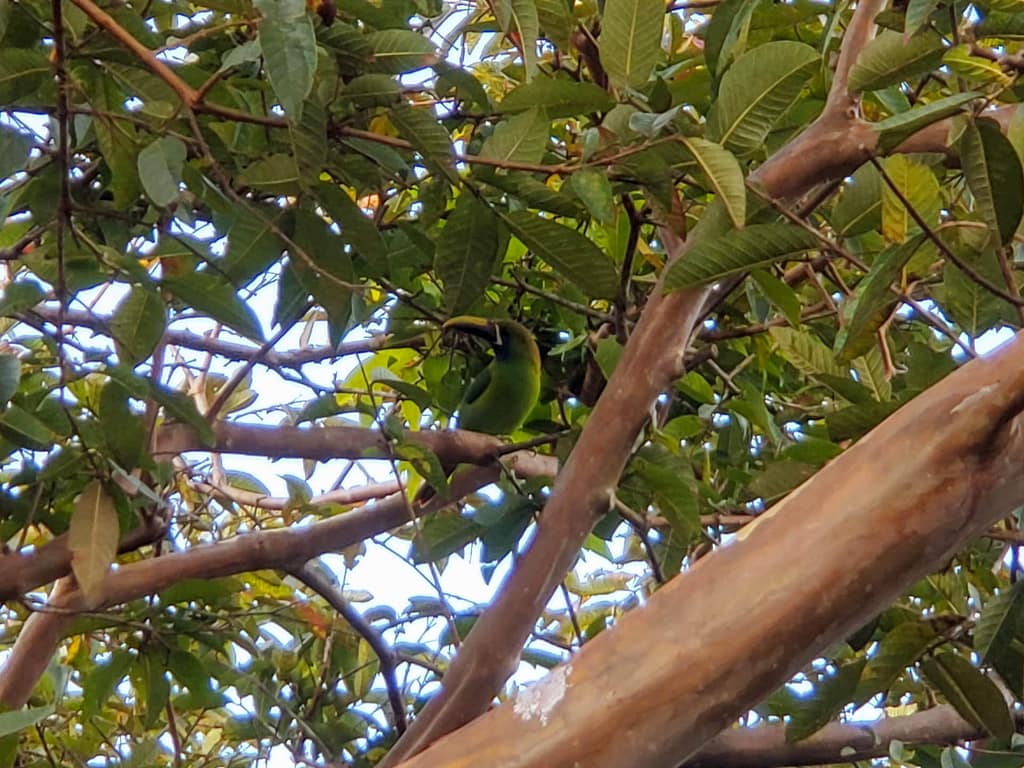 Then we got to chill for a little while before it was time to go to Selvatura and do the hanging bridges. So I read and Steve watched for birds and things or whatever it was he was doing on the balcony. Once again our shuttle didn't materialize on time so we went to check and she said yes they were coming but could we meet them down at the road because they couldn't turn around up here in the parking lot.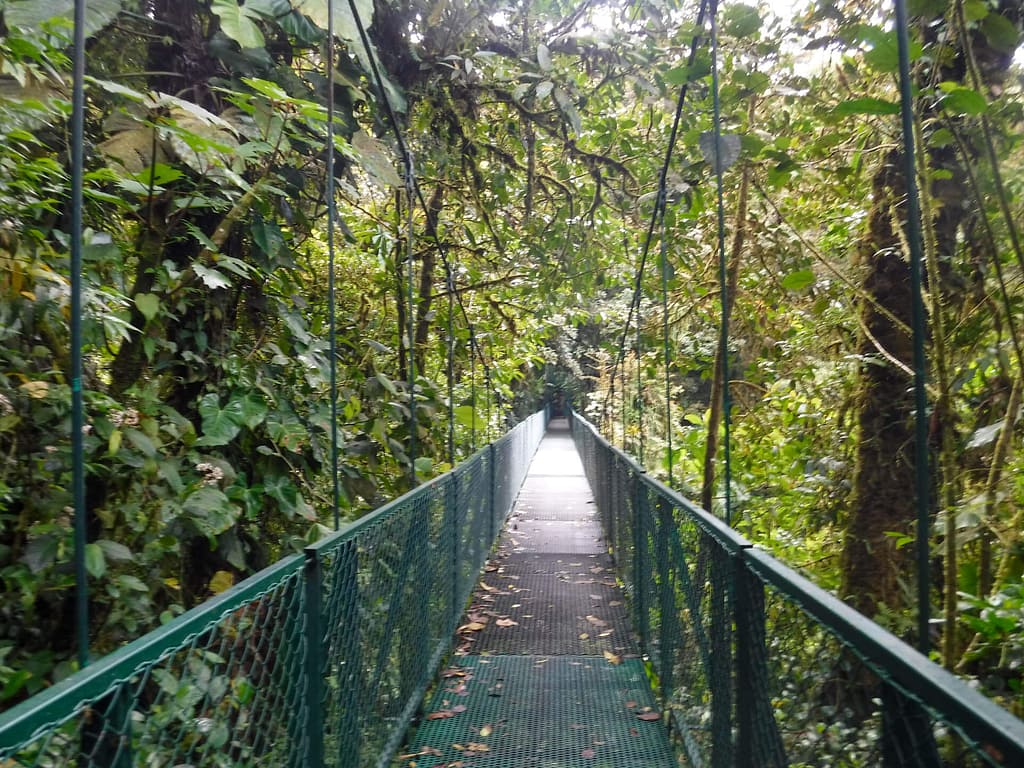 Back at our place, we dropped off our stuff and walked down the hill to Toro Tinto to eat again. We had a brief scare when a tour bus pulled up and unloaded a whole bunch of people but they were headed for the orchid garden next door. Our server actually remembered us from yesterday.
Then for a change of pace we came back to our place and got a beer from reception. We had a beer, took showers and now we're finishing up our rum with water. While we were picking up the beer he asked us if we'd seen the monkeys off our balcony. We hadn't because we were out but apparently they were out here today. I expect we'll see some more on this trip.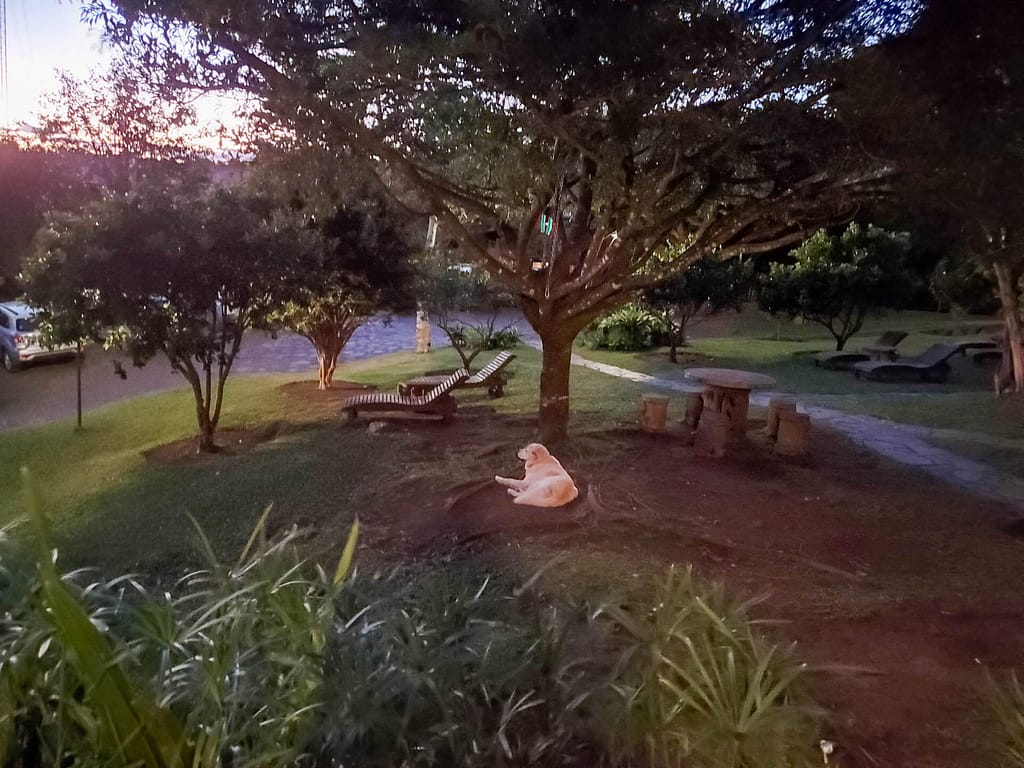 This section contains affiliate links. If you click on a link we may receive a commission at no cost to you. 
The Arco Iris Lodge is serene, beautiful, comfortable, and clean. We had a super rock shower with a rain shower head. A great breakfast is included in the price. It's close to shops and restaurants and the staff helped with booking tours and transportation.
On our previous trip we stayed at Pension Santa Elena, just down the hill from the Arco Iris. It's also a great option, less serene and less privacy but also much less expensive.
There's a good variety of restaurants in Santa Elena. We ate at Sabor Tico and Toro Tinto.
At Sabor Tico we had Caribbean chicken and a pork chop casado. I remember the pork chop being larger last time. At Toro Tinto we had grilled burritos on one visit and pizza on the second visit. The pizza was excellent, the burritos a little dry. 
We booked our van-boat-van transfer from Arenal to Santa Elena with Desafio. Santa Elena itself is walkable. Shuttles are now available to get you to the reserves, and Selvatura operates it's own shuttle. (On our last trip we took a taxi to the reserve and took the public bus back.)