Arenal is high on many lists of must-visit spots in Costa Rica. This was our third trip to Costa Rica and our first time here. We enjoyed the hot springs and the van-boat-van trip to Monteverde. And it looks like there are lots of things to do here, if you're into that.
We got to see a few new birds before we got on our shuttle from Cahuita to Arenal AKA La Fortuna. We had banana bread for breakfast with lots of coffee because we had enough coffee and weren't sure if we'd have a coffee maker at another stop and besides we wanted lots of coffee.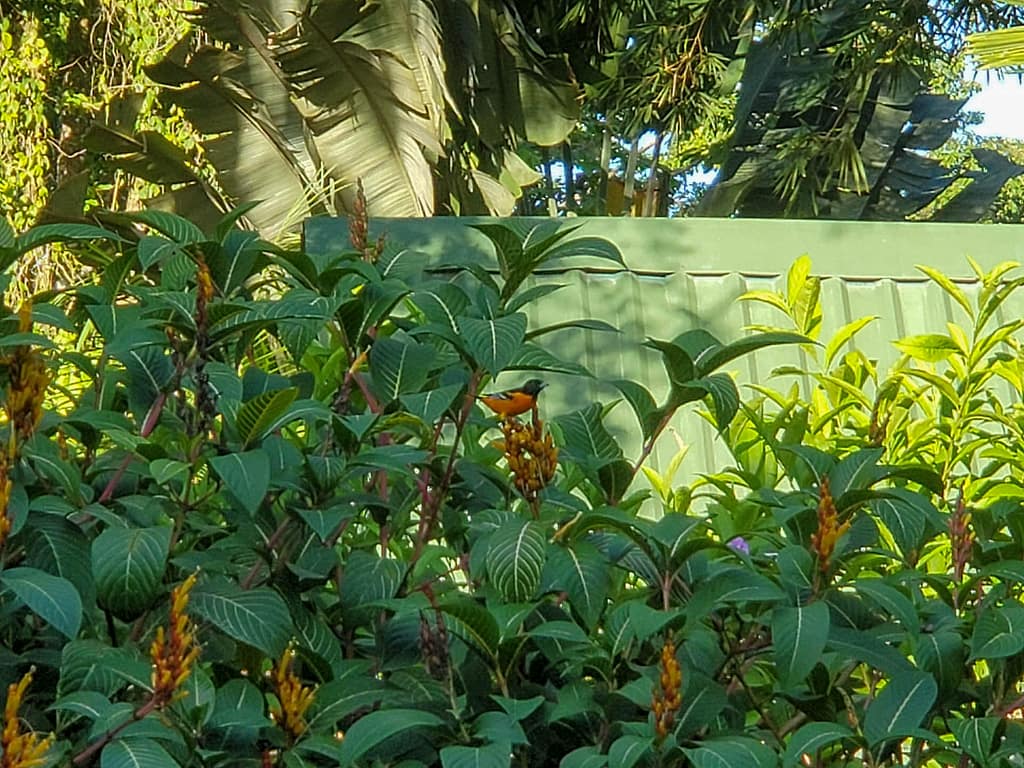 It was a fairly painless trip other than one woman who talked all the time and did not know how to wear a mask. It was about a 6-hour drive. We stopped twice: a quick potty stop about an hour in and then a longer stop for lunch about halfway through. We stopped at the same place we stopped when we headed down to Cahuita. We were reminded how much egrets love cows but saw no egrets on top of cows.
The volcano was shrouded in clouds when we arrived. We checked into our hotel and went to the supermarket next door for the usual breakfast and alcohol. They had some local porter so we're going to try some. Then we went down the street to the Peruvian restaurant. So good. We plan to go back tomorrow so I can eat what Steve had tonight. Best meal we've had in Costa Rica this trip. And not that pricey. We need to look up a tomahawk steak and see what it is. (A ribeye with a long rib.)
After that we came back to our hotel and had rum drinks and beer by the pool. Our room only has smaller glasses so we're drinking single drinks. The bonus is we get more steps in walking back and forth to the pool to refill our tiny little drinks.
Day 2: EcoTermales Hot Springs
Today we went to EcoTermales Hot Springs which was the reason we came here. We researched many of the hot springs in the area and chose this one because it sounded like it would be quiet and not too rustic. And it was less expensive than The Springs, which was the other front runner. It wasn't very busy and it was quite relaxed and serene. We tried all the different heat levels and ended up spending most of our time in the mid-range 98 to 100. They had some stone lounge beds inside the pool that were kind of interesting. Lounge chairs were also available near all the pools. Cooler pools are interspersed with hot pools since you're not supposed to spend huge amounts of time in the hot pools. The pools are surrounded by lush vegetation and manmade waterfalls and other water features add to the ambience.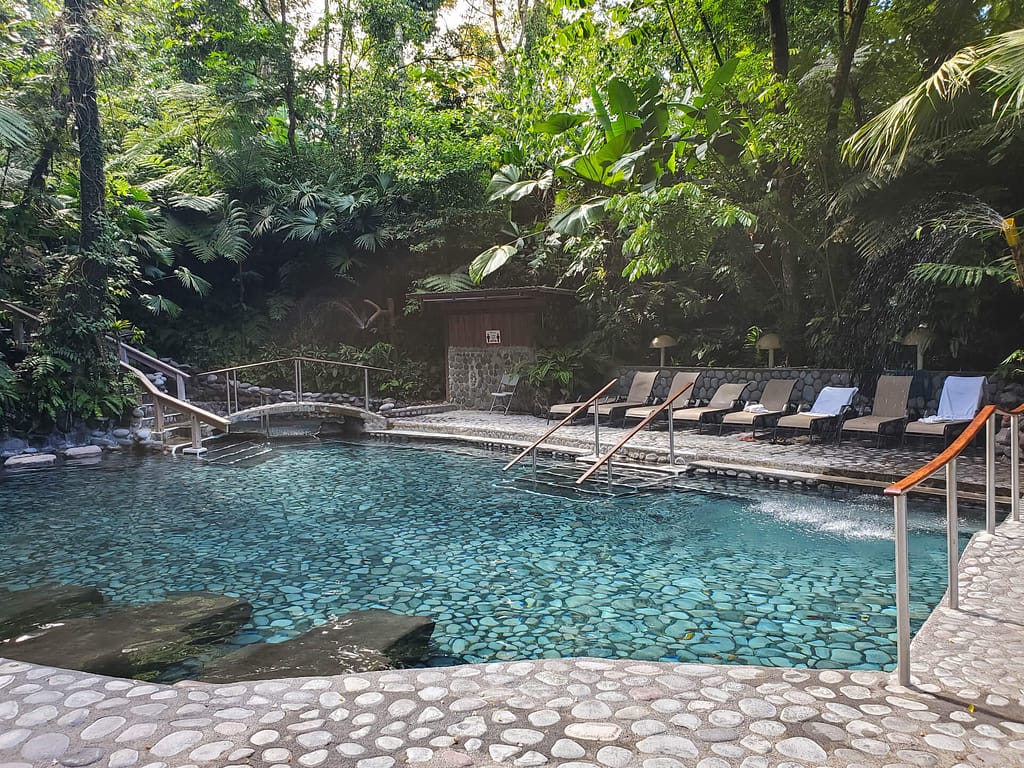 They supply you with towels and a locker when you arrive. They also give you a wristband that they charge any food or drinks to so you don't have to take a wallet with you to the pools. You'll probably want to keep your footwear because the path to the pools is gravel. It's not a long walk back to the lockers.
We didn't eat there though we tried a couple of cocktails. Steve had a Howler Monkey. I had a Holy Spirit. They were both good and were almost like food which was good because that was our lunch. We took a taxi there and back. The front desk at EcoTermales happily called one for us.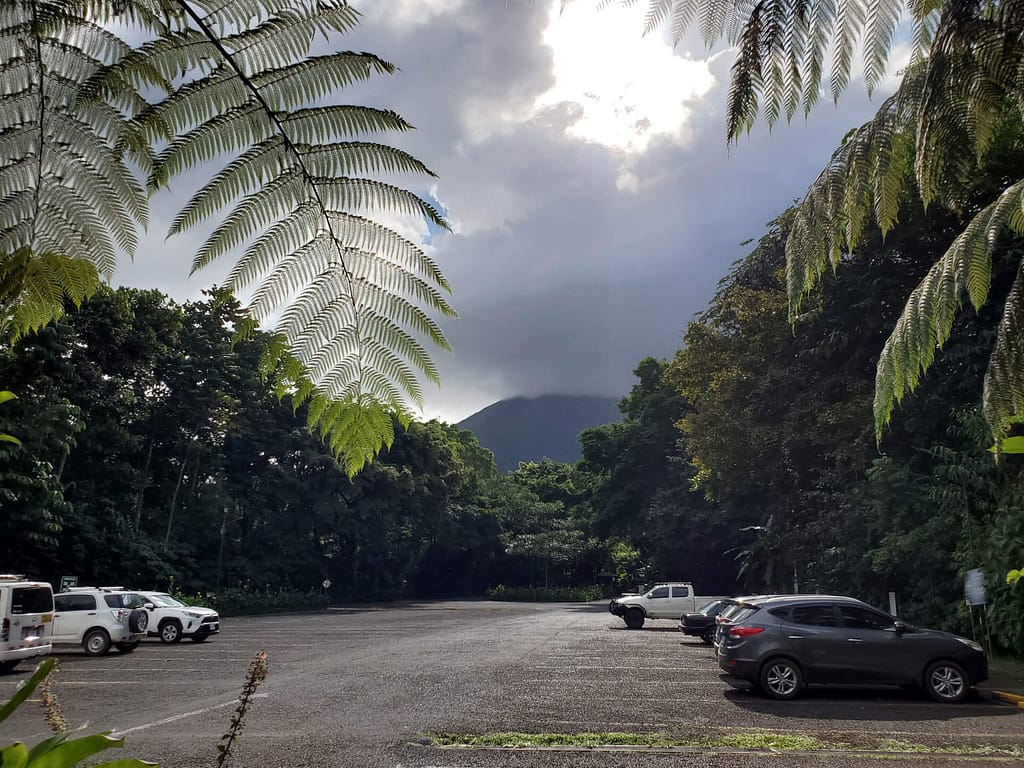 Back at the hotel we dropped off our stuff and headed next door to restock our beer. We timed it pretty well. It was sprinkling when we left and it poured while we were shopping and then it stopped by the time we were done. We drank a couple of Imperials before dinner.
We went back to Piura for dinner. I got what Steve had last night, as planned. And he got a tomahawk steak, shown below. Now we're back in the little gazebo by the pool drinking rum drinks.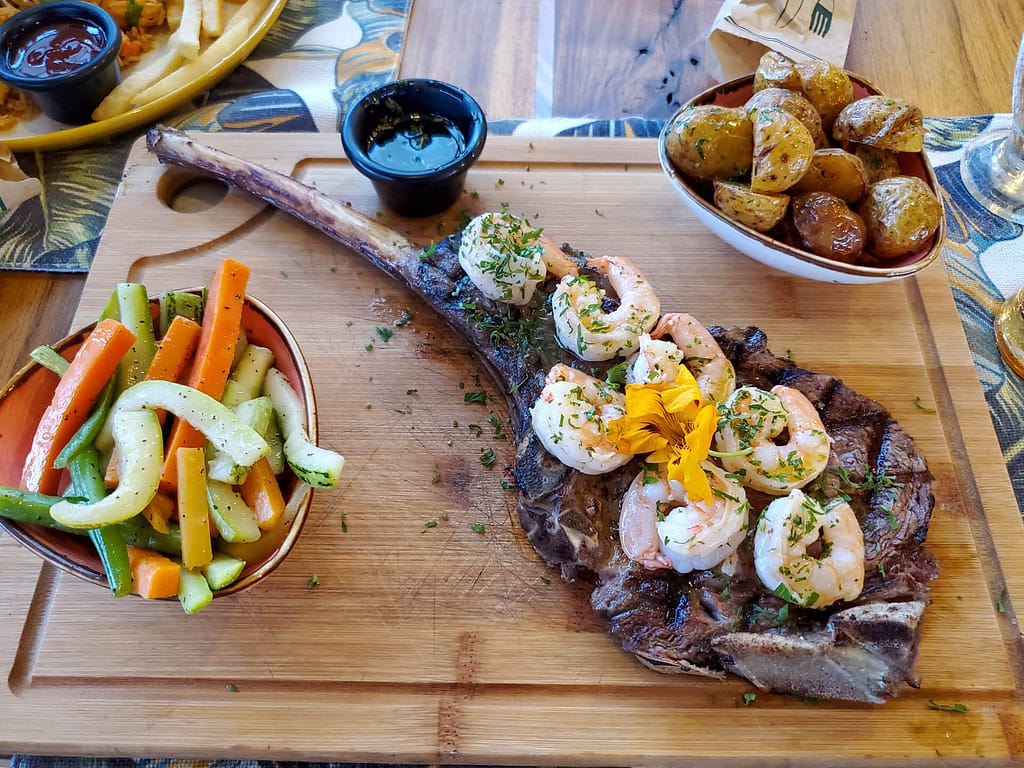 This section contains affiliate links. If you click on a link we may receive a commission at no cost to you. 
Hotel Bijagua has a great location near restaurants and a supermarket right next door. It was clean and comfortable and the staff was friendly and helpful. We didn't go in the pool but it looked nice.
Our first night at Piura was so good we went back again, so I could have what Steve had. The first night we had Peruvian ceviche followed by grilled octopus for me and rice with seafood for Steve. His rice had some kick and so did my meal. Which included some of the best damn potatoes I've ever had and a warm pico de gallo that was really tasty. Best meal we've had in Costa Rica this trip. And not that pricey. On our second visit Steve had a tomahawk steak with shrimp and the same potatoes I had the first night. Both of our meals were really good as was the Peruvian mixed ceviche we had to start.
The hot springs are spread all over the area. Since we were only there for one night we got a cab back and forth to the hot springs. If we'd been there longer and done more activities I think we would have wanted a car, unless we did tours.