Nelson is pleasant town close to Abel Tasman park and with a (now closed) interesting museum.
Day 1: Wellington to Nelson and a WOW Museum
We flew from Wellington on the south end of the north island, to Nelson on the north end of the south island. Got it?? We went through NO airport security. No X-ray. No bag check. Nothing. Amazing! That said, ours was a small flight and it looked like they had security for bigger flights. The flight was a prop jet, less than an hour, and pretty boring, since we mainly saw clouds. We did experience turbulence on the ground due to wind. Before we even moved.
Nelson is known for the best weather in New Zealand, so of course it was pouring rain when we arrived. Our shuttle driver and host at the hostel joked about "welcome to sunny Nelson." 
Thankfully we planned on going to a museum the first day, the World of Wearable Art and classic cars. 
Back in town we first went to a bar in a former church, then a brewpub where we had beer and dinner. Curried sausage and rice, nachos, and garlic bread. This is what you order when drunk. 
It was all good, and we got to sit outside while doing it. In the street even, since their seating area extends into the street.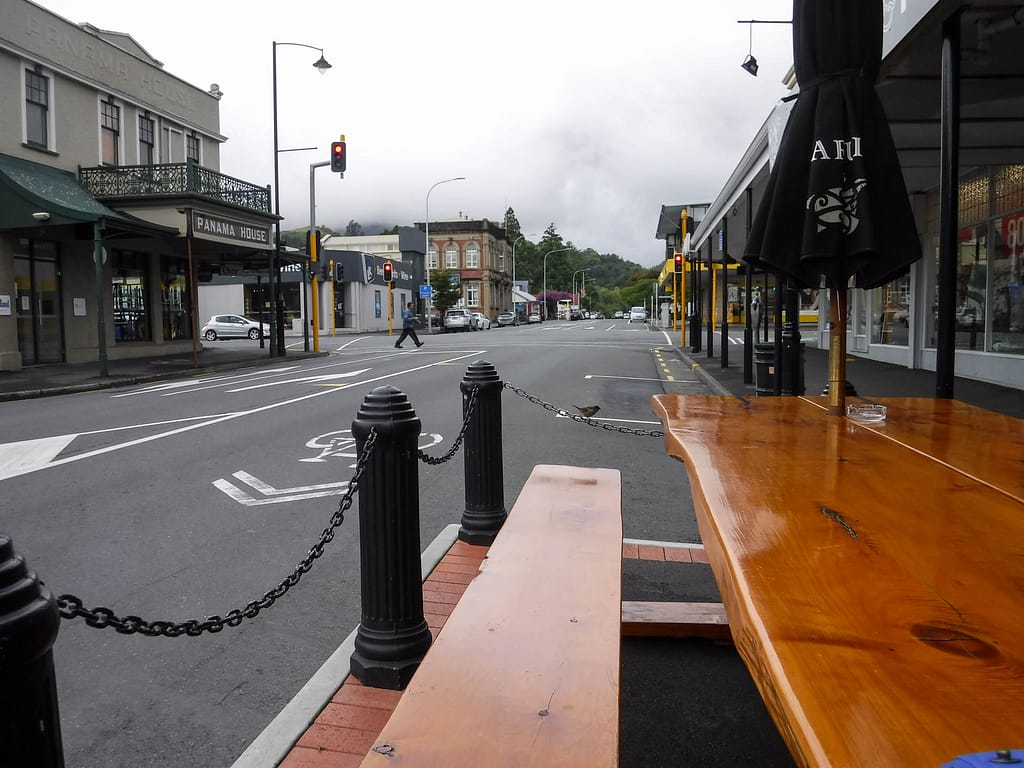 Then to the supermarket for breakfast, lunch for tomorrow while hiking, and beer for tonight. Tasman Bay Backpackers, where we stayed, advertises free chocolate pudding every night. It's more like chocolate cake with hot chocolate fudge and vanilla ice cream, and it's YUMMY. There was a nice place to sit outside our room.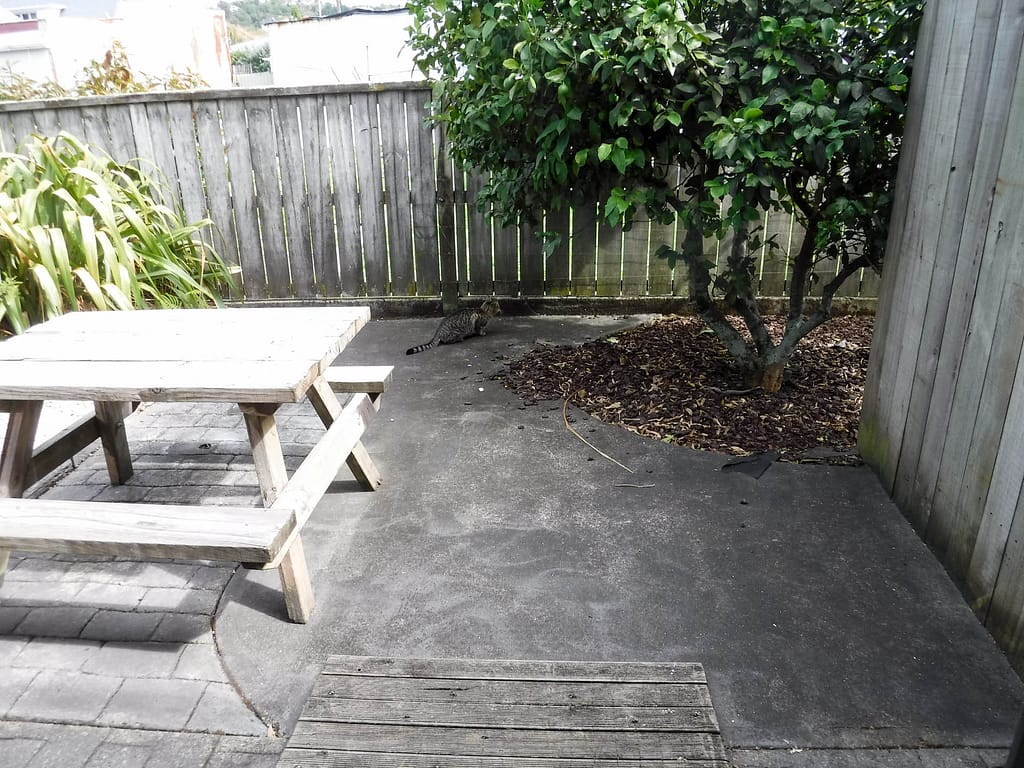 Day 2: Abel Tasman National Park
Today was about hiking a section of the Abel Tasman track. We wanted to do part of one of New Zealand's Great Walks without a big commitment in time or equipment.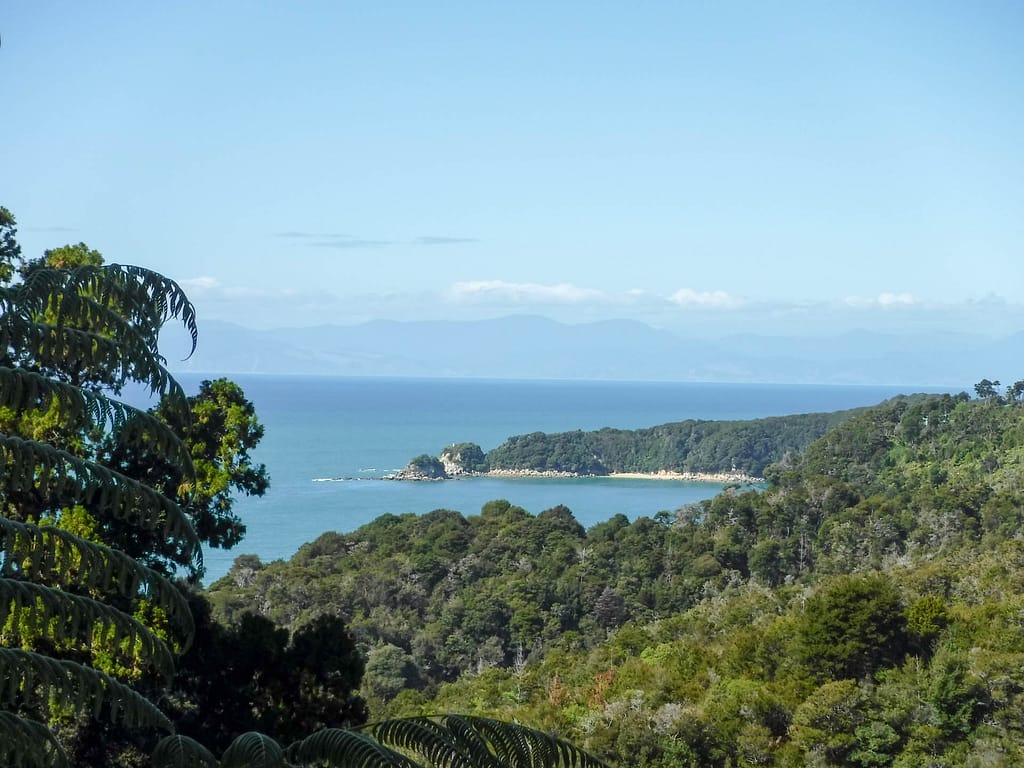 Then we went into town for food and beer. We went to the Free House, a nice pub we stopped at yesterday, that's in a former church. Today there were lots more people there, probably because we were there later. There was a table of locals playing dominoes, kids running around, people who brought in food from other places (they let you do that). Except for missing some dogs, about a perfect pub. We had their Reubens with fries. The Reubens had bread and butter pickles on them and were really good. The fries were hand-cut (we watched the guy do it) and were also excellent.
After six days in a row of setting an alarm, we decided not to. We slept in, did some organizing, and then went downtown and wandered around. We ended up finding a merino wool poncho and a couple of beer cozies at the same shop. The woman gave us the cozies for free, so that was a nice surprise! Nelson is a small town and nice to wander. 
Then we went back and kicked back for a while, and back out for beer and dinner at Sprig and Fern. It's an easy walk from the hostel to downtown.
Tomorrow we're off to Christchurch via a bus and the TranzAlpine train. 
This section contains affiliate links. If you click on a link we may receive a commission at no cost to you. 
We spent three nights here in a double (actually a triple) ensuite. Nice size room and bath, tucked into a quiet corner. Nice common area and kitchen too. Helpfully got us booked on a trip to the Tasman track, and gave directions to stores and the bus station. Easy walking distance to downtown.
There are several nice places to eat in Nelson. More than we had time to try!
Sprig and Fern Hardy Street
We ate - and drank - here twice. Steve's nachos were so good the first time, I ordered them the second time. Unfortunately they were not great that time. Just a melded together mess of congealed components. The curried sausage and rice was good though. And the beer selection. There's outdoor seating around the back as well as on the sidewalk/street.
The Free House Inn
We came here once for beer then again for dinner. Enjoyed the reubens. The pickle was a nice touch! Handcut fries. We saw several people get food from the Indian restaurant across the street, which we didn't get a chance to try. Lots of outdoor seating and cozy atmosphere inside. Lots of beers to choose from. Animated game of dominoes going on!
Downtown Nelson is walkable. If you're travelling on from Nelson by bus as we did, it can pick you up right at the hostel, if you let the bus company know.