This was our second visit to Montezuma and our first time staying in the village. It seemed noisier and trashier than last time. That could be down to staying in town rather than up in the hills. And we definitely didn't miss the steep hill.
Day 1: Playa Grande to Montezuma
Our shuttle trip today turned out almost as bad as we thought it might. Our taxi was there on time to take us over to the meeting point but the shuttle didn't show up on time. So I emailed the shuttle company and they gave me the driver's number and said I should call him because he couldn't find us. So I called the shuttle driver who didn't speak English and tried to explain to him where we were. He eventually found us. I don't know how. I did learn how to send someone your location on WhatsApp so that's something. The people at the apartments where we were waiting had no idea what we were talking about when we said we were waiting for a shuttle. And they didn't speak English either. Thankfully someone came by who could translate for them what was going on. Our driver also spent most of the trip sniffling and coughing which was fun.
Other than that it was fairly uneventful. We did one transfer in Nicoya where we stayed on the same shuttle. Then another transfer in Cabuya where those of us going to Montezuma transferred to a smaller van and ours continued on to Santa Teresa.
Our room was ready when we checked into our hotel. So we dropped our stuff off and headed for lunch since it was about 1:30 by the time we arrived. We had to pee really bad too because there were no bathroom breaks on our shuttle. For 5 and 1/2 hours. We went to Bar Montezuma for lunch. We remember their food being good and it's right on the beach with a nice view.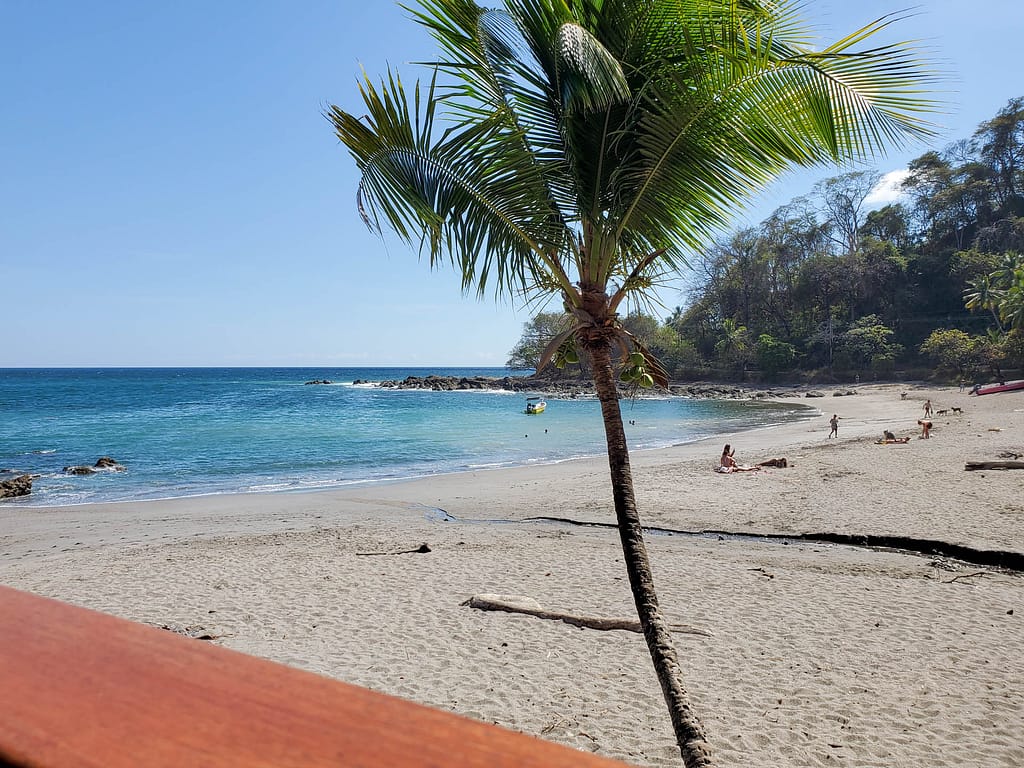 Then we hit the supermarket for supplies and checked out the beach a little bit. Then we checked out the pool because we were really hot and sweaty. The pool was fairly warm. But it still cooled us off.
We met our neighbors who arrived later that night. A Canadian couple from Alberta who had sold off their businesses and been traveling for six months. We thought we were doing pretty good being here for about a month but everyone we run into seems to be here for longer.six
Day 2: The Beach and the Pool
We followed our typical beach agenda by getting up fairly early and going for a walk on the beach before breakfast. We walked the beach heading east from Montezuma. It was a pretty nice walk though it was still plenty warm even at 8:00.
Our hotel provides coffee, cookies, and bananas in the morning so we got some of that and took it down by the pool to sit in the shade and have breakfast. We had a couple of cups of coffee and Steve had some cookies and a banana and then we decided to just hang out by the pool rather than going back to the beach. So we came up and got our cinnamon rolls and the rest of our gear and proceeded to spend most of the day by the pool. I was feeling a little weird so we ate the rest of our yucca chips and cookies for lunch. Then around 2:00 we headed to Sano Banano for our meal. We saw a gray collared wood rail while we were eating.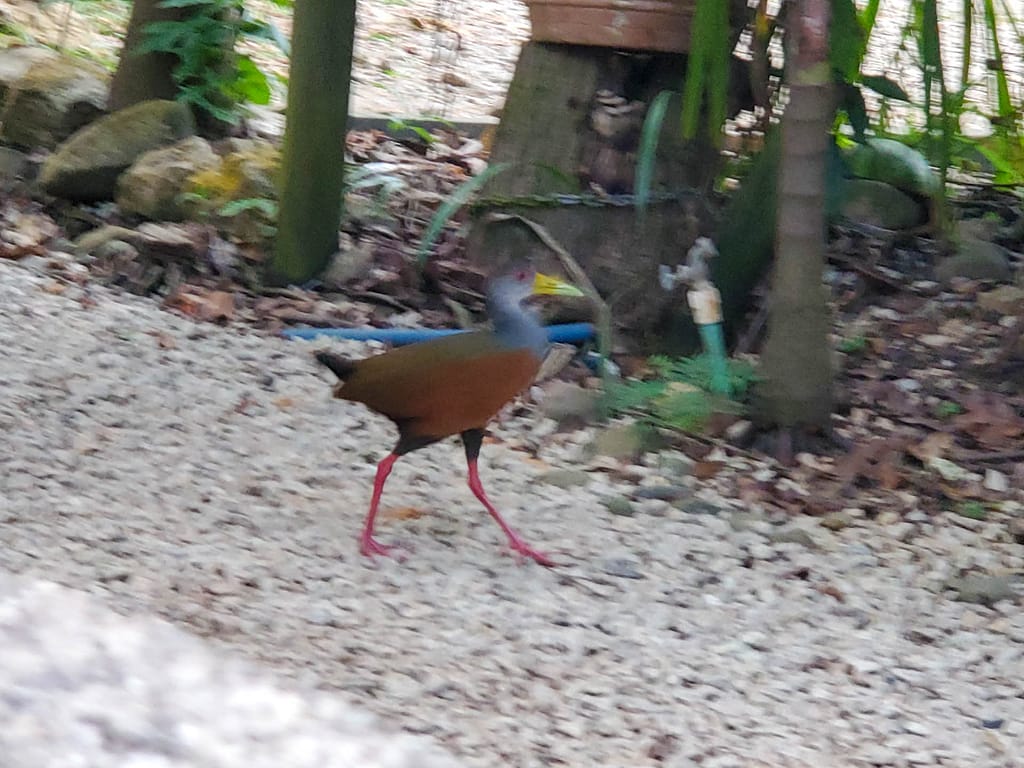 Then we hit the supermarket and came back here to hang out on the balcony. Where we saw a couple of small owls. Oh and we saw capuchin monkeys while we were at the pool earlier. We also saw a variegated squirrel. Right over some people's heads at the restaurant outside. Interesting looking squirrel with a wide black stripe on its back and a gray and black tail. The grackles continue to entertain us with their noises. We also saw a small cat climb a palm tree while going after a grackle. I don't know what the cat thought it was going to do if it caught it but all the grackle did was fly over to another tree until the cat left.
Today our goal was to walk to Playa Las Manchas, a beach west of town. We went there last time we were here and really liked the beach and the nearby Soda Las Palmeras restaurant. We started out by having coffee and banana bread by the pool. Then we walked the mile to the beach where we found a spot in the shade and set up our new beach chairs. We read and watched the squirrels and a young iguana and played in the water a little bit and listened to the neighboring music and watched a dog chase a rope.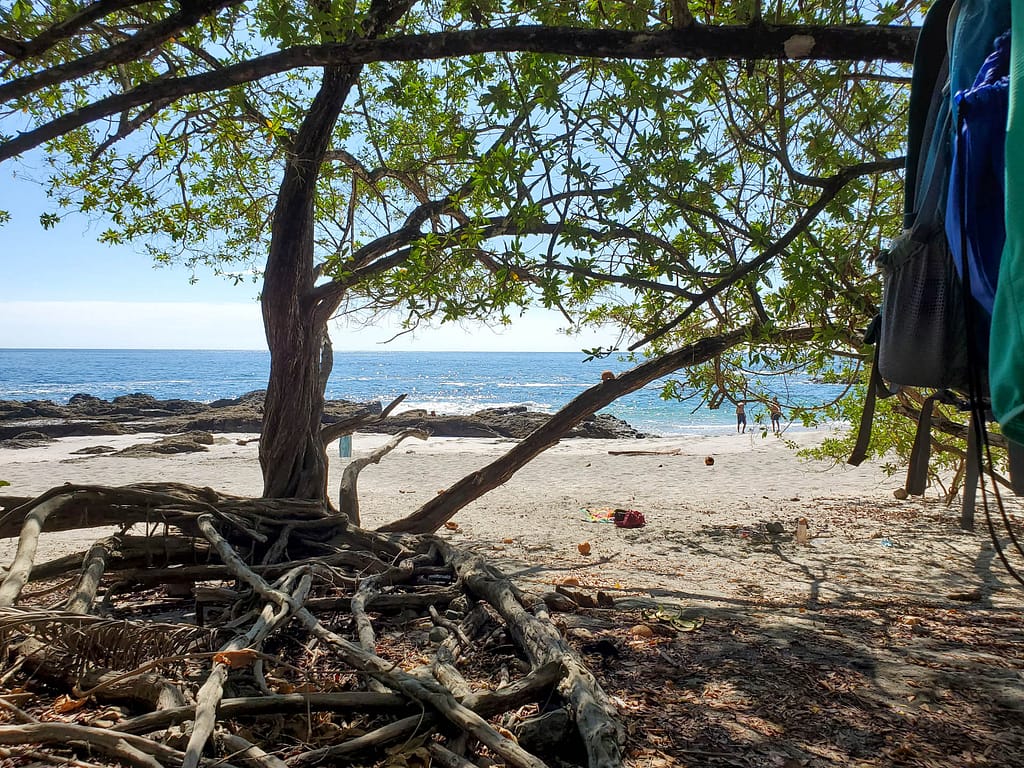 After I started having the urge to pee for the second time and not wanting to go back on the water we decided we should go have lunch. So we walked back to the soda which was very busy – good for them – and managed to score a table fairly quickly.
Back at the hotel we got in the pool to rinse off of the dust and the sweat and then sat on the balcony to consume more alcohol. While we were down at the pool we shamelessly eavesdropped on a conversation between three fellow Americans. They were comparing notes on different places in Costa Rica and one woman was talking about Spanish immersion schools. And they were all our age so it was interesting. The one woman also mentioned that there were only three pools in town. We're trying to figure out where the other ones are. Sounds like Los Mangos has one, maybe Ylang Ylang has the other one?
Strangely we've noted several comparisons between here and Melbourne, Australia. Bright lights, watching lights change, bats there owls here, horses going by below here trains going by below there.
We saw raccoons on the grounds too.
We drank a little too much last night and neither of us was feeling very special this morning so we just spent the day lazing by the pool. We got coffee and had our carrot bread and then sat in the shade by the pool all day. About 3:00 we tried to go get pizza but kept running into restaurants that weren't open yet. We hit a couple stores to look for a Christmas ornament but didn't find anything we liked. So we ended up back at Sano Banano. It wasn't pizza but it was pretty good. We saw woodrails there again. One was sitting in and drinking from the fountain in the courtyard.
I also went to the store to get breakfast for tomorrow and a potential snack for while we're on the shuttle and some more beer. And we got our stuff out of the safe before we forgot. And we saw two herons in a palm tree.
We did not go to Montezuma Falls because we went there last time we were here. You can read more about our first trip to Montezuma here. 
This section contains affiliate links. If you click on a link we may receive a commission at no cost to you. 
Some of the lodgings in Montezuma are in the village itself, like Hotel El Jardin, where we stayed this time. Others are up in the hills above town and it's a steep hill. (We stayed up in the hills the last time.)
We really enjoyed Hotel El Jardin. Our room and the balcony outside were spacious and had great storage: room for bags, hanging clothes, and shelves. The bathroom was modern and nice. The pools and grounds were lush and beautiful, with lots of seating. We had a sea view from our balcony. The have coffee, cookies, and bananas in the morning to get you started, and the staff are friendly and helpful. There's no safe in the room but they have one at the desk where we stored our passports and such.
There are lots of dining options in and around Montezuma. We went to some old favorites: Bar Montezuma, with a great beach view and somewhat dry tacos, and Sano Banano for the lovely courtyard, ceviche, pina coladas, and casado, curry spaghetti with coconut sauce, and a zuma bowl. 
One of the best — and not fancy — restaurants is Soda Las Palmeras, west of the village. It has a nice beach view and great food. Since our last trip they now serve alcohol and accept credit cards. This time around we had fish with mashed potatoes and ceviche. 
We took a shuttle in and out of town and walked everywhere while were there. Staying in the village was much more convenient than being up in the hills, though noisier. There's now a paved road all the way to Montezuma, making it easier to get there by rental car.