Montezuma is a laid-back beach town with great dining options. We enjoyed hanging out here for a few days doing not a whole lot.
Day 1: Drake Bay to Montezuma
We got to say goodbye to the Austrians and others. We rode to the airport with Ericson and had a nice conversation as we drove over the hills and through the river to the airport. We're flying from Drake Bay to Montezuma because a bus journey would be long and complicated and shuttle connections didn't match up. As it was we had to change planes in San Jose. There were no direct flights from one small village to the other. There were basic facilities at the Drake Bay airport, and a surprisingly large plane.
Costa Rica looks pretty from a small plane at a relatively low altitude. We heard the flight was scenic; another reason why we chose this option. 
At the San Jose airport there was a poignant moment where we walked away from our two lonely little carry-ons on the tarmac. (We were the only passengers making a domestic connection in San Jose.) We went through a security checkpoint on the terminal shuttle, then again inside the airport, which we weren't expecting. At least the security line for domestic flights was blessedly short, since the international line was not.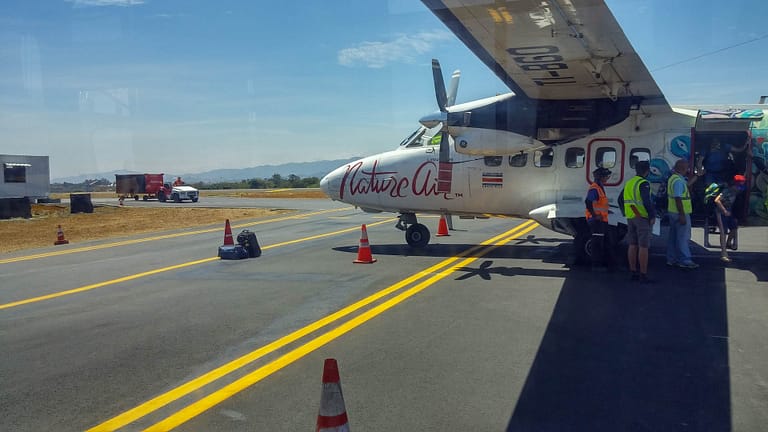 We had an exciting landing in Tambor, right over the beach.
We thought Drake Bay was a small airport. Then we got to Tambor! No real building, just bathrooms and shelter like a bus stop. Our taxi was waiting – always nice to see that driver! – and we had an efficient, quiet taxi ride to Montezuma.
Our check-in at the hotel was uneventful other than trying to get the TV to work. We wanted to tell Douglas not to bother, since we probably wouldn't watch it anyway. We opted to pay cash for the room. Now we hope the ATM in town works and has money! (We've heard that can be a problem.) We have A/C here and a great view of monkeys, plus a balcony. We walked around the butterfly garden. Morphos everywhere! We tried a couple of beers from the onsite brewery and had dinner at the onsite restaurant of yam and lentil cakes, carnitas tostones, and ceviche. We did some laundry. The power went out briefly and the A/C came right back on just like Douglas said it would.
Day 2: The Village and Las Manchas Beach
The daily breakfast special – included with our room – was gallo pinto with eggs. The best gallo pinto we've had on this trip. Fruit, juice, and coffee were also included. We walked into the village to try the ATM and our card didn't work.
The coastline is quite dramatic. 
We stopped at Las Manchas beach and found a log in the shade to lean against. And Steve found a friend, a little reddish dog that came and sat right next to him. His animal magnetism continues. We stayed at the beach and read for a while. People came and went; the beach never got crowded.
We walked up The Hill successfully to get debit cards to try in the ATM. It is a STEEP walk up the hill from the village! We had to do it in stages. But it is a paved road so footing is good. And there are taxis if you don't want to make the hike. 
The debit cards worked in the ATM. Yippee! We checked out a couple of stores then went to Hotel Montezuma for a lunch of chicken casado, arroz con camarones, and Bavaria dark beer, which is hard to find. HUGE servings.
After showers and some cool-down time in the A/C, we headed down to the restaurant. They were having a fiesta to celebrate the second anniversary of the restaurant with live music from the owners and others. New Order cover song!
Yucca hashbrowns with eggs for breakfast today. (The yucca hashbrowns are good. So are yucca chips, we discover!) Then we geared up for town. The ATM was rejecting cards. We shopped for a replacement bandana at the grocery store. No luck.
We decided to hike over to Montezuma Falls for a little something to do. We sat on the beach for a few, then went to the nearby soda for lunch. I had great ceviche and tostones (patacones); Steve had casado with fish. Then we had batidos with passion fruit and tamarindo. Our server advised us against leche (milk) in the batidos because of the high acidity of the fruit. I was happy I could understand the Spanish! We watched squirrels too. Really good food and a little cheaper. Then went to Bar B to try La Selva IPA (Castanza) and port (Oscura). 
We were able to use our credit card to pay for dinner here at the hotel, which is a plus for cash flow. We also watched some of the NCAA basketball tournament on TV.
We went back to Playa Las Manchas and leaned up against the log and watched parrots overhead. We had to sit relatively near other people to stay in the shade. We might need to come up with a portable shade and chair solution for the beach …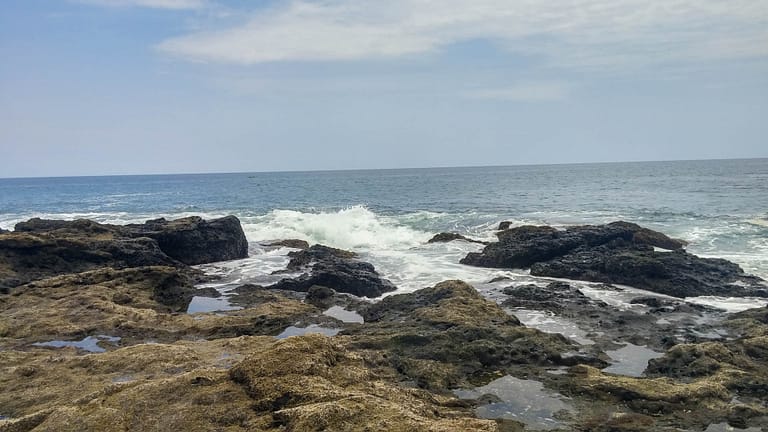 We had a late lunch at Hotel Montezuma since they take credit cards and we're trying to conserve cash. We're also trying to conserve energy not going up and down that hill too many times a day! We saw flocks of pelicans and a couple of tour groups coming in. Steve saw a ray leap out of the water. He always catches the wildlife. It looked like it might rain but it didn't.
We also saw a blue-crowned motmot on the way back.
Day 5: We actually watch TV!
Gallo pinto for breakfast today, with avocado and plantains. We walked around the butterfly garden again and saw a black and white longwing and perhaps a Mexican bluewing. Interesting plants too.
Then headed straight for the beach. Lots of fish jumping, snorkelers, a bluejay, an iguana eating, small green lizards along the road. We found a different log to lean on, with a stump for Steve to sit on.
We then headed for the ATM, which was being repaired as we approached. So we ate at El Sano Banano and used the credit card. Peruvian ceviche and catch of the day, with passionfruit sauce and tomato/jalapeno sauce. And delicious pina coladas. We also picked up a frogger bottle opener and two Imperial bottle cozies.
The last walk up the hill was later today. We watched Carolina beat Gonzaga in the NCAA championship. Go Heels!
This section contains affiliate links. If you click on a link we may receive a commission at no cost to you. 
This B&B may no longer be operating. If it is, it's a great option with a great restaurant, a brewery, and a butterfly garden on site. 
There are lots of great dining options in the Montezuma area. 
The village and surrounding area is walkable. Even with that steep hill. There's a bus service too though we didn't want to go anywhere badly enough to try it. Our hotel arranged a taxi from Tambor airport for us.