Sámara is a place we could return to and spend more time. The beach is good for walking and there are some places with umbrellas and sun loungers to rent. And if we got bored – which we didn't this time – there are distractions nearby.
Day 1: Montezuma to Sámara
We left too early for coffee but we were able to nab some cookies. We stayed in the same van from Montezuma to Nicoya. Along with several young folk who were not wearing masks. So glad we got the KN95s to come here. And one girl was crying? We don't know why. There was much confusion in Nicoya as we seemed to have too many people and too much luggage going to Sámara. I think in the end they added a second van and shifted one person from our van to that one.
Our room wasn't ready when we arrived but it was close so we left our bags in reception and walked into town to eat. We ate at Sheriff Rustico, which was recommended by our host. After lunch we walked around for a bit but it was super hot so basically we just took a different route back and detoured to hit a supermarket for some beer. About the first thing we did when we got back was jump in the pool.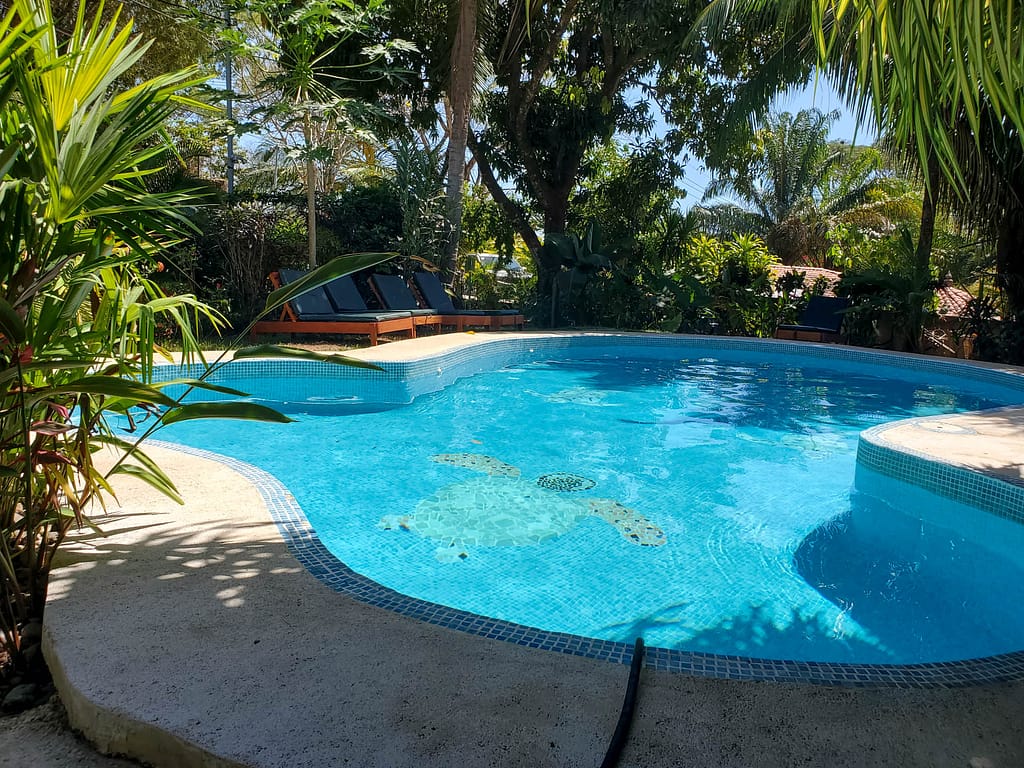 There are lots of horses on the beach here and the police appear to use them to patrol.
We got up kind of early and went down to the beach to take a walk before it got too hot. It was still plenty hot in my rash guard shorts. Need to stop wearing those when it's warm. It was low tide so the water was way out. We did part of our walk out of the water and then got down closer to the water for a bit. Not many people were around; it was pretty quiet.
We checked out the Pali supermarket but we were sweating to death so we didn't spend much time there. Then we stopped at Roots Bakery for breakfast. They had some delicious cinnamon rolls with frosting much like Cinnabon. We got them to go and ate them back at our place with our instant coffee.
After breakfast it just seemed too hot to actually go down and sit on the beach so we sat by the pool in the shade and lounged and read for a good chunk of the day. And then we moved to a different spot of shade and got in the pool for a bit. After that we got dressed and went into town and actually scored a pizza at Pizza Paraiso. Then we hit the supermarket for some more beer and some ham and cheese and crackers for a snacky meal. Tomorrow we'll have to buy rum. Back at the hotel we mixed up some of our Crystal Light and had it with our rum and then had an Imperial and a local Scottish ale.
Day 3: Walking the Beach in the other Direction
We did another walk on the beach this morning this time heading north? West? Not sure which direction it was but to the right once you get down to the beach. Steve says northish. We had to cross a small river which was very shallow at that point and saw the rocks and the headland down at that end of the beach. Some entertaining dogs on the beach this morning. We saw a great dane and its tracks. Unless there's two giant dogs around here.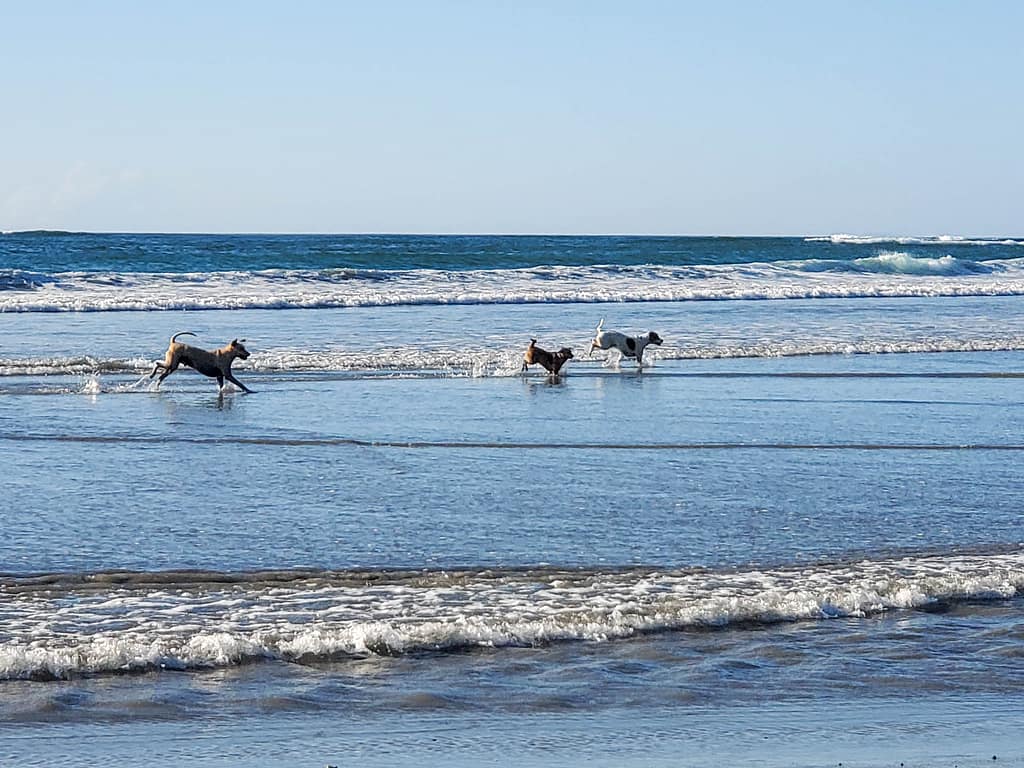 Then we did our tasks for the day. We stopped at the supermarket and got rum and beer. Then we hit the bakery for cinnamon rolls and a couple of chicken empanadas. We came back here and had coffee and cinnamon rolls and then headed for the pool again. We saw a coati at breakfast. It was nosing around the kitchen. And cute as usual. Our host had warned us when we arrived that we could leave absolutely no food unattended at the outdoor kitchen because of the coatis.
After the pool we walked down to Coco's for Mexican and craft beer. Then we came back here and took showers and sat and drank in the common area underneath the fan.
We discovered I stepped on a millipede last night on one of my trips to the bathroom because Steve found pieces of it on the sheets. I still bear the mark of the millipede.
Day 4: We Finally get into the Water
Today we were determined to get into the water (ocean water, that is). So we went on our morning walk absolutely minimalist other than Steve's shirt and my sunglasses. We walked a little further than we did our first day here then came back part way and got into the water probably about up to our upper legs. It was still somewhat low tide so it was challenging getting in that deep.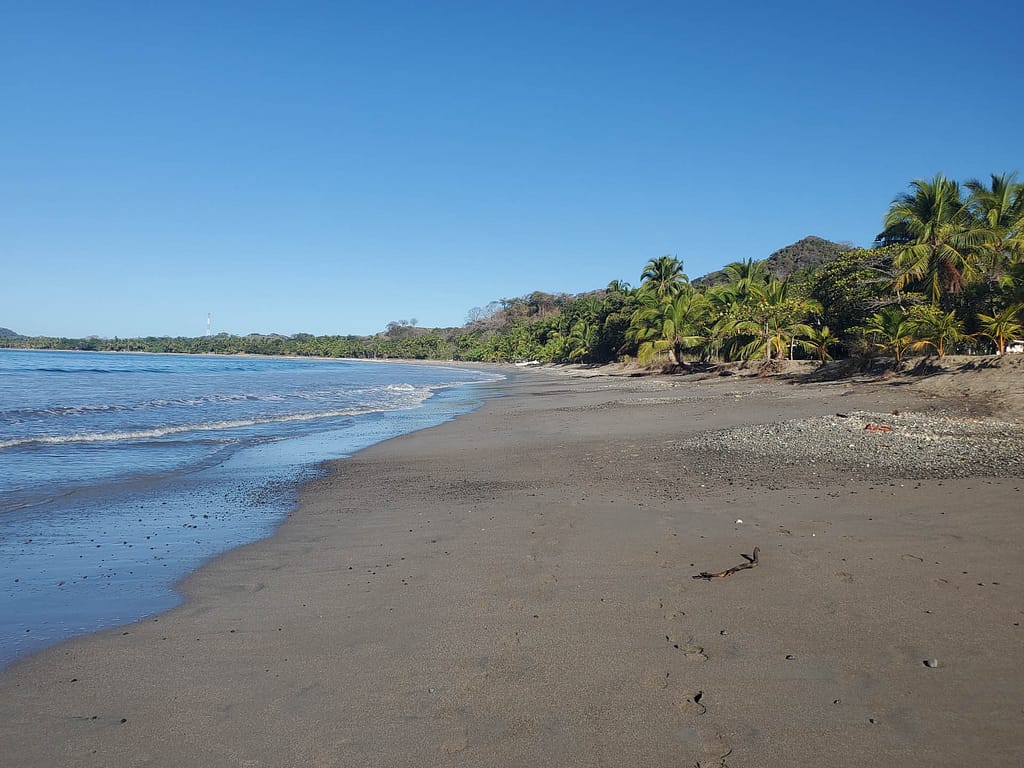 After that we did our usual breakfast, hung out at the pool, and then went to eat at Coco's again.
We're trying something new on this trip. Since it gets very hot during the day and sunrise and sunset are both around 6:00-6:30, we're getting up early and going to bed early. I typically don't go to bed until at least 11:00 but on this trip we've been heading that way as early as 7:30. And it's working well.
We started and ended our day with passion fruit. Passion fruit pastries for breakfast because they didn't have cinnamon rolls and passion fruit pale ale for our beer. We also saw the hotel cat catch its second mouse today.
We did our usual walk on the beach this morning this time starting to the right. You can really tell the difference in the tide; there were not nearly as many rocks visible as when we went that way the other day. The past couple of mornings we've also seen the police mounted on their horses either setting out or on the beach. Their station's right down by the beach and the corral is there too.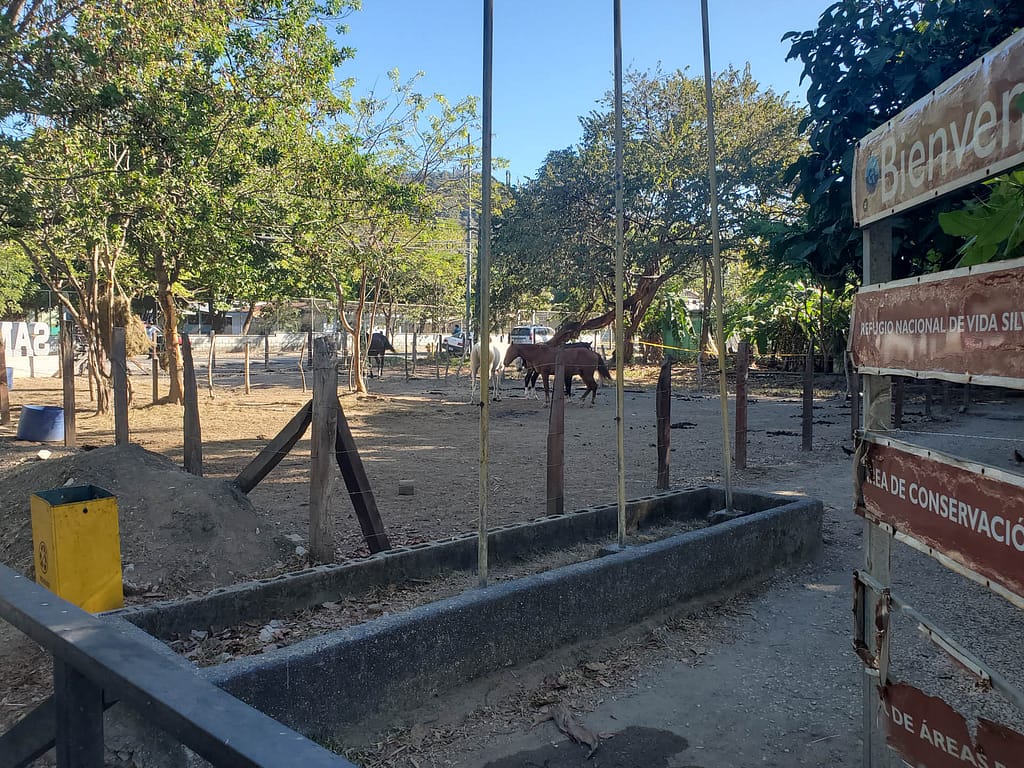 After that we went to the bakery and got pastries and ate them with our new instant coffee because they didn't have Nescafe. This new stuff might be even better. Then we went down to sit by the pool again. We had a little more company today after we moved to the shade. Other people came down to the pool too with floaty toys. We've been following the shade. We start sitting by the side of the pool where there's shade but then around noon that starts disappearing so then we move to the end of the pool where it's still shade and go in the pool in between. We are creatures of habit even if we make our own habits.
After the pool we went to Mana's restaurant and got pizza. Then we went shopping for a Christmas ornament and got lucky right away with a small stuffed sloth with magnetic paws so we can hang it on the tree creatively. We also picked up two pieces of coral on the beach this morning so we can turn at least one of them into an ornament. And then we bought some craft beer to finish our trip. The passion fruit IPA we're drinking tonight and another local IPA that we tried another night and liked. And then we came back here and took showers and sat outside sweating while we drink. After which we blissfully get to go into air conditioning.
We've also come to know the dogs next door. Every time something happens over there they start barking and then two minutes later you hear the owner calling their name which sounds like Oodie? Udi?
Day 6: Our Typical Routine Again
We followed our typical routine again today, going out for a walk on the beach earlier then stopping at the supermarket for some fill-in rum and then hitting the bakery for breakfast for tomorrow. Today we finished up our ham and cheese and ate our chicken empanadas which were good although they probably would have been better when they were fresh. The cat was very interested in the empanadas. She was disappointed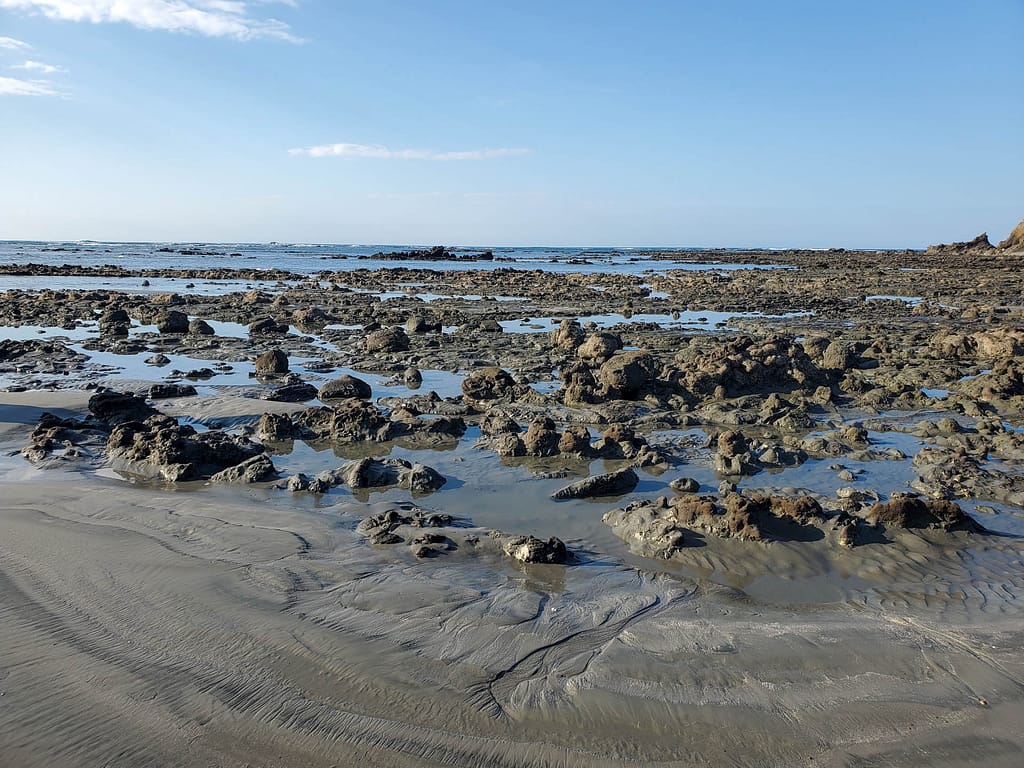 Then we went down by the pool as usual. Steve is discovering he enjoys walking in the pool and I was enjoying the opportunity to do some swimming. Maybe I'll have to take my rash guard stuff up to the lake and do more swimming up there for exercise if I can deal with the cold. Our host stopped by while we were at the pool and we had a nice chat with her. They've been here three years.
We went back to Coco's to eat because we like the beer so much.
Then we came back here and started packing up for the trek home and took showers one last time in our spacious rock wall shower.
Day 7: Sámara to San Jose
We got up about 5:45 to get ready for our shuttle at 8:50. Had some coffee and the cinnamon rolls we bought yesterday and finished up our packing. Pretty relaxed start to the day. It occurred to me belatedly that we could have done our COVID tests this morning since we were awake and had plenty of time but I didn't think of that until about 8:30. (We have to take COVID tests before flying home and we brought some with us.)
Interbus picked us up pretty much right on time and we drove all the way to Limonal where we met up with a bunch of other Interbus shuttles and swapped vans to go to various destinations. There was a long line for the women's restroom; I wasn't sure if I was going to make it in time. We also got to see scarlet macaws which was nice because we hadn't seen those yet this trip. There were only about six or seven of us going to San Jose. It was a pretty new van. I like Interbus better than the other shuttle companies around here. Just seem to be a little more professional and a little more organized.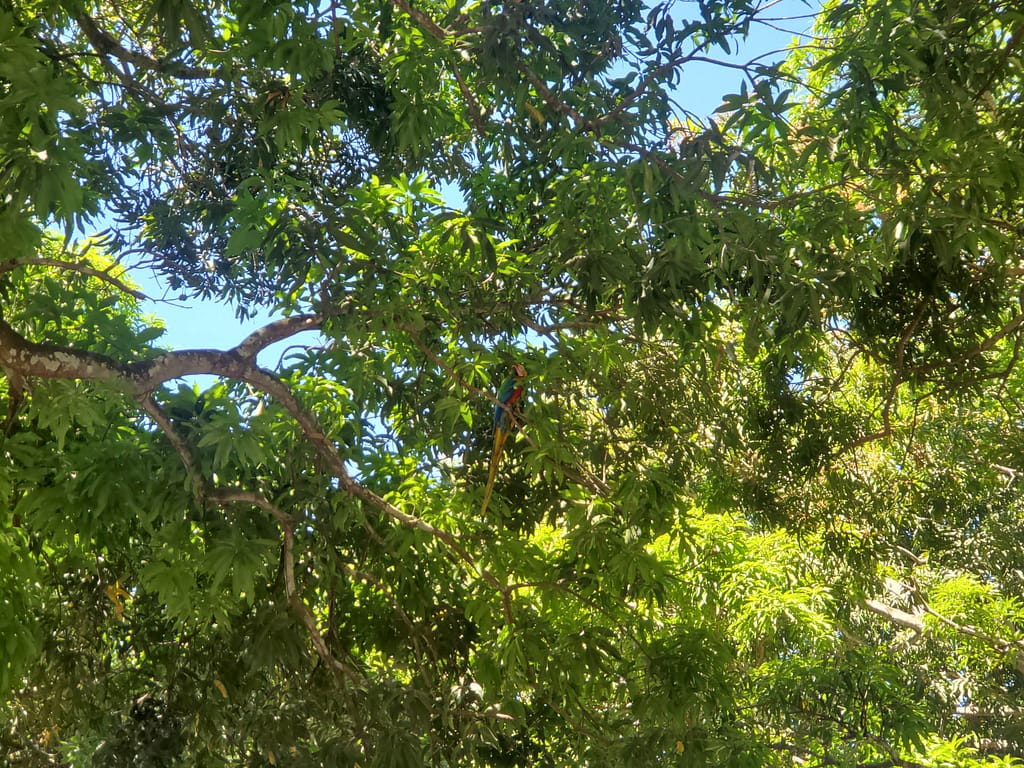 We decided along the way that if we got to San Jose in time to go to the clinic near the hotel we might as well do our COVID test that way rather than trying to do the online thing. So as we were approaching the hotel in San Jose I was online making appointments for us. They didn't have any for 2:00-3:00 so we made one for 3:00-3:30. I screwed up a little bit and ended up with Steve's last name in there twice so they had to fix it at the clinic but we got our tests done quickly and efficiently and then I had a nice chat with the guy who ran the tests. He said next time we come we need to go to Nosara and we need to rent a four-wheel drive and explore the coast. He also told me I need to wear more sunscreen. He said the test results would be ready in Spanish in about an hour and then the English version would follow about 40 minutes later. Sure enough we got the Spanish results and I texted my brother and said my high school Spanish says "negativo means we'll see you tomorrow."
We did the Verifly stuff to submit our test results and then headed down to dinner. They said sure they could do part of the bill in colones and part in US dollars. (We had some colones we needed to spend.) Steve had grilled chicken and I had salmon with fettuccine carbonara and we each had a tropical IPA which was good. Then we came back upstairs, went outside to have a drink and ended up meeting up with our neighbors who are a couple from Milwaukee who are moving down here. So we shared stories and experiences with them about Costa Rica and other places. They're moving to some place near Rivas in the southern mountains. They told us about some places good for hiking: Cloudbridge down where they are and a place near Puerto Viejo de Sarapiqui. I might recognize some of the others if I saw them. Anyway, we finished up our rum and our mixer and are finishing off the trip with a couple of Imperials.
This section contains affiliate links. If you click on a link we may receive a commission at no cost to you. 
There are lots of reasonably priced rooms in Sámara. We loved Entre Dos Aguas. Really large room, super cool rock shower, lots of common space to hang out in, including an outdoor kitchen that other guests made use of. Nice pool too. Friendly staff. It's on the edge of town, which is both good and bad. Quiet, but might be tricky walking the last little stretch at night without sidewalks. Adventure Inn remains our go-to place in San Jose.
Sámara has lots of places to eat, too. We went to Sheriff Rustico right on the beach, Pizza Paraiso which has zero atmosphere but good pizza, and Mana's (for pizza, but they have Costa Rican food too). 
We ended up eating three times at Coco's, mostly because of the craft beers but the Mexican food and cheeseburgers were good too. 
We took shuttles in and out of town. Sámara itself is quite walkable and there are buses and taxis to get beyond that, though we didn't feel the need.