Three days at Young State Park, the more modern state park near Charlevoix. Boyne City is an even closer cute little town.
Day 1: Wilderness State Park to Charlevoix
We drove from Wilderness State Park in the rain. Thankfully the roof repairs worked! The site I had reserved, #32, ended up being kind of soggy, with standing water near the firepit, and the electrical hookup on the wrong side. We ended up moving to site #44. It's in the middle of the campground, which is not ideal, but it was relatively dry. Since it was raining when we set up camp, we changed things up and put the awning out first. Then we unhitched and went to get firewood. And decided we might as well head into town for dinner right then, rather than going back to camp first.
We had dinner at Cafe Sante in Boyne City, which was highly rated. And delicious! We walked around downtown Boyne City afterward. It's a pleasant place for a stroll.
Day 2: Kayaking Lake Charlevoix
We spent our first full day hanging out in the park. After a walk around the campgrounds, we took the kayaks out on Lake Charlevoix for a while. We launched them at the campground, close to our original campsite. The water was a little choppy, especially to the left, so we paddled mostly to the right, along the shore to the other end of the state park and back. We figured if we got tired, we could just beach the kayaks and come back for them with the truck! It was nice exercise.
We later tried out one of the nature trails in the park. The lake level was really high, and we got to a point where we had to backtrack. Some of the lakeside campsites were closed due to flooding. Lots of trees and such growing in the water rather than next to it.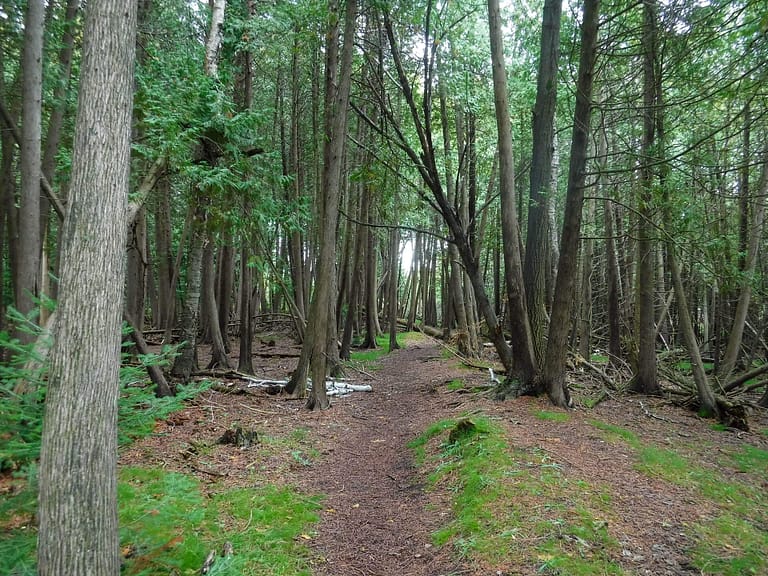 Day 3: The Tunnel of Trees
It was supposed to rain, so we drove up to Cross Village via the tunnel of trees (M-119), a famous scenic route. (Famous in Michigan, anyway.) There are more houses on the road than I recall. Possibly because there ARE more houses since I was last here maybe 25 years ago! We were very glad we didn't try to take the trailer down that road, since it is quite narrow and winding, though beautiful. We stopped to take a peek at Legs Inn but didn't eat there. Just checked out the gift shop, and the one across the road, which had more interesting goods. We also stopped at Good Hart, where I won a free lavender lemonade (which was very tasty!) for correctly guessing – after a hint that you could make alcohol from the berries – that the wood used in some coaster/trivet things in the shop was juniper wood. The random trivia I carry around in my brain IS good for something!
Coming back, we took the scenic route around the south coast of Lake Charlevoix, through Charlevoix, Ironton, East Jordan, Advance, and around to Boyne City.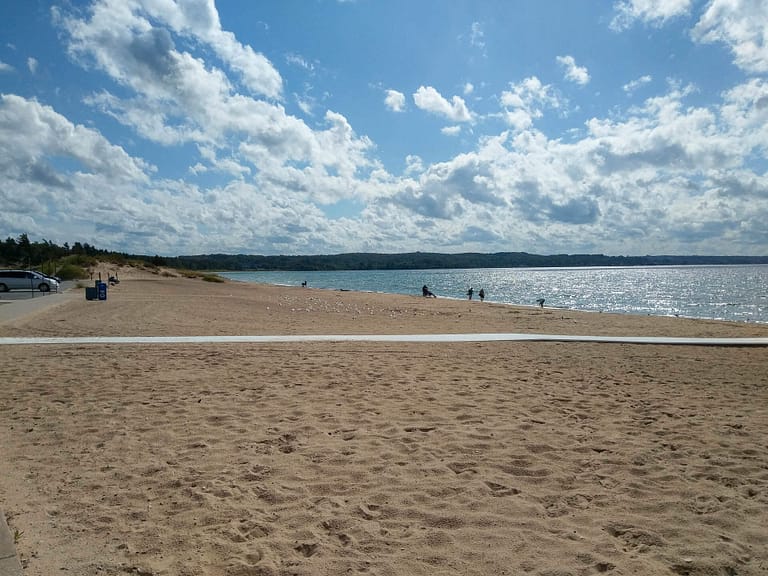 We went to the Indo China Gardens in Boyne City for dinner. We timed it perfectly, arriving just before they set up the buffet, so we knew everything was fresh, and just before the crowds showed up.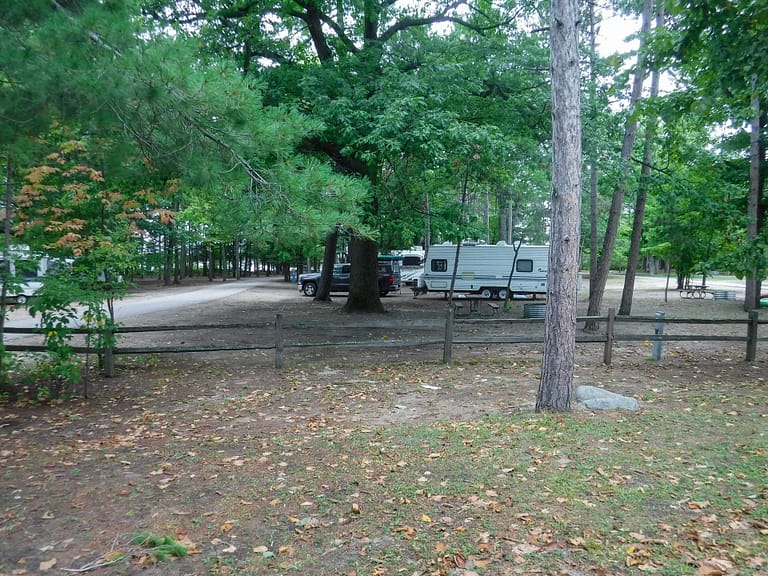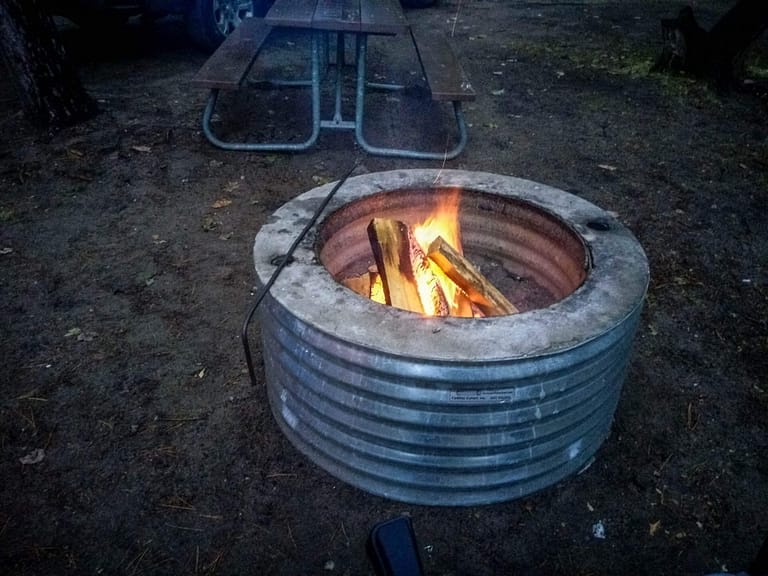 More campers arrived for the weekend, causing more excitement. First, there were the people with the six-foot bonfire in their firepit. Then the guy on the site behind us, who fell off his chair twice and had to be helped into his tent by his pals. Then there were the people who pulled in around 9:45 with a long trailer and a huge 5th wheel who took about an hour to get their trailers in position. The 5th wheel went around the block a couple of times, then ended up pulling around the wrong way in order to get backed in the way he wanted. And of course they had diesel trucks. And of course the one trailer had to use an impact driver to set their stabilizer jacks. And then their little dog started yapping, prompting Steve to say "and they have a cave troll."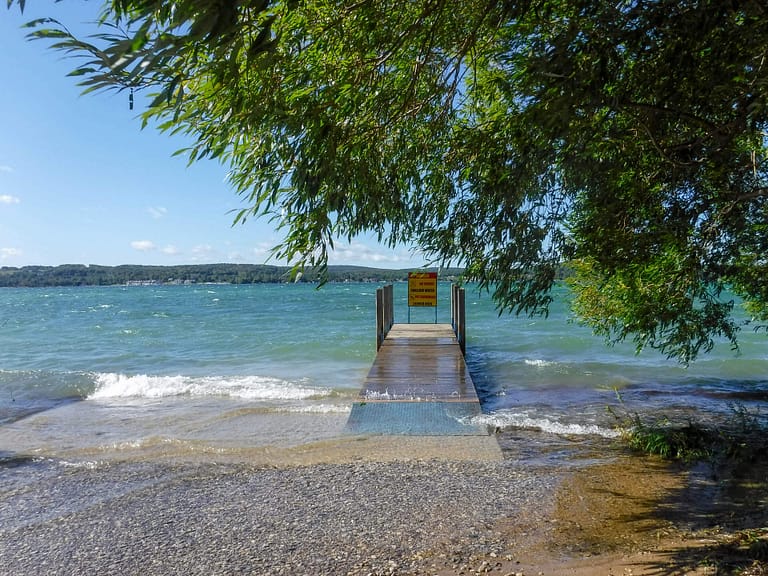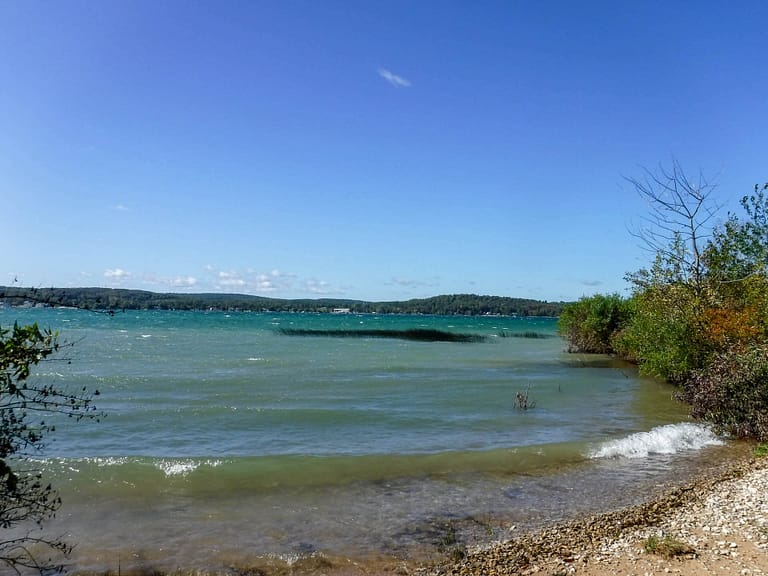 Lake Charlevoix was much different on the day we left. Whitecaps, and waves bigger than any we saw on Lake Michigan. Good thing we didn't want to kayak! Waves were breaking over the boat launch dock, and up onto the beach at sunset viewing area. Part of the fascination and frustration of water being a centerpiece of your travels.
Young State Park is on the north shore of Lake Charlevoix, near Boyne City. There's firewood for sale in the park. Camping was $33 per night, with a Recreation Passport (aka park pass) required. Reservations and Recreation Passports are available at the Michigan DNR website. You can also purchase the Passport at the park.​
There's a decent grocery store in Boyne City, as well as some good restaurants. Charlevoix is also within easy reach.
Cafe Sante
Our kind of place: Great food and service at a reasonable price, and without being fussy!
Indo China Garden
A great deal for $10 each. A cut above the ubiquitous Chinese buffet restaurant.
There is no public transportation in the area. We drove there from Wilderness State Park on county roads 81 and 66, then M31 through the Petoskey area, then county road 56 from near Charlevoix. County road 81 was a little rough for towing a trailer, though not as bad as the road to Wilderness from Mackinaw City.