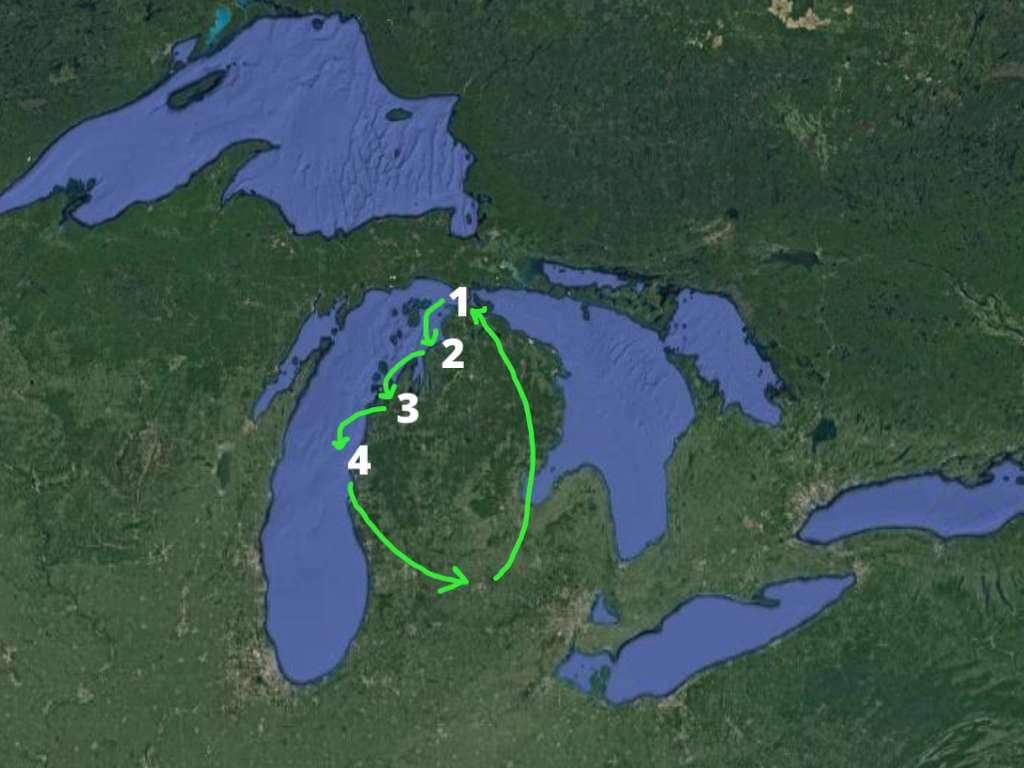 We spent two weeks camping with our trailer on the shores of Lake Michigan and just off the shore on Lake Charlevoix. Camping in September in Michigan has been good for us. The weather is still warm, the lakes have had a chance to warm up, and the kids are back in school so the crowds are smaller. (Except on the weekends.) We took our kayaks on this trip and were able to use them on the great lake, on inland lakes, and on a river. 
Days 1-5: Wilderness State Park
The Plan: We've never camped at Wilderness and have heard it's great, so we're looking forward to this. One thing we're hoping for is some clear nights so we can do some stargazing. There's a dark sky park nearby, but we've heard Wilderness is just as good.
The Reality: We didn't get any clear nights to stargaze, and the weather was a bit chilly and windy for typical hanging out at the beach. But since our campsite was right on the beach, we got to enjoy lake views without leaving home, so to speak. And the water was calm enough that we could take the kayaks out on Big Stone Bay, which the campgrounds are on. We could launch the kayaks from steps away. The hiking was mildly disappointing, being primarily woods. We did take the Big Stone trail and the Mt Nebo trail. If we returned to Wilderness, we think 4 nights would be enough time.
Days 6-8: Young State Park
The Plan: I haven't been to the Boyne City area in years. Lake Charlevoix is generally beautiful. This is a new state park for us. Hoping for some time on the water with the kayaks, and planning a jaunt to Shorts Brewery in Bellaire. 
The Reality: Boyne City is an easily walkable little northern Michigan village, with some nice restaurants. We had a day with rain forecasted so we drove up to Cross Village via M119, often referred to as the "tunnel of trees." We chose that over Shorts Brewery. Lake Charlevoix was also calm enough that we could take the kayaks out. 
Kayak Lake Charlevoix
Visit Shorts Brewery
Drive M119, the "Tunnel of Trees"
Site #44, Oaks campground. Interior site close to restroom. Not much privacy but level and fairly dry.
Days 9-11: Interlochen State Park
The Plan: We looked at the state park in Traverse City, but they were closed for electrical upgrades. And we know it's not much more than a campground with a beach across the busy road from the campground. Interlochen is still convenient to Traverse City and Leelanau, and unlike Leelanau State Park is NOT rustic. And it's Michigan's first state park, so why not?
The Reality: We not only drove around the Leelanau peninsula, we hit the Mission peninsula too. Both are beautiful, thought the Leelanau is bigger and has more going on. Kayaking Duck Lake ended up taking a chunk of a day. We opted to take it easy for the rest of that day rather than drive into Traverse City. We had dinner in Traverse City the day we did the peninsulas, and since we went there a couple of years ago, that was enough for us. 
Drive around Leelanau peninsula
Day trip to Traverse City
Kayak Duck Lake
Site #15, North campground. Right on the bluff with beautiful view over Duck Lake. Adjacent stairs do NOT go all the way down to the water.
Days 12-16: Ludington State Park
The Plan: We camped at Ludington back in 2007 when the trailer made its maiden voyage (with us), and really enjoyed it. So we're looking forward to going back and doing the canoe trail on Hamlin Lake, and the river up from the beach where we saw gigantic fish the last time we went. 
The Reality: We kayaked both the lake and the river, and hiked to the lighthouse and around Lost Lake. We could easily have done more of both. We also took an afternoon to explore the town of Ludington and have dinner out. Ludington is now our favorite state park!
Kayak Hamlin Lake
Kayak Big Sable River
Hike
Hang out at the beach
Explore Ludington
Site #76, Pines campground. Narrow and across from restrooms. Backs up to dunes for access to a nice sunset view.
Related Posts: The first post describes daily activities and the destination. Other posts cover anything that generated lots of photos!
We used a Falcon Guide to hiking in Michigan (paperback) for information on hiking
The Michigan DNR website has lots of good information on Michigan state parks.
We buy "Christmas ornaments" on each trip. (They aren't always ornaments.) We picked up the wooden sunglasses at the Good Hart General Store because they were fun. We bought the stuffed animal because it looks like a porcupine (and we saw one this trip). Turns out it's an owl but whatever. Looked like a porcupine to us!