We spent five relaxing days at Wilderness state park, hiking and kayaking and camping along the beach. And it's still close to Mackinac Island.
Day 1: Home to Wilderness State Park
I forget how amazingly beautiful northern Michigan can be. Even from I-75 you can see high rolling forest-covered hills, with glimpses of lakes through the trees. It's funny to see a Burger King sign sticking up over the pine trees with not a building in sight. Then you reach the point where you see the gleaming white Mackinac Bridge over the straits and you know you're Up North.
We found a glitch in the reservation system when we checked in. It said we'd exceeded the maximum number of days. Except that our 16 days are spread over four different state parks. Note to self: next time go ahead and do multiple transactions since you don't save on reservation fees anyway!
Day 2: Hiking the Big Stone Trail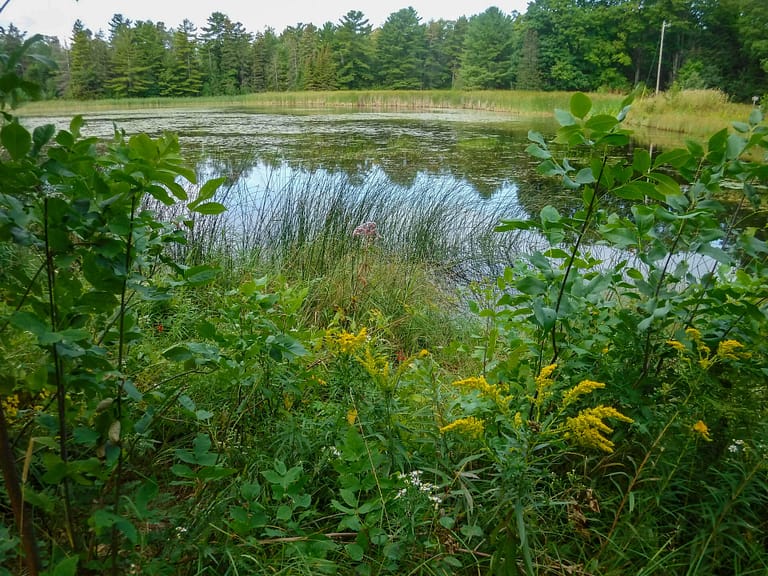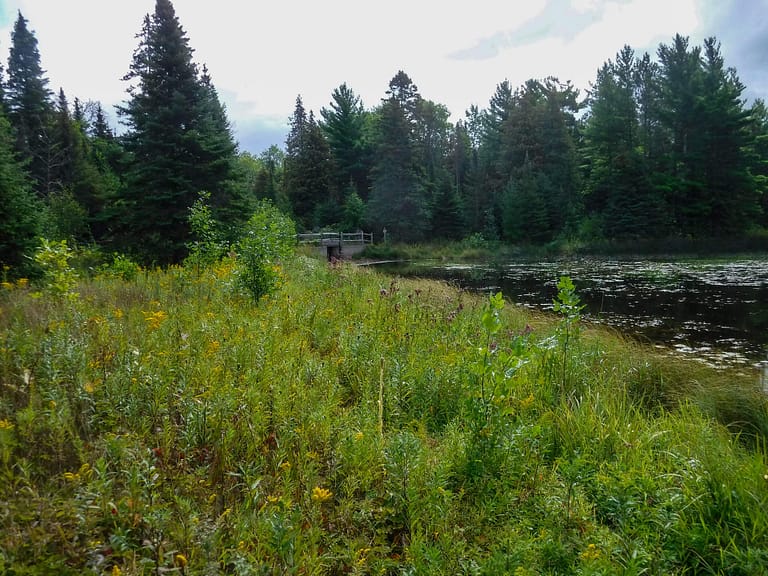 One of our goals for this trip was to take a good walk or a hike every day. A whiteboard at the park office reported latest trail conditions. Which was helpful because it had rained recently. After breakfast our first morning we headed out for a walk. The park map showed a creek or stream of some kind from a pond down to the lake, so we went to check it out, to see if that might be someplace to kayak. (We brought our kayaks too, and plan to use them at each stop if we can.) The stream was so narrow you probably couldn't even get a kayak in there, let alone paddle! But at least we did have a nice walk through the woods, mostly on the Big Stone trail, and got to see cardinal flower in the wild, which I've never seen in real life. The trail was well maintained and dry, other than a stretch where berries or brambles had grown over the path. There was also lots of poison ivy, though not around the campsite itself, gnats but not many mosquitoes. It wasn't dramatically scenic, but still a pleasant hour and a half walk.
Day 3: Hiking the Mt Nebo Trail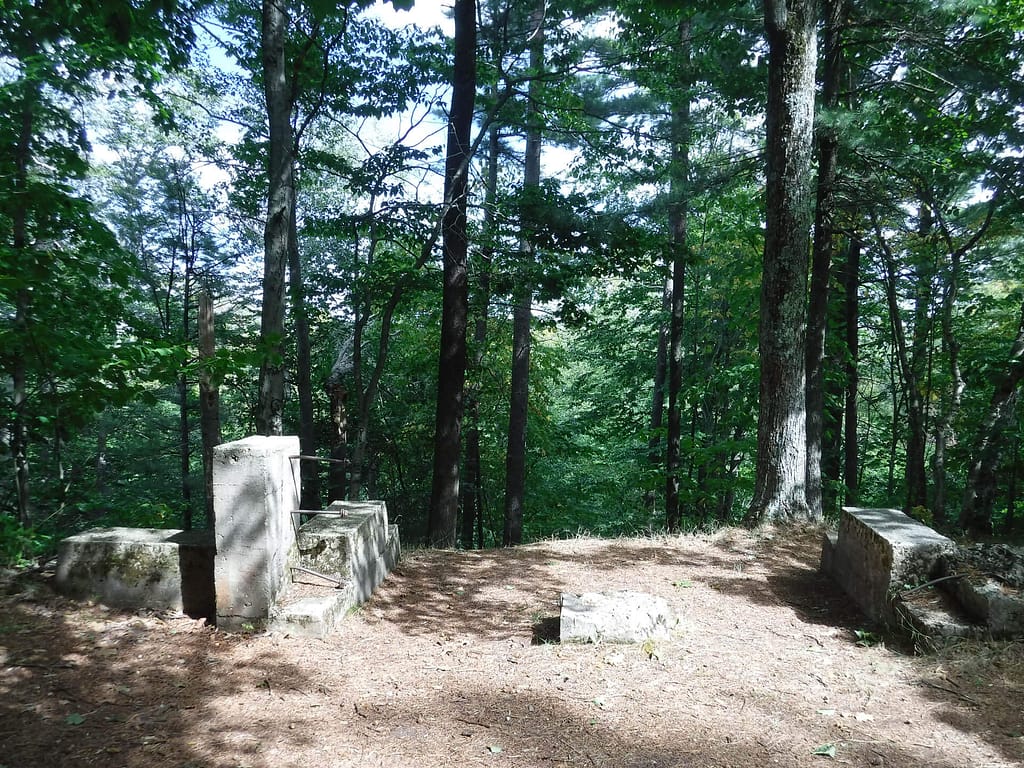 After lunch our second day, we drove down to the trailhead and did the Mt Nebo hike. There really is kind of a steep hill or mountain. Hard to tell with all the trees on it. There were remnants of some kind of structure on top, but not enough to tell what it was. We assume some kind of watchtower. A DNR truck passed us on the trail, the first part of which looks more like a two-track than a trail. From the park map it didn't look like you could get through from that loop to the trail beyond, but you can. It was a nice enough hike. More old growth forest than what we went through yesterday.
Day 3: Kayaking Big Stone Bay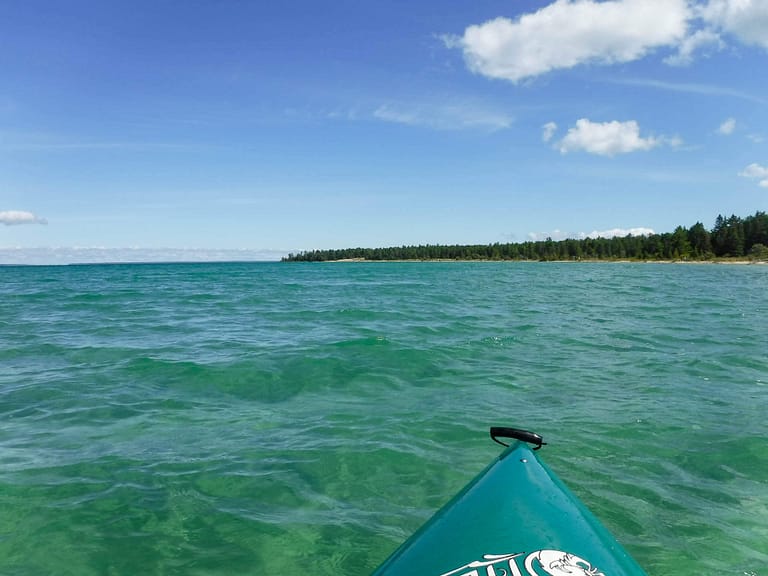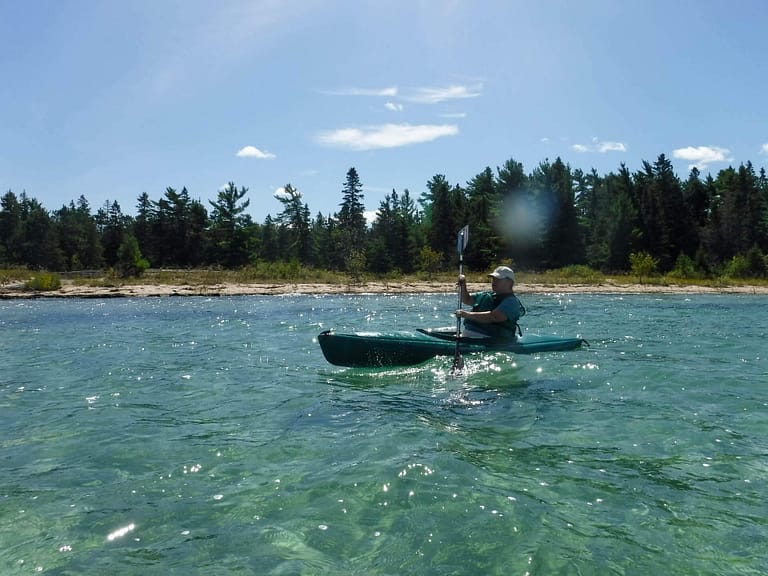 Our third day we took the kayaks out in the bay, launching right from the campground. We missed the best weather by an hour or two; it was really calm and then the wind and waves started picking up when we were getting ready to go. We went anyway, paddling down to the furthest beach to the east and back. Coming back was a little strange because the waves were behind us, which gave you an unsteady feeling from time to time. It was still enjoyable and good exercise. The water is amazingly clear and colorful. One of the neighbors said it looks like the Caribbean, though it certainly doesn't feel like it!
Day 4: Making Trailer Repairs
We had thunderstorms our last night and discovered we had an unknown roof leak. Water came in through the cabinet above the bed, soaking us, the bedding, and the mattress. So we spent a fair amount of time in the morning recovering from that, hanging bedding inside to dry, and trying to locate and fix the leak. We never did definitively find the leak, but caulked anything that looked suspicious. This is why we bring a repair kit and a ladder with us!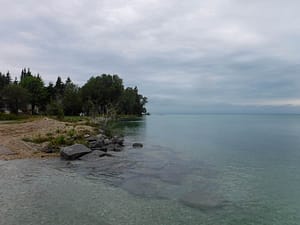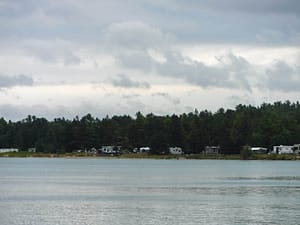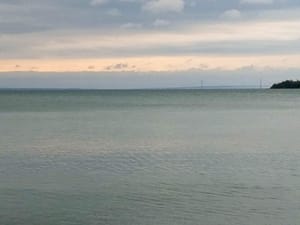 While it was cloudy all day, it didn't really rain. We walked down to the boat launch, where neighbors had said there was a good view of the bridge. And there was, though it didn't photograph well in the gloom.
Wilderness State Park is both remote and convenient. There's nothing in the immediate vicinity except, well, wilderness, and yet Mackinac Island is just 11 miles of bumpy road and a ferry ride away. So you can get away from it all, like we did, or explore the local sights, like a lot of our neighbors did.
We enjoyed our time in Wilderness though it is quite remote. Without the roof leak to work on we might have been bored! Despite wanting to get away and unplug, four days might be better than five here, unless you planned to do road trips to some of the local sights.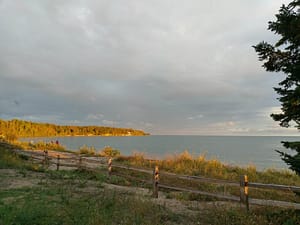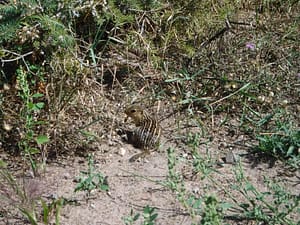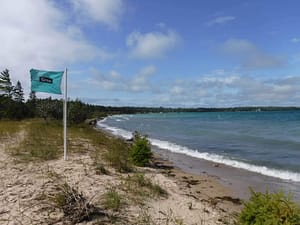 Wilderness State Park is at the tip of Michigan's Lower Peninsula, on Lake Michigan. Most campsites have electrical hookups only. The entire park was open during September when we were there. Camping was $33 per night, with a Recreation Passport (aka park pass) required. Reservations and Recreation Passports are available at the State of Michigan DNR. You can also purchase the Passport at the park.
We camped in Lakeshore West campground which was recently renovated. It looks like newer parking pads, new firepits, picnic tables, and electrical were installed. Our site, #437, was right on the beach, with views of Big Stone Bay, the Upper Peninsula, and some islands in the straits. While our site was quite scenic, it was also quite windy. We were not able to use the trailer awning during our stay.
There's actually an area with full hookups. It's nice enough, though there are NO bathroom facilities. The nearby tent sites have a pit toilet, but no showers or running water. I think I like our middle of the road option.
There's no place to eat near the park, so bring groceries. There's a trading post a couple of miles from the park that sells firewood, ice, and other necessities.
There is no public transportation in the area. We were pulling our trailer so we had our own vehicle.