To me Bath is about two things: the roman baths, and Jane Austen. Check. We also made a side trip to Glastonbury.
Day 1: Salisbury to Bath, and Bath Highlights
We made a flying visit to the inside of Salisbury cathedral this morning before catching our 9:40 train to Bath. We got an early train because we have two days in Bath and one will be spent in Glastonbury so today we're trying to see as many sights in Bath as we can. Steve saw a deer while on the train. 
We arrived in Bath at 10:34 and collected our train tickets from the window. We bought our train tickets online but they can't mail them. You can collect them from station kiosks if you have a chip-and-PIN card but since the USA is backward in that category we could only collect them in person from an agent. Which was no hassle and they did cheerfully. We found Henrietta House with no problem and dropped off our bags.
Here are some photos from around Bath. We have no idea why the basketball statue is here. 
Then we went to the Assembly Rooms. Both the Circus and the Royal Crescent were impressive architecture. The One Royal Crescent house doesn't provide much new on the outside, but gave an excellent picture of what life may have been like back then, and the guides in each room were wonderful; full of all kinds of interesting tidbits of information. We saw pattens in the kitchen. Sometime they would be handy in modern life! The fashion museum was also interesting. Great shoes! I really wanted to see this, but was hesitant to drag my husband there. He found it almost as entertaining as I did. And the older the clothes got, the more interesting they got! Bath is hillier than I thought it would be.
We also hit the Roman Baths, a nice mix of actual relics and interpretation. There were audio and visual guides, with different tracks to follow. The Abbey was beautiful and airy. Gorgeous ceiling. We had a "Bath Tea" at Sally Lunn's for an afternoon snack. Tea, a giant 1/2 bun with cinnamon butter and clotted cream. We needed a rest by that point so it was good. And having tea in England was a must do, so check that off the list!
We went to The Salamander for drinks, then Circus for dinner. We drank Barnsey — smooth and chocolaty.
There is butterfly bush everywhere here. 
Glastonbury is not easy to get to but it was a must do for me for its connection to Arthurian legend. That day trip took us most of the day.
Back in Bath, we went to the Starr Inn for a Bath Star and a Bellringer. Then back to The Salamander. Steve had Barnsey again; I had Bath Spa (light and smooth) and Gem (medium and smooth). All good beers.We couldn't get a table right away at the Firehouse Rotisserie for dinner, so we had another drink and came back. He even came next door to the pub to tell us the table was ready. My entree got screwed up; she thought I wanted a salad. But the pizzas when they came were very good.
We've seen a lot of hen and stag parties in Bath. You can tell because the parties dress in costumes. Our favorite group was some pirates (and a parrot we assumed was the groom-to-be) at The Salamander.
This section contains affiliate links. If you click on a link we may receive a commission at no cost to you. 
This is now under Radisson. Convenient to the town center yet still a quiet neighborhood. Check in was a breeze, despite our room not being ready. They stashed our bags and even took them upstairs for us once the room was ready. Since we were on the top floor that was a real bonus! They were very helpful with maps and directions; phoned for dinner reservations for us too.
Our room was in the attic and though small, was quite nice. Ensuite bathroom was the best we saw on the trip; shower was quite spacious. It was a hike to the top floor, but they reduced the rate for the room because of that. It had everything we needed and was quite charming.
Breakfast was great and included a large variety of pastries and breads, free pressed juices such as carrot-pear in addition to the usual varieties, and some different breakfast variations, such as kippers and scrambled eggs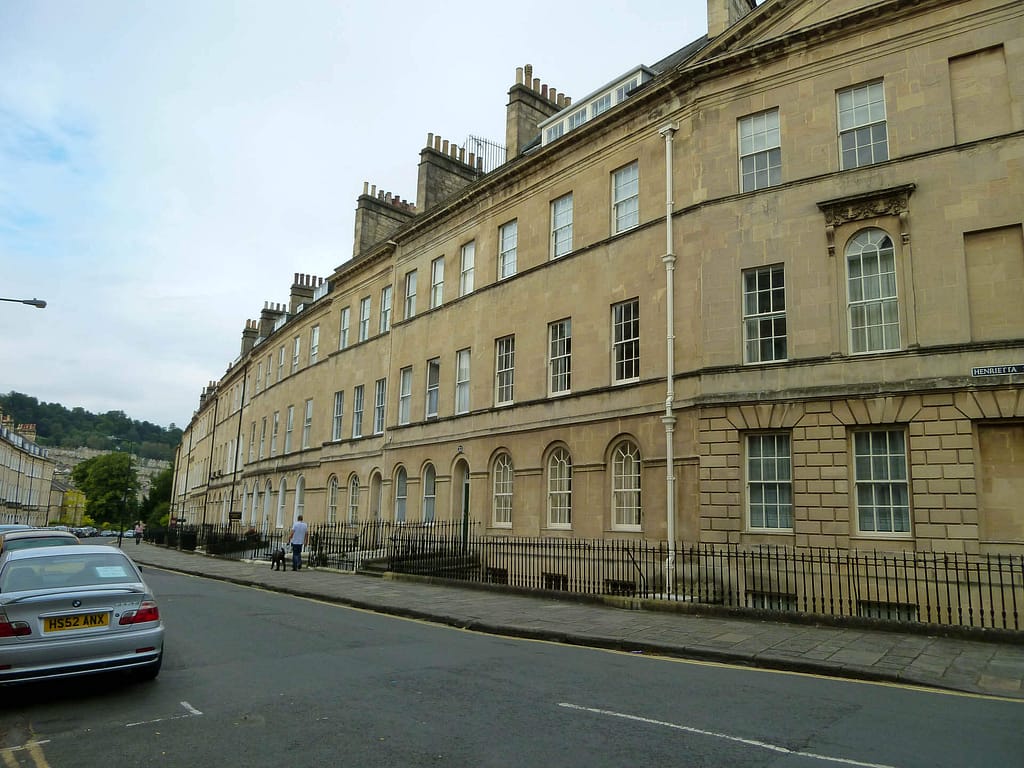 Bath has lots of excellent sounding dining options. We loved the two we picked.
Circus
So apparently it's more common on the menu in the UK than in the US, but I was excited to find rabbit on the menu! Turns out I'm not that crazy about rabbit. Fine, but not exciting. But that's not the restaurant's fault! My spouse had sea bass with salsa verde, which was wonderful. We also had monkfish ceviche, which was great.
Firehouse Rotisserie
I thought I was ordering a chicken caesar pizza, the server thought I was ordering a salad. They recooked both pizzas for us - my spouse had a chorizo and olive pizza - and they were GREAT. I was curious to see what an "American" style restaurant in England was like. I didn't find it very American, at least not like our corner of the US, but that's not a bad thing.
We were able to walk everywhere within Bath. We took the bus to and from Glastonbury.