We had a relaxing couple of days in Kailua-Kona only slightly spoiled by bad weather but more than compensated for by some of the best snorkeling ever.
Day 1: Volcano to Kailua-Kona
Pumpkin raisin bread for breakfast. (We think.) We packed up and hit the scenic Chain of Craters Road in Volcanoes National Park.
Then we drove to Hilo for lunch at Ponds. The restaurant was recommended by our hosts and is built over koi ponds so you can watch koi while you eat. We had fish and chips, lilikoi iced tea, and a brownie ala mode for dessert. Yummy! (The brownie may or may not have been prompted by some of the lava textures we saw on the road, which reminded me of brownies.)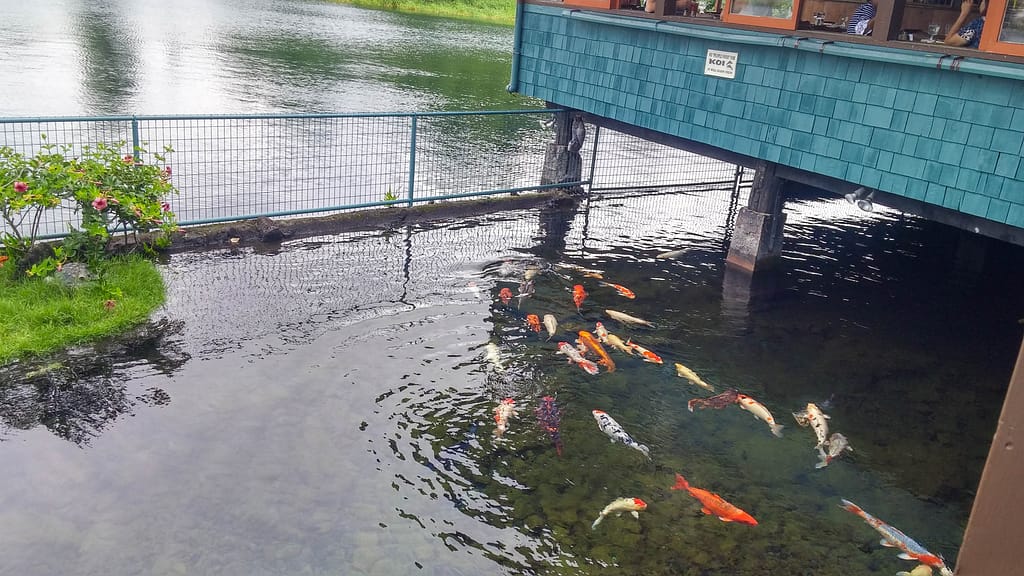 Our next stop was Akaka Falls. We arrived in a torrential downpour. We waited a few minutes to see if it would let up, then went for it. We were happy we had Gore-Tex jackets, umbrellas, and Tevas. The falls were lovely. We saw some bonus waterfalls due to the rain. 
Since it was raining so hard, we skipped the botanical gardens and headed for Kona via the saddle road. Our hosts recommended that over our planned route around the island because we'd see a different type of scenery. 
We got to our hotel in Kailua-Kona around 6:00 PM. We walked to a liquor store and met a chatty local. He was seeking Miller Lite, which they didn't have. When he found out we were visiting he said "Oh you're on vacation so you're looking for local stuff." He gave us recommendations. We bought Fire Rock Pale Ale this time.
Then we walked to Jackie Rey's in the dark. It looked doable on Google maps but it wasn't a good walk. No sidewalks, some busy roads. We had trouble finding the place because they were closed for the annual employee party! So dripping sweat by the side of the road, we ordered pizza online from Domino's for the first time. We had to cross the road for better light to read the credit card.
Day 2: Fair Winds Snorkel Tour
Our first breakfast at the hotel. Coffee, juice, fruit, bagel served alfresco and eaten by the pool. There's lots of bird activity too since they have feeders out. 
Then onto Keahou for the snorkel trip. It took about 45 minutes by boat (with second breakfast!) to get to Kealakekua Bay, near the Captain Cook monument. We snorkeled for a while, then had lunch at 11:15, then more snorkeling. Steve's experience was less than delightful due to his leaky mask and forgetting his snorkel vest. The breakfast and lunch were good and the crew was friendly.
Please wear reef safe sunscreen!
And please don't stand on the coral. Help preserve our reefs so we can enjoy them forever.
We had planned to drive up to Mauna Kea in the afternoon but didn't due to rain and hail. So we had a beer at the hotel and then headed for an early dinner and more beer at Kona Brewing Company. We had a Captain Cook pizza. I had a mango saison; we both had Hanalei IPA and Black Sands Porter and Pipeline porter. All of it was good, with outdoor seating and tiki torches! We looked at growlers which were pretty pricy but probably good value if you're a local.
We stopped for more beer, then came back and drank it while watching a storm off the coast. The Kona Tiki Hotel is RIGHT on the water and we enjoyed watching the waves crash on the pocket beach next to our lanai. We understand why they have a seawall and overflow area! And why that yellow building is vacant!
No agenda today. We drove to Mauna Kea Beach. The beach itself is public but you drive through a resort to get there. We had no trouble getting in; it worked just as described: we checked in at the resort gate and he gave us directions to the public parking. Snorkeling wasn't great on the south end but there was shade and we got to practice. Low visibility; only a few fish. Nice sandy bottom. We spent the rest of the time just relaxing on the beach and made use of the augmented beach chairs we brought with us. (We wanted to be able to lean our heads back so Steve designed some PVC tubes that fit over the chair legs and I sewed headrest to slide over them. We had to move when the tide came in but it was overcast anyway. Lunch was salt and vinegar kettle chips, bean chips, and breakfast bars we brought with us.
When we got back to the hotel there were boogie boarders out so we watched them from the lanai.
We had great fish dinners at Jackie Rey's. (We drove this time.) We split some kahlua pork spring rolls then each had catch of the day, opa. Steve did machiko crusted with sweet potatoes. I did farmstand with pineapple rice and apple banana. Both came with a basil oil and a soy-based sauce, then Steve's had wasabi and mine had mango crema. We split lilikoi cheesecake for dessert.  
To finish our stay on the Big Island we had a spectacular sunset and had three beers. We're leaving four behind; we're just too full!.
This section contains affiliate links. If you click on a link we may receive a commission at no cost to you. 
We had a spectacular view from our lanai of waves crashing over the seawall a few feet away and onto the pocket beach next door. The boogie boarders, spinner dolphins, and crabs were fun to watch too. We enjoyed the alfresco continental breakfast and the overall vibe which was much more like a B&B than an impersonal hotel. No A/C but we didn't miss it. 
There were lots of great-sounding restaurants in Kailua-Kona. It was hard to choose!
Jackie Rey's Ohana Grill
Delicious food. Relaxed, unstuffy environment, with guests in everything from beachwear to shorts to cocktail dresses.
Kona Brewing Company
We knew we had to come here for the beer. Once we saw that the pizza crust was made with spent grains from the brewing process, we had to try that too.
Ponds
Hilo
We had lunch here on our drive from Volcano to Kailua-Kona. They had us at watch koi while you eat.
We rented a car so we could explore the island on our own. We took the coast road south from Kailua-Kona when we arrived and the saddle road across the island on the way back so we could see different scenery. We put 576 miles on the rental car on the Big Island.