Hobart and Tasmania in general may not get the attention of some of the places on the Australian mainland but it is still definetly worth a visit. We are fortunate enough to have family to host us.
Finally, the sun comes out! At least we get to see some of Sydney in the sunshine. 
Getting on the Qantas flight to Hobart involved no interaction with people. Well, other than the helpful woman who saw us struggling to scan the tag on our checked bag. She helped us scan the boarding pass as we were supposed to. Much easier! And helpfully pointed out that unlike the USA, we could take our water bottles through security.
At the Hobart airport we were surprised to see a sniffing dog on the luggage ramp. Not sniffing for guns or drugs, but for contraband food or plants!
In Hobart we met up with Steve's cousin and his wife, who we will be hanging out with this week. They took us to the Cascade Brewery for dinner so we're off to a great start. We have no plans for this week. We are leaving it up to them to be our guides. 
Day 2: Mt Wellington and MONA
We drove up to the top of Mt Wellington outside Hobart. Interesting rock formations up there and you can see for miles, with lots of shoreline and mountains and a view over the city.
The next stop was MONA, the Museum of New and Old Art. It's a fairly new museum started by a guy who makes a fortune gambling. Most of the art is super modern and designed to be controversial. Which it was. Interesting and loads of fun. Gotta love a museum with a bar!
Day 3: Tasmanian Museum and Bonorong
Our first stop was the Tasmanian Museum and Art Gallery. It has collections of local taxidermy birds and animals, among other things. One was a thylacine, a now believed extinct marsupial. Crazy looking animal. It was a fascinating place to explore. Like poking around the attic of an eccentric collector.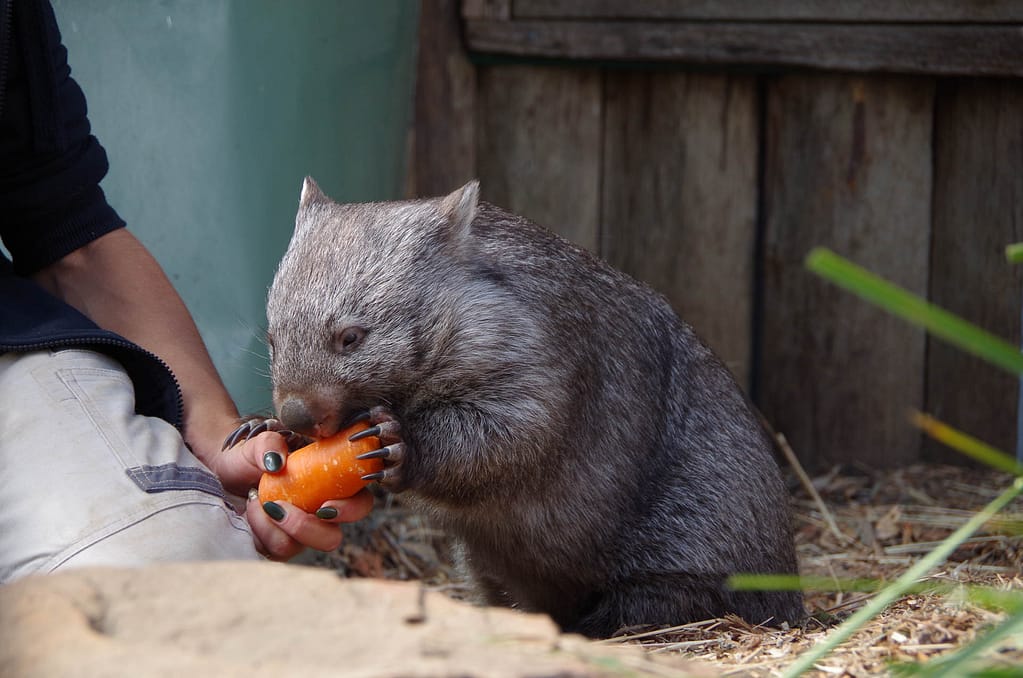 The highlight of the day was the Bonorong Wildlife Sanctuary. In fact, it was one of the highlights of the entire trip. It's hard to beat feeding a kangaroo. The picture below is of a Tasmanian devil. Not quite like the old cartoons. You can also get up close with koalas, even if they are sleeping.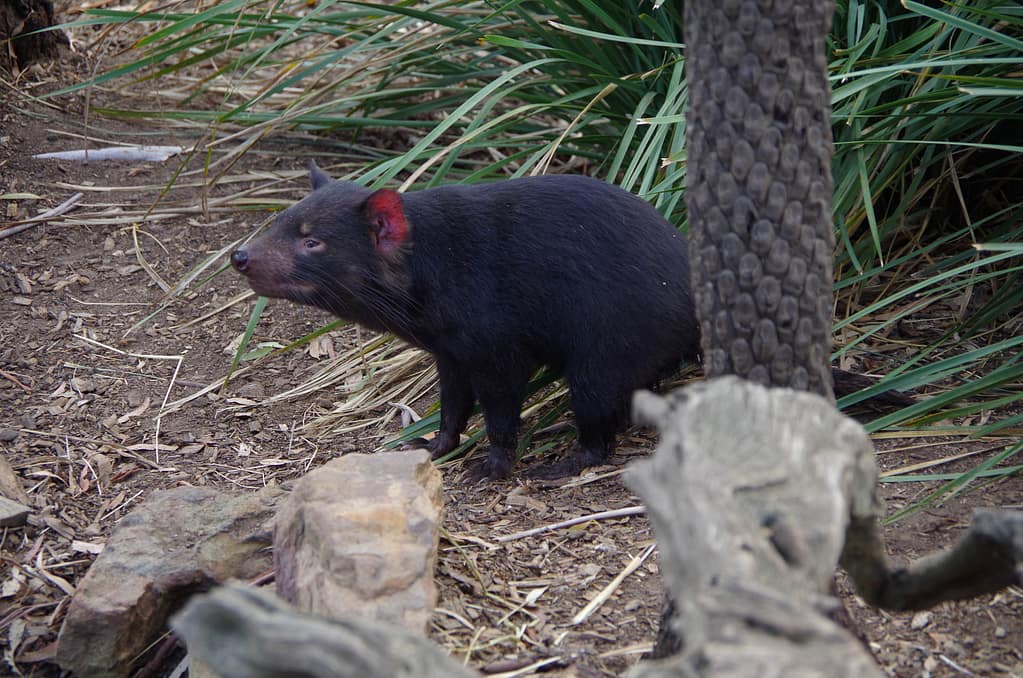 Then Japanese for dinner. Tempura shrimp and vegetables, and teriyaki fish. Both were good, though the teriyaki was more interesting.
Day 4: The Tip Shop and the Botanical Gardens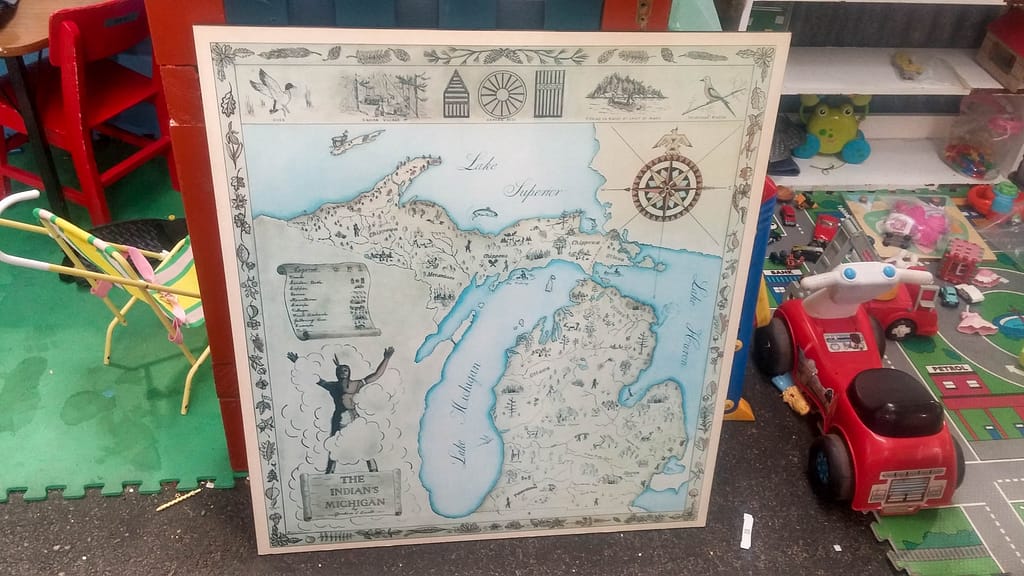 We went to the tip shop. Tip is British English for dump. At the dump they have a shop with things that people get rid of that aren't quite trash, like furniture, tools, clothes, etc. We actually found a poster of Michigan showing the different Indian tribal areas. What are the odds of four people originally from Michigan finding that at a tip shop in Hobart, Australia?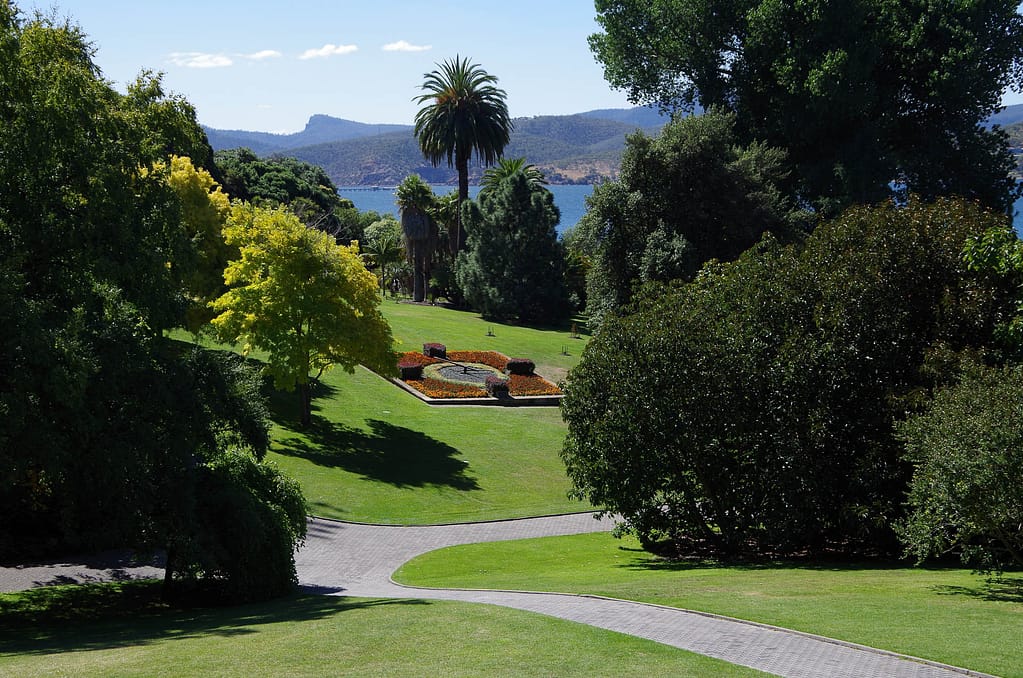 Then off to the botanical gardens. Getting excited about the upcoming gardening season …  Though not quite yet!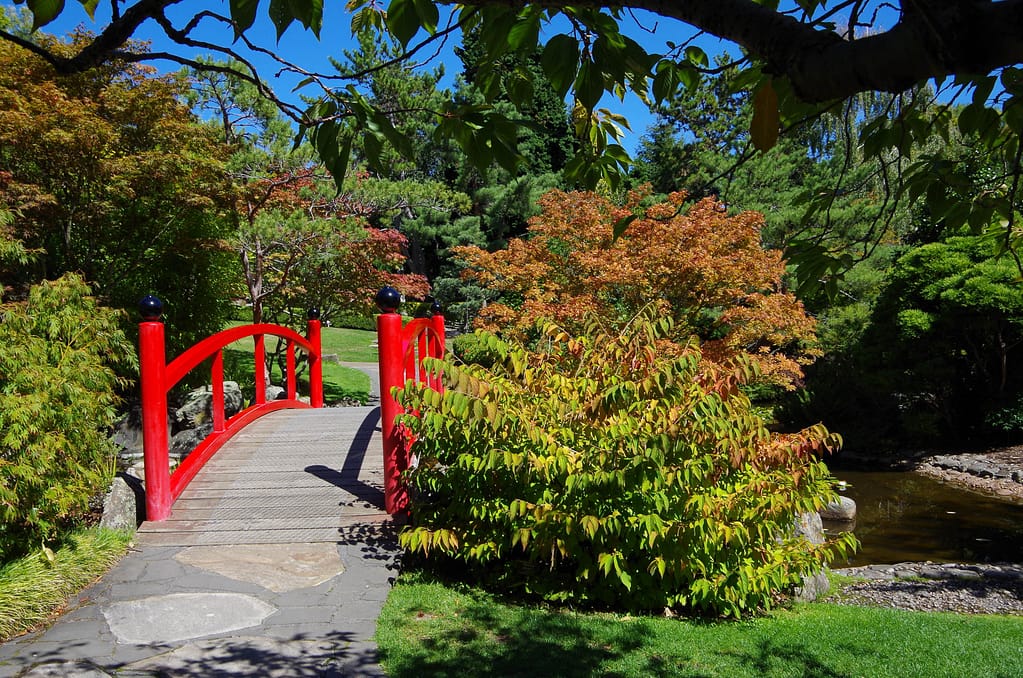 The centerpiece of our fifth day was Port Arthur, a historic convict site. We met up there with some other family members who were doing a cruise of Australia and New Zealand at the same time.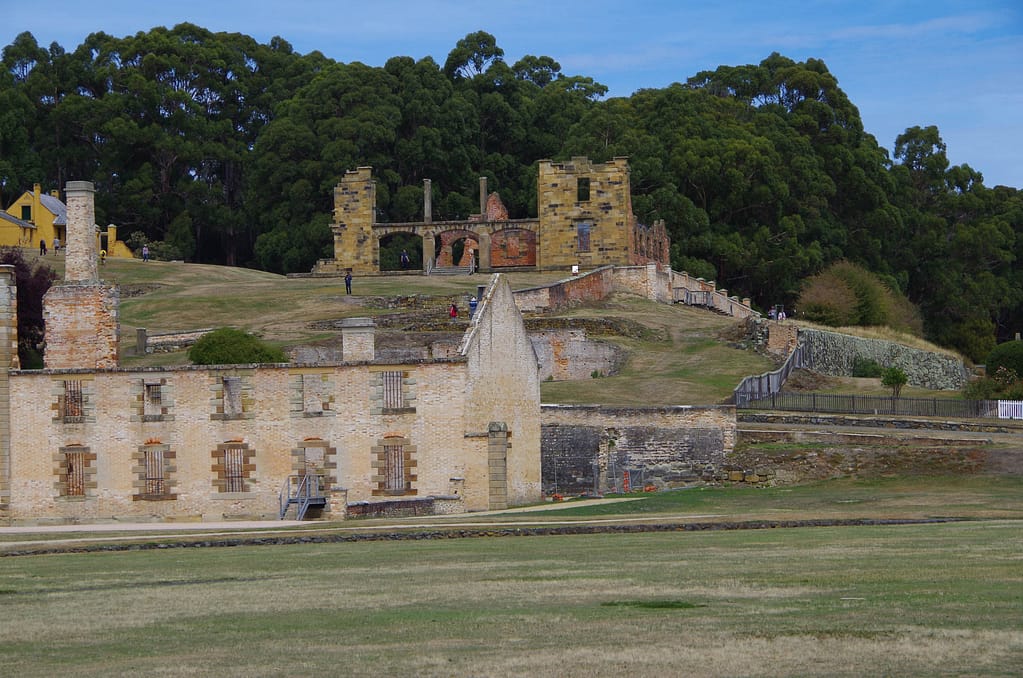 We stopped on the way at a natural sea arch. And at a place called Doo Town, where the houses have names that include the word "doo," like Doo Tell or We Doo.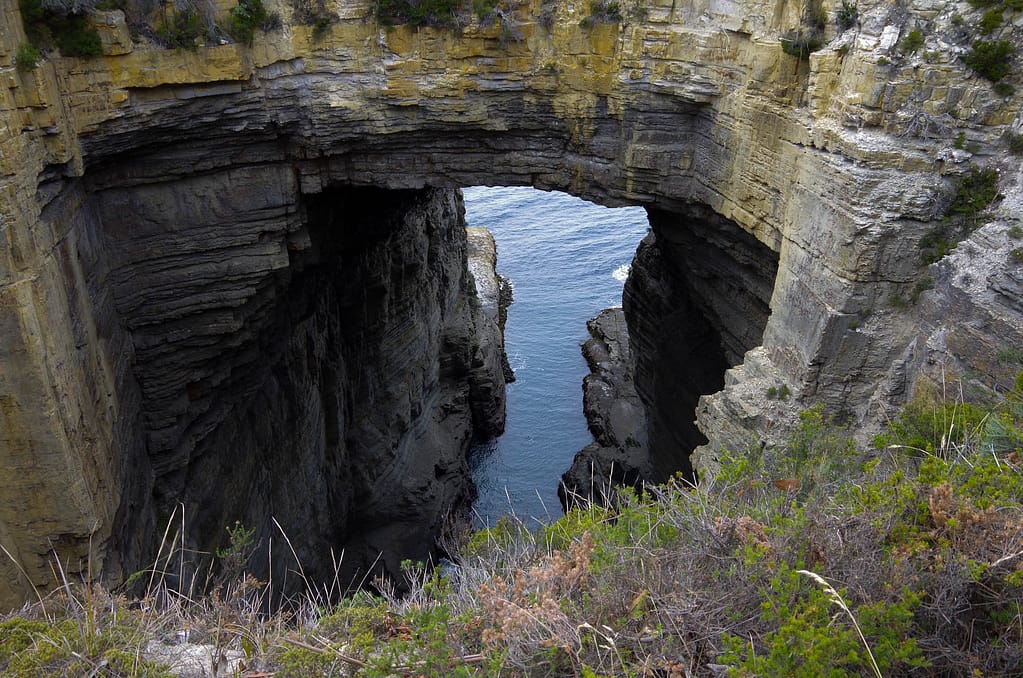 We all met for a fish and chips dinner at the harbor, which is surrounded by beautiful old sandstone buildings.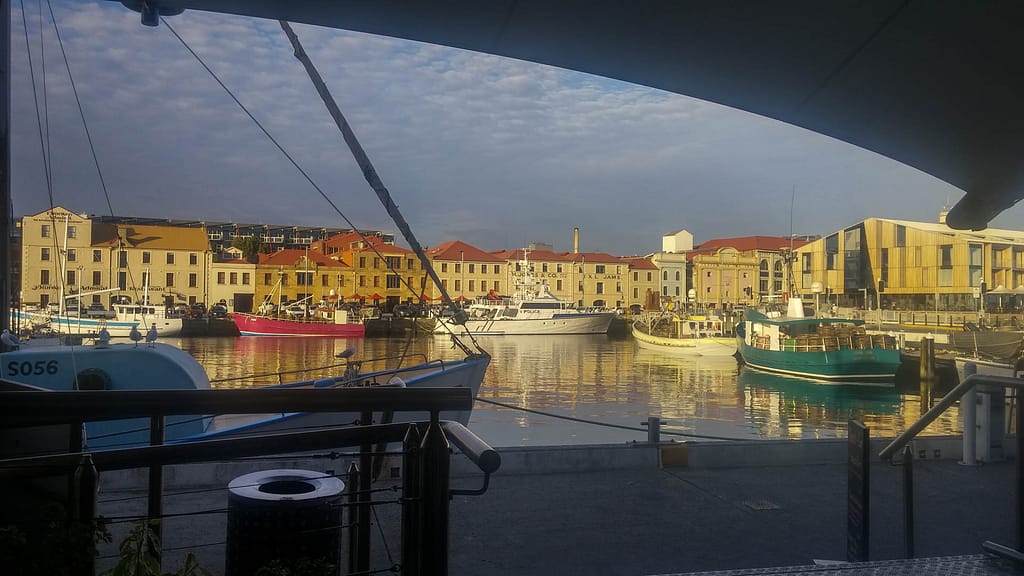 We took a day off. Traveling is such hard work, we needed a vacation from our vacation! We did transfer photos from our camera cards to our backup flash drives while we had access to a PC. Our Filehub transfers files using a smartphone to drive it, but it's slower and more clunky.
We also enjoyed watching the local cockatoos. And watching the dogs watching the local cockatoos. Our hosts have two dogs and three cats, all rescue animals. Still can't get over cockatoos being regular backyard birds.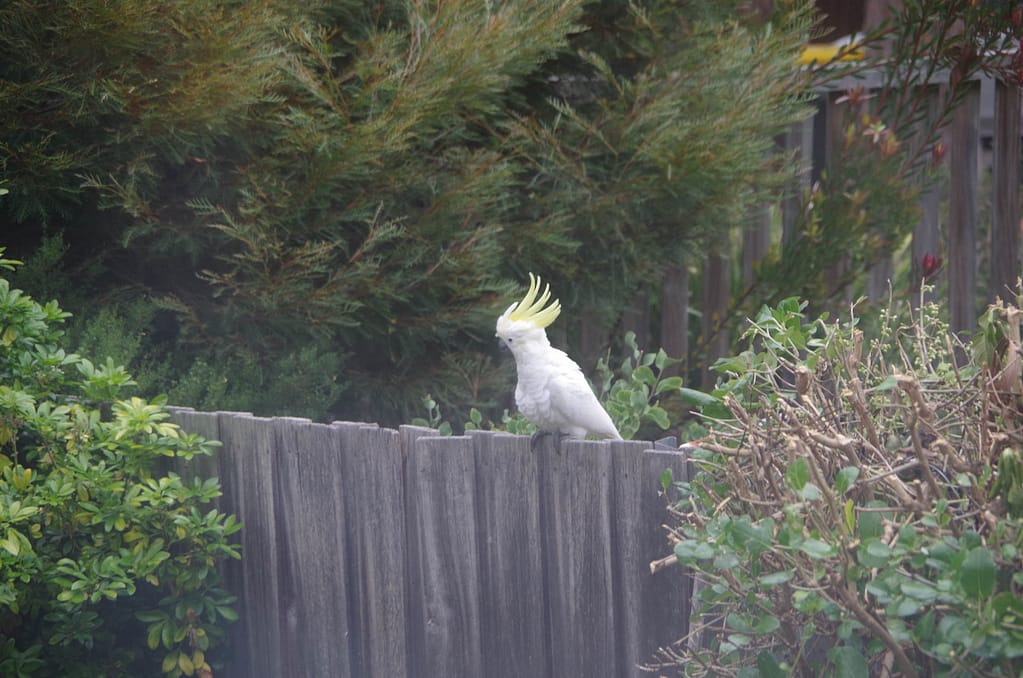 Day 7: Tasmanian Coast Boat Trip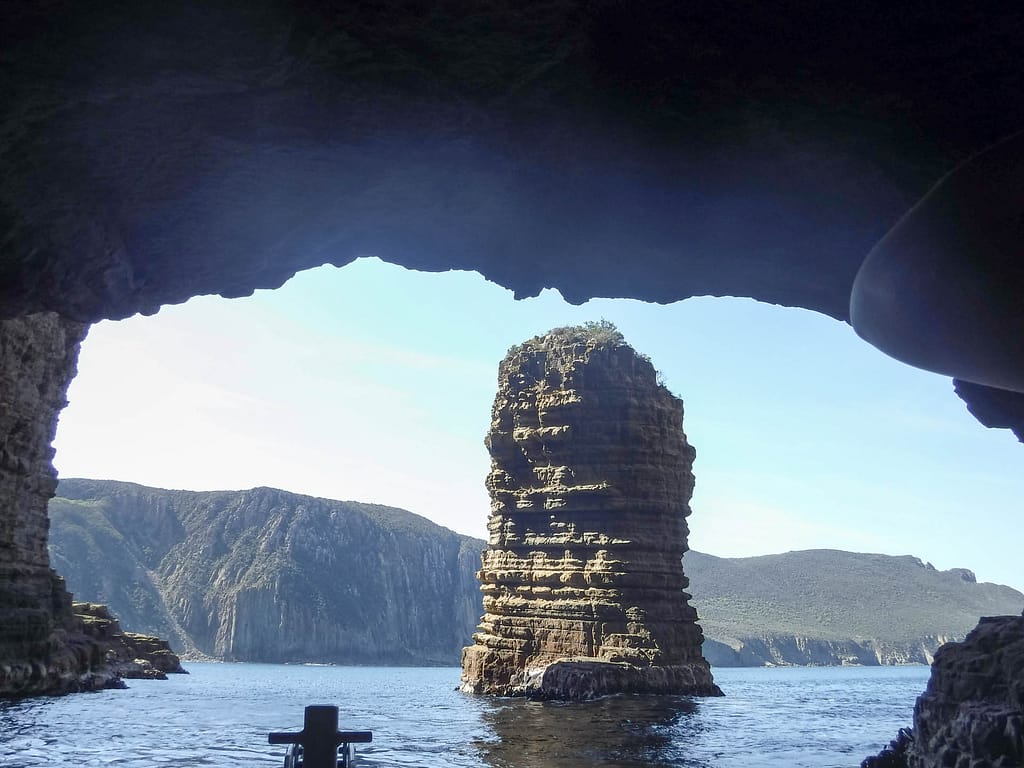 Besides the scenery, it's a good opportunity to spot dolphins and seals.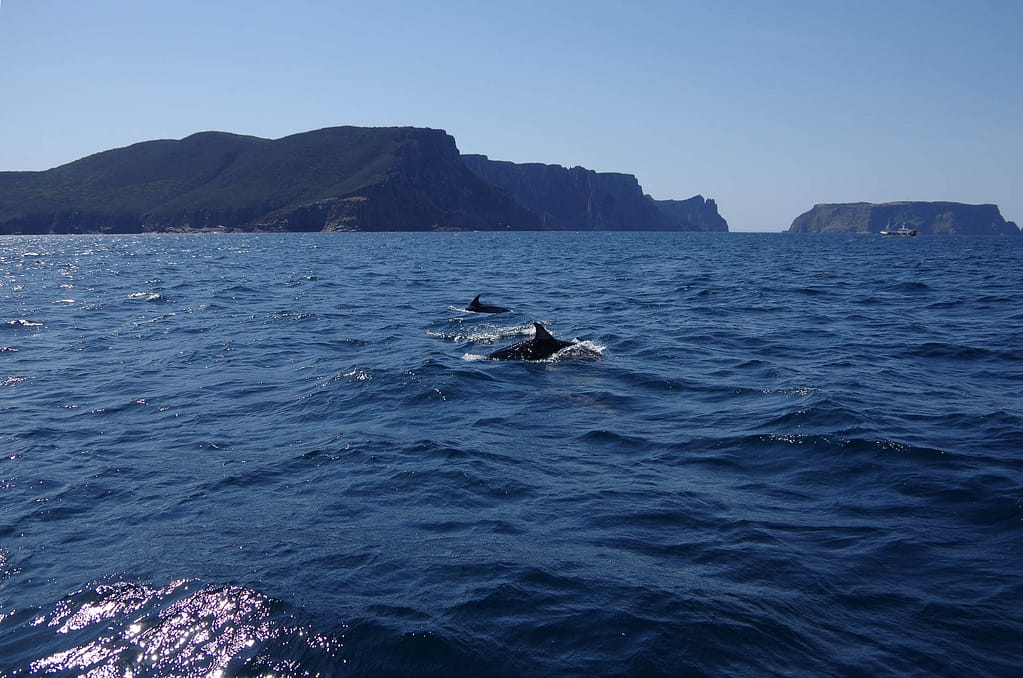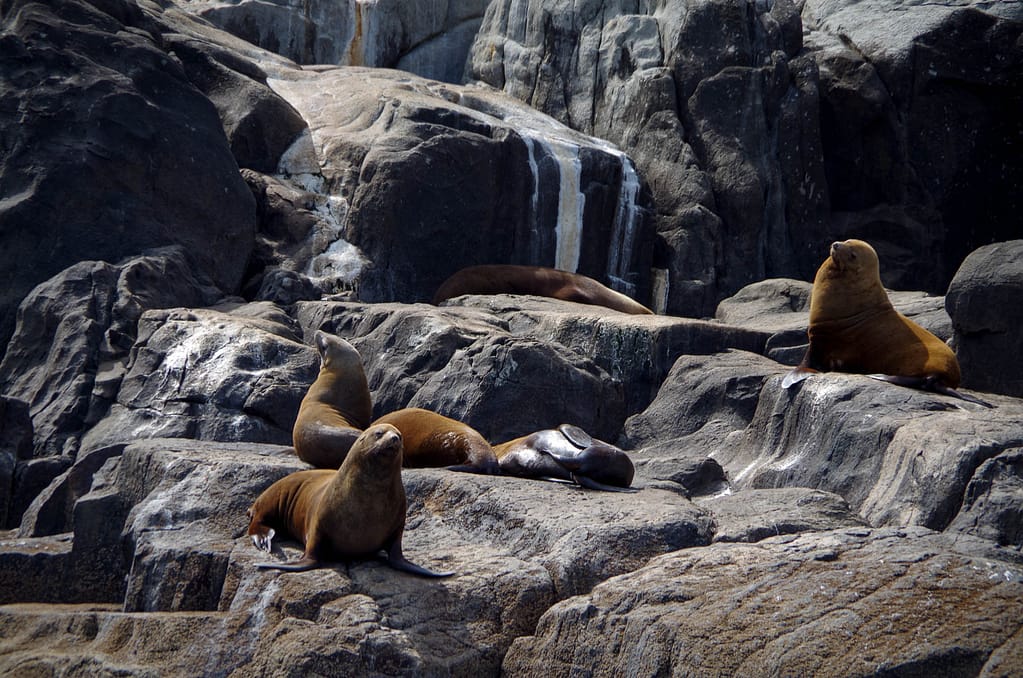 We stopped for breakfast at a bakery and had meat pies, which are a thing here. A good thing. A bacon and egg, and a steak and bacon. And an apple pie slice for dessert. With great coffee. Tasty!
For lunch, we ordered burgers, and were surprised when they came with the lot: pickled onions and beets, pineapple, bacon, a fried egg … there were probably some other toppings hidden in there. They were HUGE and good. Also huge was the spider Steve saw sneak into the pub while we were on our way out. We were glad he was going in the opposite direction.
We went into Salamanca, an older part of town with old industrial buildings that's been turned into an artist area. We bought a Christmas ornament – an echidna – and stopped for a beer.
And spent some time in the front yard enjoying the local cockatoo antics. Yes, in the picture on the left, that cockatoo is hanging from the wire with his beak. 
One of the reasons for stopping in Hobart near the beginning of the trip was so we could pick up some local tips so we don't look like complete fools. We're picking up some of the lingo:
A bottle shop is where you buy beer and wine.
Brekkie is what you have first thing in the morning.
An esky is a cooler. (Took us a few minutes to figure that one out.)
A ute is a pickup truck.
No worries is pretty much the standard, cheerful, response to any request.
We loved our time in Tasmania and would love to come back and spend more time exploring. And hanging our with our hosts and their fur family!
We stayed with family in South Hobart.
We ate in a lot with our hosts. We even had Vegemite. It's even more awful than I remember it from when I last tried it 35 years ago. 
Since we were staying with family we rode with them. They mentioned that Hobart had a good bus system and they didn't always have to drive.