This gateway to Corcovado National Park is one of our rare repeat stops … because we missed Corcovado the first time! It also has one our favorite places to stay. 
Day 0: Home to Detroit to Home to Detroit
… because I forgot my hiking boots and we had to go back to get them!
We had dinner at the Capitol Grill attached to the hotel. Kalamazoo Stout with a pretzel burger and croque monsieur. There was some kind of motocross rider at the restaurant who was a big deal, at least to a little girl at the restaurant who had her photo taken with him and an autograph. We started a beer at the hotel before I realized that I didn't have my hiking boots. So we put the beers in the fridge and headed home. We ultimately made it back to the hotel at 11:30, where we took a nap before getting the 3:30 airport shuttle. 
Day 1: Detroit to San Jose
No excitement at the airports, other than we forgot to sign our new passports so the immigration guy had fun with us: Did you know these passports aren't valid?!? It's even more chaotic at San Jose when you arrive in the middle of the day (last time we arrived in the middle of the night) but we found our Interbus shuttle with a little help. 
We saw a beating and machetes near our hotel when we arrived, which was a little scary. We bought water and got cash at the nearby store. We'll reuse these water bottles the entire trip. Then back at the hotel bar we had a Bavaria Dark and a local red ale that wasn't as good for the price. I had a horrible headache. (Likely dehydration.) We had casados for dinner. They were pretty good; the chicken was better than the fish. We had an early night since we'd had no sleep the night before.
Day 2: San Jose to Drake Bay
Pedro our driver collected us in a van. We picked up another pair of passengers in a more residential neighborhood somewhere else in San Jose, two women from Austria who turned out to also be heading for Finca Maresia. Then we set off for the coast. We're not sure which road we were on but we went through Rio Grande and we were north of highway 27. Then we merged with highway 27 before Orotina? This is why we take shuttles: so we don't have to figure this out ourselves! We stopped in Tarcoles to see the giant crocodiles.
Then we stopped again in Dominical to buy fruit and pick up another passenger. Who wasn't ready, so on we went. (Who asks a shared shuttle to wait for an hour while they get ready?) It was a steep drive in and out of that stop.
This time we got the boat to Drake Bay from the Las Vegas cafe in Sierpe, not La Perla. It was another nice boat trip up the river, with the usual excitement where the river meets the sea and all those rocks. We saw some kind of fire onshore along the way. The beach landing in Drake Bay was just as we remembered. There were some rude people with very large luggage. Juan, our host, helped them haul their luggage in his van. When we arrived at their place, the guest unloaded his bag, knocking another guest's bag into the road and just leaving it there. Some people!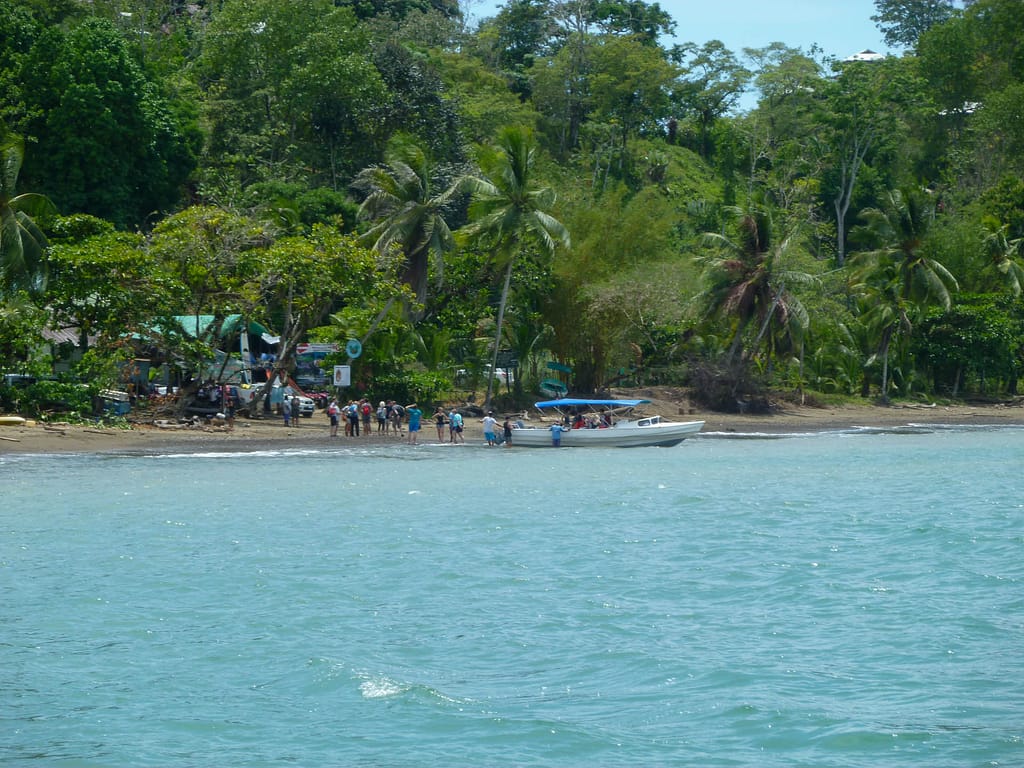 We had the same room at Finca Maresia that we did on our first visit. It was just the way we remembered it. We think they added bedside lamps; we don't remember those from our first trip. Other guests are from Virginia, Traverse City(!), France, Belgium, Austria, and Germany. Dinner was chickpea salad, soup, and a fisherman stew. I got a fruit salad instead of dessert since the dessert was made with strawberries, which I'm allergic to. We had a couple of beers from the communal refrigerator. Our glasses were steaming up because of the humidity. It was a little challenging to sleep in the heat and humidity.
Day 3: Hiking near Drake Bay
We had gallo pinto for breakfast, then did the hike along the shore again. 
After hiking we ventured into the village for the first time, for lunch at Mar Y Bosque. We had casados with fried chicken and our first batidos, with passionfruit and soursop (guanabana). It was all delicious. Why did we wait so long to try batidos? Dinner at the hotel was chayote soup, lasagna, and chocolate cake. There were new guests from Canada. We had our usual interesting conversation at dinner, with the two Austrian women who shared the shuttle van and boat with us.
Here are some photos of the main deck where meals are served and people hang out. 
Day 4: Corcovado National Park
We had a 5:30 AM breakfast of eggs and pancakes, then off to the boat for Corcovado.
Dinner was paella which was very good of course, with carrot soup and lemon cake. There's a new family from British Columbia with two kids who seem quite nice. It was amusing when they met the couple from Quebec.
We have to include some photos of the hotel dogs and cats. One of the dogs from our first trip had been replaced. Simba of the spooky eyes is still here. 
Pancakes for breakfast, followed by horseback riding, and then birdwatching from the deck. The scarlet macaws were back and some small colorful birds.
Dinner was broccoli soup, chicken curry, and tres leches cake.
This section contains affiliate links. If you click on a link we may receive a commission at no cost to you. 
Drake Bay is very out of the way, and Juan is great at helping you get there and experience the area. 
It's about a 10-15 minute walk down to the beach, another 10 minutes or so into the village. The rooms are in bungalows scattered around a lawn area. There is a central building with a large open-air deck for meals and general hanging out. A flashlight and umbrella come in handy for moving around after dark, which comes early.
Breakfast is included and is excellent. There is a small menu to choose from. While there are a few places to eat in the village, the communal dinner at Finca Maresia was great and a great value for salad, soup, an entree, and dessert. Dinner is also a great opportunity to socialize with other guests; everyone eats at the same long table. There are also fridges with beer, soda, and wine, available on the honor system; each room has a card at the desk and you check them off as you take them.
Soda Mar y Bosque
A "soda" is a small Costa Rican style diner. This one has good fried chicken and batidos -- a frozen drink made with milk -- and a nice view.
We took a shuttle to Sierpe, then the boat to Drake Bay. Be prepared to jump out in the water when you arrive in Drake Bay. There will be plenty of help with the luggage. You can also drive though the roads are rough and there are river crossings, or you can fly out of the small airport. We flew out this time. Yes, you drive through a river to get to the airport!
There are taxis in the village, though most of the area is walkable. Transportation to and from day tours that start from the village is included. If you just want to go into the village you can ride along when the van is going, if there's room.