Conwy is a compact little town with a castle looming over it and a good selection of restaurants. It was a relaxing and interesting start to our trip.
Day 1: Travel from home to Conwy
We were plenty early for the flight because my brother needed to take us earlier so he could get back and get one of his kids to soccer. Our flight was actually pretty smooth for a transatlantic flight. We had a decent meal of barbecue chicken with potatoes and vegetables with an unknown but tasty dessert. Some kind of pudding with some kind of sauce below? Some guy got blocked into the bathroom by a food cart and we had to flag down a flight attendant to rescue him.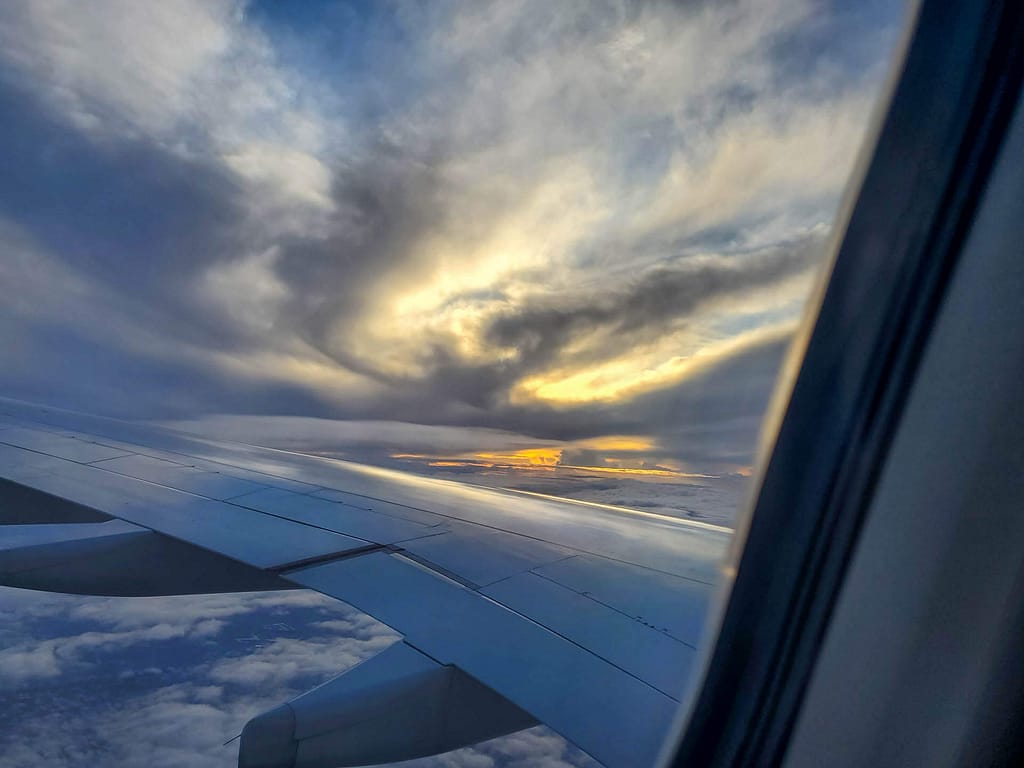 It took us four trains and a tube ride to get from Heathrow to Conwy. We had plenty of time to get our Oyster Cards right at the airport. (We'll need them later while we're in London.) We were able to catch earlier trains than we planned so we got to Conwy about three hours ahead of schedule. Our room was ready! We dropped our stuff off and went for a walk. It was actually not raining. Then we took a nap because we were both exhausted. We didn't sleep on the plane. Though we did nod off a bit on the train.
We walked to the Albion — a Purple Moose pub — for a beer before dinner. Steve had a Pothole Porter and I had a Dark Side of the Moose. Then we walked over to Johnny Doe's for very good thin crust pizza with IPAs to go with it. Then we came back and slept very well.
13,911 steps today
We started today with a delicious continental breakfast in a basket. Bread with cheese and sandwich meat, croissants, some kind of small cake wrapped in plastic, butter, homemade jam, juice, coffee, and a banana. Oh and yogurt with muesli and fresh fruit. Then we spent an hour and a half at Conway Castle.
After the castle we had time to come back to our room and drink some water before heading out again to wander around the town. We walked via the town walls because we could, and our place is right across the street.
During our walk we went down by the quay to figure out how to get to the suspension bridge since we'll be walking it tomorrow. There we saw the smallest house in Great Britain.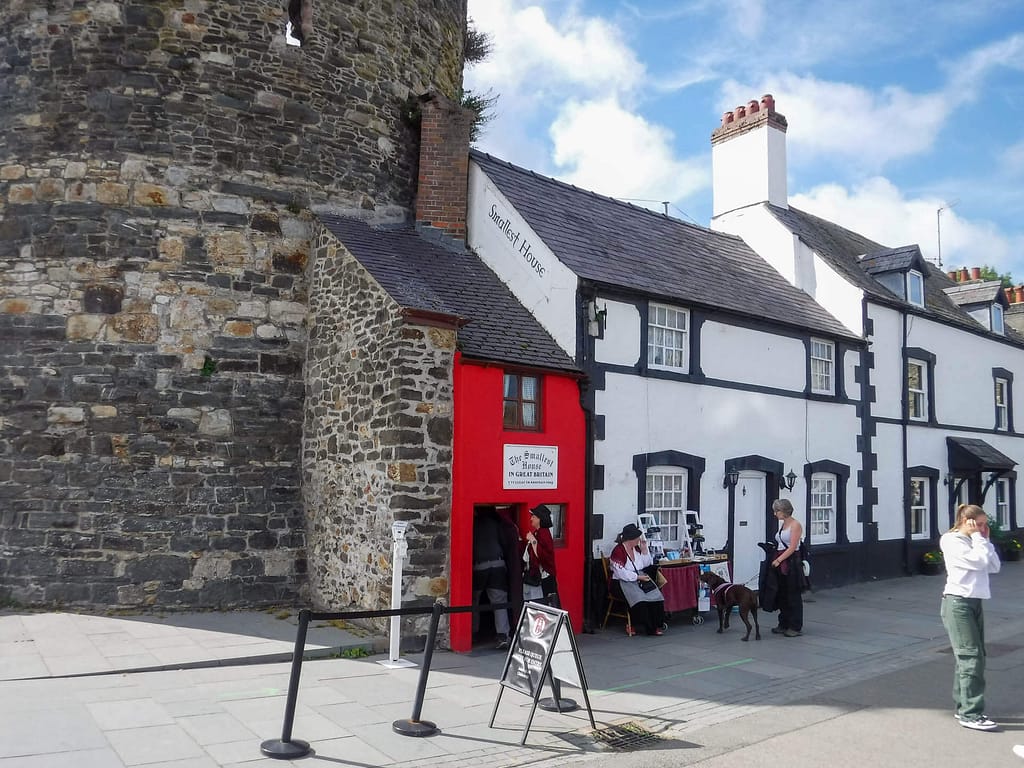 Then we just kind of walked around town, figured out where we're eating dinner tonight, and then went back to the Albion where we sat in the beer garden and had first a pint of Summit and second an IPA. Getting an IPA was a bit challenging because first the gas went out and then the Conwy IPA tap did not want to function. So I had a pint of Crank instead. We got a demonstration of how to put kegs in the cellar too. They had a trap door with a winch above it but it was a hand winch and the barman said it took 150 cranks. So instead of using that they simply roll the kegs into the cellar where they have a crash mat that they land on. We came back to a room to relax before heading out to dinner at Watson's Bistro. 
8,226 steps today
Today we took the train down the Conway Valley to Blaenau Ffestiniog.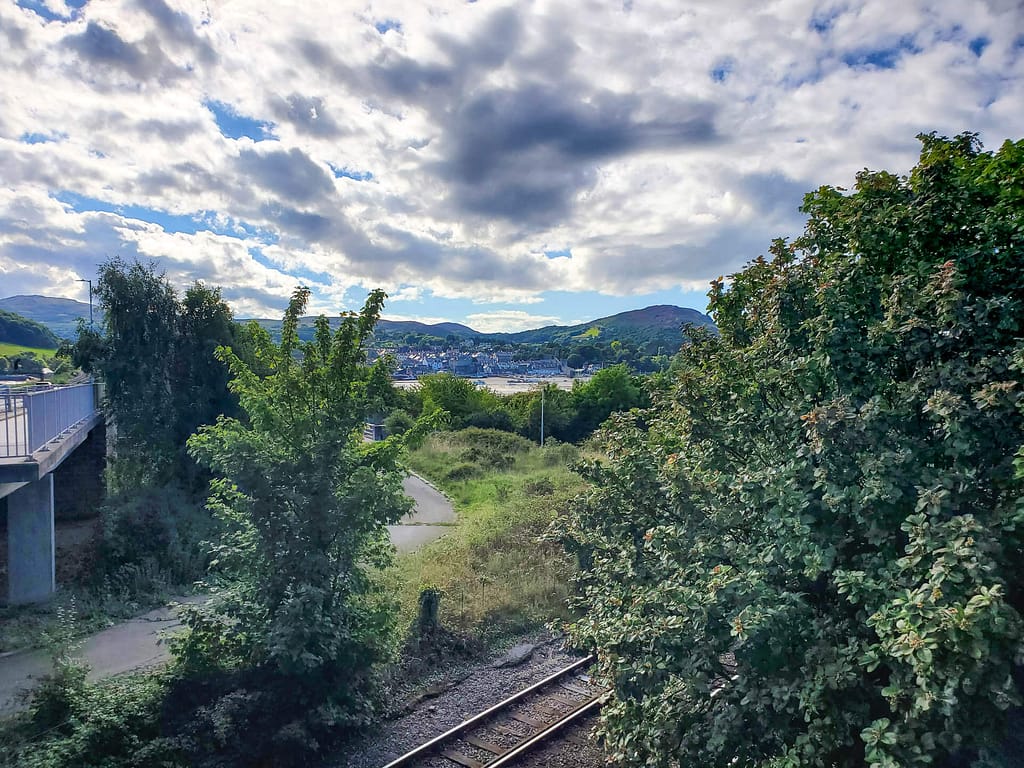 It was a nice walk across the bridge to Llandudno Junction to catch the train, with good views of the castle on the way there and back.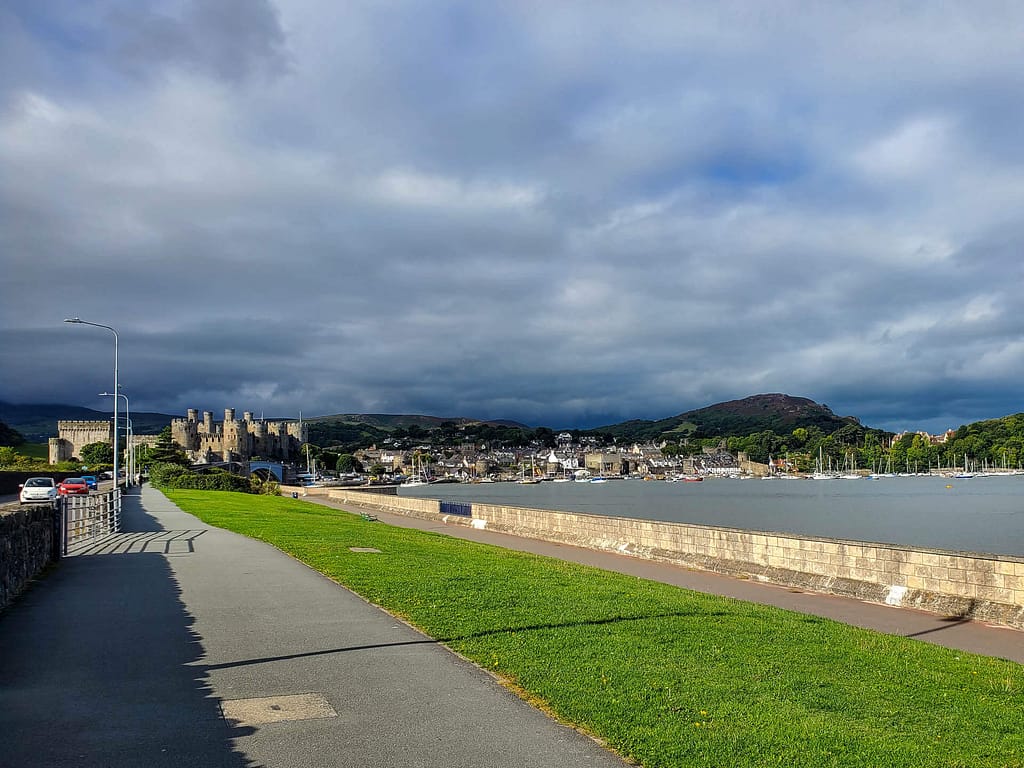 We had dinner at the Erskine arms including maybe the best appetizer ever, the fisherman's platter for two. Smoked salmon and mackerel, calamari, fried white bait and a couple other things, and homemade focaccia. It was all really good and for £23.95 I think it was a pretty good deal. We followed that with haddock and chips and pan fried sea bass. Lots of food and yummy. Back at our  room we reclined for a bit before taking showers and getting our bags semi-organized to leave tomorrow.
16,940 steps today
This section contains affiliate links. If you click on a link we may receive a commission at no cost to you. 
We stayed at Number 18. Great location right in town with a view of the town walls. Delicious and filling continental breakfast, groovy comfortable room (with sitting room!). Melissa was super helpful and friendly and helped us try to sort out the local bus schedule. Easy communication via Booking.com messages. Nice dining recommendations too.
Johnny Doughs had great thin crust pizza, we had a nice set meal at Watson's Bistro, and great seafood at the Erskine Arms next door. We were able to book in advance online at all three, which was very convenient. (Due to staffing issues everywhere booking in advance was advised, even at pubs.)
Conwy is easy to walk around. We averaged 13,026 steps daily. We took the train into town — we had to change a couple of times — and the bus out.