The train ride was scenic. We got off at Llanwrst intending to take a walk and failed to find the walk we were looking for.
We took the train from Llandudno Junction down the Conway Valley to Blaenau Ffestiniog. The ride itself is scenic and there are different villages you can get off at and hop back on the train. 
We got off at Llanwyrst intending to take a walk and failed to find the walk we were looking for. But we did find a walk or two and we did those. One ended up being a walk around a field which led to the river so we got some decent views and saw lots of flowers. The other one started behind some houses. At the end of the alley there were some guys working on a house who assured us we could just walk through there. Which we did but it was kind of boring so we just walked through a field with some sheep and then turned around. We got some exercise and saw some scenery.
We walked into town and saw the old bridge. And the traffic havoc a single lane bridge can create. 
At the bridge we found a trail along the river so we followed that for a while. Then we found a pub with a beer garden and sat outside and had a Guinness.
Waiting for the train back to Conway we met a nice couple from Boise. They met in New Zealand while doing the Kepler track. Clearly much more into long-distance hiking than we are! They were here to do the Offa's Dyke hike. We struck up a conversation with them because there were some teenagers nearby being teenagers. Like the one kid climbed up on top of the little shelter by the train stop. The woman said what's that saying, "youth is wasted on the young?" We also saw a squirrel dangling from a tree branch over the train tracks.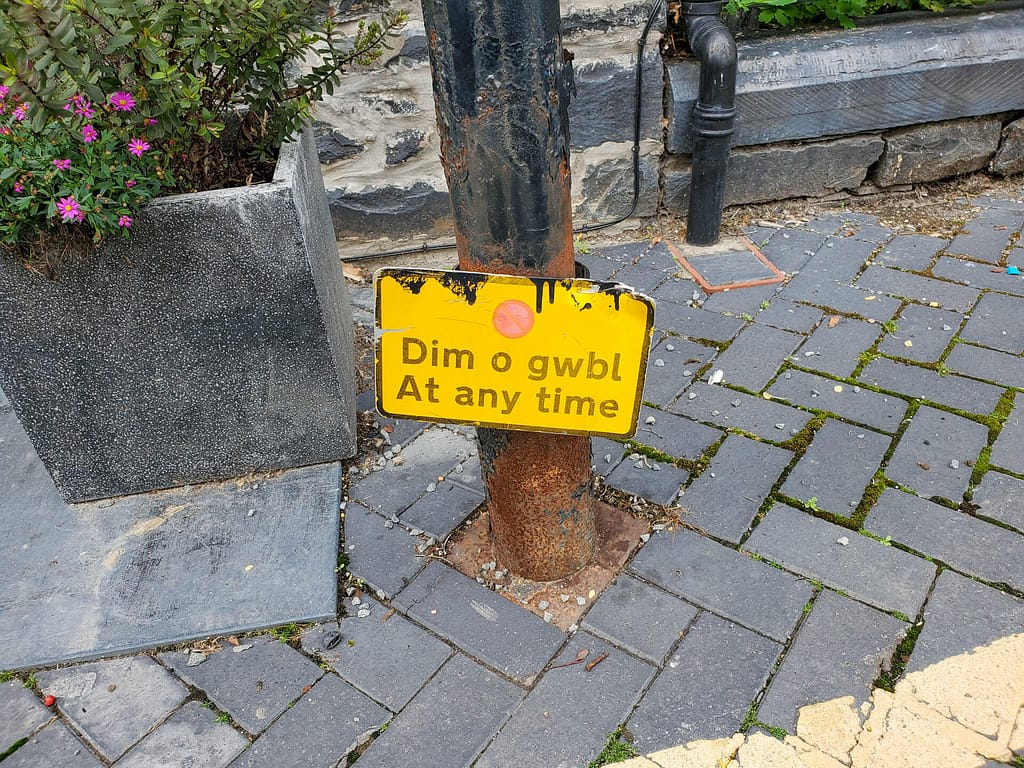 And we don't know what they don't want you to do here, but don't do it ever.