York was a charming place to spend a couple of days, with highlight sights and friendly locals who offered assistance even when we hadn't asked!
Same breakfast again today. No issues getting to the train station, though it was uphill, of course. This train was very busy. Valid tickets only; no purchasing on board. This is one time I'm really glad we're travelling light. We saw some good sea cliff scenery on the way, including cows at the edge of a cliff. Luckily the guy sleeping next to me woke up just before we got there. There was so much luggage blocking the door we had to get off from another car.
We found our new B&B with no difficulty, though we found out when we got there that there was a shortcut we could have taken. Another nice room: we have our own private little stairway and stairs up to the loo. Very Victorian looking; nice detail on the dining room fireplace. We googled how to flush the toilet.
Then we walked back to town. We were initially fooled by closed doors at the city walls, but then figured out they weren't locked. We walked around the city walls …
… then up the Shambles, a medieval street …
… then onto the Minster, which dominates the city.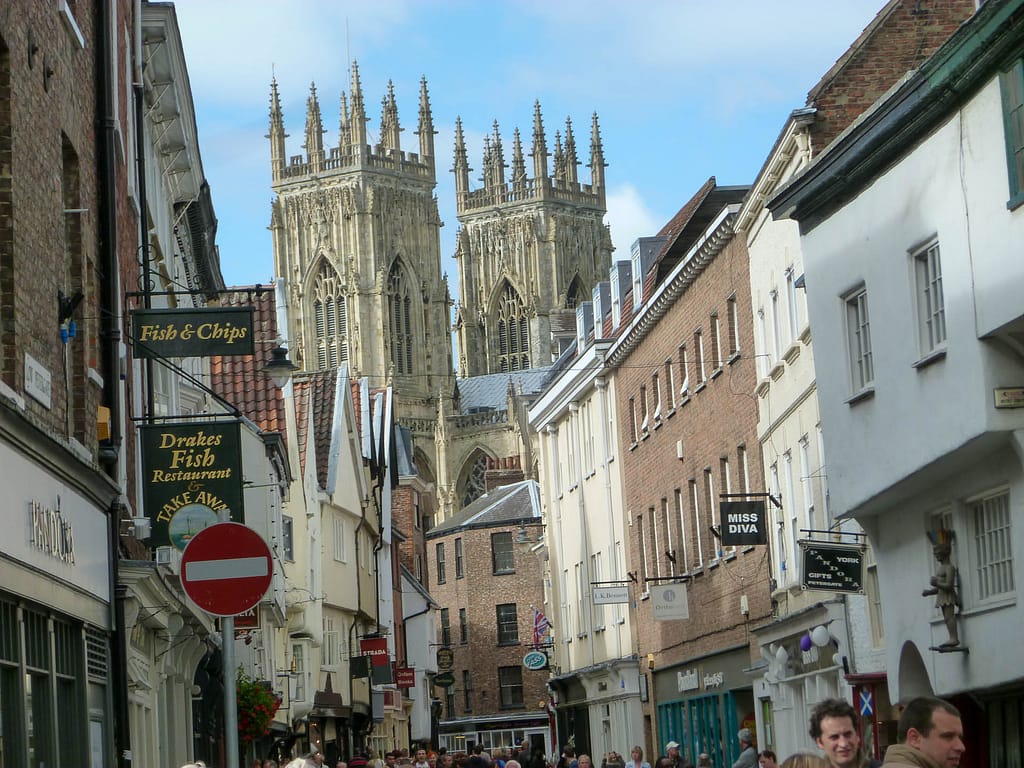 York is how I pictured it, though there are new bits around the outskirts. The main tourist area is mainly pedestrian only, which is nice. There are lots of old buildings and quaint shops.
Steve had his photo taken with the purple guy, which was hilarious because Steve thought he was a statue. Until he moved.
We caught live music at the Old White Swan and drank Jack Black, an oatmeal stout from Wales. Very mellow. It was quite crowded walking back to our place to kick back awhile and think about dinner.
We ended up going to the House of the Trembling Madness for dinner and drinks. (We HAD to go based on the name alone.) OMG. They run a kitchen and bar out of a space the size of our kitchen. We had Aspall's cider and Longorda from Manchester. We each had a platter: Hunter's for Steve, Madness for me. Smoked meat and poultry, Steve's was more exotic (venison, boar, goose, duck), mine was less so but there was more of it. Plus pork sausage, smoked cheese, plum chutney, and two kinds of yummy bread. The walls are decorated with stuffed heads, from typical deer down to moles and mice. Definitely a cool place. The unisex toilets were two floors downs. I had to roll up my pant legs to keep them from getting wet in the puddles.
Breakfast this morning included bacon, sausage, egg, beans, black sausage, hash browns, mushroom, tomato, juice, coffee, fruit. Very nice dining room. Seems like a bigger place. Seating for about a dozen.
Today we had a slow, relaxing day. We thought about venturing out of town to Castle Howard but decided it wasn't a must see. We wandered around town, did some shopping, made dinner reservations, saw Clifford's Tower and the museum gardens, plus stopped to enjoy a pipe band on the street.
Then we sat at The Cross Keys, where we found seats outside, drinking porter (Dark Roast 8, XT brewery). We have reservations tonight at Mamma Mia, an Italian place.
After a nap and a shower, we headed to Ye Olde Starr Inne. Steve's having Cool for Cats, a coffee stout, I'm having Old Peculiar, which wasn't the greatest. Loud football fan here asked Steve if he liked football. He said yeah, American football. Apparently that doesn't count.
Mamma Mia is a noisy Italian place. We had a bit of a wait for the pizza (Quattro Stagioni for Steve, Napoletana for me) but it was good when it arrived; calamari was also very tasty.
While dogs are generally well-behaved, we have see a few instances of dog vs dog barking, like at the pub yesterday between a bulldog and a couple of dachshunds, then again at the park today.
This section contains affiliate links. If you click on a link we may receive a commission at no cost to you. 
We had a unique room on the back side of the house with its own little stairway up and another in the room. Mick was very helpful with recommendations on where – and where not – to eat Italian. Room was clean and comfortable, breakfast was great. Convenient to the sights without being noisy. If you're walking from the train station, there's a shortcut footpath from the end of the car park that crosses the river and brings you out pretty much right on the same street as the Bronte.
Mamma Mia
I was craving pizza - again - so we chose one of several recommended alternatives in York, partly due to proximity to our B&B. We both ordered pizza, and were beginning to wonder if there had been some kind of mix up, it took so long for our food to arrive. Once it did though it was great. Tasty calamari for starters and a quattro stagioni and a napoletana. Don't go for a quiet dinner; it's noisy, but in a good way.
House of the Trembling Madness
After reading the reviews on TripAdvisor, we had to see how someplace could not have a kitchen and be so highly rated. And with that name? Had to come here. it didn't disappoint. Great atmosphere, good beer - and cider! - and interesting food. Be prepared to table hop. We moved three times from bar to small table to larger table as places opened up.
York is compact; we were able to walk everywhere.